350 S Grand Ave
Los Angeles, CA 90071
(213) 617-3474

When I first heard Laurent was going to do an 18 course truffle menu I scrambled to find dining companions before the event sold out. While I eventually found two takers, they were understandably apprehensive about dropping $350 on a chef they never heard of. This dinner was intended as an audition of sorts; a chance for the two to meet Laurent before the main event.

Hair of the Dog, Ruth, American Pale Ale
What better to compliment a hot dog than with beer. The Ruth APA is starts out with the prototypical citrus and hoppy bite but the mid-palate turns substantially sweeter with flavors of apple and honey to temper the bitterness of the hops.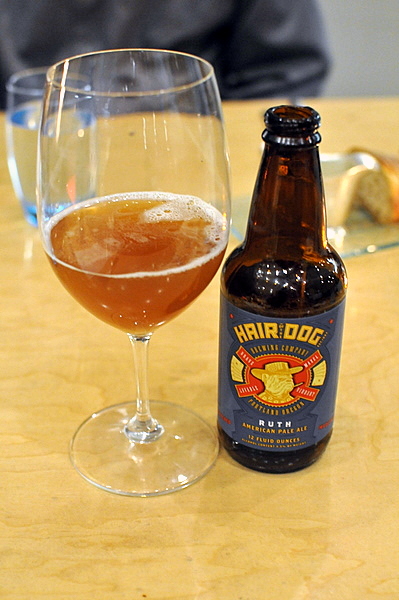 Amuse: Sweetbread Corn Dog - Lobster Newburg Gel
Ironically, a sweetbread hot dog might not be too different from a typical hot dog in terms of composition, Laurent is just more upfront about whats in his. The sweetbread had a texture far softer than the hot dog but a touch firmer than the slightly runny consistency I was expecting. The rich peppery bite was also far more innocuous than the typical offal sapor. The Newburg gel had a rich savory lobster essence that was quite delicious on its own, but the flavor was overshadowed by the corndog.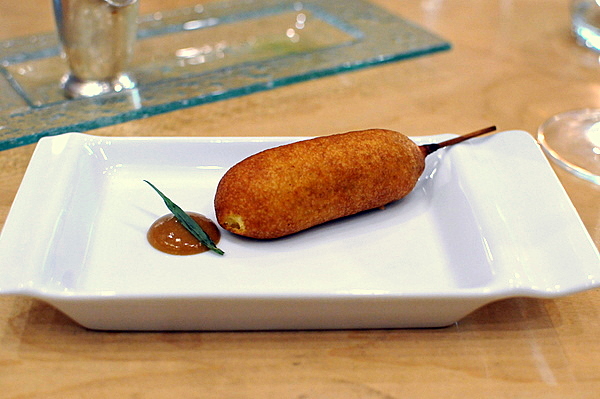 N.V. Pierre Peters, Blanc de Blancs, Brut Cuvée de Reserve, Champagne, France
I selected a sparkling to pair with the Albondigas and Scallops. I quite enjoyed this champagne, light and crisp with a balanced attack of minerality and stone fruit.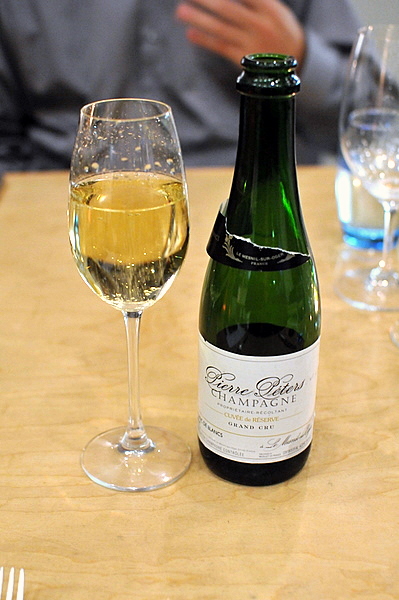 01: Wild Game Albondigas Soup - Sautéed Foie Gras
Finally my first taste of bear! The meatballs were an amalgam of wood pigeon, bear, and hare that carried a surprising game free savoriness. Accompanying the meatballs was a deep satisfying broth reminiscent of concentrated chicken noodle soup. Though I typically prefer cold foie, this was a simple yet particularly noteworthy warm preparation. The caramelized exterior had a nuanced livery tang but the semi-molten interior was pure unctuous decadence, reminiscent of the foie shabu shabu at Urasawa.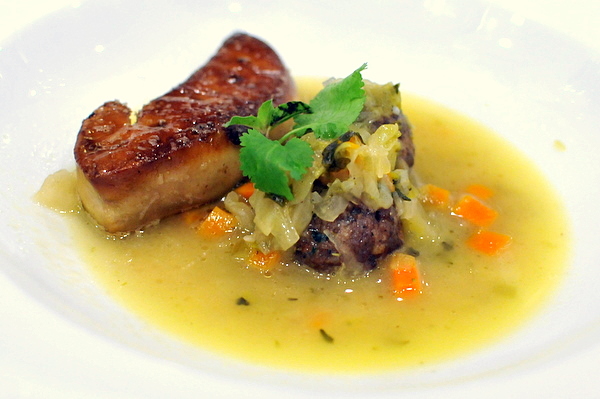 02: Diver Scallops - Beets, Celery Root, Figs, Pomegranate Molasses, Argan Oil, Jerez Vinegar
The scallops were a hair firmer than I liked but still quite tender. With beets and figs playing a prominent role I expected the dish to be overly saccharine, but the salinity of the scallops countered the duo nicely.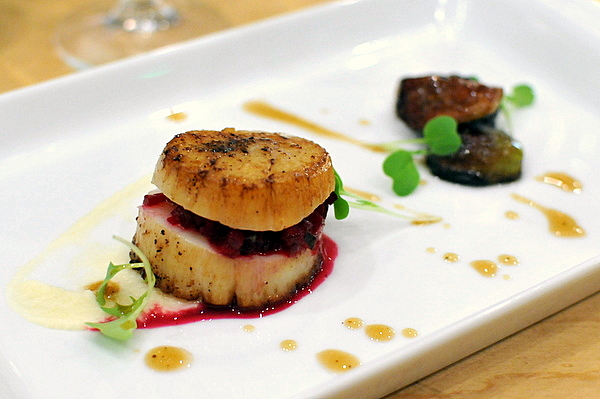 2007 Pyramid Valley Pinot Noir, Eaton Family Vineyards, Marlborough, New Zealand
For our meat courses, I opted for a lighter red, in the Pyramid Valley Pinot. A very satisfying wine, with intense aromas of sour cherry, cocoa and a hint of herbs. The wine goes down silky smooth, balanced on the palate with juicy fruit and earthy notes.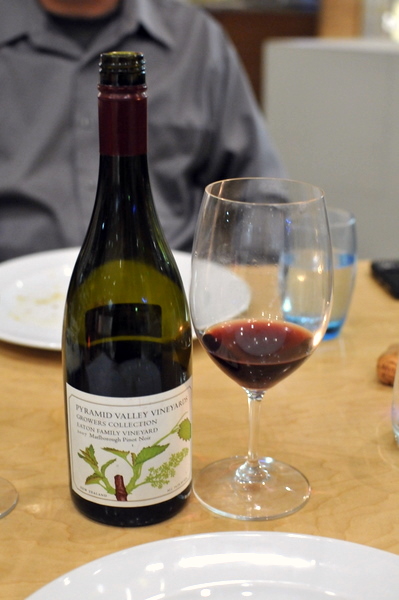 03: Chanterelles - Hazelnuts, Chestnut, Cranberry Varnish, Wild Arugula, Rabbit, Quail Egg
I consider rabbit to be a more restrained meat but the flavor was deliciously robust. The salad was equally impressive the toasted nuts and fresh arugula were tinged with the aroma of truffles. Taken together the dish became a dynamic melange of flavor and texture that was absolutely stellar.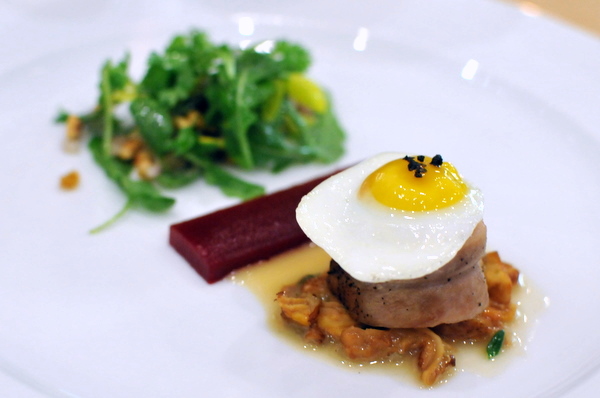 04: Beef "culotte" - Croustillant of Potatoes, Bacon, Onion, Passion Fruit "jus"
The final savory of a night was a simple top sirloin cap, firmer with a depth of beefy flavor. The base layer of potatoes, bacon, and onion reminded me of an Alsatian tart and could have stood on its own while the passion fruit "jus" cuts through the weightiness of the beef and tart with a mouth-puckering tang.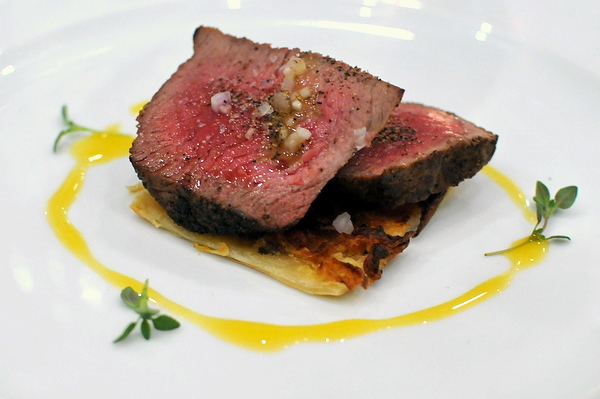 05: The Cheese Cart - Truffle Honey, Toasted Hazelnuts, Carroway Seeds, Pumpkin & Ginger, Fig Tomatillo & Serrano, Fennel, Blended Berry Balsamic
It's been a while since I've had a fromage so it was nice to to see one so extensive. We opted for a selection of seven cheeses definitely favoring softer cow's milk cheese. The blue ended The truffle honey smelled fairly mild but exploded on the palate with a complex heady truffle essence that was so good I could have eaten the bread alone.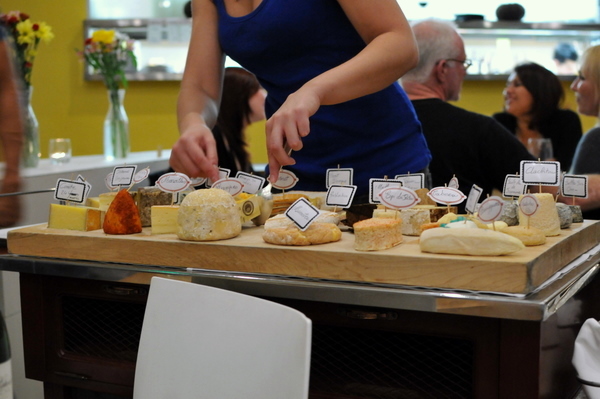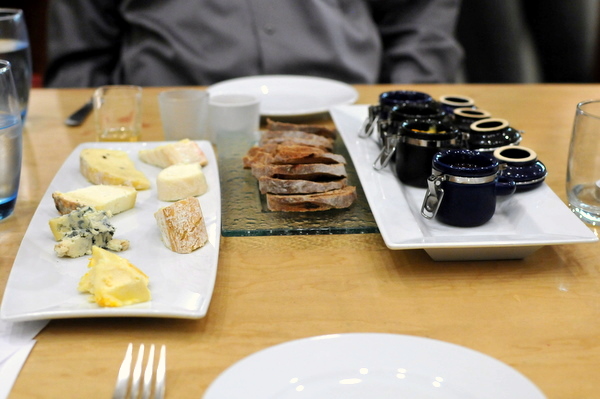 06: Ginger Snap Crumble - Spice Cake, Chestnut Ice Cream, Chocolate Mousse, Rhubarb Gel
Our sweet course consisted of a prototypical spice cake and chestnut ice cream combo, very appropriate to the season while the chocolate mousse added a nice bitter twang and the rhubarb gel had a resonant acidity that matched its vivid color.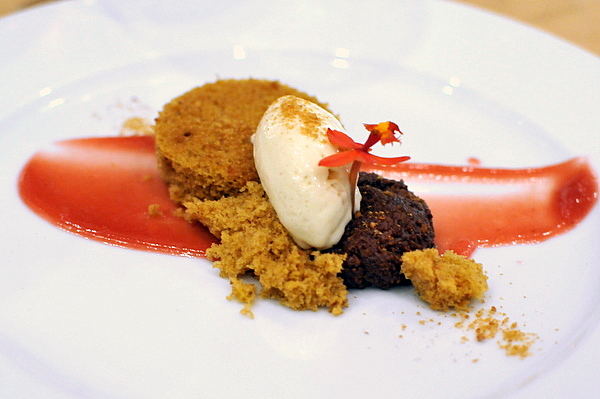 The audition was a resounding success, combining his trademark whimsy with expressive flavor, this was the most impressive cooking I've tasted from Laurent yet though I expect that to be exceeded shortly.