717 8th St SE
Washington, DC 20003
(202) 580-8889

Having made several trips to the DC area in the last few months I was looking for new places to visit. I was turned onto Rose's Luxury by Chef Nobu Yamazaki while having dinner at Sushi Taro's Omakase counter. Since opening little more than eight weeks ago, Rose's Luxury has quickly risen to be the city's hottest new restaurant despite being helmed by a relative unknown in Chef Aaron Silverman. The Rockville native found his passion for cooking after a staging at 2941 during winter break. Starting in 2006, Silverman spent five years in New York working at a variety of restaurants including Momofuku Noodle Bar. It is fitting that after all his travels the Rockville native returned to the DC area to open his first restaurant.

I'd heard the wait at Rose's Luxury can be bad during peak times, but despite going on a Friday night, I was seated immediately. With two formal dining areas downstairs and a 10-seat bar upstairs, there are a number of options but for my money, the best seats in the house are at the chef's counter right where diners can watch the magic happen.

POTATO LOAF - WHIPPED BUTTER WITH CRISPY SHALLOTS AND CHIVES
The meal kicks off with a mini-loaf of freshly baked potato bread. The bread has a thick crust and fluffy interior redolent with the aroma of fresh bread and a toasty sweet flavor. The butter was even better with an onion ring-like savor and freshness to compliment an almost cheesy heft.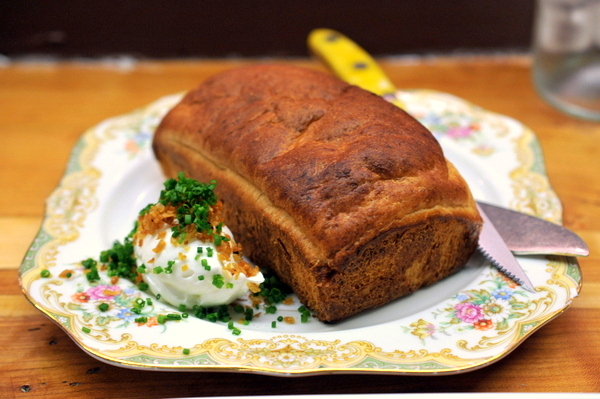 CORSAIR TRIPLE SMOKE WHISKEY - MUDDLED JALAPEÑO, MAPLE
One of my friends raved about the Corsair Triple Smoked Bourbon so I knew I had to start with this cocktail. The bourbon certainly lives up to its name with a smoky petrol-laced bouquet reminiscent of mezcal which was well suited to the jalepño and though I enjoyed the flavor, the spice was distraction for the accompanying courses.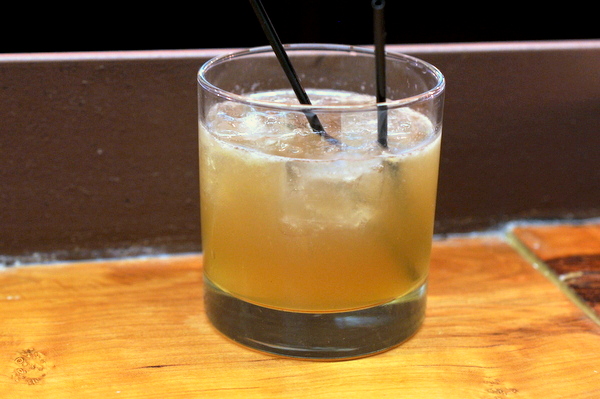 KUSSHI OYSTERS - DARK & STORMY GRANITA
This had all the makings of an exemplary Kusshi, with a melon tinged sweetness and a plump supple body that turns creamy upon mastication. The virgin dark and stormy granita was designed as a play on vinaigrette and though the subtle differences were lost on me I did enjoy the bracing chill and sharp acidic tang.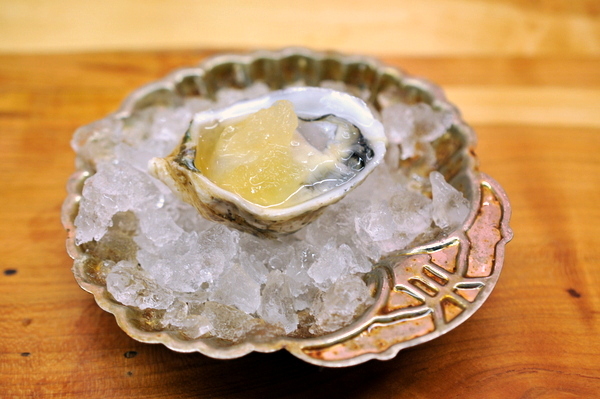 PORK SAUSAGE - HABANERO & LYCHEE SALAD
This proved to be one of the best courses of the night. Presented in a deliberately deconstructed fashion I was advised to obliterate all that hard work and thoroughly mix the contents before eating. Naturally the sausage exudes a rich porcine savor heightened by a growing heat from the habanero. The use of lychee was arguably the most effective I've seen in a savory dish, the fleshy fruit adds a succulent moisture and mellow tropical sweetness a precisely contrasting dissonance to the sausage. A mix of onions, herbs and lush coconut cream add an overarching layer of South East Asian flavor to the salad.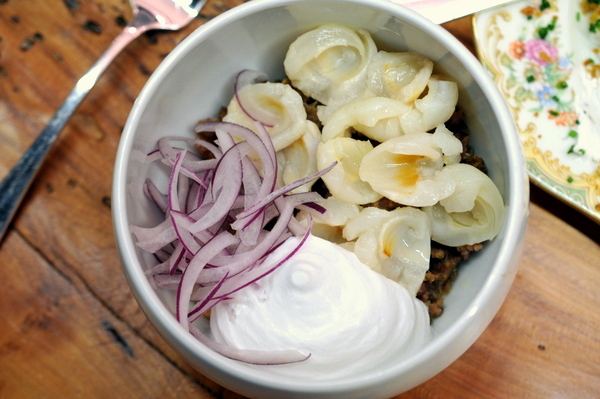 REDEMPTION RYE - SECKEL PEAR, EGG WHITE
I've always enjoyed the luxurious frothy relish that egg white foam brings to a cocktail. The combination of rye and pear is actually very well balanced and easy drinking, with neither cloyingly ripe sweetness nor much boozy heat.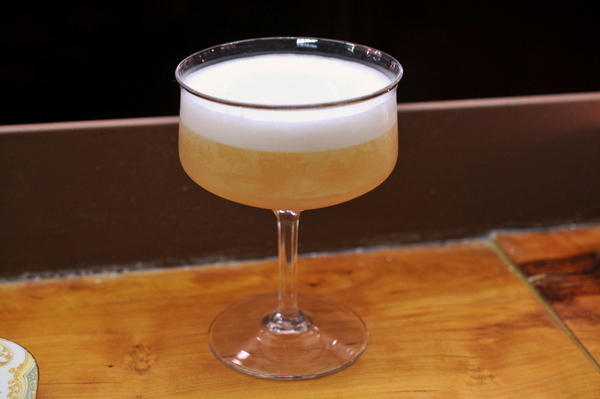 POPCORN SOUP - (W/GRILLED LOBSTER)
This course was obviously a must order and one that is fast becoming one of Chef Silverman's most recognizable dishes. The soup certainly captures the essence of fresh buttered popcorn though I found the buttery flavor a bit overwhelming. Texturally the dish was a marvel pairing the aerated soup with perfectly supple lobster claw. I can see why this dish has been making waves but I wish it came topped with some micro-greens or citrus zest for contrast.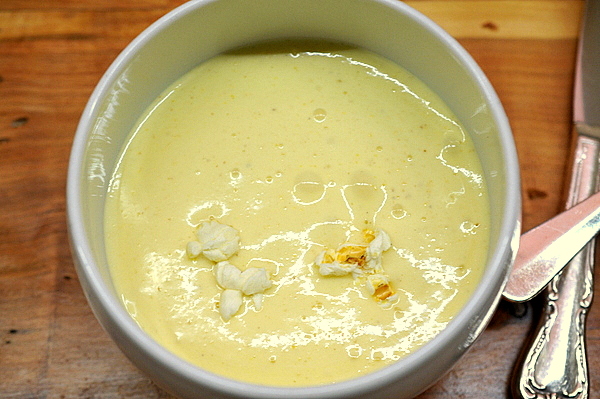 VIETNAMESE PATÈ - HERBS & GARLIC BREAD
Normally one of the larger courses at the restaurant, the kitchen actually sent out this perfectly dressed "banh mi" as a gift. Another standout dish, this magnifies all the flavors of the classic Vietnamese sandwich. The fragrant herbs and pickles bring with them a piquant astringency and spicy relish that cut right through the heft of the rich porky spread. Even the oil-rubbed grilled baguette gets in on the action with a fantastically flavorful charred essence.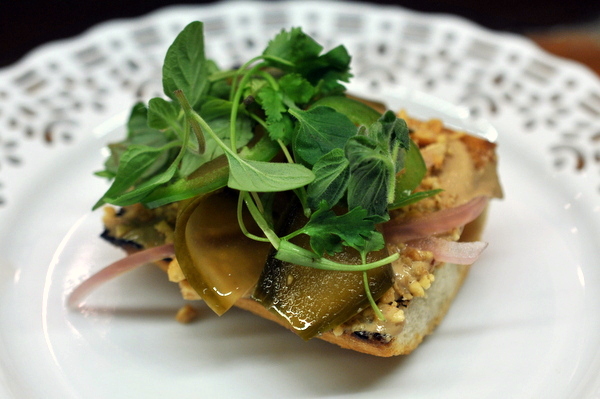 CRISPY OCTOPUS - BURNT LEMON PURÉE & FRESH HERBS
This was probably the most disappointing course of the night for me. The octopus had a decent flavor though creating that golden crispy exterior necessitated a fair amount of cooking making the overall texture a bit dry. In terms of flavor, its all about lemon and char, two things that I normally adore but found a bit overwhelming here.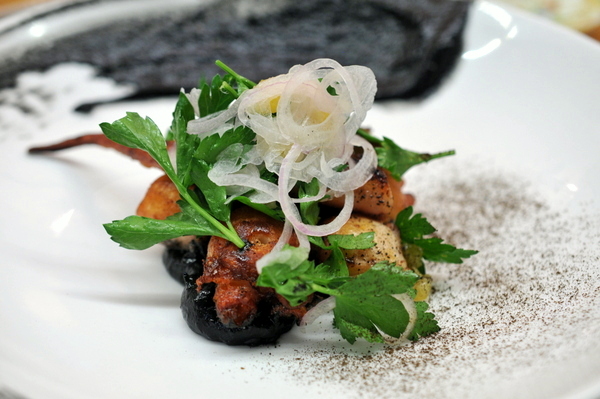 SMOKY MEZCAL - GRAPEFRUIT GINGER BEER & SAGE
Its hard to get a bead on Rose's cocktail program. The earlier whiskey cocktail had all the makings of a mezcal cocktail while the actual mezcal cocktail is more like a gin drink. Despite the pink color there isn't an ounce of sweetness to this cocktail which was quite refreshing with its light effervescence and an overarching herbaceousness reminiscent of Chinese herbal medicine.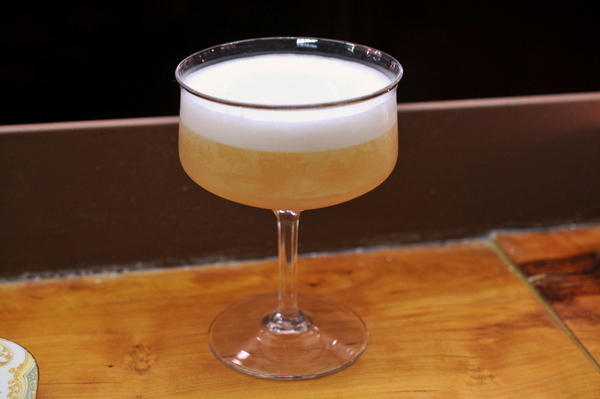 CLASSIC "CACIO E PEPE"
Going back to Roman times, this minimalist pasta dish is made with little more than Pecorino Romano and black pepper, perhaps the precursor to modern day mac'n cheese. No tricks or subtlety here, just a the direct laser-focused application of sharp decadent cheese and the spicy lift of cracked black pepper that manages to feel simple yet incredibly profound at the same time.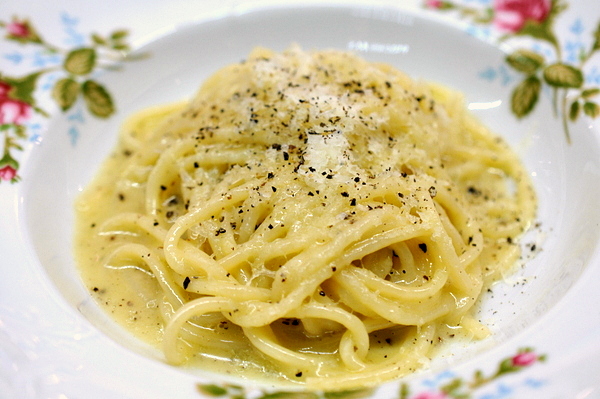 CARAMELIZED CAULIFLOWER - GREEK YOGURT & SOME OTHER STUFF
Never much of a cauliflower fan, I'm immensely grateful to Chef Silverman for sending this as a gift. The cauliflower has a tender almost tuberous texture balanced perfectly by a generous panko crust. The cauliflower has an intrinsic sweetness augmented by what I assumed was maple but that turned out to be a golden raisin white wine and balanced by the sharp lactic tang of the Greek yogurt.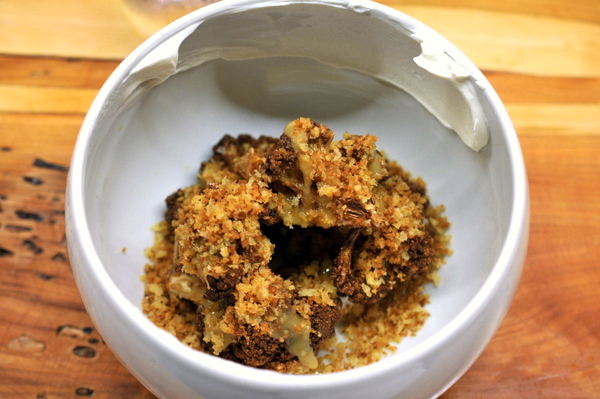 PICKLE-BRINED FRIED CHICKEN - HONEY & BENNE SEED
As a rule, I order fried chicken whenever I see it on the menu. With a thin crisp batter and warm honey drizzle, the fried breast pieces were a touch heavy. Thankfully the bird comes with a small bottle of Louisiana hot sauce which brings an eye-watering vinegar-y astringency that cuts right through all the heaviness.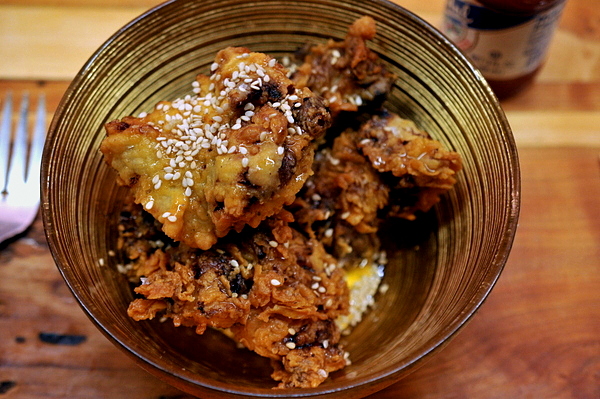 POACHED SECKEL PEAR - SMOKED MARSCARPONE, HONEY
Earlier I shared a few courses with my neighbor and come dessert time she returned the favor. Like the earlier cocktail with Seckel Pear, the itself is remarkably subdued, with the essence of ripe stone fruit but not overly sweet. There was an initial burst of sugary sweetness from the honey that is tempered by the smoked Marscarpone.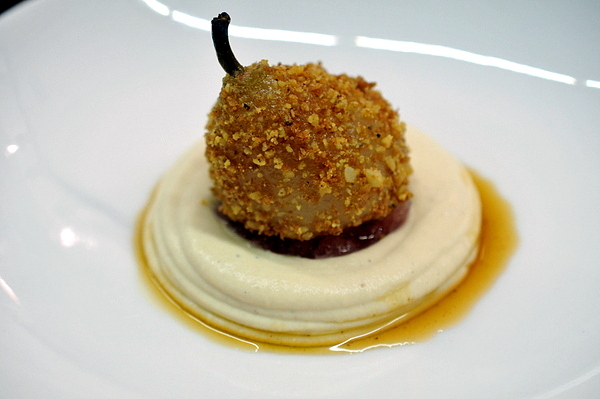 VANILLA ICE CREAM - GRILLED OLIVE OIL CAKE, SEA SALT
The couple next to me swore up and down that this was the best dessert they've ever ordered so I naturally had to order it. The sea salt was a little overbearing on the first bite, but after mixing everything I was rewarding with mouthful after mouthful of green floral-tinged ice cream and savory olive oil cake.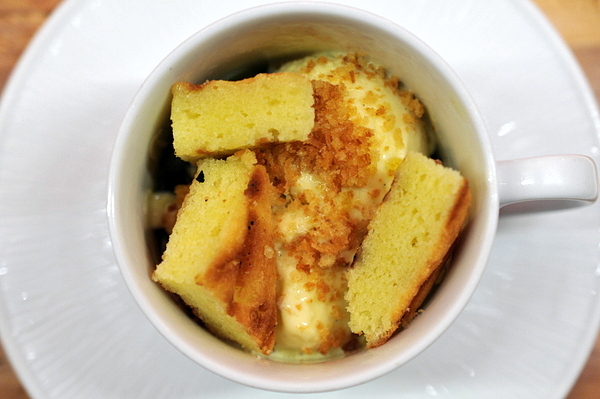 SMOKED MARSCARPONE - HONEY CHAMOMILE ICE
As a little bonus I was given an ad-hoc cheese course based on the pear dessert, the smoked Marscarpone does have a touch of savor to it and the honey and chamomile were delicate fromage friendly accompaniments.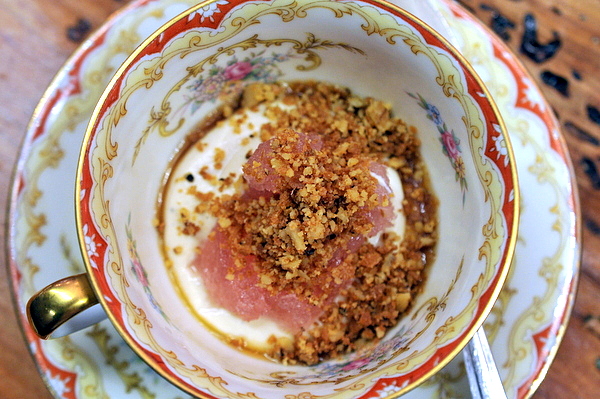 MINT CHOCOLATE CHIP MACARON
A crisp bright green macaron came on top of the bill; a little something sweet to take the sting out of the check.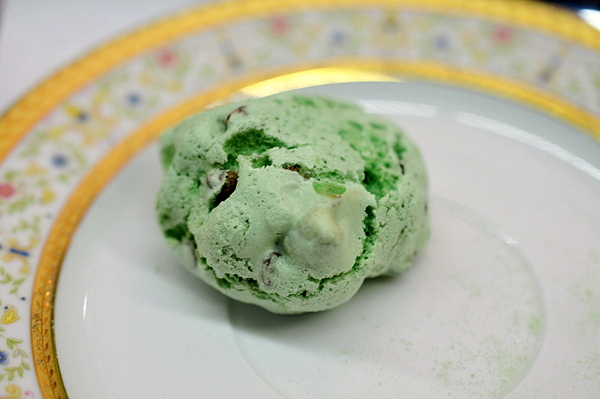 I wasn't sure what to expect from Rose's Luxury; the eclectic menu gave me pause and I couldn't shake the feeling that the style catered to the hipster crowd. Turns out this feeling was unfounded, the seemingly random menu is simply the result of Chef Silverman cooking the dishes that resonate with him and his passion comes across in each of the nuanced and multifaceted dishes.