716 N. Highland Ave
Los Angeles, CA 90038

Since opening in mid-April, Trois Mec has consistently been of the hardest tables to get in LA, with tickets selling out on a regular basis. I've been meaning to revisit Trois Mec for some time now but never could quite remember to be in front of a computer when a new round of tickets was released.

Mulled wine - pear, pomegranate
Almost immediately after sitting down we were presented with a shot of warm mulled wine, the perfect welcoming cocktail for a chilly winter evening. Laced with spice and sweet ripe fruit, the drink reminded me of a holiday version of sangria.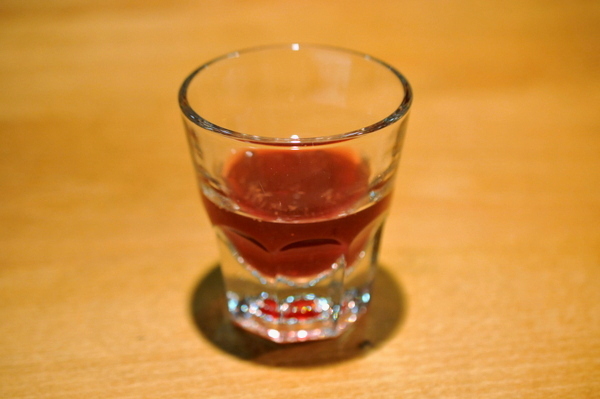 Buckwheat popcorn
NV Guy Larmandier, Blanc de Blancs, Brut
This was a repeat from my first visit and I still can't help but compare them to savory grape nuts. The delightfully crunchy savory bits of fried buckwheat have a toasty salty flavor that is strangely addictive.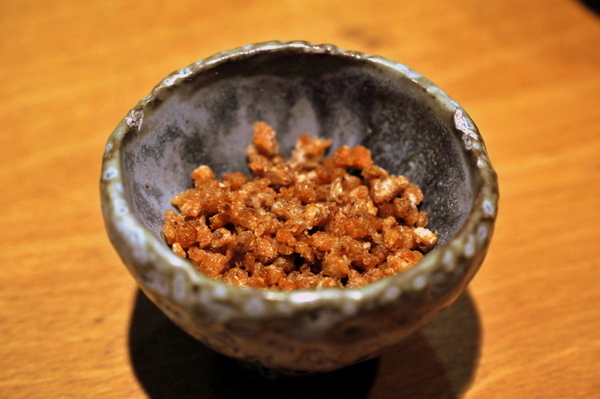 Steamed brioche - clover butter
NV Guy Larmandier, Blanc de Blancs, Brut
Our second snack doubled as bread service for the evening. Though shaped like a bao, the bread was classic brioche sweet fluffy and full of buttery richness with a hint of herbal relish thanks to the clover.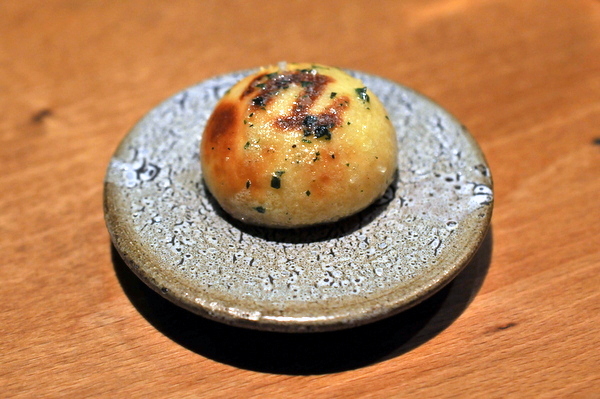 Sunchoke chips - tandoori spice
NV Guy Larmandier, Blanc de Blancs, Brut
Our third snack was a small pile of chips, but made from the tuber from a sunflower instead of the more common potato. In addition to the typical crunch and savor of a chip there was a sharp sour twang probably from the tandoori spices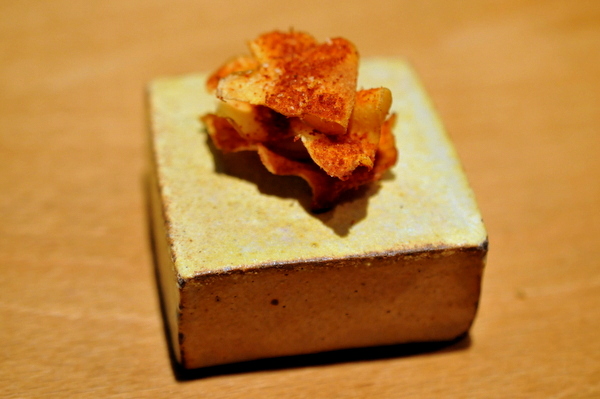 Crispy hummus - dill
NV Guy Larmandier, Blanc de Blancs, Brut
Our final snack was a delicate multi-layered triangle of hummus topped with more hummus and tiny sprig of baby dill. The hummus itself was fairly typical but the flourish from the dill and texture of the crispy hummus were superb.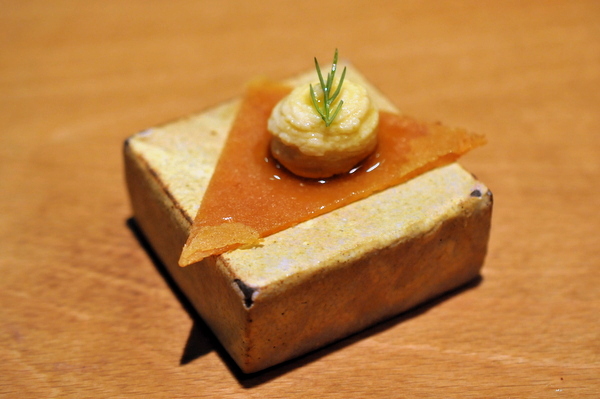 Raw beef - grilled yogurt, fermented black walnut, caramelized eggplant
2004 Haut-Segottes, Saint-Emillion
Our first course of the night consisted of a veil of raw beef over a bounty of earthy delights. The meat is slick but fairly mild on its own. Thankfully there are plenty of other flavors to appreciate from the sharp tang of pickled onion to smoky sweet eggplant and even a touch of astringency from the yogurt. The accompanying wine was fairly complex with subdued fruit notes mixed with cedar and earth. I thought I even detected a hint of truffle though my companion looked at me like I was crazy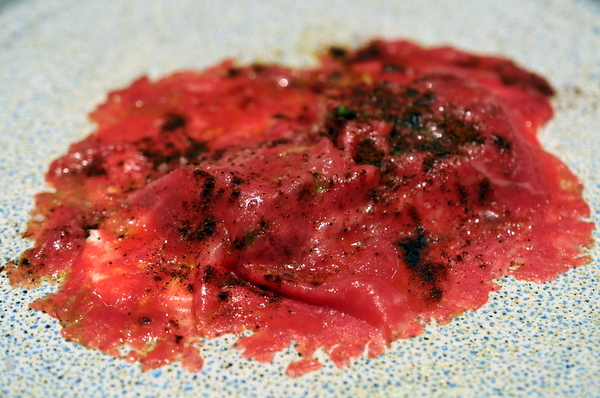 Brown rice porridge - roasted kabocha, white anchovy, dried leaves
Cyril Zangs, This Side Up, Cider
Ironically, the humble porridge dish was probably the most interesting course of the night. The rice is infused with an almost unconscious but vital sense of umami from the white anchovy and complimented by the bitter herbaceous bite. This dish also featured a smear of kabocha around the edges. Though generally not a fan, I thought the restrained sweetness added a softness that rounded out the prickly peppery flavors of the leaves.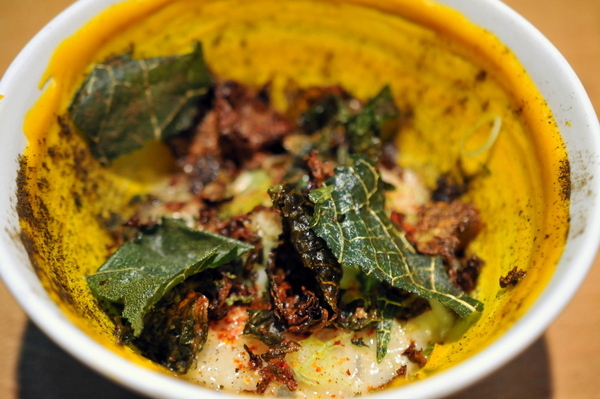 Potato pulp - brown butter, bonito, onion soubise, salers
2011 Domain Ostertag, Pinot Gris, Fronholz
Another holdover from my previous visit, the flavors seemed more focused and on point this time around. The starchy rustic heft of the potato is shocking in it's intensity. The supporting elements all add varying shades of savor but the potato remains the focus of the dish.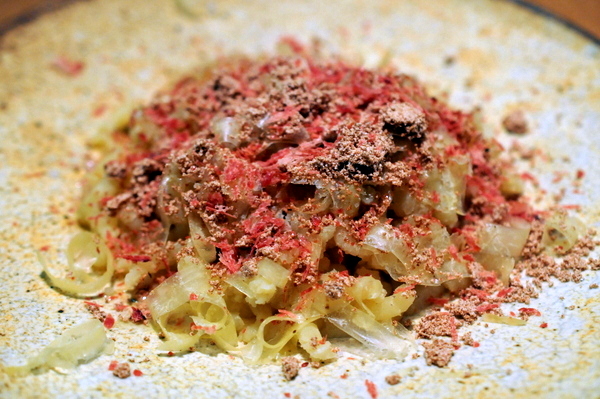 Duck - endive, pear, wild juniper berries, almond candies
2008 Domaine Vieux Telegraphe, Chateauneuf-du-Pape
Ludo has come up with a number of fantastic duck courses and this could compare favorably to any of them. The duck breast has been thinly sliced then roasted but retains deliciously supple juicy texture and classic savor augmented by a crumble made from bits of duck skin. I frequently prefer meats like steak or duck on their own, but the accompaniments fit effortlessly with the bird especially the lovely interplay between the bitter endive and the ripe pears.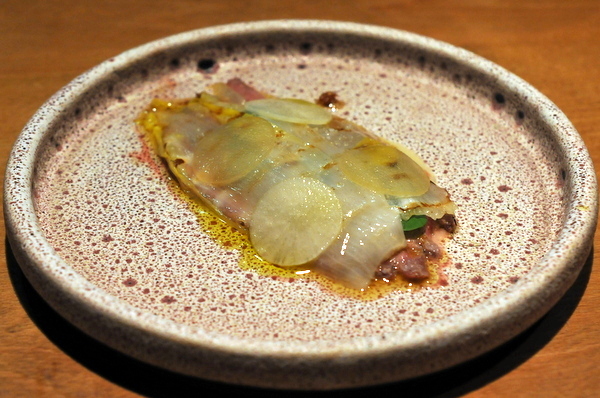 Apple butter - crème de brie, toasted barley, hay
2010 Domaine de l'Alliance, Sauternes
Though we were only given one dessert course it was a damn good one. The bits of apple butter are superb with an irresistible sugary texture to compliment the sweet flavor. The base of cheese only heightened the sensation of decadence with its lush creamy mouth feel.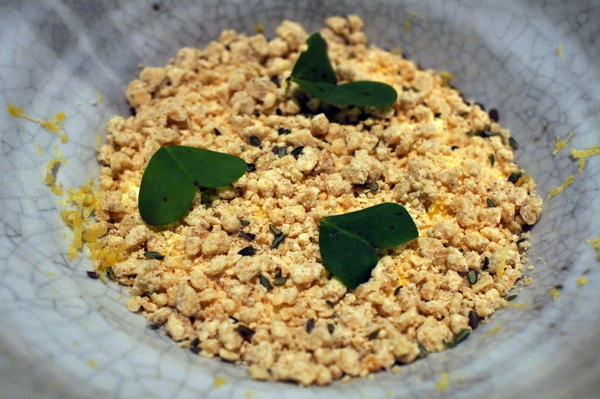 Mignardises - miso caramel, white chocolate kimchi
The miso caramel was absolutely delicious, texturally a bit on the creamy side, there is a slightly unconventional note but other than that the flavor is very reminiscent of a classic salted caramel.I know that Ludo likes to use kimchi in his cooking but I was a bit dubious about pairing it with white chocolate. Turns out I should have shown more faith the creamy sweet chocolate is more than a match for the kimchi, leaving only a trace of funk and spice that is unexpectedly complimentary.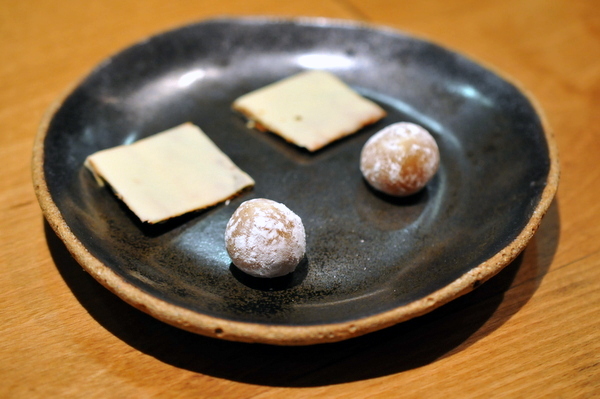 I was glad to see that most of the menus had changed since the restaurant opened. Having tasted Ludo's cooking over a dozen times its hard to say where this falls in the spectrum. While I miss the eclectic style that defined the various LudoBites iterations, the food at Trois Mec feels a bit more polished and complex.