1234 H St NE,
Washington, DC 20002
(202) 388-3086

Ramen has been joying a newfound popularity the past few years in DC first with Toki Underground and then Daikaya. I had planned to hit up Toki Underground during my previous trip but was talked into trying Daikaya instead by a chef friend who said Toki was more trendy than good. This time around I had a later flight into DC and I opted to grab a quick bite at Toki. Located above a pub named The Pug, the restaurant is a bit difficult to find. Once inside, the restaurant is little more than a small bar and kitchen, the walls of the space are artfully graffitied and I noticed the bar was made of old pachinko machines. During peak hours there is regularly a wait for one of the handful of seats but I was able to belly up to the bar immediately.

Toki Monster - Bulliet Bourbon, Barenjager, Peat Monster Scotch, Pork Belly Kushiyaki
The cocktail is mostly whiskey, a mixture of bourbon and Scotch sweetended with a dose of German honey liqueur. Despite being made up of pure hard liquor the cocktail is quite easy drinking with a slight honeyed sweetness. The pork belly is really more of a novelty, savory sweet, the bacon-like kushiyaki was good enough on its own but other than a few disconcerting dribbles of congealed fat, the meat doesn't add much to the cocktail.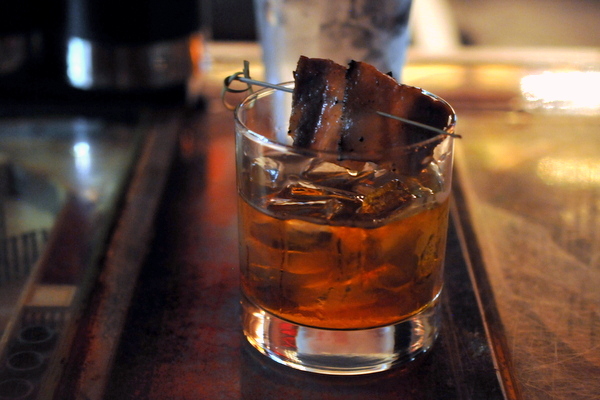 Pan-fried Seafood Dumplings - filled with fresh cut ginger, garlic, scallions, napa cabbage, our secret house spice mixture, and topped with Toki tare
Gyoza are often a popular accompaniment with ramen and I was pleased to see a few options beyond the classic pork. I started with a half dozen seafood dumplings that came covered with refreshing scallion and a sweet dark sauce. The dumpling skin was a little thin and dry for my liking. The filling is a pretty classic mixture primarily made up of napa cabbage and some sort of unidentified ground "seafood" that had a slight tinge of saline and umami absent in pork dumplings. On the whole, I felt the dumplings had a number of technical flaws but remained enjoyable.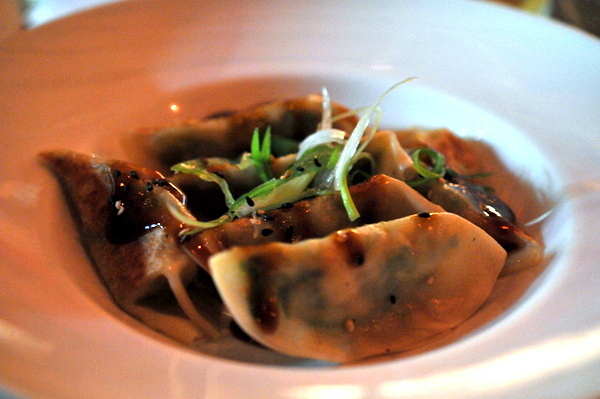 Pan-fried Pork Dumplings - filled with fresh cut ginger, garlic, scallions, napa cabbage, our secret house spice mixture, and topped with Toki tare
Naturally I had to try the classic pork dumplings. Like the seafood dumplings, I ordered them pan-fried and they came topped with a thick sweet tare and scallion. The pork dumplings had a more straightforward savor and more substantial texture.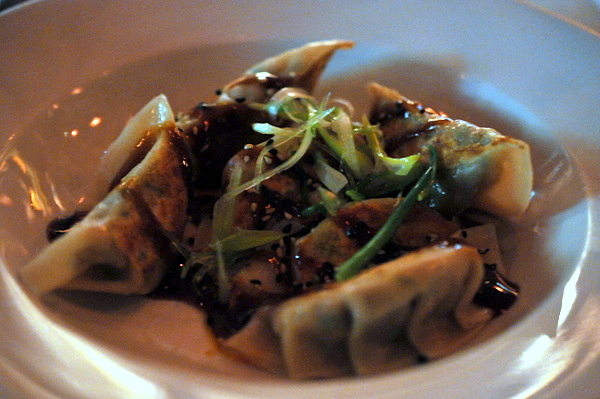 Jaded - Bombay Sapphire, Lemon Juice, Soda Water, Cucumber Sea Foam
I probably should have started the evening with the Jaded. The cocktail has an unabashedly astringent mouth-puckering acidity with a gentle effervescence. I recommend skipping ths sraw and get a bit of the sweet refreshing cucumber foam with each sip.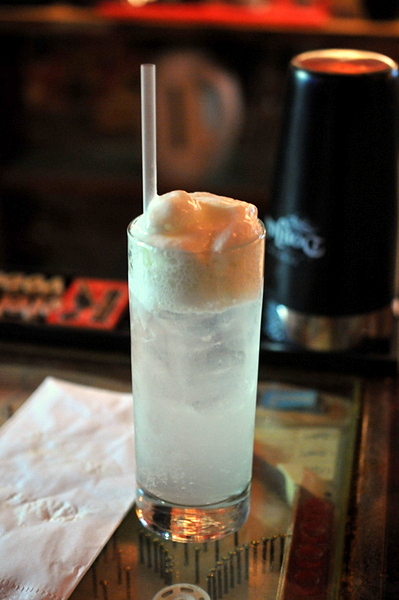 Toki Classic - Tonkotsu triple stock with chashu pulled pork, seasoned vegetables, soft egg, pickled ginger, sesame, scallion, nori
Now we come to the heart of the meal, Toki Underground's vaunted classic Ramen. Even before taking a bite I noticed the broth had an unexpectedly deep brown color and especially thick consistency. The resulting flavor had a darker and earthier braised weightiness instead of the focused porcine savor I was hoping for. I also didn't particularly care for the pulled pork "chashu." Instead of slabs of marbled sweet pork, the meat is shredded into tiny pieces, perhaps as a way to compensate for using sub-par pork. The bowl came with what looked more like a poached egg, the white lacked the telltale brown tint of a soy marinade and texturally was still a semi-runny slurry. Likewise the yolk was more consistent with a poached egg than the dense creamy consistency of a soft-boiled nitamago. The one real highlight of the bowl was the noodle, the dense supple golden strands were cooked perfectly and deliciously slurpable.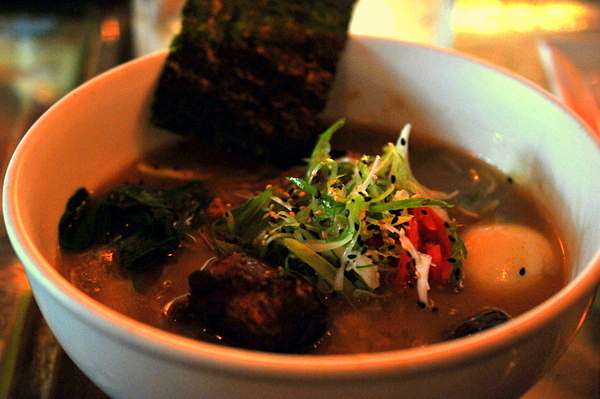 My friend was right on the money in his assessment of Toki Underground. Rather than the precise classic flavors that I got at Daikaya, both the dumplings and ramen felt muddled. Personally I'd take Daikaya over Toki Underground any day of the week when it comes to food though Toki does have a more interesting selection of beers and cocktails.