228 North Market Street
Frederick, MD 21701
(301) 696-8658

My third trip out to DC, I actually found myself with a coveted day off so I planned a visit to VOLT in Frederick. Of course a huge ice storm just happens to blow into town that day and not knowing when I'd next find myself in the area I opted to brave the storm and proceeded to spend two nerve wracking hours driving from DC to Frederick. Apparently two-thirds of the diners that evening decided discretion was the better part of valor and cancelled their reservations; there were even two coveted seats at Table 21 open. The main dining room format has changed a bit, with an a la carté menu and a 6-course tasting replacing the old 4-course and 7-course options.

BEET MACAROON - foie gras, cara cara orange
SAVOY CABBAGE - penn cove oyster, chili honey
CAULIFLOWER - za'atar yogurt, smoked golden raisin
VOLT's tasting menu begins with a trio of amuses. The foie gras stuffed beet macaroon is a welcome staple, decadent liver wrapped in an airy sugary shell. The oyster and cabbage was my favorite of the trio, the glassy vegetal chip and the saline of the meaty Penn Cove are lovely particularly with the touch of spiced honey. The final snack infuses a roasted cauliflower with a flourish of Mediterranean spice and kiss of ripe sweetness.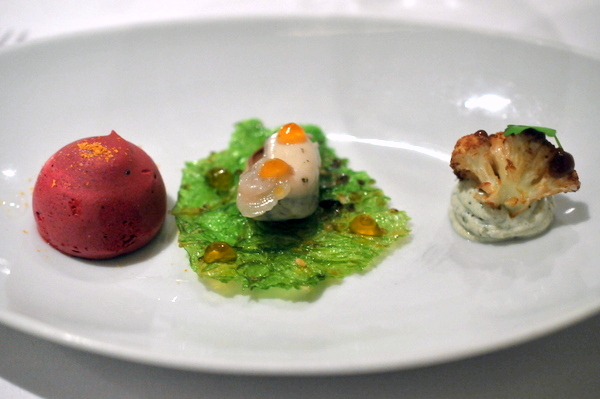 CRANBERRY - daikon, radish, buttermilk, surry county ham
Nominally part of the vegetable tasting menu, the kitchen sent out a version augmented with a ham chip as a gift. The mixture of radishes is delightfully crisp and light though when coupled with the cranberry the flavor is overly harsh and astringent. Against that backdrop, the thin sliver of ham is particularly sapid and rich almost downright sexy.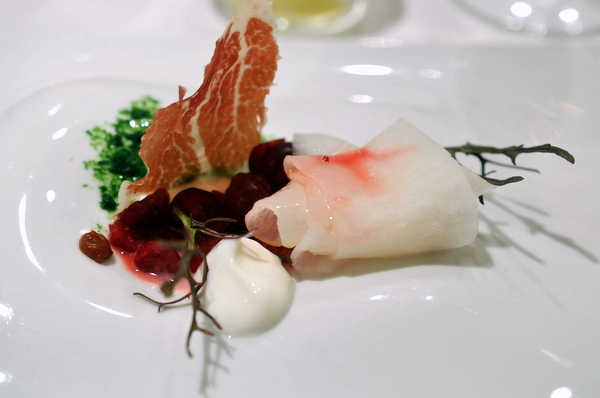 BAY SCALLOP - dashi, breakfast radish, sea succulents
This was probably my favorite course of the evening. The scallops are tiny, but dense and brimming with sweetness. The broth is a traditional dashi augmented with trimmings from the Nantucket Bay Scallops, the flavor is cool cohesive umami with a elegant citrus flourish from the olive oil. The bits of radish and succulents add the barest hint of herbaceous contrast.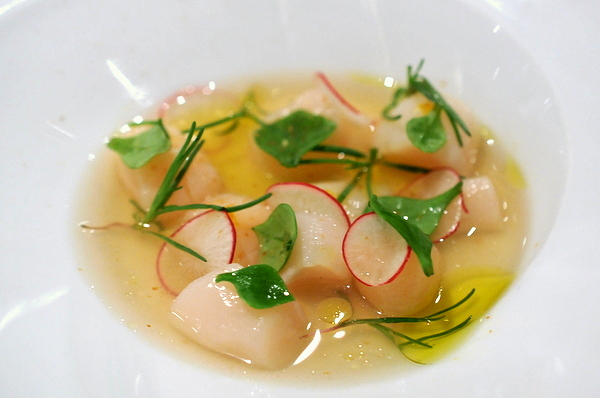 CAULIFLOWER MUSHROOM - steel cut oats, sea lettuces, beer, yeast
I've enjoyed a outsized number of excellent rice and grain courses over the course of the year and I was hoping this would rank among them. Indeed the fragrant earthy mushrooms coupled with a caramelized sweetness are superb while the bright tang and crunch of the sea lettuces provide an integral balance to the creamy heft of the dish. The one fault with the course was a slight disconcerting funk which I suspect comes from the yeast.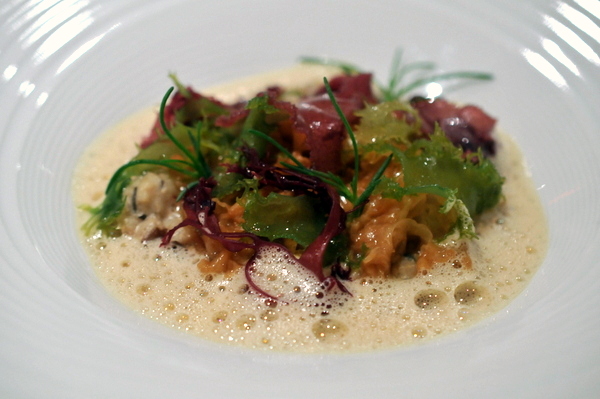 ARCTIC CHAR - rye, cabbage, dill, concord grape
The char came with a mix of rye and sauerkraut; the lithe supple flesh infused with a smoky sour twang that is both rustic yet elegantly pure. I'm not sure if it was the combination of concord and dill but there was a secondary flavor of that reminded me of the smoke from a joss stick.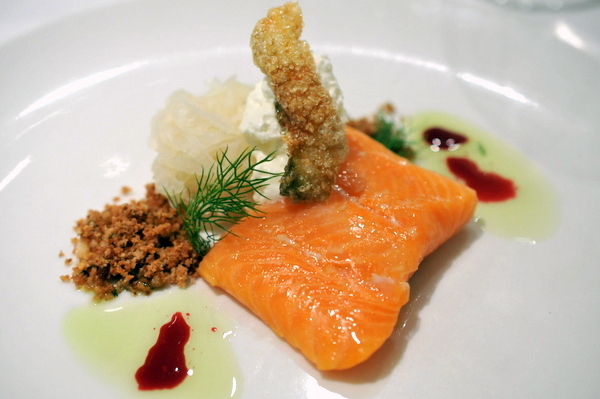 BLACK COD - yellow miso, hickory smoke, belgium endive
Miso and black cod is always a great way to start a course; add to that a bit of hickory smoke and you have a fish that is delightfully flaky and full of savory sweet contrast. A bed of charred endive adds a surprisingly mellow sweetness while the light chicory salad and pickles counters the weightiness of the fish.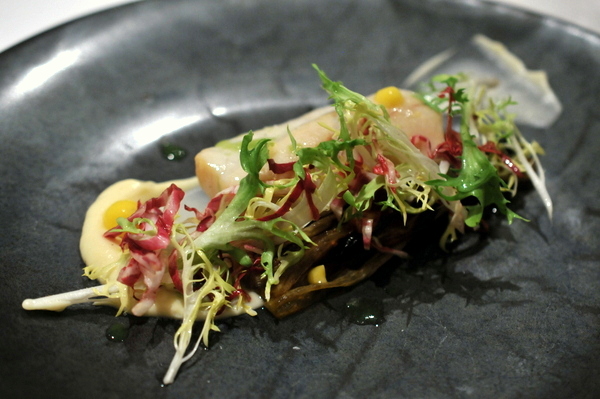 FARM HEN EGG - frisee, brown butter, pine nut
No way I was going to skip out on the farm egg. Cooked to 63C, the egg was technically perfect with a supple white and golden creamy yolk. As much as I enjoy acid, the combination of celery and herbal aromatics was a bit too austere for my tastes.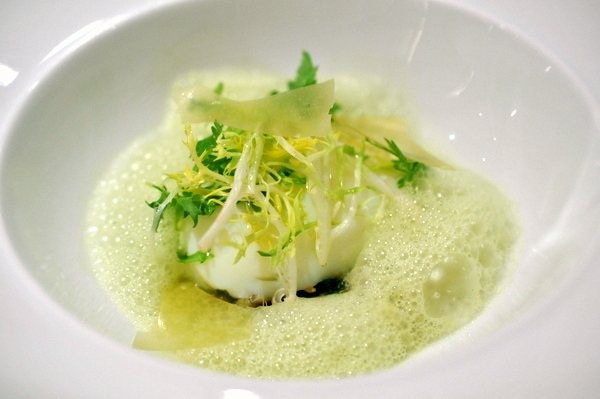 CALAMARI BOLOGNESE - apple wood bacon, squid ink, miso, parmesan
If the last course was a bit too light this course more than made up for that. The dish starts off all bacon and tomato, with an aroma akin to a sausage pizza but the squid quickly makes its presence felt as well. The mix of bacon and squid is a one-two punch of fatty relish and briny flair wrapped in a hearty sauce of bracing tomatoes and pungent daikon kim chi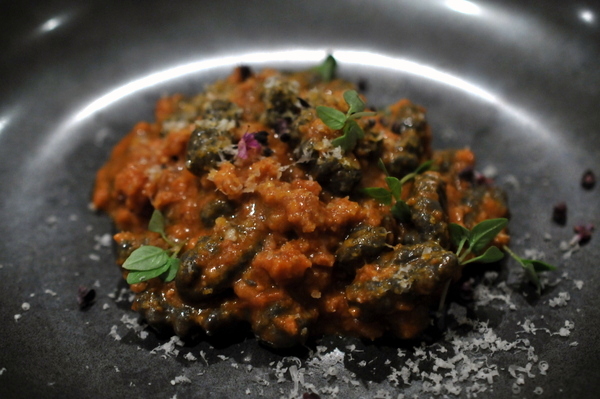 BEEF - salsify, embers, charred leeks
The final savory is a picturesque short rib; solidly dense yet tender texture to it with the abundant fatty meaty relish of short rib. The accompanying salsify puree has a weightier feel than mashed potatoes along with a lovely aroma of smoke and sweet root vegetable. Rounding out the dish are charred leeks and leafy greens a nice change from the tired vegetables that typically accompany a composed beef course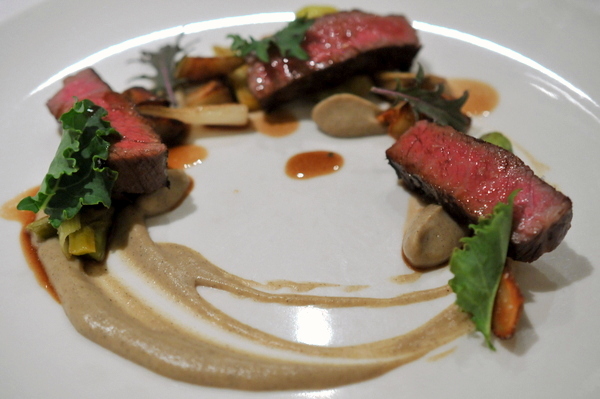 APPLE - aged cheddar cheese, apple pie sorbet, apple turnover
Another surprise gift from the kitchen. The cooked apple and maple has a sweet autumnal warmth to it touched with a hint of savor from the cheese.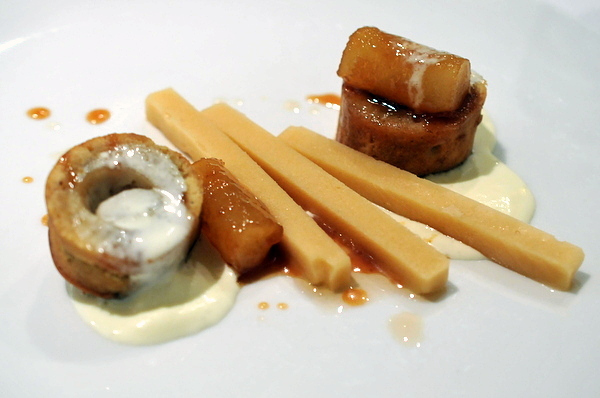 CHOCOLATE - vanilla, peanut, marshmallow, caramel
The final dessert was built around a whimsical ball of chocolate chip cookie frozen custard with pillows of chocolate hazelnut mousse on a bed of toasted marshmallow cream. Rich sweet caramel and salted peanuts provide a spectrum of savor and sweet accompaniment to the various frozen delights.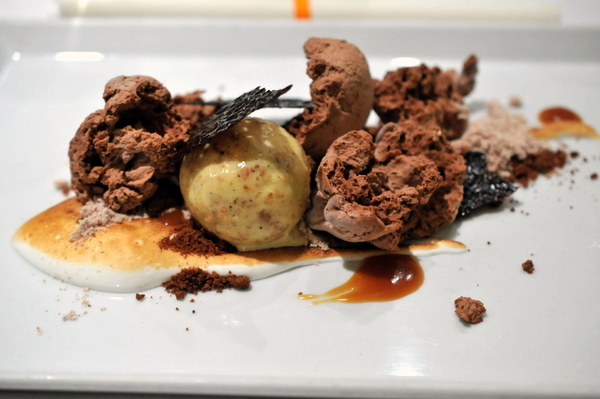 Turns out the meal was well worth braving the storm with the tasting menu deftly showing off Voltaggio's elevated American cuisine and service seemed particularly on point; perhaps the staff's way of showing their appreciation for the diehards willing to brave the weather.