5955 Melrose Ave
Los Angeles, CA 90038
(323) 460-4170

Providence is the first stop on this years 5x5 Chef's Collaborative dinner tour. As the name suggests there are five dinners, about one per month. Each dinner consists of 5 of LA's top chefs and a guest chef each preparing one course in a multi-course meal. This year's chefs are: Gino Angelini (La Terza, Angelini Osteria), Michael Cimarusti (Providence), Josiah Citrin (Melisse), David Lefevre (Water Grill), and Walter Manzke (ex-Bastide).

Monday, May 19, 2008: PROVIDENCE with David Kinch of Manresa
Tuesday, June 17, 2008: BASTIDE with Gabriel Kreuther of The Modern(When I called Bastide, they said this dinner was cancelled due to Manzke's departure. Hopefully they will be able to find a replacement in October)
Monday, July 7, 2008: MELISSE with Douglas Keane of Cyrus
Sunday, August 31, 2008: WATER GRILL with Giuseppe Tentori of Boka
Monday, September 22, 2008: LA TERZA with Alain Giraud of Anisette

The goal of the dinners is to forge closer ties between chefs in the LA area. Also, each year a portion of the proceeds is donated to charity, this year it is the Southern California Special Olympics. That night at Providence there was also an auction for the five chefs to prepare a private dinner at the winner's house. I recall the auction reaching $6000 but I don't know what the dinner finally went for.

I foolishly waited until two weeks before the dinner to make reservations. I almost didn't get them but after pleading a suitably convincing sob story, which I attributed to one of my dining companions, he got a call the next day. Oddly I had called a day earlier and left my own name on the waiting list, but I never received a call back. Either the person in charge of reservations prefers the name Kevin to the name Ryan, or this is an example of the squeaky wheel getting the grease.

Our dinner ended up being at 9:30, but coming from Orange County we wanted to head up with plenty of time. We ended up being 40 minutes early so we dawdled outside for a bit. Be warned though there is street parking, the area surrounding Providence leaves something to be desired. In fact one of the other diners joked her car might not be there when she left.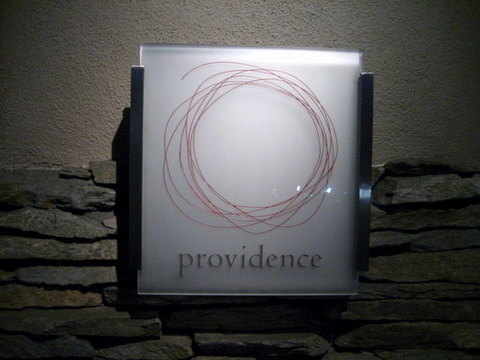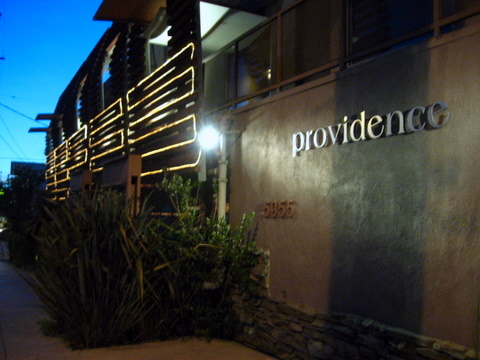 After taking some pictures, we headed to the bar. I recall Providence having an impressive bar and I was not disappointed. I ordered a cucumber martini which would be my drink of choice if it weren't so hard to find. This was probably the best I have ever tasted and as an added plus the bartender put cucumber shavings in the shape of the Providence logo as a garnish. My friends had a mojito and Tom Collins, both very good.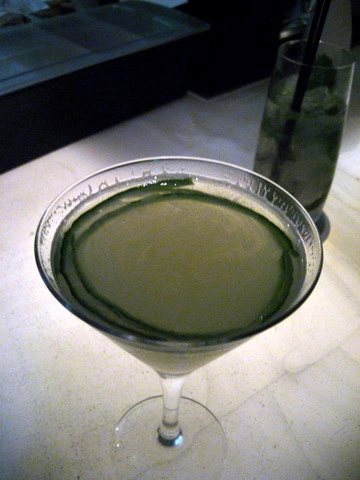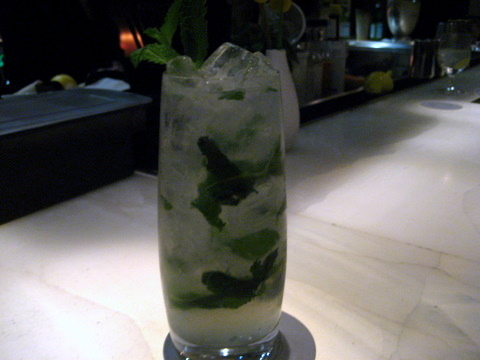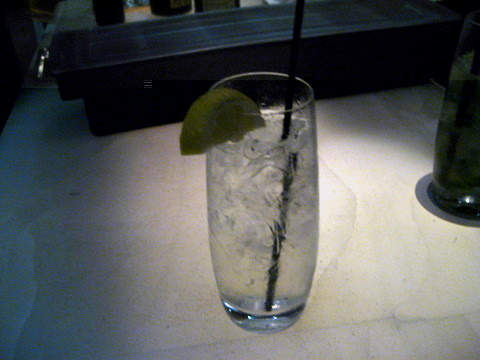 Unfortunately we had to wait well past our reservation time and weren't seated until after 10. The delay was annoying but thankfully the meal would make up for it.

Bread - French baguette, olive baguette, homemade focaccia, and bacon & onion brioche
The breads were all fairly typical with the standout being the bacon and onion brioche. I find I tend to favor bread with a bit of bacon or ham after all as any carnivore knows, bacon makes everything better.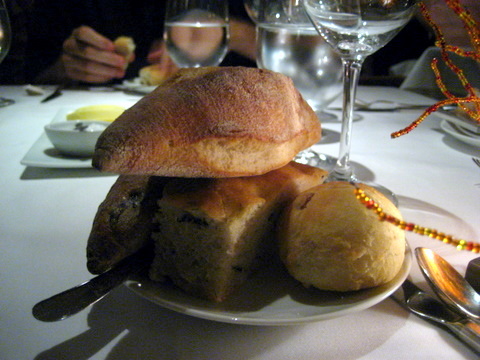 Amuse Bouche - Michael Cimarusti, Providence
Host chef Michael Cimarusti provided not one but three small amuses to open the meal. We were advised to eat from left to right.
Tai ceviche with lemon, sweet and sour plum, and shiso granita - This was my favorite of the three, the tai had a nice snap to it and a light flavor that went well with the citrus and the sweetness of the shiso. The sour plum added a nice tartness and a tangible crunch to the dish.
Calamari sushi with nori, asparagus, chorizo, and rice - Not a big fan of this one, I thought the dollop of hoisin sauce threw off the interaction between the flavors although I did appreciate the variety of contrasting textures.
Uni panna cotta with American caviar and wasabi - Probably the most subtle of the three, the distinctive uni flavor is constrained by the panna cotta. The caviar and wasabi add nice contrasting layers of flavor to the panna cotta.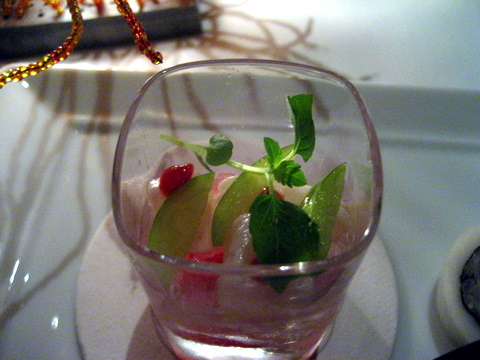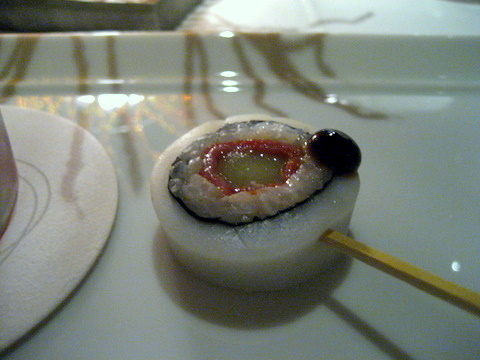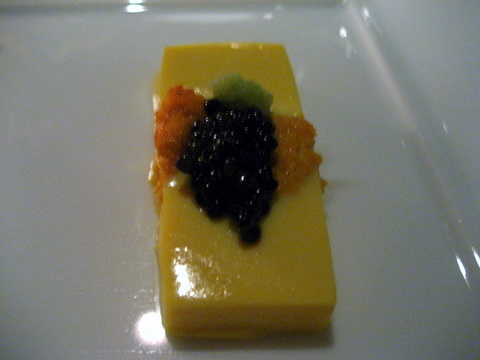 Crispy Mussels perfumed with Nasturtium, Vegetables in Exotic Spice - David Kinch, Manresa
Taittinger, Cuvée Prestige
Probably the most distinctive dish of the night. The mussels came fried and looked more like a fried chicken nugget. The yellow on top was a Vadouvan (Indian spice mixture that commonly includes curry leaves, fenugreek, mustard seeds, garlic and sometimes cumin) butter foam. The dish was intensely spicy and smoky with a lingering bitterness. Oddly enough I had a dish with Vadouvan butter last time I was at Providence, and I don't remember anything like the intense flavors I experienced this time.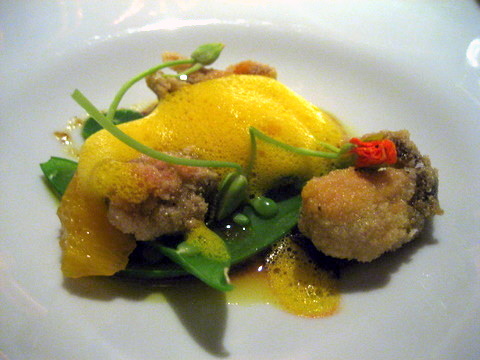 Southern Australian Rock Lobster, Inaniwa Udon Noodles, Dashi-Konbu Broth - Walter Manzke, formerly of Bastide
Kanchiku, Jun-mai Dai-ginjyo
The next course was probably my favorite of the night. Lobster lightly cooked in a seaweed broth with udon, nori, egg yolk, and some gold leaf for good measure. The soup had this savoriness about it that can only be described with one word, Umami. The only way the dish could have been better is if the noodles were a touch thicker and more "Q".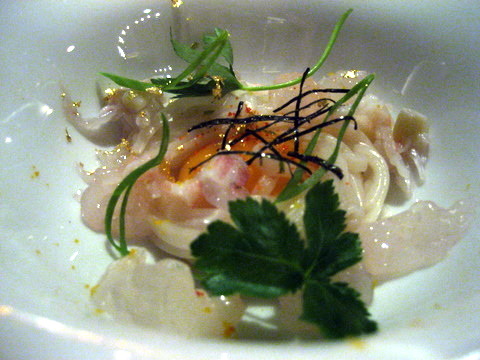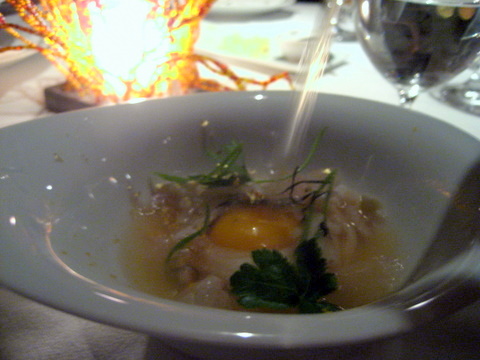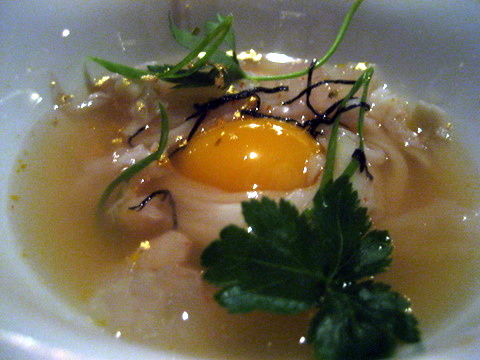 Turbot with Morels, Basil Scented Pea Purée, Rabbit Leg Confit and Anson Mills White Corn Strewn Grits - David Lefevre, Water Grill
Chardonnay, Levendi, Cold Creek 2006
A very strong example of Turbot. I tend to find the fish overly tough if done improperly but this was very good firm, without being dry. The fish itself is lightly flavored and benefited from the meatiness fo the morel and the sweetness of the basil and pea puree. I thoroughly enjoyed the grits as well although, I felt it stood as well alone as it did paired with the fish.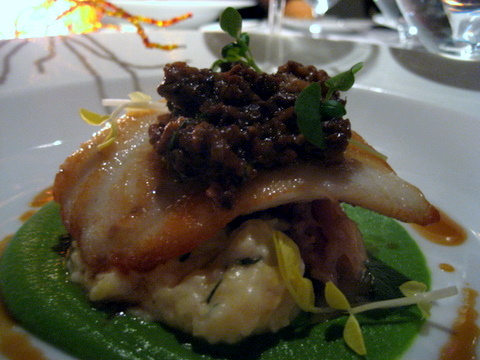 Agnolotti di Ossobuco, Salsa Parmigiano - Gino Angelini, La Terza and Angelina Osteria
Pinot Nero, J. Hofstatter, Meczan 2006
Another strong course, this was probably the simplest course of the evening but one of the most satisfying. The agnolotti was filled with soft rich ossobuco and cooked in butter and parsley. The end result was a heady mixture of intense flavors that somehow harmonized with one another.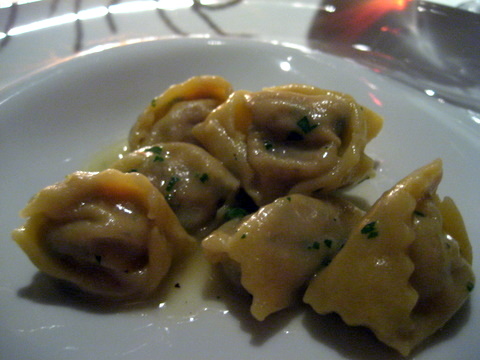 Filet of Beef "Wellington", King Oyster Mushroom, Potato Boulangère, Watercress Mousseline - Josiah Citrin, Melisse
Merlot, Craggy Range, Te Kahu 2005
This reminded me a lot of Chef Citrin's Duo of Beef at Melisse. This is my first experience with Beef Wellington outside a Las Vegas buffet and leaps and bounds better than my previous experience. The meat was beautifully done and set off perfectly with the flaky crust. The Wellington was topped with duxelles, less glamorously known as mushroom paste. I enjoyed the rich herbal flavor of the sauce although I thought the Wellington could have stood on its own.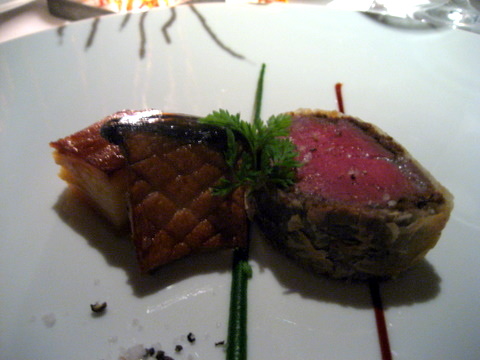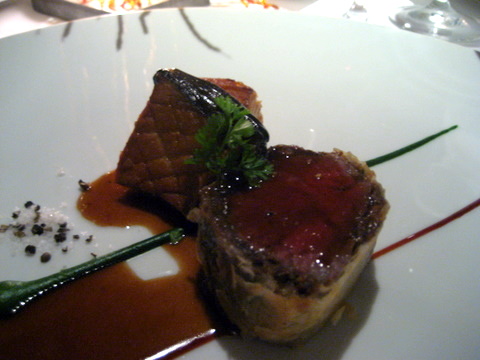 Harry's Berries Gaviota Strawberries, Red Bean Purée, Shiso, Black Sesame Soy Milk Ice Cream - Adrian Vasquez, Providence
Muscat, Wenzel, Noble Selection 2003
An obviously Asian inspired dessert with the red bean and sesame ice cream. The strawberries were each intensely loaded with flavor and paired surprisingly well with the other two key components. I particularly enjoyed the sesame soy milk ice cream which was flavorful but not too sweet.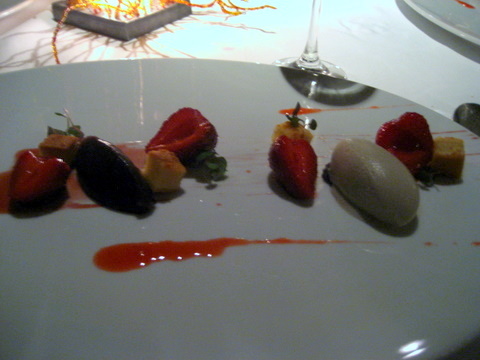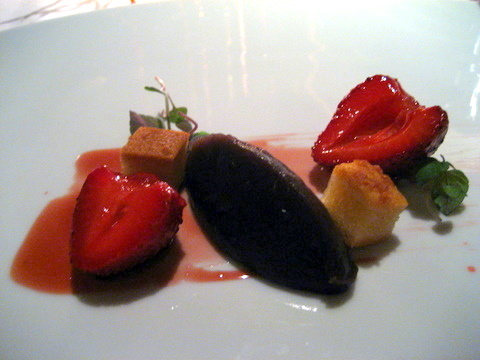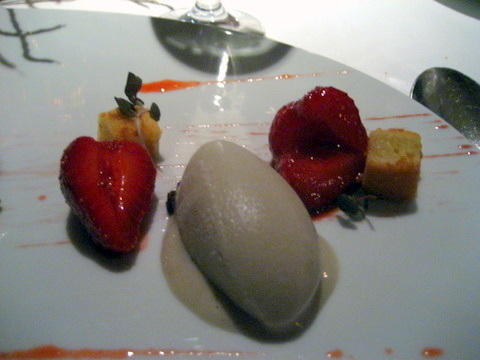 Mignardises - Vanilla Marshmallow Truffle, Amaretto Chocolate, Espresso Macaron, Mushroom Caramel, and Olive Oil Gelée
I enjoyed all the petit fours, much better than the first experience, although no lollipop this time. My favorites were the Amaretto Chocolate and Espresso Macaron.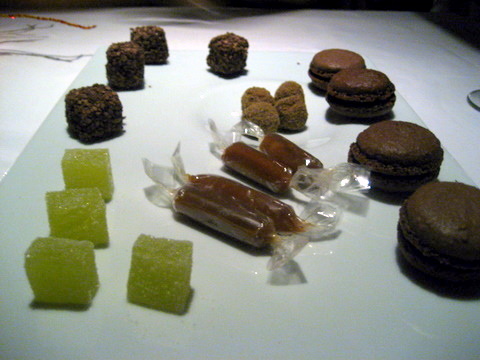 At the end of the meal we were fortunate enough to speak to the chefs. They chatted politely with us and even posed for a couple pictures though they seemed to want nothing more than to unwind with a drink. The cast of characters, clockwise from lower right: Gino Angelini (La Terza, Angelini Osteria), Josiah Citrin (Melisse), Walter Manzke (formerly of Bastide), Adrian Vasquez (Providence), Michael Cimarusti (Providence), David Kinch (Manresa), and David Lefevre (Water Grill),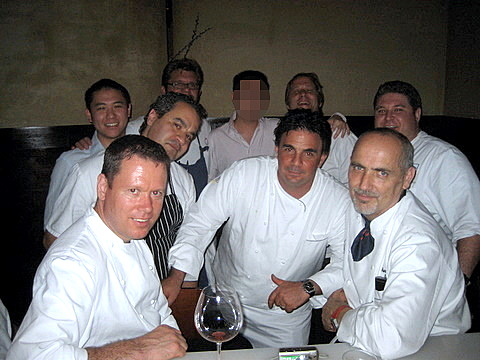 The 5x5 is truly a wonderful stage for the chefs to show off their prowess. I have made my reservations to the remaining 5x5 dinners, now comes the painful part, waiting.