243 S San Pedro Street
Los Angeles, CA 90012
(213) 621-9500

A little over a year ago I first visited Lazy Ox Canteen. Here we are a year later just next door at Aburiya Toranoko, the new izakaya by Michael Cardenas, the same man responsible for Lazy Ox. Lazy Ox quickly gained a reputation for its innovative menu and nose to tail approach, it would be interesting to see what Cardenas had in mind for Toranoko. Thanks to KevinEats who gave me a seat at his table at the pre-opening dinner.

Despite the unadorned exterior, the space is noticably sexier than your typical izakaya, with chandeliers running along the large communal table. A sushi bar along the back, black leather booths along one wall and a long bar against the other complete the dining room.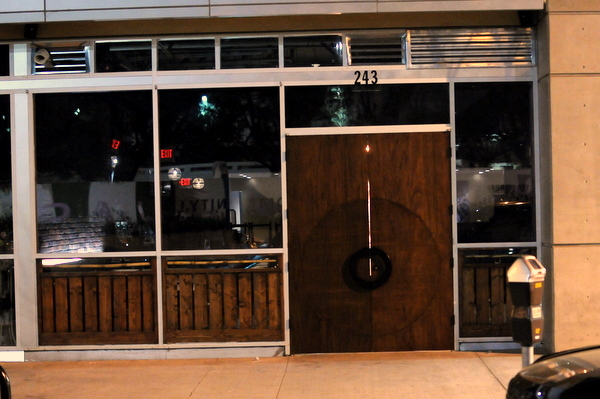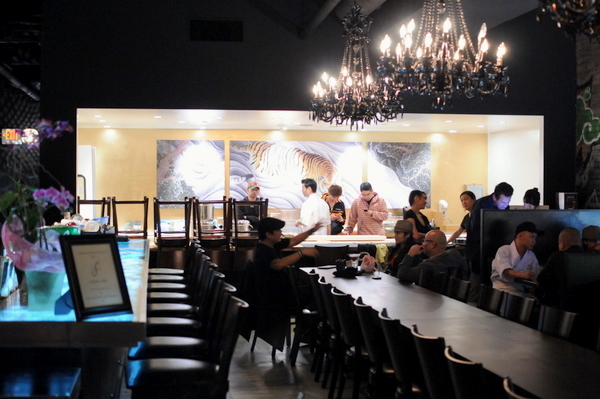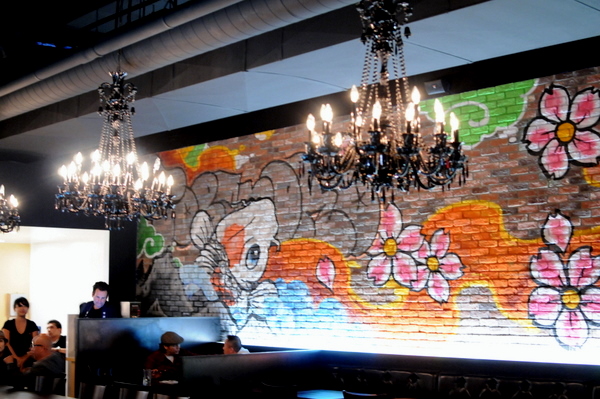 Coedo Beniaka
Coedo is a reddish brown ale, fairly unremarkable but for a slight nutty sweetness.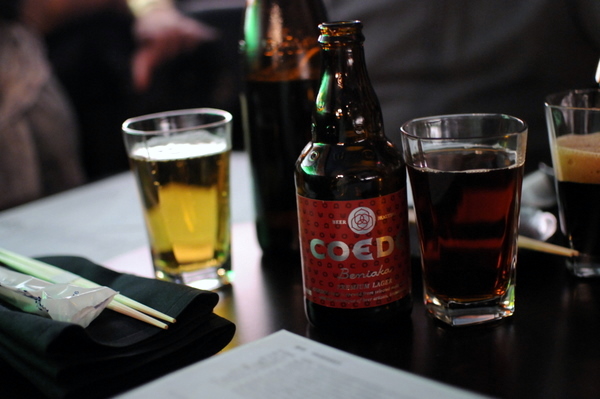 Iwate Kura Bakushu Oyster Stout
Shame about this beer, there are elements of dark roasted malt as well as some coffee and chocolate as well as a pervasive fishiness that I can only describe as disconcerting.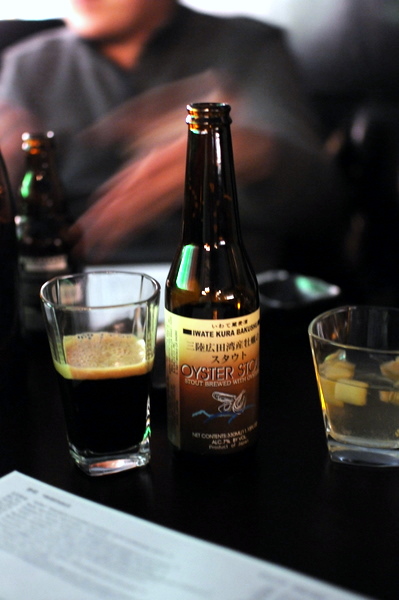 White fish sashimi with pomegranate
An absolutely stellar start to the meal, the fish is seasoned with a blend of tart fruit and spice. A tuft of leafy greens adds a crisp vegetal accent that completes the dish.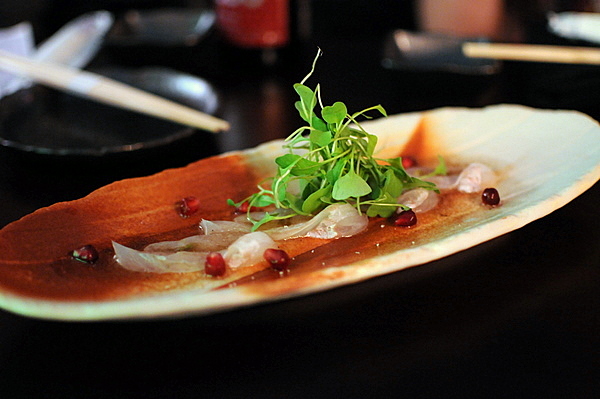 Colorado black pork kakuni braised
We didn't waste time getting into the heavier courses, the pork belly is almost rendered liquid fat, braised to tender succulent perfection. As impressive as the pork belly was were the two chunks of daikon, cooked to a supersaturated consistency, the radish exuded the concentrated umami savor of the braising stock.



Yanagita seafarms uni goma tofu
I only wish the uni was more integral to the dish, instead the incredibly dense tofu overwhelms the urchin with a mild nuttiness, but at least there was enough soy to give the dish an edge.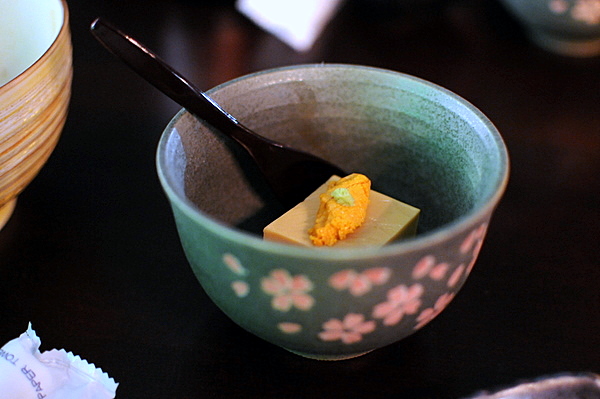 Pork and vegetable okonomiyaki pancake
The hostess mentioned that this was one of her favorite dishes on the menu, think bacon and pancakes with a Japanese flair. The pancake has a dense doughy texture the perfect base to sop up the thick salty sweet syrup. Bits of bacon added a smoky porcine accent.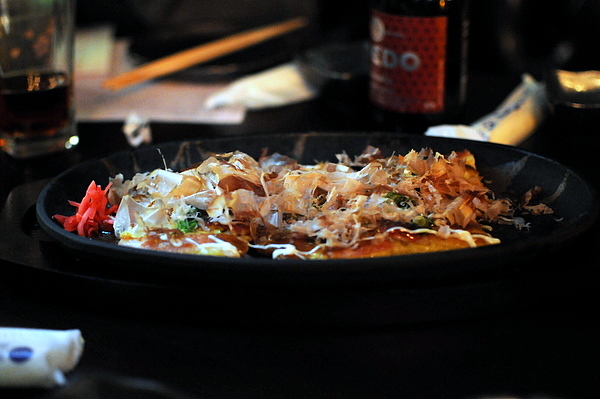 Negima chicken and green onions
This course exhibits all the best features of yakitori, tender juicy chicken with expressive bold flavor.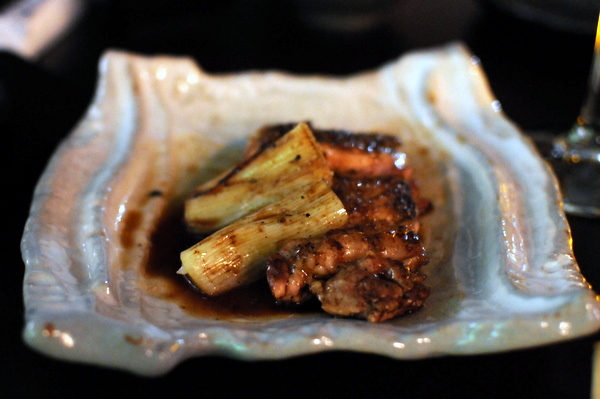 House made shiokara marinated intestines
Fermented fish guts sounds like something you'd use to degrease an engine rather than a delicacy. Unabashedly fishy with a slightly curdled funk, the guts are definitely not for the faint of heart. The shiokara is used as a sauce for ika "noodles" reminiscent of the way uni is used at Sushi Zo.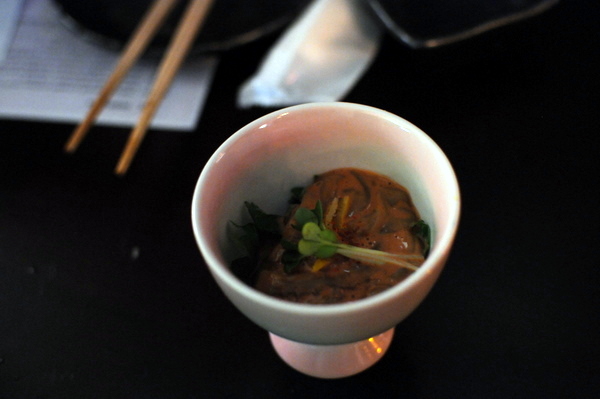 Skin
Crunchy salty with a lightly bitter char on the finish, it would be all to easy to eat skewer after skewer of this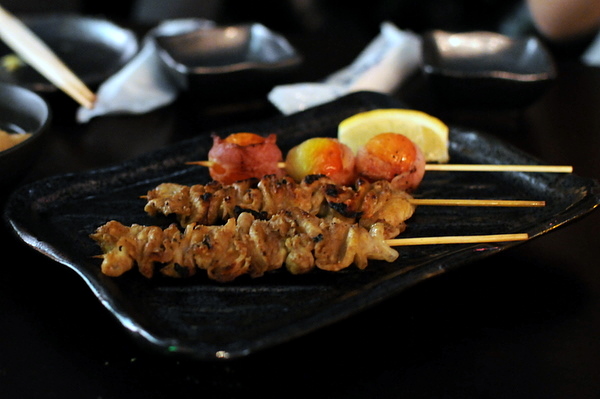 Mochi kinchaku rice cake
Mochi and tofu skin, neither is known for being immensely flavorful. The only flavor came from the lightly seasoned broth and spicy mustard which made for a discordant jumbled dish.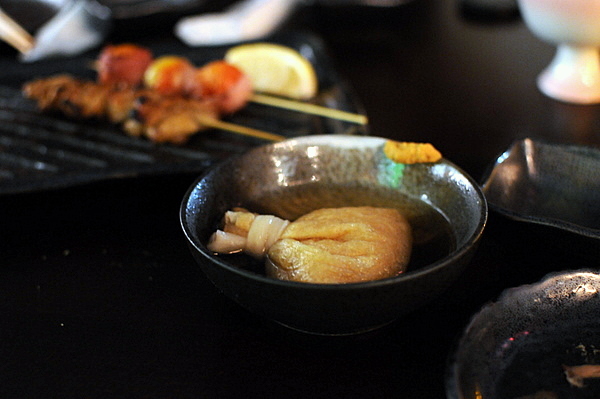 Natto kinchaku
Never a fan of natto I had hoped to steer clear of this dish, but the rest of the table overruled me. In the end this proved to be one of the most palatable natto dishes I've tasted with the characteristic pungency tempered somehow.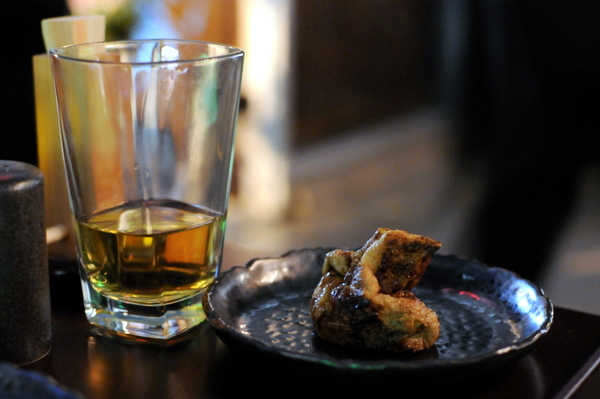 Takana croquette of mashed potato and mustard leaf
These immaculately fried spheres were enjoyable if a bit plain, making the rich creamy sauce a must.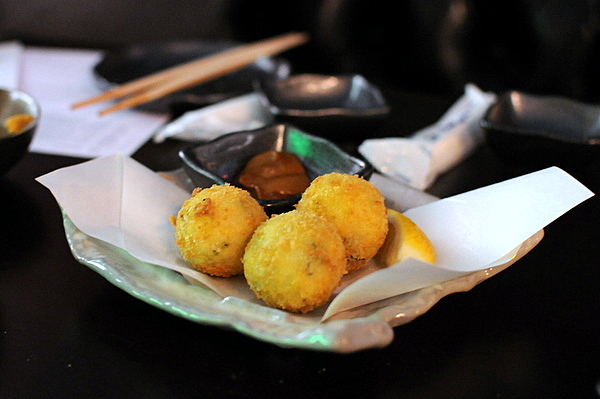 Vegetable
Simple, reserved, and refreshing this was a nice change from the meat heavy focus of the meal.



Kikusui Aged Funaguchi Ginjo Nama Genshu
Full-bodied and sweet, with sake this immensely drinkable these single serving cans could get dangerous.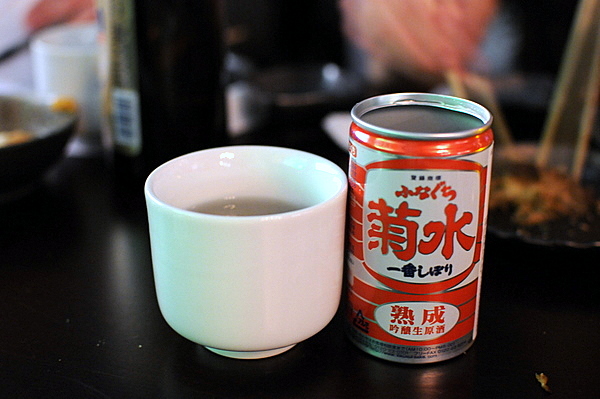 Toranoko french mountain potato fries with plum aioli
Typically yama imo is served grated giving it a sticky viscous texture. Frying dries the potato strips away that texture making this a moister denser french fry that is unique in its own way.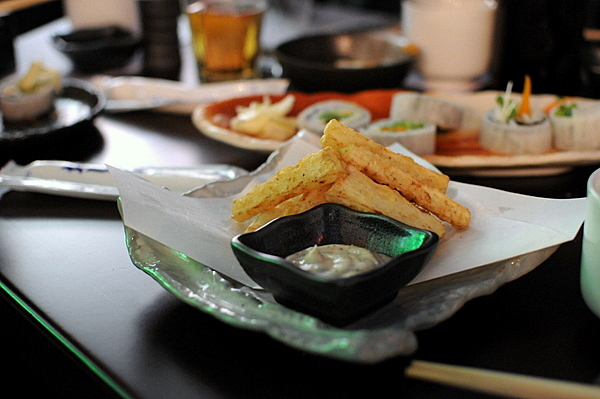 Cherry tomato in bacon
Grilling seemed to evaporate some of the tomato's juice, concentrating the acidity into a potent contrast to the smoky bacon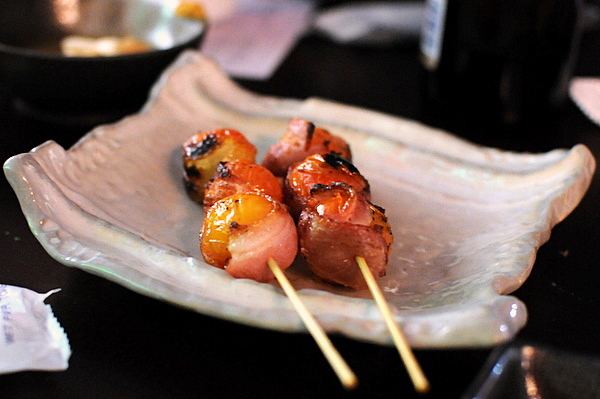 Tender beef
Something of a misnomer, the beef looked nicely cooked but was a tough grainy cut. Flavored with a peppercorn sauce this lacked the woody char of the other sumiyaki.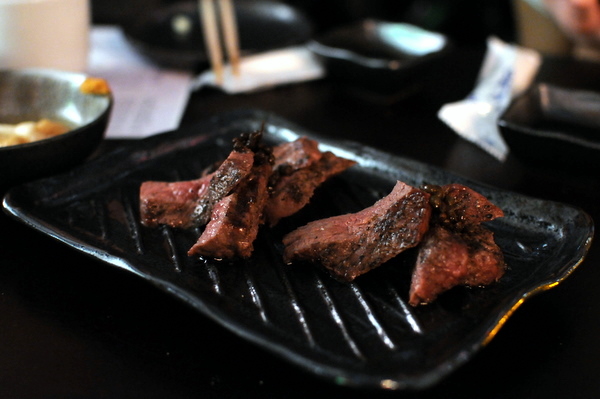 Kinoko zosui porridge of rice and egg
I was a bit dubious about ordering this course, I mean why fill up on rice when you have all these random chicken parts left to try. But this proved to be one of the strongest courses of the night. Soulful, hearty, the umami-tinged broth is heightened by mushrooms and herbs.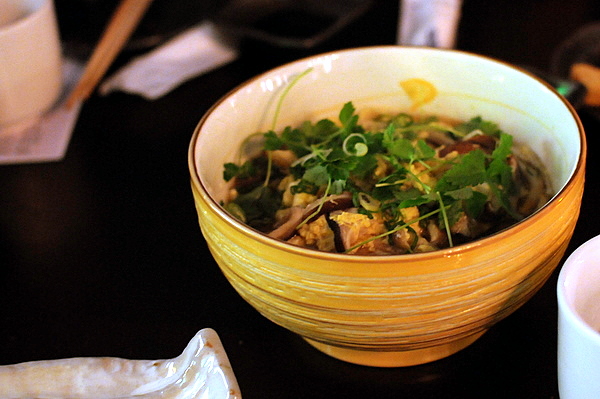 Heart
Typical of chicken heart the texture is muscular and snappy with a livery metallic tinge on the finish.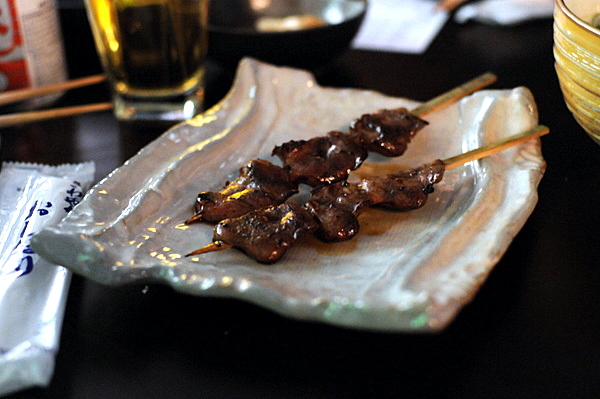 Tsukune meatballs
Toothsome dense the meatball was enjoyable on its own but the coating of raw egg was a unique extra touch that added depth to the chicken.



New Union farms sizzling mushroom with red cheddar cheese tobanyaki
Mushroom tobanyaki was an old standby during my halcyon days out of college. The flavor here blends the rustic woodiness of the mushroom with an enveloping warm aroma of butter.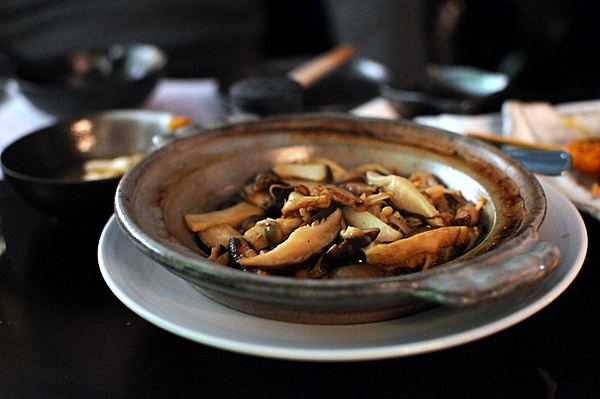 Shiromi
The daily whitefish selection was a fluke, clean and mild it lacked the enticing accompaniments of the whitefish sashimi from earlier.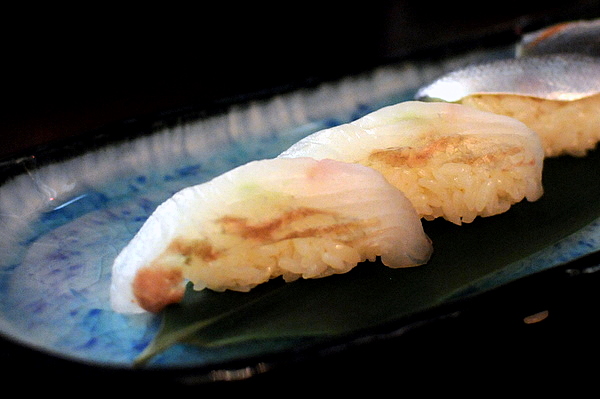 Live freshwater eel
Of particular note was the evening's eel nigiri. Served without the ubiquitous sauce, the flavor of the eel came to the fore, fishy with a bitterly crisp skin and finished with a spicy dollop of yuzu kocho this was a pleasant change of pace.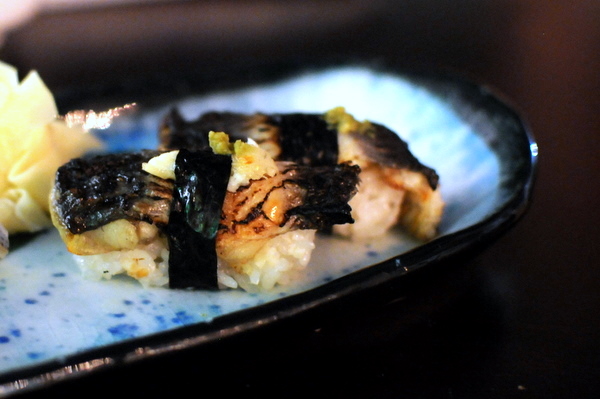 Kohada
The delicately patterned silver skin covers a fine grained morsel that is brazenly fishy.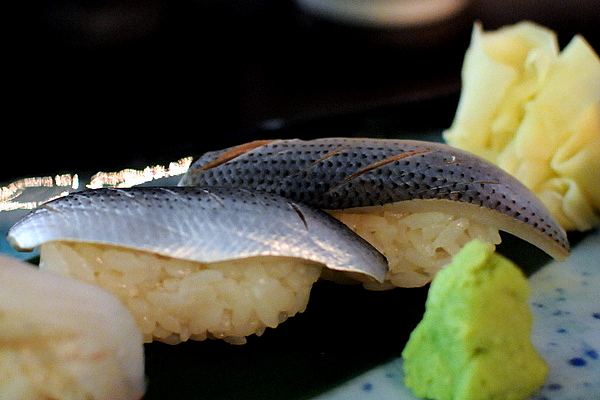 Rin
Next up was an organic Junmai Ginjo from Fukushima. More tempered and complex this blended soft floral and fruity aromas with the flavor of sweet grain and alcohol.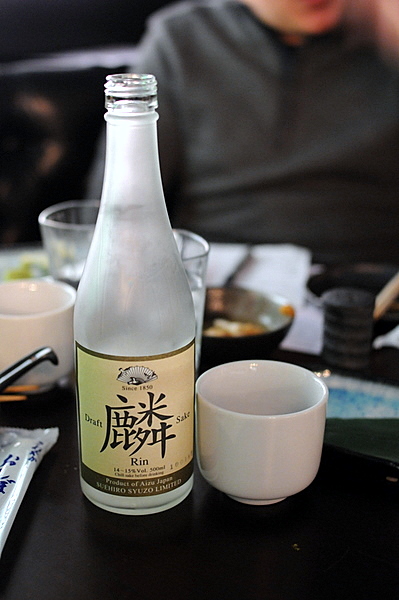 Tiger shrimp tempura with curry aioli
I loved the curry aioli, creamy sweet with a lightly spiced Japanese curry, too bad the shrimp itself was overcooked to the point of being rubbery.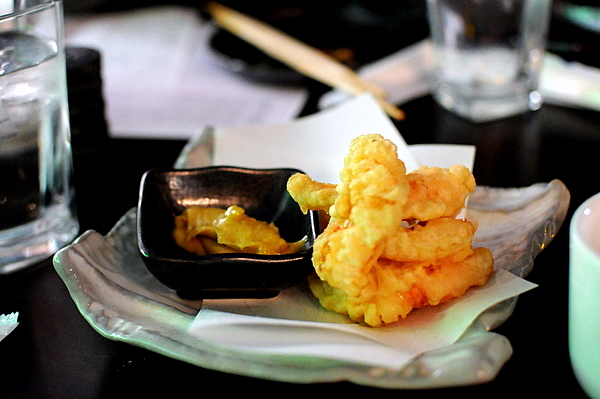 Sauce yakisoba with pork
I've never been a huge fan of yakisoba and the sweet sauce here didn't help matters. I could see this being a very approachable dish but just not to my liking.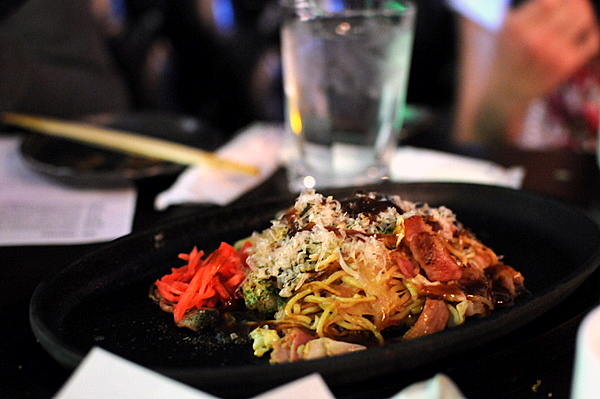 Jidori fried chicken with oroshi sesame
The meal ended on a high note with these golden battered nuggets of goodness. The meat is tender and juicy, no seasoning necessary just the delicious flavor of hot artery-clogging grease.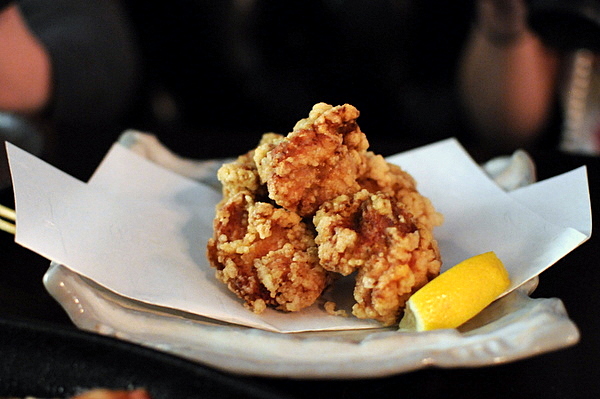 Green tea pudding
As I've noted before tea should be used more often in desserts, the aromatic flavor forming a natural foil for the sweetness. The pudding was quite enjoyable, soft and creamy with a trace of herbal bitterness.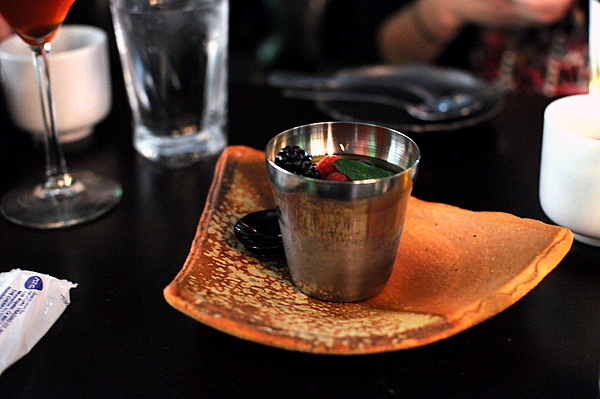 With some truly impressive courses like the whitefish sashimi, porridge, and mushroom tobanyaki Toranoko clearly shows promise. However unlike Lazy Ox, it doesn't break such new ground with Aburiya Toranoko which leads me to wonder if the restaurant can wrest business from the area's more established izakayas like Honda-ya. Then again Cardenas has a proven track record that includes Katana, Sushi Roku, Boa, and Robata Bar, which makes it hard to question his judgement. Though I don't forsee Toranoko garnering a hardcore cult following like its next door neighbor, I suspect it will remain a fixture of the downtown dining scene in the years to come.