3033 Bristol St
Ste N
Costa Mesa, CA 92626
(714) 979-6700

I don't frequently get the urge to have barbecue but the craving strikes it does with a passion. This time the trigger was a friend who suggested having Korean BBQ for dinner. I countered with Yakiniku, or the Japanese interpretation of Korean BBQ. Typically the price is higher and the meal is not all you can eat, but the quality of the meat is substantially better.

Anjin is one of the most popular places for Yakiniku in Orange County and having been to Tsuruhashi, I wanted to see how this would compare. The restaurant is located in a strip mall across from Mitsuwa Market in Costa Mesa. The interior is pretty much what I would have expected, tightly packed booths around tables with built in grills. Due to the restaurant's popularity, there is typically a wait of 45 minutes to an hour for a table. We arrived at the restaurant around 8:00 and were told that the wait would be an hour. In a nod to convenience, the restaurant allows diners to leave a contact number to be called when their table is ready.

Bacon Wrapped Asparagus
While waiting for our table at Anjin, we hit up Rooster PM and tried the prosciutto-wrapped asparagus which was an absolute mess. With a whisper of sweet maple on the bacon, this was better though the bacon could have been crisper.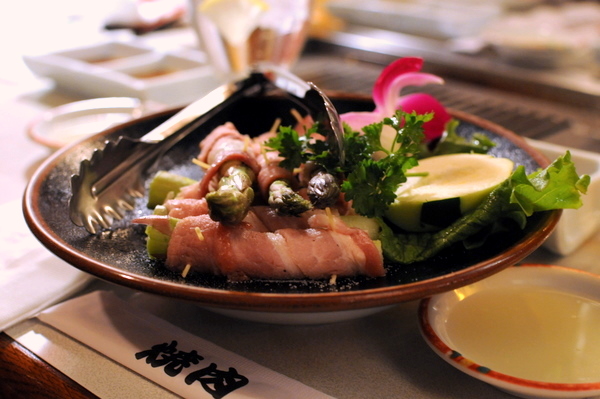 Seasoned Mix Vegetable and Ground Chicken on Rice in Hot Stone Pot
I've never been a fan of bibimbap, but it has been growing on me. The dry lightly crisped rice and tangy vegetable tasted especially good this time in conjunction with the rich meat.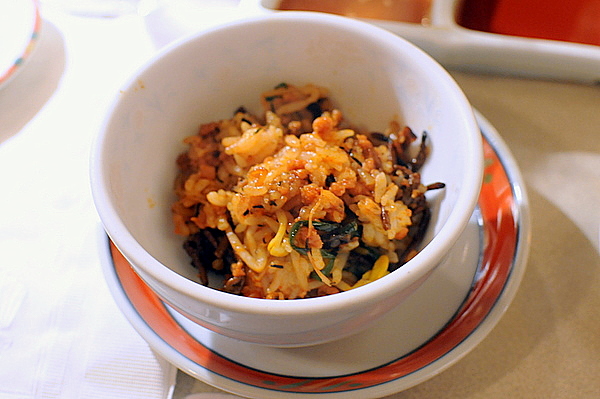 Salted Tongue
The first time I had tongue was at Totoraku, and it blew my mind. Since then tongue has been a must order whenever and I won't even consider going to a yakiniku place that doesn't serve it. Tongue marries a rich beefy flavor, with a snappy texture delicious on its own or with a splash of acidic lemon juice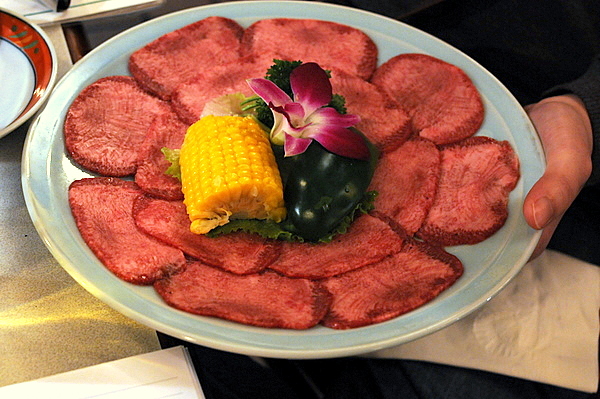 Marbled Prime Boneless Short Rib
This was an upscale version of Kalbi, the quintessential Korean BBQ meat. The neatly trimmed meat had none of the bone and gristle of normal Kalbi and the generous marbling gave it a tender buttery richness. The potent flavor and luxurious texture made this one of the best cuts of the night.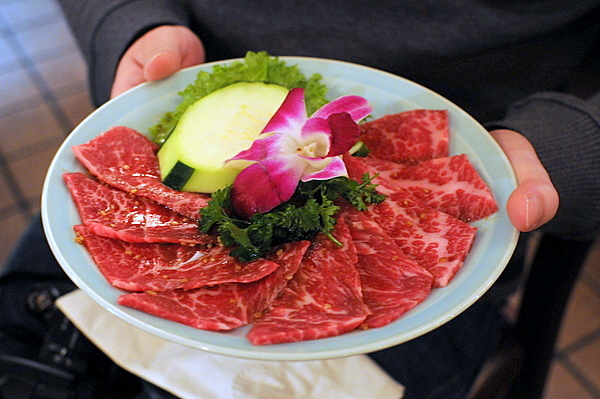 Pork Cheek
Oddly I recall not liking this when I had it at Tsuruhashi, but I found myself compelled to give it another try. Yet again the meat fails to live up to expectations, tough and lacking flavor there is no reason to order this when there are so many better options on the menu.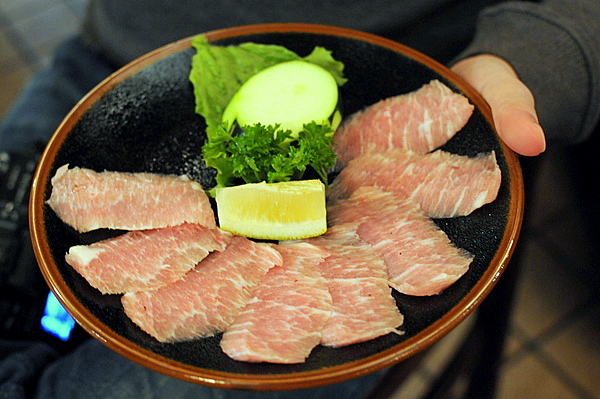 Spicy Cold Noodles
With so much meat it was nice to have some starch to change things up. The noodles have a supple firmness and clean, and is loaded with a refreshing sweet spiciness from the Korean chili paste.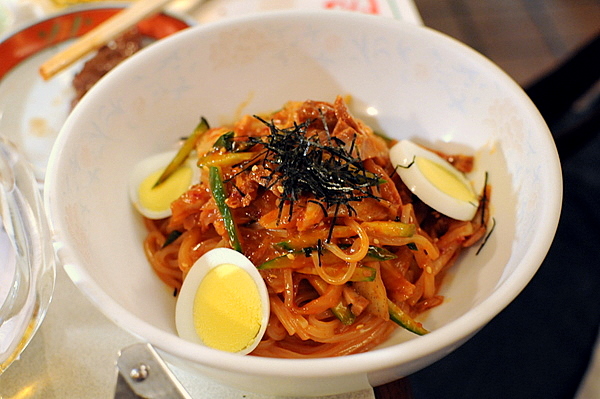 Marbled Prime Rib Eye
More balanced than the short rib, the rib eye remains utterly tender without the overt richness of the short rib; lower fat content gives the rib eye a fuller beefiness.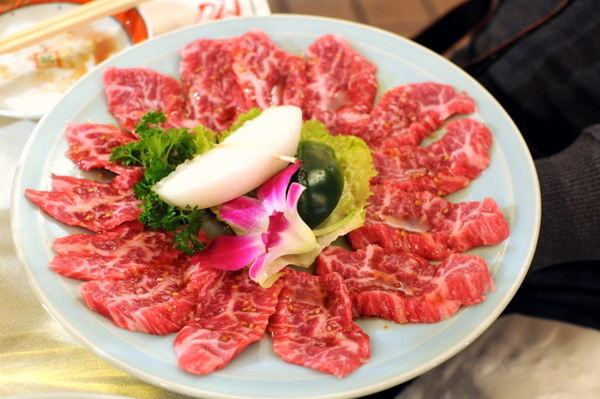 Pork Belly
Think unseasoned bacon, the meat has an abundance of fat giving it a porcine richness, but lacks the smoky depth that makes bacon so wonderful.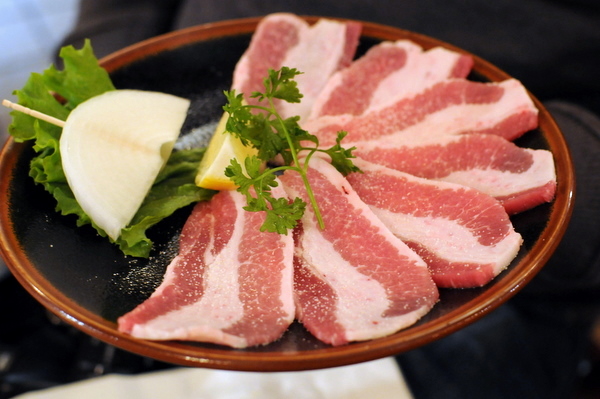 House Made Radish Kimchi
It seems inconceivable, but we were so ravenously hungry that we focued on the meat and completely missed the Kimchi. The dense crunchy cubes and slight bite are a nice contrast to the oily cuts of beef.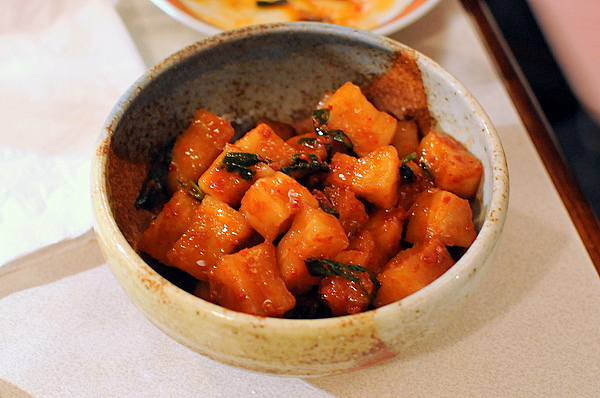 Marinated Raw Beef with Egg Yolk
As much as I love raw beef, my biggest complaint with beef tartare is the monolithic texture, never ending slick dense raw meat still gets wearying. This version neatly solves that problem by adding a plethora of raw vegetables adding a vegetal flavor profile and textural variety.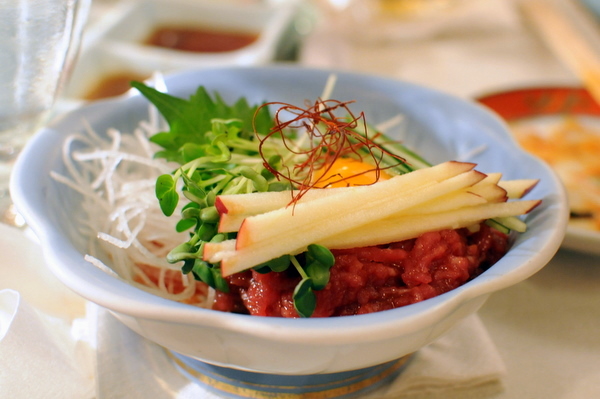 Simply put Anjin hit the spot, but it doesn't particularly stand out from other top yakiniku joints. The quality of the meat is comparable to Tsuruhashi, but Anjin omits the accouterments that Tsuruhashi provided to add complexity and depth to the meats. Still the cuts are enjoyable and perfect for sharing with friends. Naturally we all left the restaurant sated and reaking of oily meat.