3131 South Las Vegas Boulevard
Las Vegas, NV 89109
(702) 770-3300

Alex is named after its chef, Alessandro Stratta, whose passion for food grew out of his upbringing. Of French and Italian descent, Alex's father was an executive for Princess Hotels & Resorts which meant an early life full of luxury resorts and fine dining. Chef Stratta's early career featured stints with both Alain Ducasse and Daniel Boulud. Chef Stratta opened Alex in 2005, after building a name for himself at The Phoenician (1989-1998) and Renoir (1998-2005); both hotel restaurants that garnered critical acclaim under his leadership.

Though Alex has been on my culiary radar for some time and despite earning two Michelin stars, it took the shuttering of the restaurant to get me to finally pay them a visit. Over the years, the restaurant has come up numerous times but each time a quick scan of the menu quickly dampened my enthusiasm; fairly uninspired and overpriced the restaurant takes the term "Vegas premium" to new heights, though that seems par for the course at the Wynn.

The main entrance opens to a small waiting area with seating on the left and a bar on the right. Beyond that, the space opens up into a cavernous dining room decorated with sumptuous pink drapery and crystal chandeliers; dark, intimate, and without a doubt, one of the most classically elegant dining rooms I've ever been to.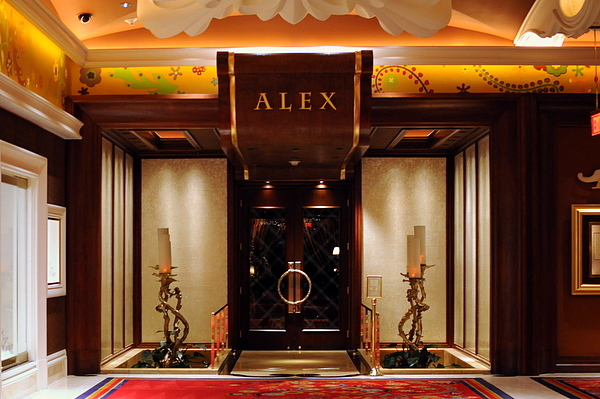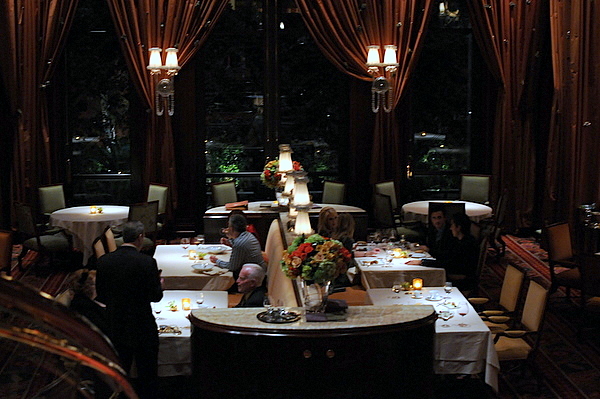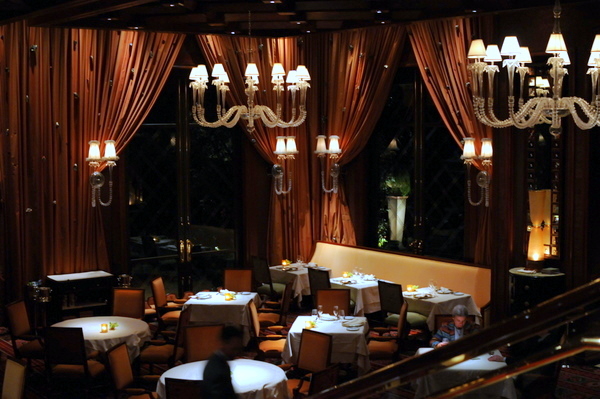 Amuse
Hon Shimeji Mushroom Salad - First up was a delicate little spoonful of tangy mushrooms with a crunchy toasted hazelnut.
Lobster Tempura with Yuzu Aioli - Think lobster meatball, the spongy texture of a meatball with the briney flavor of shellfish kissed with a hint of fresh yuzu.
Potato Leek Soup with Parmesan Crisp - The soup was a bit thin but the crisp had a burst of sharp cheesiness.
Wild Mushroom Arancini - Arancini are fried rice balls coated with bread crumbs. This had a nondescript savoriness to it, enjoyable but the mushroom was lacking.
Gruyere Cracker - This reminded me of a gougere but with a crisp exterior and liquid center.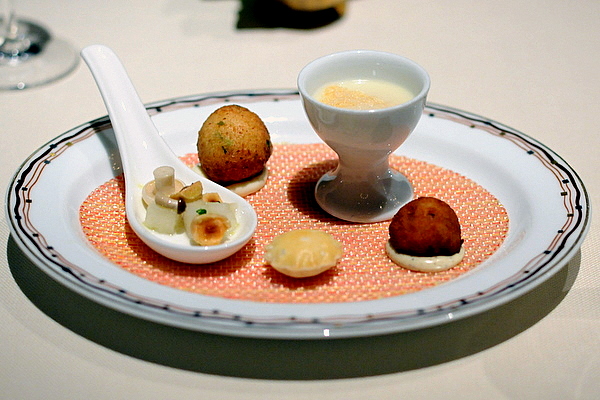 Bread
With 5 fairly distinctive selections to choose from: black pepper brioche, ciabatta, buckwheat with sun-dried tomatoes, country white, and cheese & walnut, the bread service at Alex is respectable. Unfortunately I found myself comparing the bread with the spectacular offerings at Joel Robuchon and Guy Savoy and none of these even came close.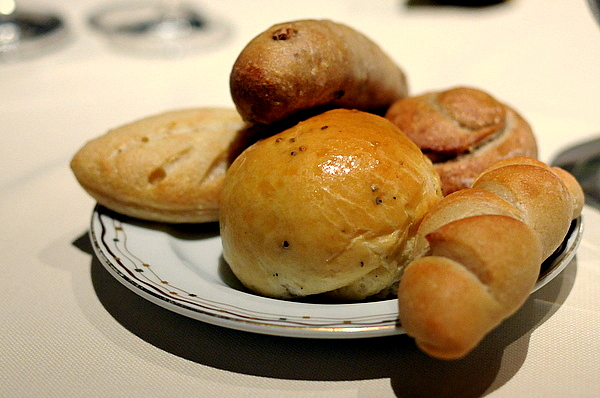 01: Butter Poached Kushi Oyster - Tapioca Cream with Spanish Caviar and Fresh Yuzu
Delamotte, Brut, Le Mesnil sur Oger, Champagne, France, MV
Featuring oyster, caviar, and tapioca, this looked suspiciously similar to Thomas Keller's celebrated Oysters and Pearls. While the similarities were evident, the addition of fresh yuzu set this dish apart with a fantastic zest that complimented the prominent brine of the oyster and caviar. The humble tapioca also played a more overt role in the dish, with a supple firmness reminiscent of the begula pasta at Citronelle. The wine was an easy drinking champagne with notes of lemon and mineral that fit nicely with the oysters and yuzu.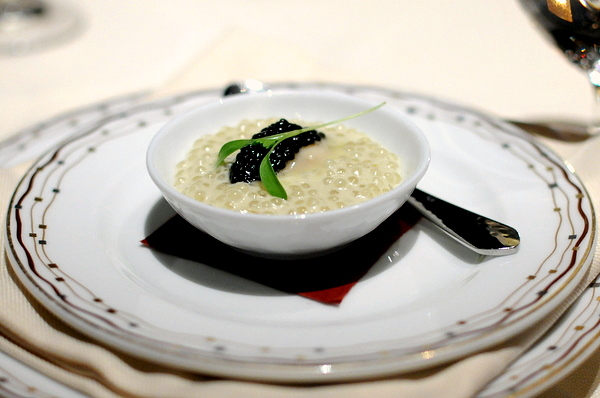 02: Roasted Carabinieri Prawn - with Cauliflower Custard, Vadouvan Curry and Carrot Ginger Sauce
Cecilia, Ansonica, Elba, Italy, 2008
Exhibiting a delicate translucent raw center and snappy exterior the prawn would have been exceptional if it weren't painfully salty. I was concerned that the carrot sauce would be overly sweet but the flavor tilted heavily in favor of the Vadouvan curry, giving the dish a very Indian feel. The custard was immensely creamy and smooth but most importantly it countered the excessive saltiness of the prawn.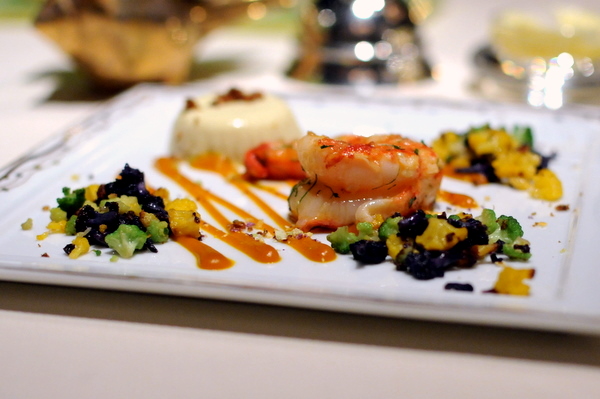 Supplement: Butter Poached King Crab - with Giant Clam, Green Papaya Salad, Caviar Lime and Fresh Yuzu
The king crab was a complete disappointment, not only was it overcooked, but the meat lacked the characteristic sweetness that the family is so prized for. Instead it was the mix of clam, papaya, and citrus that sole the show; vibrant and refreshingly tart, the dynamic salad was far more impressive than the crab it was supposed to be supporting.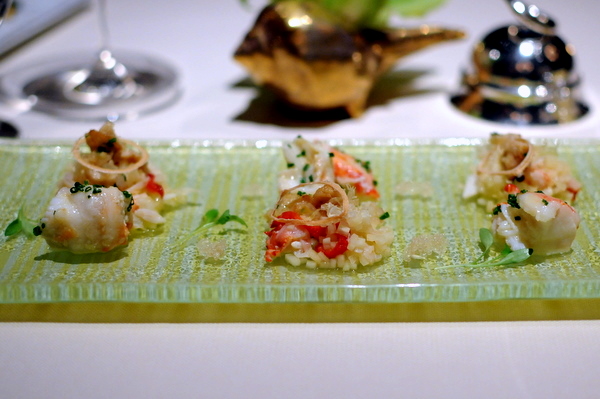 03: Sauté of Sonoma Foie Gras - with Sweet Potato Caramelized Onions, Black Truffles and Butternut Squash Sauce
Charles Joguet, les Petites Roches, Chinon, France, 2007
Seared foie gras, caramelized onions, sweet potato, and butternut squash; this sounds like a recipe for an oily saccharine mess. Despite my misgivings, the dish proved to be fairly on point. The warm foie had a typically gelatinous texture despite some gristle and the typically sweet accompaniments actually gave the dish a straightforward savoriness. Oddly both é and Alex chose dry red wines to pair with foie gras instead of something sweeter like Sauternes. The idea here was to use a wine with high acidity and tight tannins to cut through the richness of the foie.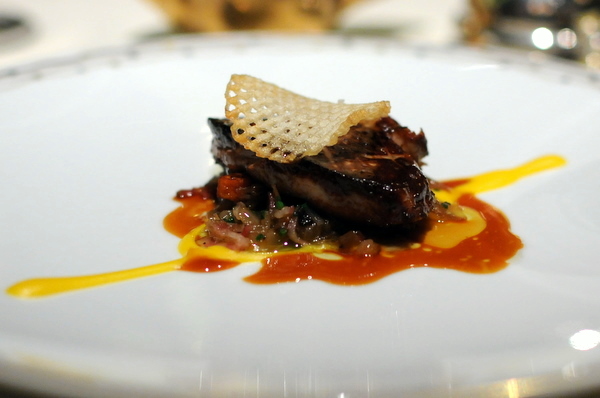 04: Hawaiian Ruby Snapper - with Orange Braised Endive, Roasted Salsify and Citrus Red Wine Sauce
Auteur, Sonoma Stage, Pinot Noir, Sonoma, California, 2007
I've just never had much luck with cooked snapper, the fish is always to dense and dry for my tastes. This combination compounded the problem by relying heavily on bitter and acidic accompaniments which I found too austere on their own. Fish and citrus is typically a safe combination but the orange and endive resulted in a combination that was acerbic, cloying, and bitter. A fairly sophisticated pinot was selected on account of the red wine sauce; the classic sour cherry is augmented by soft floral nuances and subtle hints of spice.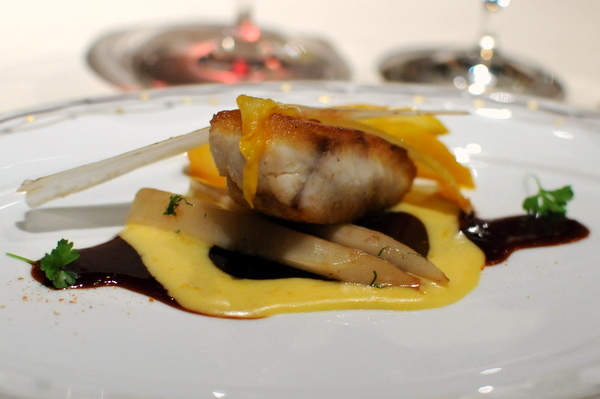 Supplement: Filet of Wild Turbot - with Abalone, Hearts of Palm, Cuttlefish, Sea Urchin and Chateau Chalon Sauce
The turbot was a wise addition to the meal, the fish itself was firm with a lovely golden exterior. The hearts of palm, abalone and raw cuttlefish add a delicious denseness to the dish. I only wish the sea urchin was more apparent, its rich ocean flavor would have been a more appropriate addition than the tang of the Chateau Chalon sauce.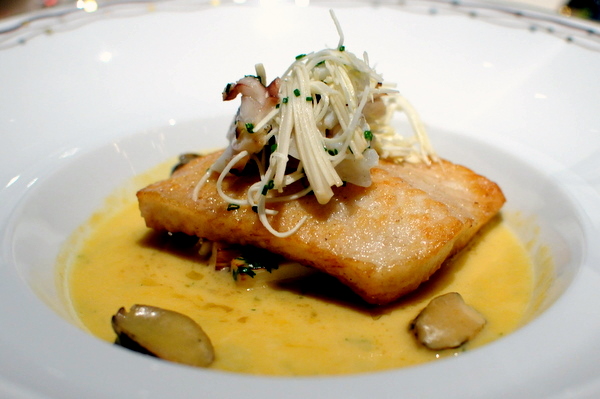 05: Roasted Squab - with Brussels Sprouts, Celery Root Purée, Huckleberries and Herb Vinegar Sauce
Alban, Patrina, Syrah, Edna Valley, California, 2008
The tasting menu ended on something of a high note. The bird had a shade of red that should be reserved for raw meat, in fact the meat looked so rare that I expected blood to ooze out and my nostrils to be filled with the stink of cold copper the moment I bit down. However the flavor was just spectacular; smoky, gamy, and sapid, this is probably the second best squab behind the one at Obelisk. As is common with good squab, the meat was absolutely divine on its own though the sides were fairly restrained and well-suited to the dish. The wine in one word was intense, concentrated ripe black fruit with tones of game, cocoa, and mineral.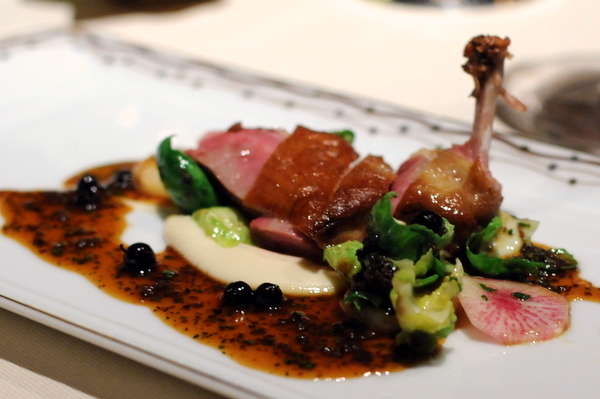 Supplement: Snake River Farms Wagyu Beef - with Potato Gnocchi, Aged Parmigiano and Porcinis in Red Wine Sauce
More often than not, I find myself let down by Snake River Wagyu. Unfortunately this falls into the more often category, the meat had a nice grain and tender texture but lacked the richness I was hoping for. The sides of porcini and red wine were fairly tired while the potato gnocchi was mealier than I expected.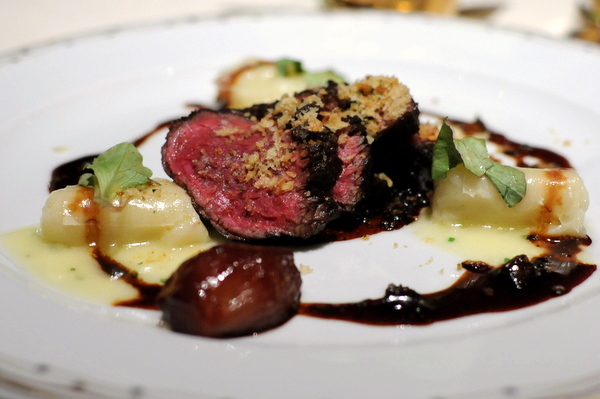 06: Fromage
Camembert Châtelain | Normandy, France | Pasteurized Cow's Milk - A ripe and creamy cheese; slightly salty with nuanced flavors of earth and nuts .
Pau | Vilassar de Dalt, Catalonia, Spain | Pasteurized Goat's Milk - A rather soft cheese with an equally mild flavor.
Taleggio | Lombardia, Italy | Pasteurized Cow's Milk, Washed-Rind - The aroma of Taleggio is deceptive, full of rich cheesy flavor that somehow doesn't make it to the palate.
Montgomery's Cheddar | North Cadbury, Somerset, England | Raw Cow's Milk - A nicely balanced cheddar, the flavor has flashes of deep nutty tones as well as dry sharpness.
Bayrischer Blauschimmelkas | Baden-Württemburg, Germany | Raw Cow's Milk, Blue Cheese - My favorite of the evening proved to be the most full-bodied of the cheeses, buttery soft texture with a refined blue cheese flavor.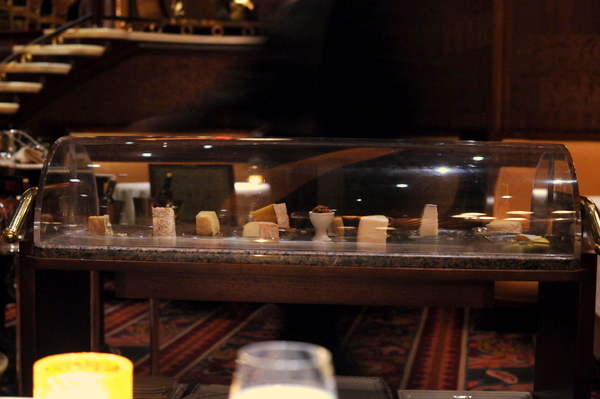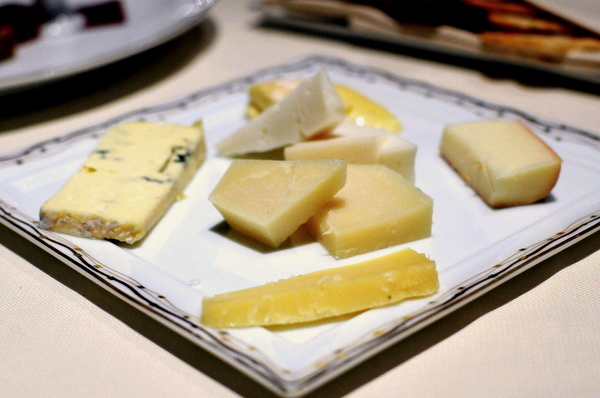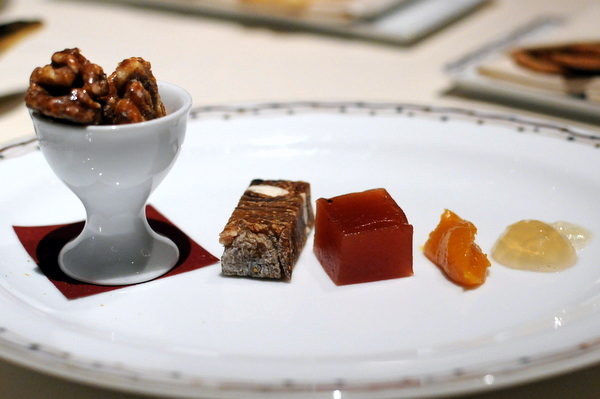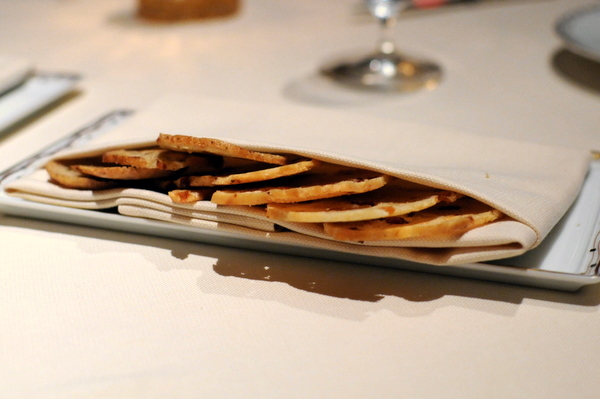 07: Sour Cream Semifreddo - with Spiced Cranberry
I've never met a semifreddo I didn't like, but with a one-dimensional tartness and creamy thick body, this was cutting it close. The tartness of the semifreddo had a cloying quality that made me think of curdled milk more than sour cream and neither the cranberry nor tuille added enough to dispel that image.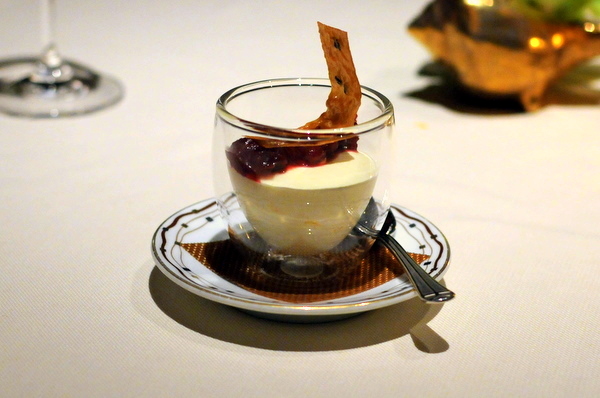 08: Vanilla Butter Poached Apple Cream Puff - with Maple Ice Cream
DonnaFugata, Ben Rye, Passito Di Pantelleria, 2007
When the cream puff is the most flavorful part of the dessert, that means there is something wrong. The butter poached apples felt a little raw and lacked the caramelized ripeness of a traditional apple tart. Meanwhile the maple ice cream didn't remind me at all of maple syrup but instead offered a gentle bland sweetness.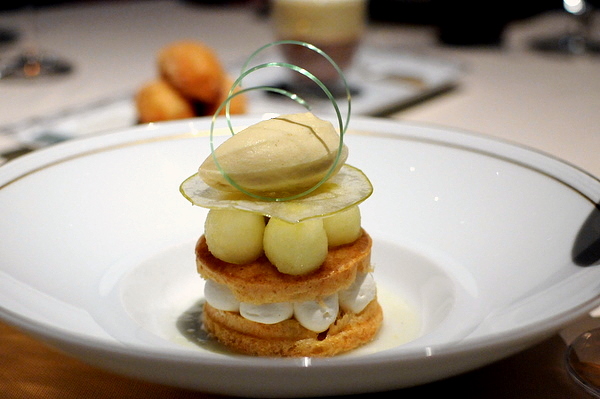 Supplement: 'Coffee and Donuts' - with Hazelnuts and Espresso Parfait
Fittingly the meal started with a Keller inspired course and it ends with one as well. And like the oyster this course managed to hold its own against the original. The donuts were still warm, fluffy sweet and light they were the perfect companion to the chilled "coffee."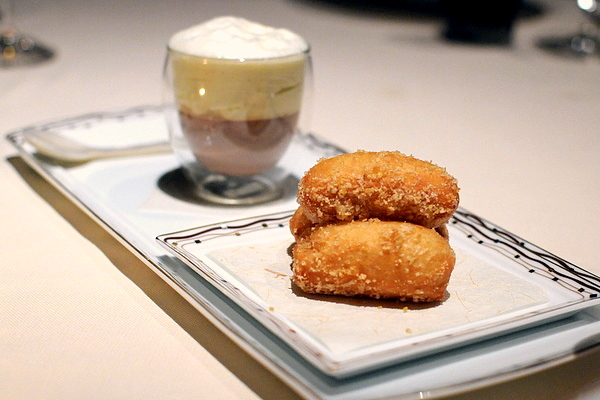 Mignardises
The meal ended with a nice variety of mignardises: Tiramisu, Strawberry with Creme Fraiche, Cranberry Almond Crumble, Chocolate Orange Brownie, Lemon Meringue and freshly baked Brown Butter Madelines.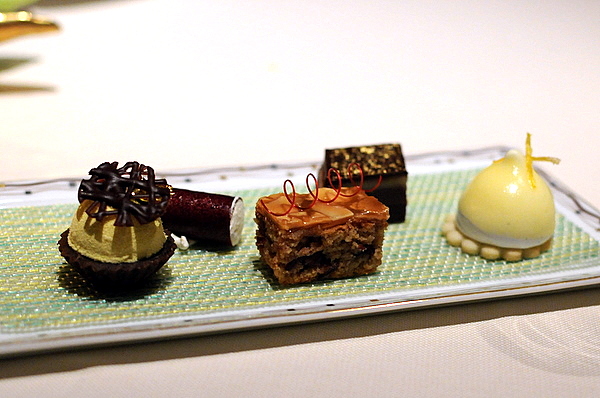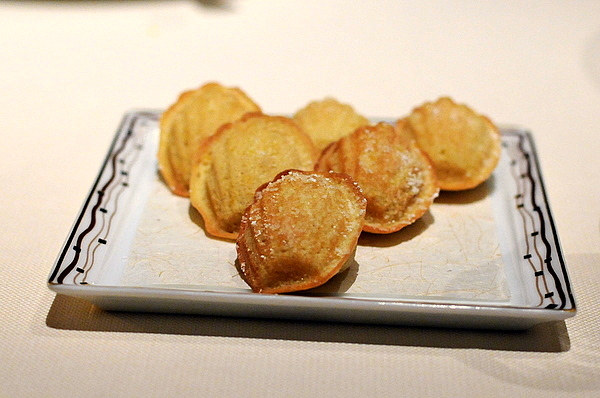 Having been to the other two star restaurants in Las Vegas, Guy Savoy (which could warrant three stars) and Picasso (which deserves none), I suspected Alex would fall somewhere in the middle and indeed it does. The squab and oyster were sublime, but the remaining courses were solid but below the level I'd expect for one of Vegas' top restaurants. To sum it up, Alex serves one star food at three star prices which simply doesn't cut it in the current economic climate.