3333 Bristol St
Costa Mesa, CA 92626
(714) 434-7900

Run by the husband and wife team of Florent and Amelia Marneau, Marché Moderne has built a reputation as one of Orange County's finest eateries. Back in 2008, I had one of my best meals in Orange County here and the menu seems to have changed quite substantially since then; prompting my recent trip. During my impromptu Wednesday evening visit, I was shocked to discover that the restaurant was completely booked until 9:00.

Amuse: Smoked Salmon - Creme Fraiche, Chives, American Caviar, Potato Chip
The amuse consisted of smoked salmon with fairly classic accouterments that would have been enjoyable but not particularly distinctive were it not for the potato chip which added a bit of levity to the feel of the dish as well as a salty fried sapor.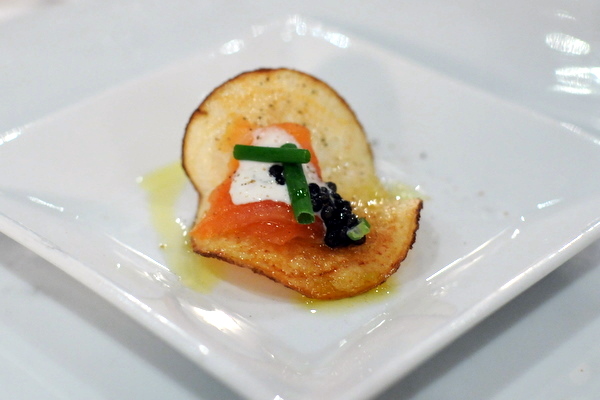 DUNGENESS CRAB - yuzu aioli, avocado, brunoise of cucumber, mango & jalepeno sorbet
Our first starter featured a mound of delectably sweet crab meat combined with a piercing acidity. The sorbet acts as a moderating element on all the acid with a deep tart sweetness and a pinprick of heat that swells as the jalepeno bits warm. The crab is juxtaposed with creamy avocado, leafy greens and crisp cucumber giving it a textural complexity to compliment the multifaceted flavor profile.



TARRAGON ROASTED OCTOPUS - sauce Choron "N2O", truffled pommes Pont Neuf
Seeing "N2O" in the course description I imagined that the dish would have a molecular feel, but the truth isn't quite as interesting; the nitrous oxide was used to create a cream of the sauce Choron. Named after its inventor, Alexandre Étienne Choron, sauce Choron is a variation of Béarnaise sauce that swaps tarragon and chervil for tomato purée. Despite not being quite as adventurous as I imagined, the course was still superb. Octopus is one of those things that varies widely depending on the skill of the chef. Here Chef Marneau shows off his skills, resulting in an immensely meaty, toothsome preparation deftly paired with the light zest and soft herbaceousness of the sauce.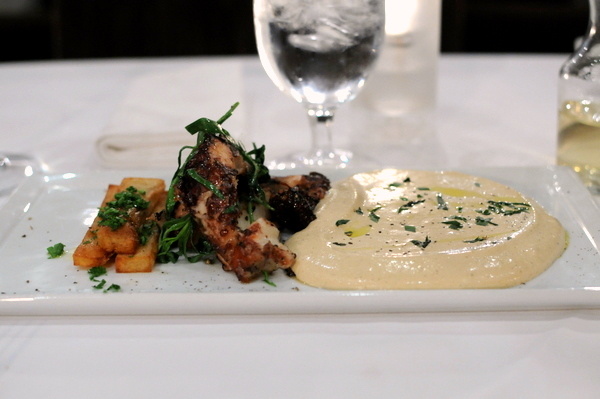 CHARCUTERIE: HOMEMADE DUCK TERRINE, TOSCANO SALAMI, LA QUERCIA SPECK, HOMEMADE RILLETTE DE PORC, PALACIO CHORIZO - baguette, cornichon, mustard cream
I've never met a charcuterie plate I didn't like, an unabashed tribute to salty, fatty, cured porcine goodness. Ironically, despite waxing poetic about the pork, my favorite of the quintet was the terrine, the flavor was rich enough to draw comparisons to liver, but with the distinctive smokiness of duck.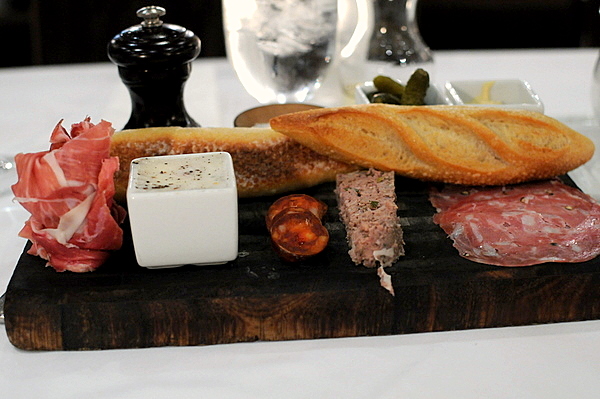 LOUP DE MER SEA BASS - Weiser Farm parsnip "crispy, roasted & pommes fourchette", lemon thyme, clam & Meyer lemon confit jus, Sausalito watercress, crispy capers
Wolf of the sea, such an ugly name for such a delicious fish. The fish itself was juicy, flaky, and tender but I would have preferred it served skin up to preserve its crispness. The thyme, clam, and Meyer lemon were particularly impressive giving the fish a sweetness but accentuating its natural flavor to match.



PAN SEARED SWEETBREAD - Liquid Parmesan & potato, crispy brussel sprout salad, bacon emulsion
I'm always compelled to order sweetbread when I see it on the menu, though I always find myself enjoying it most in small quantities. With a spry pliant texture and slightly metallic savoriness this dish exhibited all the hallmarks of an expertly cooked sweetbread. The crispy brussel sprout leaves absorbed the richness of the bacon which tempered the vegetable's characteristic bitterness. I liked the concept of the liquid parmesan and potato but it was so hot that I couldn't really enjoy it with the rest of the dish.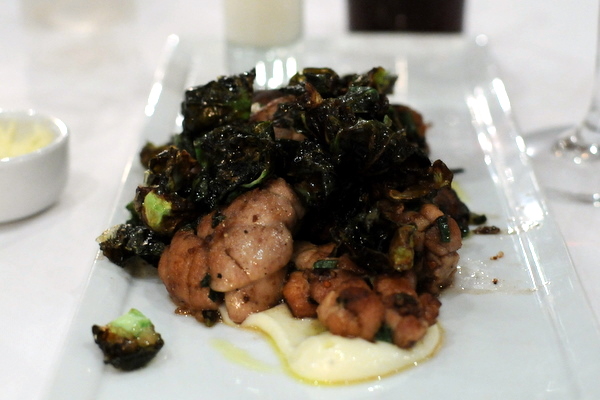 JASMINE TEA PANNA COTTA - Fresh Beignet a la minute
Adding a delicate fragrance that has no analog with more traditional ingredients, tea is an underutilized ingredient in desserts. That refinement was evident here with the panna cotta redolent of Jasmine with a caramel sauce exuding an even more concentrated aroma of tea. The beignet is warm with a crisp exterior and airy center, with an appropriately light sweetness that lets the distinctive flavor of the tea shine.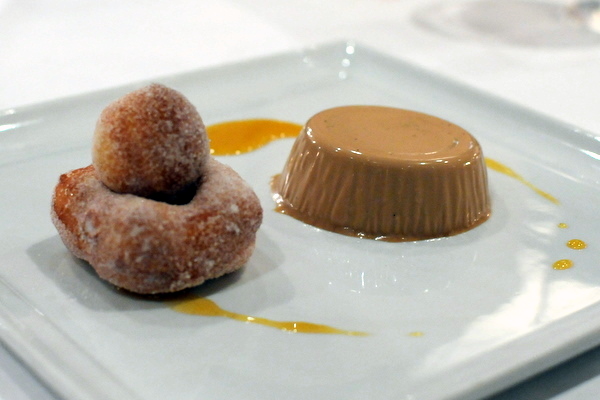 Despite some small quibbles, by and large, the food has become even more polished since my last visit. Skillfully shifting between traditional French practices and modern techniques, Marche Moderne demonstrates why it is among the top echelon of restaurants in OC.