9041 Sunset Blvd
West Hollywood, CA 90069
(310) 275-9724

The words night market conjure up images of my youth, of summers spent with cousins in the night market stalls of Taiwan. While the markets offered clothing and cheap trinkets, my most vivid memories are of the Xiaochi, small plates that were greasy, salty, and most certainly going to shorten our lifespans. There was something about the night markets that stoked our enthusiasm, and that would cause our parents, who might normally berate us for eating so late, to shrug, smile, hand us some money and send us on our way. Eventually people would meet back up and invariably the first thing we always did was share food to see who spent their money most wisely.

Night+Market strives to capture many of those same elements, casual humble street food served in a fashion that encourages sharing; a kind of Thai tapas if you will. The restaurant is the brainchild of chef and owner Kris Yenbamroong, whose fahter opened Talésai 28 years ago serving food passed down from Kris' grandmother Vilai. As a fixture of the LA dining scene, patrons have expectations regarding the food at Talésai, with Night+Market Chef Yenbamroong hopes that he will be free to run with his own style. Where Talésai serves refined Thai food based on Vilai's upbringing in the halls of the royal palace; Night+Market reflects Chef Yenbamroong teen years spent on the streets of Thailand.

In all honesty I probably would have never found out about this place were it not for Brian and Will of FoodDigger who put together a little blogger dinner. The meal consisted of 10 courses as well as a number of wines chosen by the chef to pair with the food.

cava, bodegas barcino, spain NV
A nicely balanced sparkler with a light toasty attack that transitions to citrus notes on the midpalate and finish.

peek gai tod | fried chicken wings - chieng rai recipe, with housemade noom salsa
You know there is nothing nutritionally redeeming about this meal when the first course is fried chicken. I'm not picky when it comes to fried chicken, but the nuanced crunch of the batter did feel a cut above most Asian style fried chicken. The wings itself is unseasoned other than salt, relying on the noom salsa, a mix of fleshy Anaheim and spicy Serrano chilies for most of their flavor as well as some textural contrast.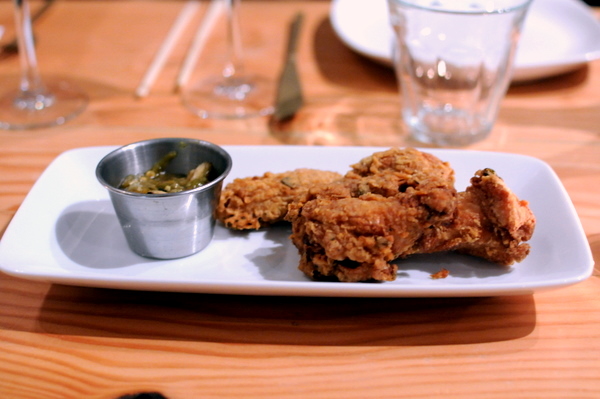 moo ping | pork satay skewers - bathed in condensed milk, grilled
Originating in Indonesia, satay has become a ubiquitous part of many Southeast Asian countries. Here we have generously marbled pork, dipped in condensed milk to give it a creamy sweetness then grilled to add a bitter char. The pork is balanced by a vinegary salad composed of onions, carrots, and cucumbers that cuts right through the fat and sweetness.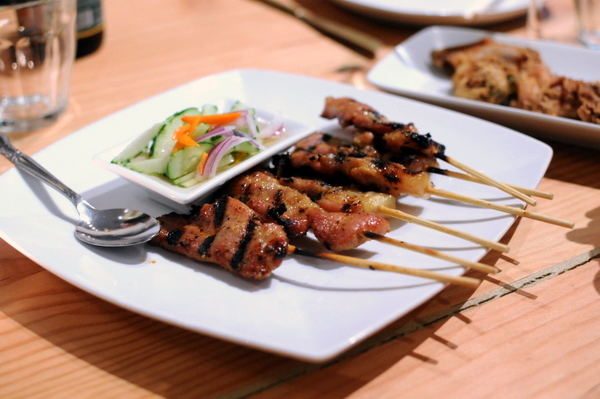 green papaya salad - with spicy lime dressing and cashews
This was a last minute addition to the meal. Will called it a green papaya salad, but the description on the menu didn't quite match the dish. This could have been the only healthy course, but for the infusion of pork, this time in the form of Chinese Sausage. Here we have a reversal of the previous course, the focus is on the crisp, aromatic salad and the pork is present to add a savory sweet counterpoint.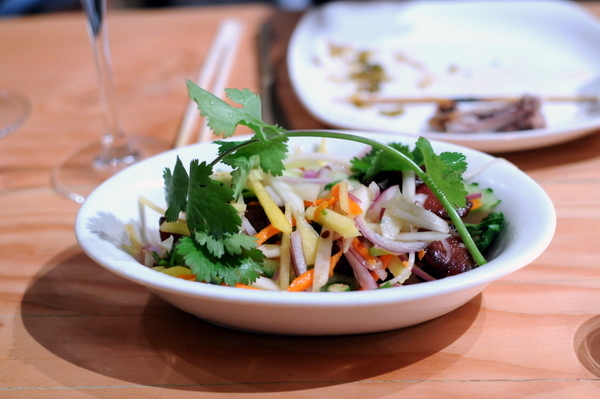 gewurztraminer, allimant laugner, alsace '07
Our second white was a gewurztraminer that was actually more like a sweet riesling, thick and viscous with a burst of fruit and floral tones, a very typical pairing with more full-bodied Asian food.

kor moo yang | pork toro
This is one of the chef's most well known dishes and the name pork toro immediately piqued my interest. In reality this is the fatty part of the pork collar that addresses my biggest complaint about the cut: toughness. The meat starts out firm and muscular but oozes a satisfyingly oily richness upon mastication.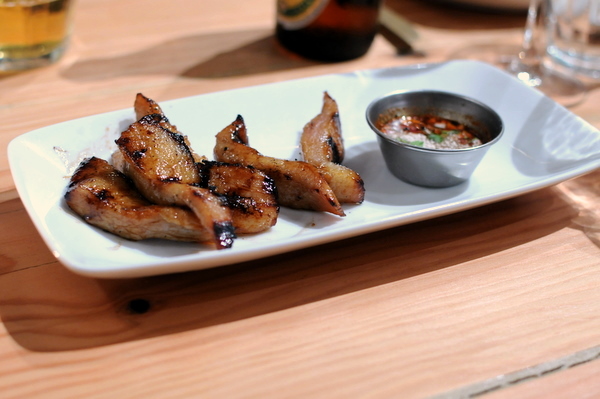 sai krok isaan | isaan sour sausage - grilled fermented pork sausage, with bird eye chile and cabbage
When our waitress brought out an extra dish of chili we knew we were in for some pain. We were instructed to eat the sausage, then take a bite of the pepper and use the cabbage as a chaser. At first everyone seemed wary then peer pressure took over and soon everybody was eagerly waving around a whole chili. For my part, I barely registered the distinct flavor of the fermented pork before a wall of searing heat stole my sense of taste. The cabbage helped slightly but was like using a water bucket to fight a house fire.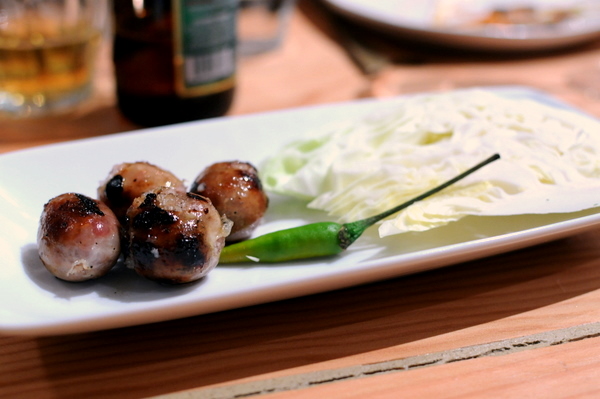 hot pot tom yum soup - shrimp, lemongrass, kaffir lime leaves, galangal, cilantro
Piquant and spicy, Tom Yum soup is the quintessential hot and sour soup. The broth is rich with the heady aroma of lemongrass, cilantro, and citrus with a spicy backbone of galangal.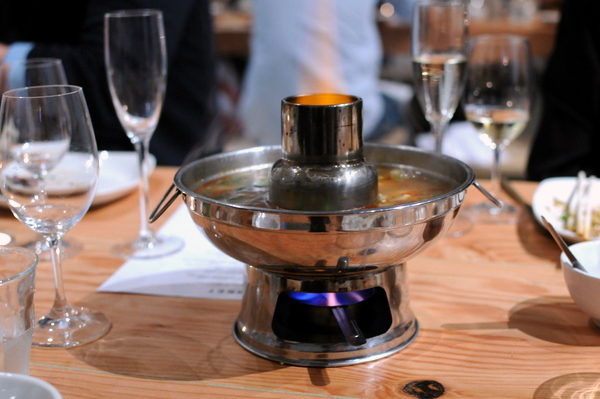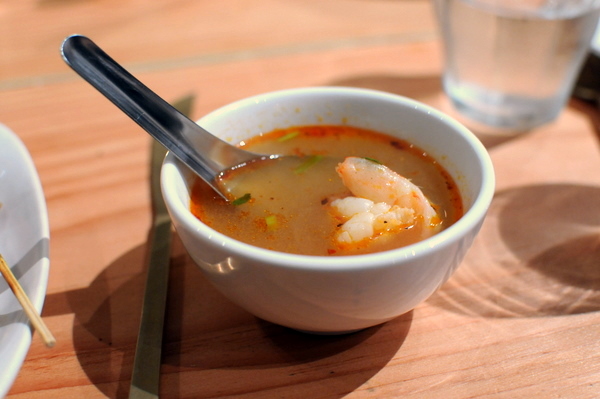 hoi prik sot | black mussels (p.e.i) - steamed, topped with sauteed garlic, basil and bird eye chile
For some reason I'm super picky when it comes to mussels. This was one of the better preparations, instead of using white wine as a base, Chef Yenbamroong starts off with garlic, basil, and of course more spice. The result is a more robust flavor that stands up the the flavor of the mussels.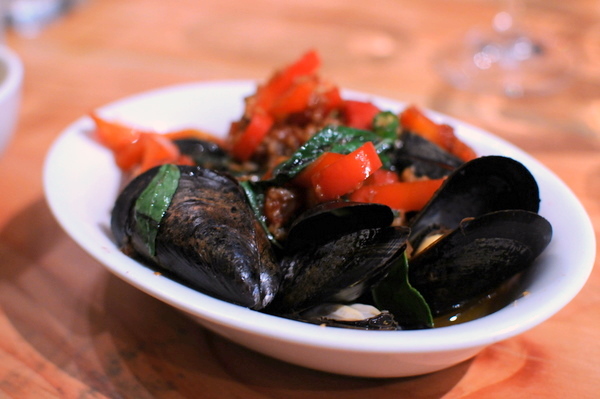 gamay, 'les cassiers,' la grange tiphaine, loire '09
My recent forays into this grape have been of the sweet and sparkling variety. This was a more food appropriate wine, with high acidity and expressive light fruit, the perfect foil for the upcoming rich pork belly.

gang hanglay | pork belly stew - fatty delicious belly and shoulder cuts, slowly simmered with palm sugar, pickled garlic and ginger
The pork dishes have all been leading up to this artery clogging monster. The meat is simmered for a long period resulting in mix of semi-molten fat and super tender meat. Apart from the palm sugar, this tasted like my mom's red simmered pork; add some rice and you have my idea of pure comfort food.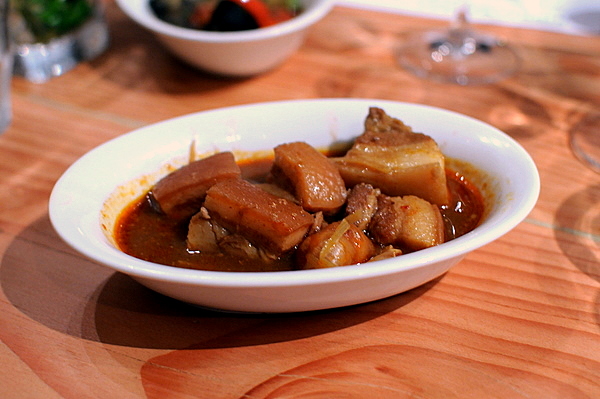 kai jiew | thai egg omelette w/ onions
Of all the dishes this felt most true to its street food origins. The dish basically consists of a scrambled egg with crispy onion toppings. What sets this dish apart is the oily texture that so neatly conveys that greasy, dirty, delicious magic of street food.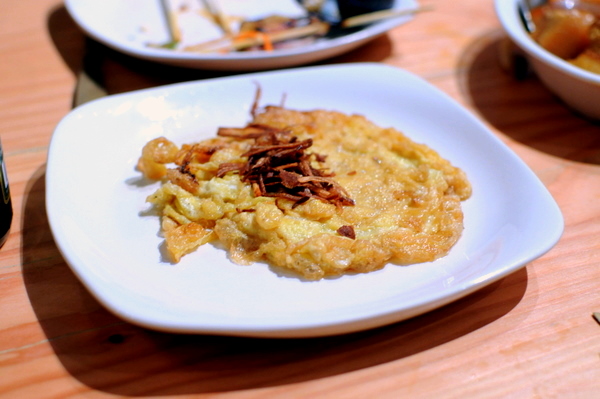 kua gling | border beef - beef tendertail, wok-fried with mortar-pounded southern chile paste
The beef came in a pool of firey red oil and had a heat to match. Though the description says wok fried, I thought the beef had more of a stewed texture. Like the pork belly, this course was made to be paired with rice and we were given some of the restaurant's vaunted sticky rice.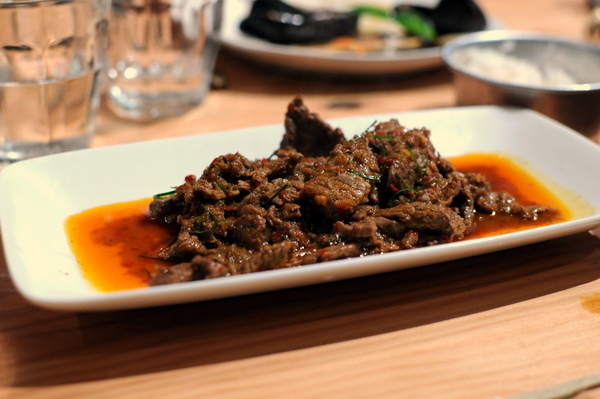 cotes du luberon, le chataignier, domaine de la citadelle '06
Quite the departure the big fruit driven wines I think of with Syrah, this was more herbaceous almost to the point of being medicinal. Still the flavors contrasted nicely with the intensity of the food, highlighting the more aromatic elements while rounding out the bolder flavors.

pad thai talad | market pad thai - bits of tofu, dried shrimp, sprouts, scallions, egg, with lime wedge and red chile
If there is one course that best embodies Americanized Thai food it is Pad Thai (lit. fried Thai-style), but in reality Pad Thai did originate in Thailand and is in fact one of the country's national dishes. In my experience, Pad Thai is one of those dishes that remains fairly consistent across different restaurants. This might have been the best Pad Thai I've ever had though the differences are subtle, primarily the plump al dente texture on the noodles as well as the less overtly sweet overall flavor profile.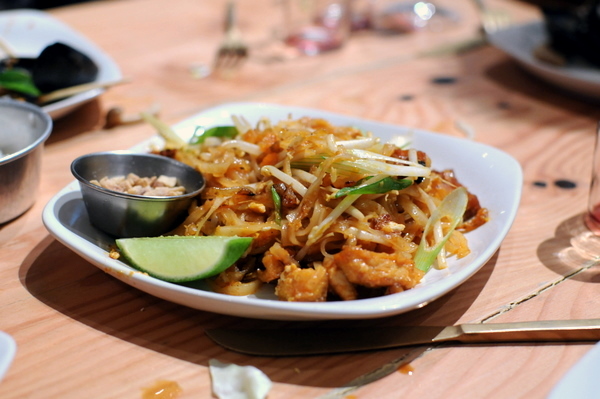 kao pad pu | crab fried rice - with lime wedge and fish sauce with diced chile
Though our meal technically ended with the Pad Thai, Will couldn't let us leave without first trying the crab fried rice. On its own, this would be an excellent textbook fried rice, but the crab adds an extra dimension, sweet with the slight brine of seafood.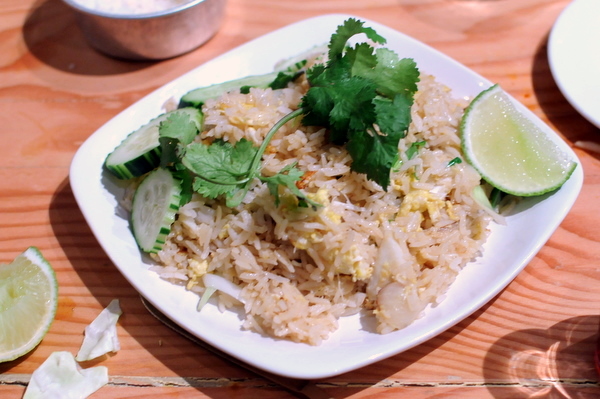 After our meal, Kris showed off his backyard chili and herb garden as well as the kitchen that serves both restaurants. During our tour, Chef Yenbamroong joked that from here he serves food for the palace (Talésai) as well as the street (Night+Market). The food at Night+Market more than lived up to my expectations. While nobody will accuse the food of being overly cerebral, it wasn't meant to be. Spicy, sour, savory there is nothing subtle about the food at Night+Market; yes the food may have come from the streets but it is certainly fit for a palace.