429 Temple
Highland Park, IL 60035
847-432-0770

Carlos' was the second stop on my mini-vacation in Chicago. Despite being the #1 restaurant in Chicago for food according to Zagat (and a 18 on Gayot), I was somewhat reluctant to head to Carlos'. For some reason the menu just didn't appeal to me. However, for some inexplicable reason most fine dining restaurants in the city are closed on Sunday.

I am a huge fan of sampling as many dishes as possible and I liked the variety of tasting menus available at Carlos'. Online they list a meat and game; shell fish and fish; and vegetarian degustation menus. Between Carlos' and TRU I would have the opportunity to sample almost 40 dishes, not bad for two meals.

Amuse
This was some sort of fried pastry stuffed with mushrooms and cheese. The outside of the dough was crispy and the inside was warm and chewy. The stuffing was savory and flavorful, a great way to start the meal.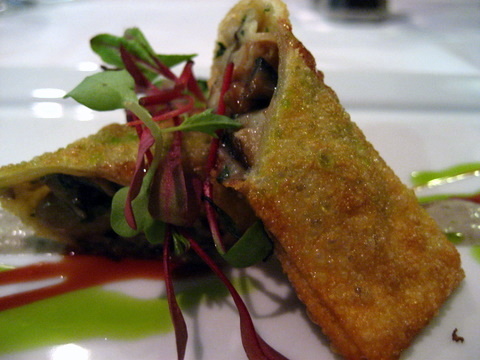 Meat 01: Grilled California Squab Breast - with Tart of Spinach and Mushrooms with a Natural Jus
2000 Jacques Cacheux "1er Cru La Croix Rameau" Vosne-Romanée Burgundy
This was like a squab on top of a quiche. I actually felt there was a bit too much going on in this dish with the buttery tart and earthy mushrooms moderating the natural flavor of the squab. A fairly approachable Burgundian style Pinot with aromas of mixed berries with a slight bit of leather.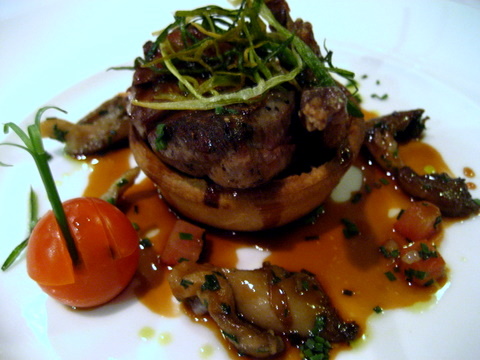 Fish 01:Scottish Smoked Salmon and Butter Poached Fingerling Potato Terrine with a Caviar and Vodka Cream Reduction
A nice smoked salmon enriched with the saltiness of caviar and richness of the potato terrine.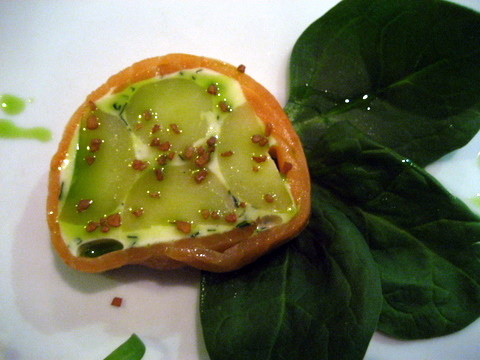 Meat 02: Pan Seared Duck and Duck Confit with Hudson Valley Foie Gras - Baby Carrots and a Grape Reduction
2006 Greg Norman Pinot Noir Santa Barbara County
This dish was a bit overcooked, the foie gras had a bitter burnt taste and that carried over to the duck. Another very heavy dish with the foie gras and duck confit. The wine served with this dish was another pinot, I found this more fruit forward with strawberry and cherry on the front and finish and some spiciness on the mid-palette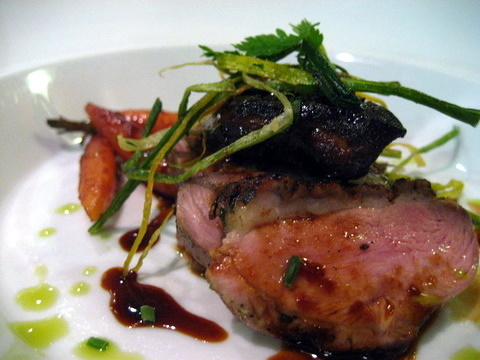 Fish 02: Jumbo Lump Crab Meat - with Kiwi, Mango and a Sunchoke Puree
One of my favorite courses of the night. The fresh crab meat was livened up with the fresh fruit and the sunchoke added a nice nuttiness and some weight to the dish.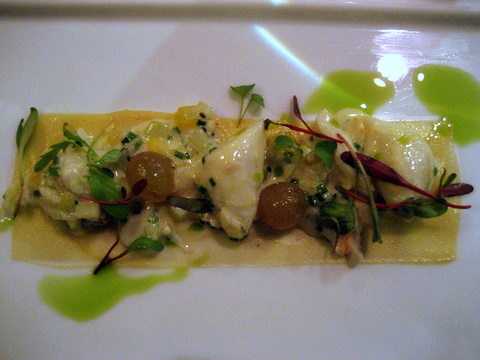 Meat 03: Grilled Lamb Chop with Ox-Tail Ravioli - Baby Spinach and a Caramelized Shallot and Sherry Gastrique
2004 Domaine John Royer Chateauneuf-du-Pape
A very nice lamb chop tender and full flavored with the slightest bit of gaminess. The oxtail ravioli had an entirely different feel very fatty and heavy, the slow cooked meat almost melts in your mouth. The wine a nice spicy CDP matches equally well with both meats.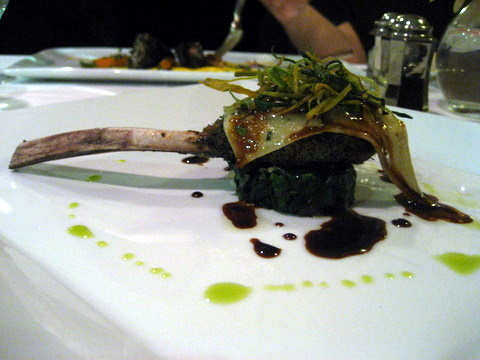 Fish 03: Chervil and Black Truffle Crusted Ahi-Tuna - with Roasted Kobacha Squash and a Truffle-Thyme Reduction
I am normally not a big fan of ahi tuna, too lean and lacking in flavor however this was quite good paired with the heady aroma of truffle. The chervil added another level of flavor, adding mild sweetness and vegetative character.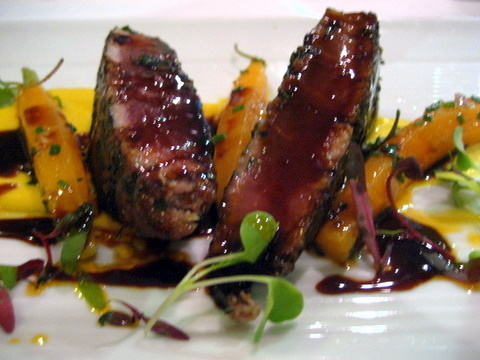 Meat 04: Cocoa Crusted New Zealand Venison - with Carmelized Fennel, Root Vegetables and a Cherry Reduction
2005 Joseph Carr Cabernet Sauvignon Napa Valley
This was my second time having venison and cocoa in as many days and I am sad to say it wasn't any better than the first. The meat was overcooked and tasted of bitterness and game. The wine was a California cab but had a feel very reminiscent of an old world wine.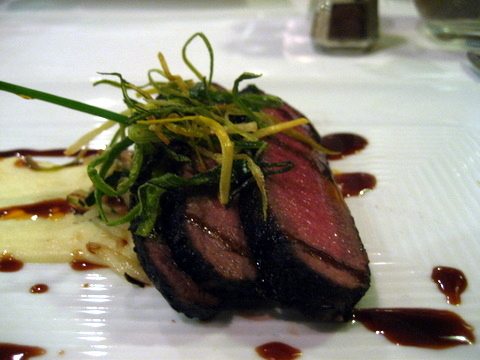 Fish 04: Pan Seared Jumbo Prawn - with Parsnip Custard and a Carmelized Popcorn Reduction
Another strong course the jumbo prawn was perfectly cooked with a crisp texture and sweet buttery flavor.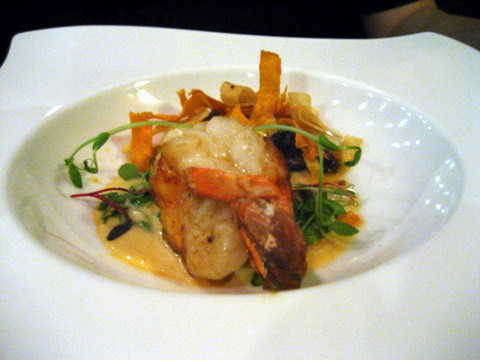 Meat 05: Grilled Ribeye - with Butter Poached Fingerling Potatoes, Roasted Cauliflower as a Cabernet Rosemary Reduction
2006 Cantena Malbec Mendoza, Argentina
A fairly disappointing Ribeye, extremely lean and tough almost like a New York steak. The sides sides were fairly typical and the sauce masked the natural taste of the meat. A very easy wine to drink soft tannins, loads of fruit and earth. A bit too fruit forward for the meat but still enjoyable.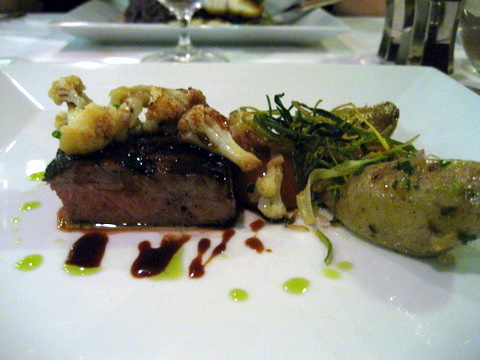 Fish 05:Red Snapper - with Braised Kale, Salsify Puree and a stone Ground Mustard Beurre Blanc
I normally find cooked snapper a bit tough, but this was fairly good. The mustard gave a slightly biting flavor with the butter sauce that went well with the light natural flavors of the fish.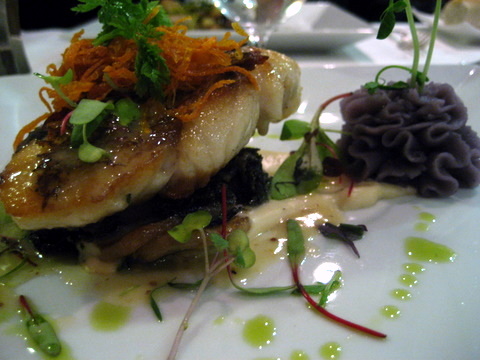 Symphony of Dessert
NV Piper-Heidsieck Brut Champagne
A fairly plain trio of desserts although tasty enough. There was a small creme brulee, chocolate tuiles with mint filling, and some sort of chocolate cake. Although I found the pairing of a brut champagne a bit odd as the desserts were far too sweet for the wine.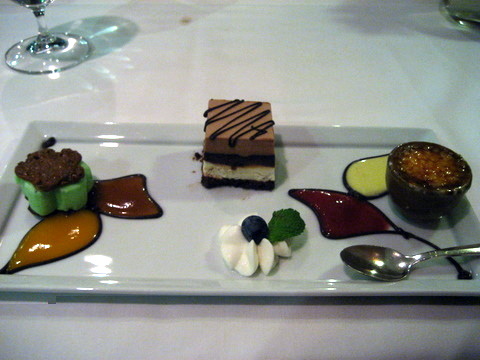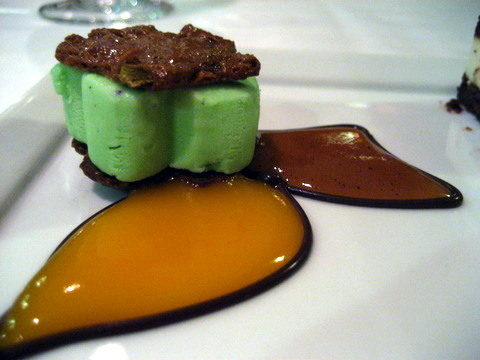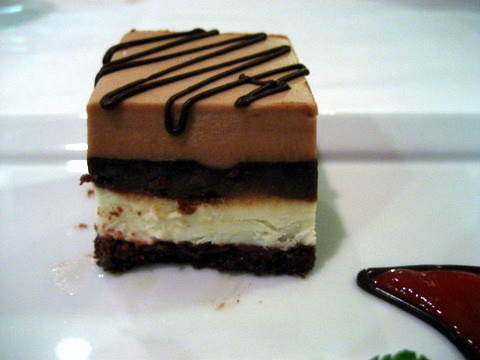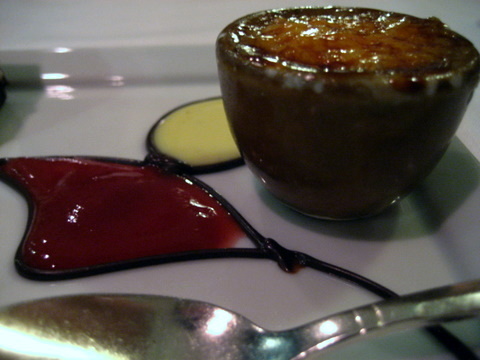 Petits Four
A modest petits four plate leaning more towards baked goods.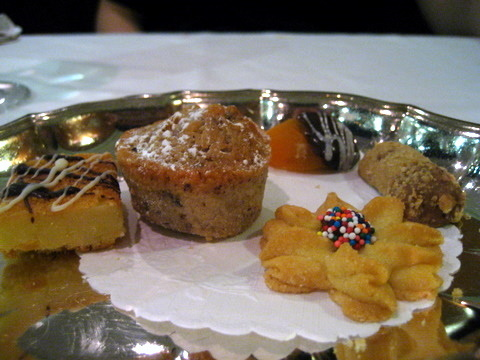 Carlos proved to be an extremely gracious host, walking among the tables and greeting each and every diner. The restaurant was quite good but in more of a reliable neighborhood restaurant than an elite fine dining establishment. I will say from start to finish the service is impeccable and warm. Our waiter even made a rose for my dining companion out of her tablecloth and gave me credit for it. Sadly my companion wasn't fooled but it was still a valiant effort.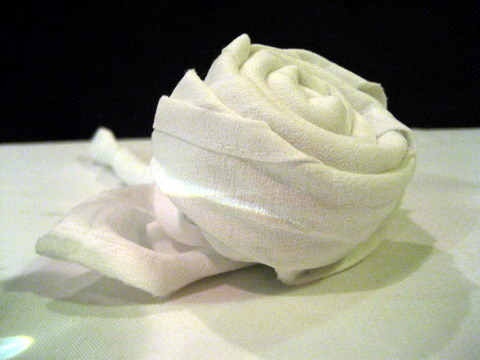 The day we went the majority of the dining room was taken up by senior citizens. From what I gathered of their conversation they were on a cruise and making a port-of-call. The fact that the restaurant had to resort to such promotions to fill tables cheapens the atmosphere somewhat. Also being surrounded by people who are literally all more than twice my age is a bit trying. I am accustomed to being the youngest in a restaurant but I would prefer it if all the other diners weren't my father's age.

I don't know what I was expecting when I went to Carlos' on the one hand it is highly rated and seems to get rave reviews all around, however my initial impressions of the menu were somewhat ambivalent. The food is good and very filling if a little straightforward. I actually ended up not really enjoying the focused degustation format and would prefer a more balanced menu with seafood in addition to meat and game. With all meat and game courses, the dishes get very heavy very quickly, I prefer lighter flavors to start and a couple heavier courses to round things out. Given the nature of the dishes, the portions could stand to actually be a bit smaller.

Carlos' is solid restaurant with a loyal following that appreciates the warm inviting atmosphere more than the food.