Renee and Henry Segerstrom Concert Hall
615 Town Center Dr, Costa Mesa, CA 92626
714-429-7640

As I mentioned in my earlier post, I was heading to Leatherby's again for a dinner. I had been approaching this dinner with some trepidation. My last trip here, the restaurant far exceeded my expectations and I had to tell myself not to rate this experience too harshly because of that. Additionally, none of my companions were foodies, indeed many had not ever tried an oyster or spent over $100 on a meal and I didn't want the sticker shock to overshadow the evening's fun.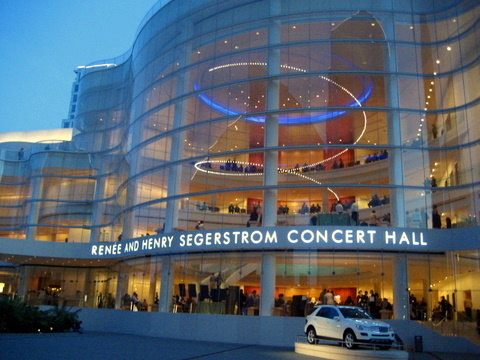 We arrived right after the pre-theater service finished, so many of the diners were still lingering around. We garnered quite a few looks from the well-heeled theater patrons as we were mostly clad in jeans and t-shirts, although one of my friends had a $1300 hoodie on. The looks no matter how well-deserved, suggested they thought us akin to vagabonds relieving themselves in the fountain.

As planned we had the dining room almost completely to ourselves. The meal started a bit awkward as my companions were somewhat uncomfortable with the idea of fine dining. Fortunately, a bit of alcohol smoothed that out. I went with a wine pairing while the rest of the diners enjoyed Chimay and another Belgian ale.

Amuse: Kusshi Oysters - Classic Mignonette
To me this was a fairly classic dish, presented in a slightly different fashion. The oyster was paired with a fairly harsh sake, very reminiscent of my last visit. The best part of the course was the reaction of two of my friends. They insisted on skipping the course and only after a lot of coaxing did they tentatively try the oyster. It was gratifying to see the apprehension on their face melt into something approximating pleasure.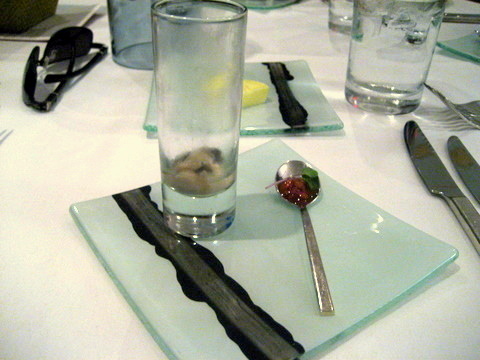 Rock Shrimp Ceviche
An unlisted course that met with a great deal of approval from the table although I felt the shrimp was a bit bland and tough. I believe this was served with a sauvignon blanc which had a crispness that went very well with the dish.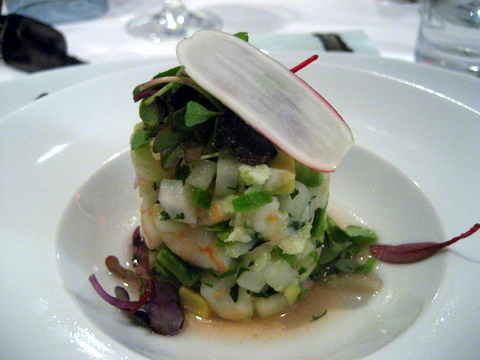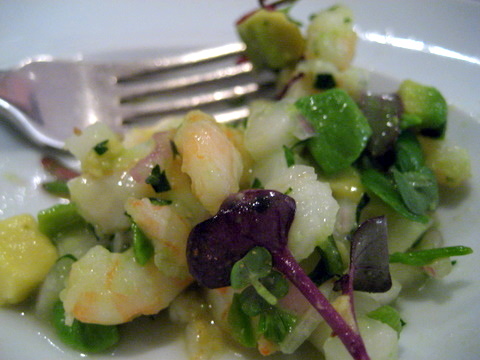 Farmers Market Heirloom Tomato Salad - Burrata Cheese, Brioche Crouton, Mortar Crushed Opal Basil, Spanish Olive Oil
Tomatoes and burrata seem to have become extremely popular over the last two years. I had this dish my first time at Leatherby's and I thought the tomato was a bit bland and the burrata not creamy enough. I am happy to say this was much better with the aromatic basil and earthy olive oil accenting the raw freshness of the tomato perfectly. Another course that many diners almost dismissed out of hand, this turned out to be one of the most well liked dishes of the night. As one diner said "its like a party in my mouth." This was served with another white, a bit more full bodied.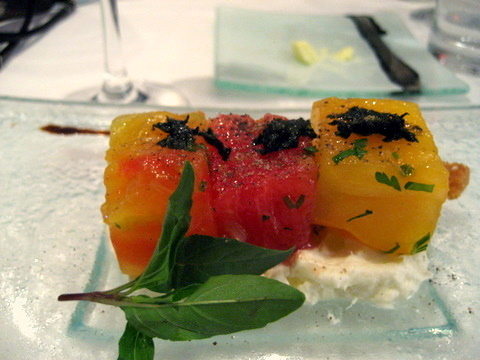 Braised Pork Belly - Okinawa Sweet Potato Puree, Cherry Compote, Banyuls Gastrique
Probably my favorite course, the pork belly was cooked perfectly lightly charred on the surface, with a semi-liquid layer of fat lightly sweetened by the cherry and banyuls. Like the last course this was quite the crowd pleaser.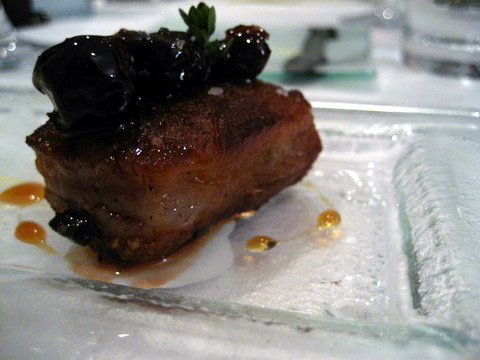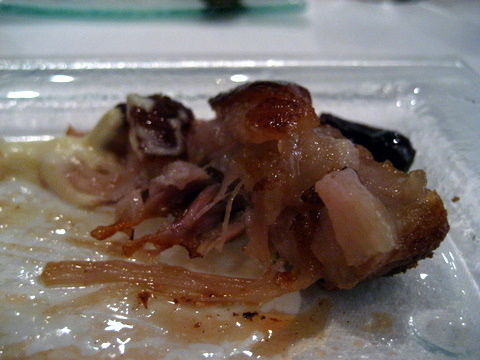 Pan Roasted Halibut - Linguini Pasta, Fava Beans, Morels, Pea Tendrils, Yuzu
I am always apprehensive with halibut, it is just so hard to do well for me. Last time I was here, the meat was very moist and tender yet it was still one of my least favorite courses. This time the fish wasn't prepared quite as well and I found it to be a bit tough. The flavors didn't quite pair well either, although I think most of the other diners enjoyed it. I believe this course was served with a pinot noir, a very bright young example of the wine which I quite enjoyed although I didn't think it suited the dish.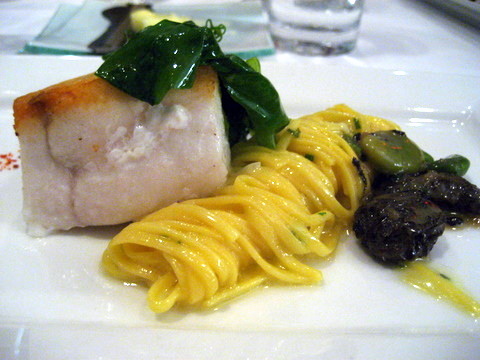 "Surf and Turf" Seared Maine Scallops and Prime Cut Ribeye - Lobster Caramel, Grilled Spring Garlic, Scallop Potatos, Glazed Spring Vegetables, Sauce Bordelaise, Bone Marrow Butter
An impressive looking course with almost too much going on. Many of the sides were quite good as were the scallops, but the steak was extremely tough and really detracted from the dish. The dish was served with a California cab, but given the sheer variety on the plate it wasn't the best pairing.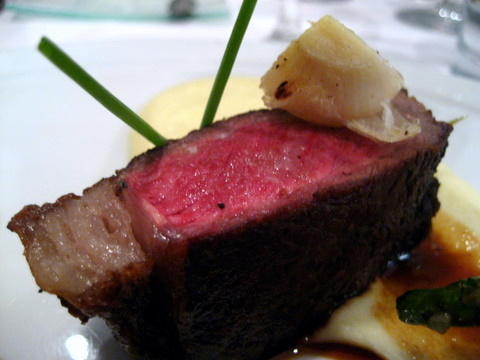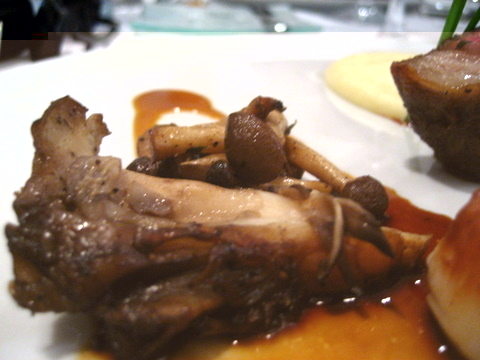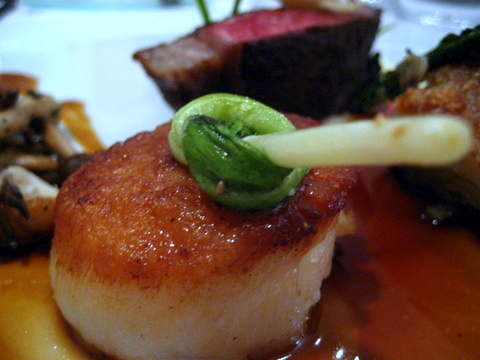 Platte de Formage - Selection of Imported and Domestic Cheeses, Daily Accoutrement
The leftmost was a hard sheep's milk I believe, pretty mild in flavor but I just don't enjoy the hard texture. The middle cheese was much softer and more to my liking. The flavor was reminiscent of brillat savarin but milder. The last was maytag blue with strawberry and balsamic. I always had a hard time with blue but I thought this wasn't so bad, the acoutrements really mellowed the flavor. This was probably the most divisive dish with some diners enjoying the cheese while others found the flavors too intense. The cheese was served with a sparkling wine which reminded me of what I had at Tru.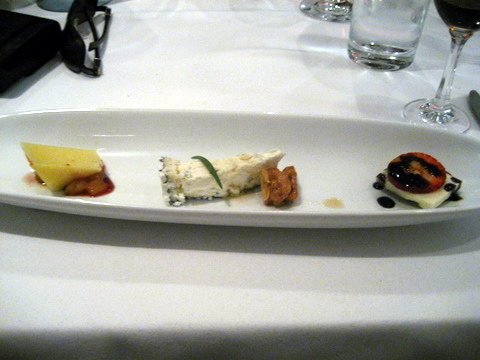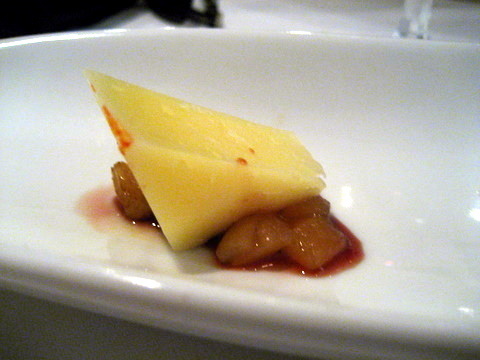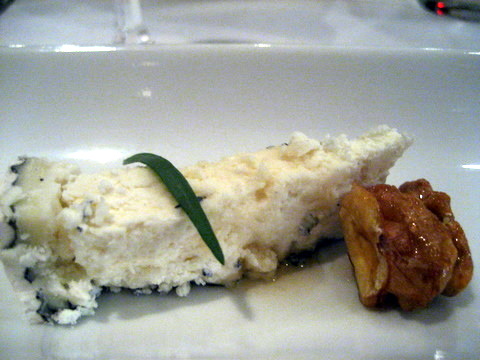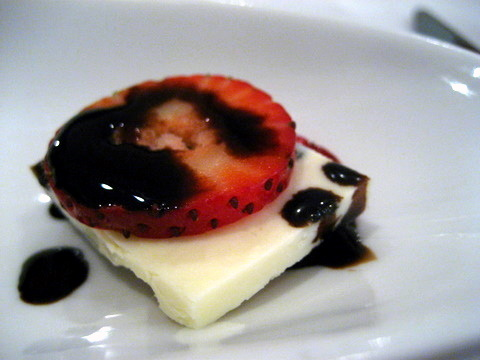 Chocolate TrioChocolate Torta, Baked Mousse, Sorbet
I don't understand the popularity of multiple chocolate desserts. Are chefs trying to show the versatility of the stuff? Do they feel everyone loves chocolate so its a safe choice? Whatever the reason, Leatherby's offers a triple chocolate dessert that like many others falls flat. My favorite was the Jamison Whiskey sorbet with the chocolate crisp since it actually had a flavor other than chocolate. Desert was served with my favorite wine of the night and the only one I bothered to memorize Alvear Pedro Ximenez Solera 1927. I really enjoyed the nose of nuts and maple syrup. On the palette there was a flavor of burnt toffee, and somehow manages to be viscous and intense without being cloyingly sweet. Many of the other diners were shocked at the age of the wine especially given the price.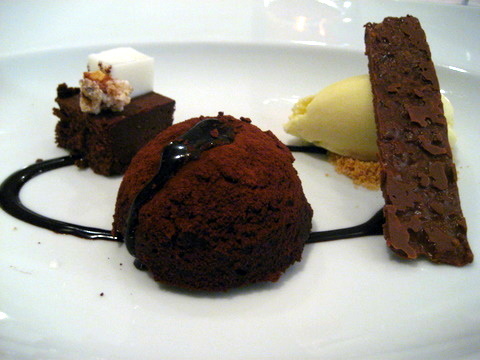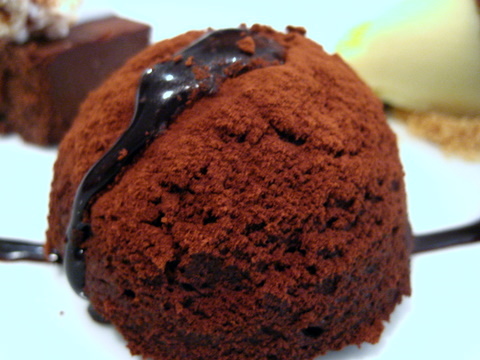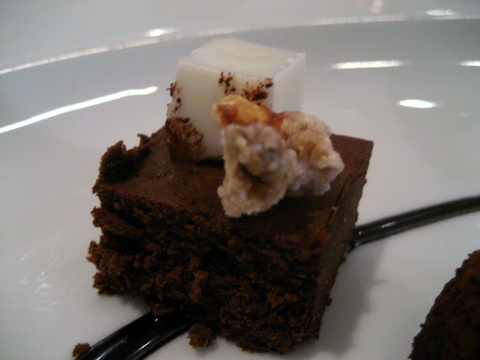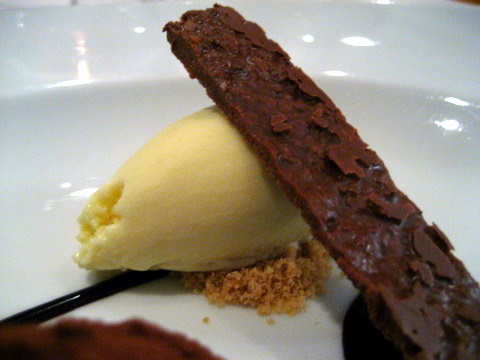 While not as impressive a meal as last time, Leatherby's still proved to be an enjoyable experience. I was especially pleased to see everybody enjoyed the experience, and one or two actually asked to come along next time I plan a dinner. Perhaps one or two more aspiring foodies were born this night.