676 N. St. Clair St.
Chicago, IL 60611
312-202-0001

TRU often gets mentioned in the same breath as Alinea as one of Chicago's finest restaurants, with identical Zagat and Gayot scores and plenty of critical acclaim for each. During my first trip to Chicago I happened to walk past TRU and lamented that I would not be dining there as I had already planned dinners for both nights I was there. My first trip consisted of Alinea and Charlie Trotter's, the former one of the most cutting-edge restaurants in America and the latter a veritable institution of culinary wonder.

Having the chance to return to Chicago, I knew I had to try TRU this time around. Looking at the menu online heightened my desire to try the restaurant as they had added a Sommelier's Collection to the two traditional tastings, Grand Collection and Chef's Collection. As a budding wine aficionado, I found it refreshing to let the wine take center stage and pair the food around it. Certainly a novel idea and I was looking forward to sampling the execution.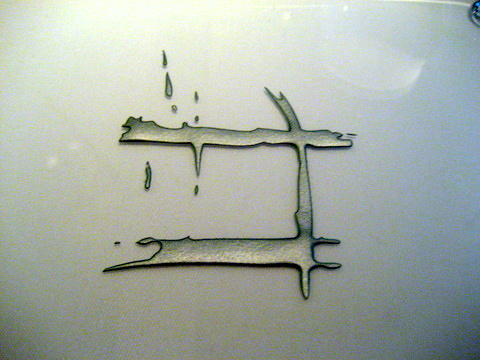 The restaurant consists of two dining areas a smallish lounge with upstairs dining and the main dining room. The main dining room has booths along one wall and a long booth dividing the restaurant in half with a scattering of tables throughout the two halves of the room. The decor tends to run towards white and black with the occasional splash of color provided by the various artwork around the room. All things considered, I found the dining room to be a very severe affair with each table isolated and surrounded by somber colors.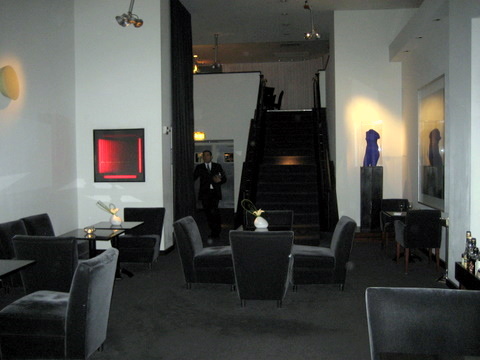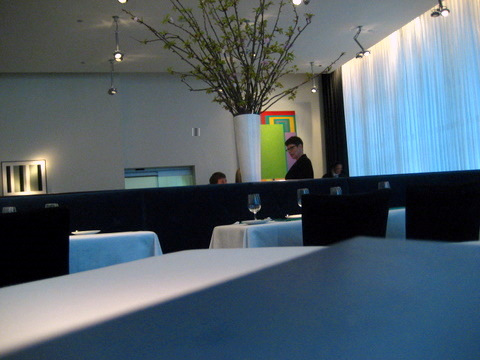 Pre-Amuse: Jasmine-Scented Pear - Fennel Parmigiano-Reggiano, Smoked Paprika
An interesting gift from the chef, definitely one of the more complex one bite dishes I have had. The parmigiano provides a very gritty texture and combines with the smoked paprika in a medley of flavors, hot, sweet, nutty the delicate pear and jasmine are lost. The fennel plays a minor role until bitten, releasing an explosion of warm herbal-licorice.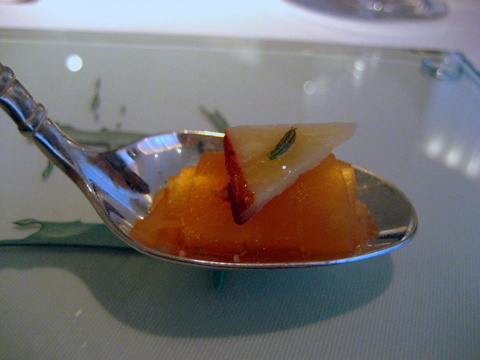 01 SC: Grape Gelée - Crab Salad, Cucumber, Honeysuckle
Barboursville Vineyards Viognier Virginia 2006
My amuse was a grape gelée topped with plenty of sweet crab and cucumber. The overall flavor was very delicate with the sweetness of honeysuckle contrasting a pepperiness, elements readily evident in the wine.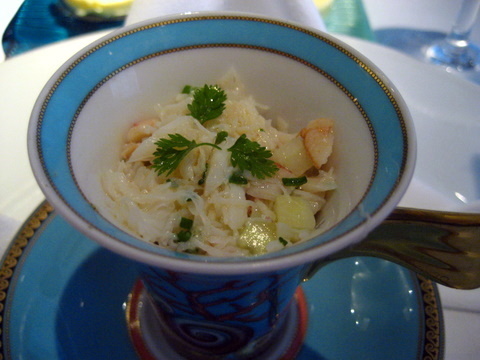 01 CC: Dashi Gelée - Italian Black Pearl Caviar, "Living Jewel" Sake
My companion's amuse was also a gelée. Hers was made of Dashi or kelp broth. However the savory flavor of the dashi was totally overpowered by the harshness of the sake.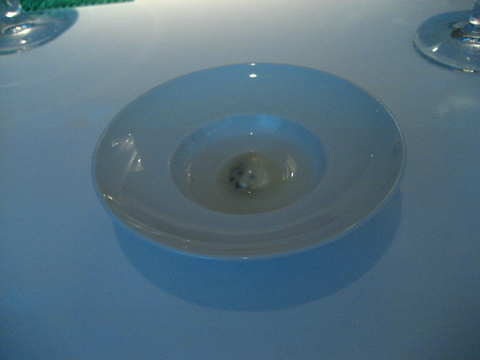 02 SC: Veal Sausage - Sunchoke Cream, Celery, White Peppercorn
Alsace Pinot Blanc Kritt Marc Kreydenweiss 2005
The wine was a very aromatic late harvest the wine gave off notes of pear and apple with a surprisingly dense mouth feel. The food however felt totally different, very meaty and oily almost heavy-handed.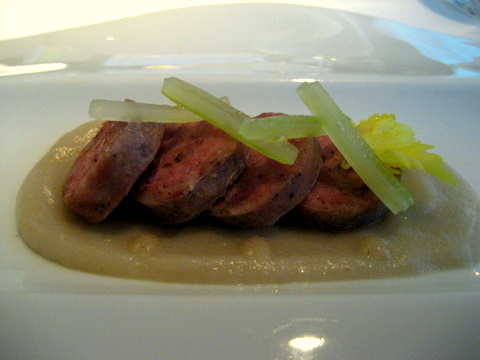 02 CC: Sashimi-Grade Kindai Bluefin Tuna - Watermelon Radish, Mizuna
Not exactly something I expected to find in a contemporary French restaurant, this looked like something straight out of a high-end sushi bar. The tuna was surprisingly toro-like, soft and fatty, despite the absence of visible marbling. This was served with two types of soy an organic white soy and house made soy. To the side there was a pinch of toragashi powder that added a nice lingering bite to the fish. Kindai tuna is a aqua-cultured tuna that is both delicious and supposedly sustainable. The fish is extremely hard to find with only 3 imported to the US each week. The fish is divided up among top restaurants in New York, Chicago, and the Bay Area at wholesale prices of $40 to $70 per pound.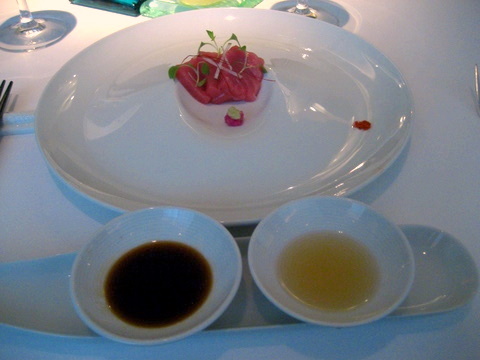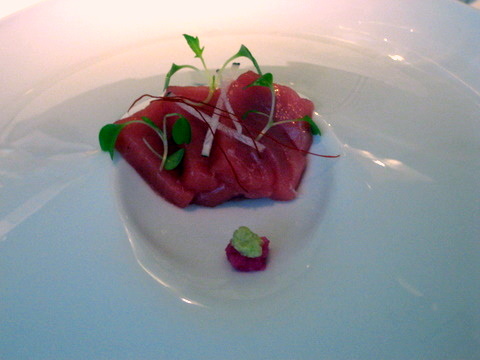 03 SC: Pheasant Consommé - Pomegranate Gelée, Cote De Brouilly
Côte de Brouilly Pontel-Avrion 2004
One of the strongest courses of the night, the pheasant meat was flavorful and tender and the soup had an oily richness nicely accented by tart pomegranate and a bit of the wine itself. The wine had an aroma of cherry and herbs with a pepperiness.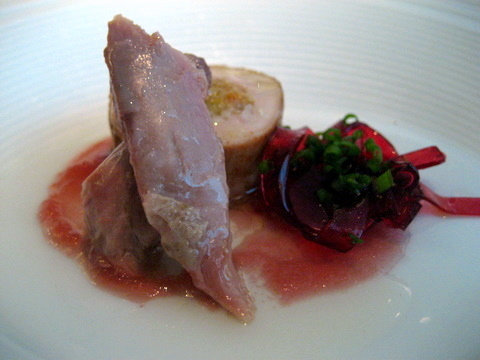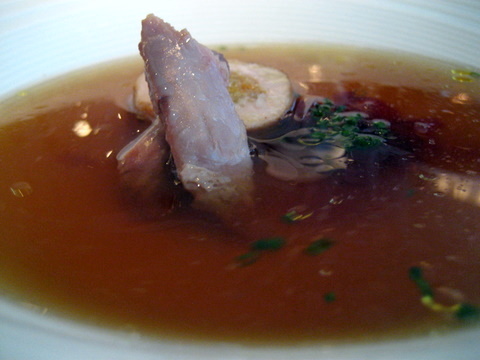 03 CC: Penn Cove Oyster - Tempura Uni, Sorrel
This was the chef's take on clam chowder. A rich cream supports the uni tempura, sweet and salty, warm and cold, crunchy and unctuously soft many contrasting elements were at work in the uni tempura.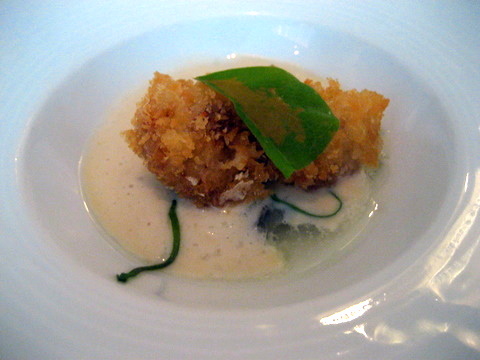 04 SC: Pork Belly - Corn Pudding, Granny Smith Apple, Pickled Leeks
Meursault Perrières Domaine Bouchard 2002
Probably my favorite course of the night this course ran the gamut of flavors and texture, the pork was soft and fatty, the corn slightly gritty and sweet, the apple crisp and tart with a bit of toragashi to add some heat to the mix.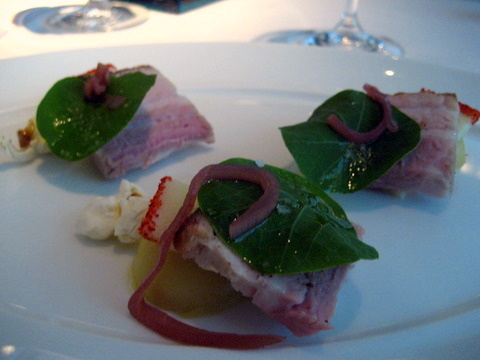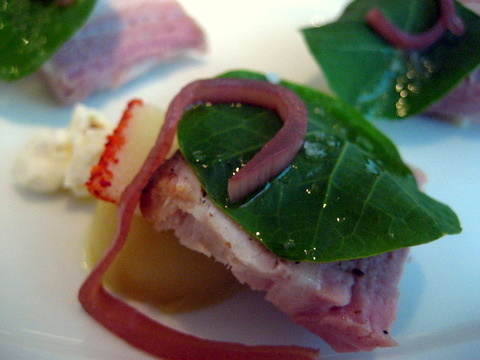 04 CC: Duck Consommé - Duck Confit, Almond, Black Trumpet
After having the pheasant consommé this just fell flat. The flavor was similar but a bit more diluted.




05 SC: Hot and Cold King Oyster Mushroom - Avocado, Grapefruit, Caviar
Erdener Treppchen Riesling Spätlese M.F. Richter Mosel-Saar-Ruwer 1990
Another very good course. I love the meaty snappy texture of king oyster mushrooms and the interplay between the hot and the cold. A fairly dry Spätlese with intense citrus notes and light acidity that meshed very well with the whole course and the grapefruit in particular.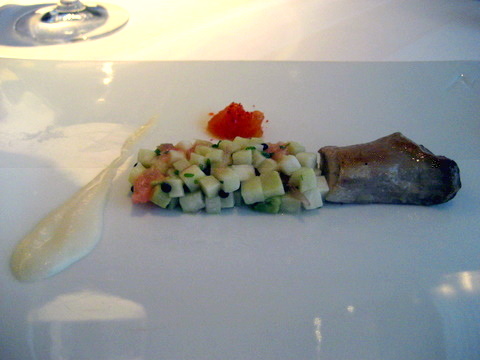 05 CC: Liquid Parmesan Gnocchi - Hedgehog, Cherry Tomato
This looked promising but was overly salty which overpowered any of the subtle notes that might have been in the dish.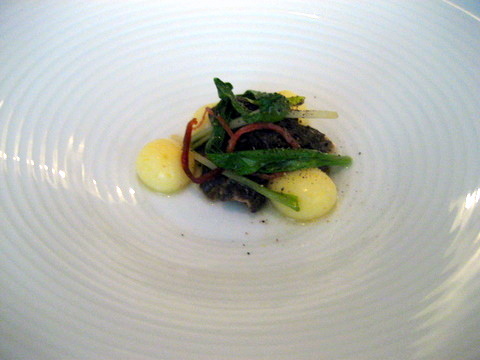 06 SC: Smoked Bass - Carrot Purée, Harissa Panisse
Peregrine Pinot Noir Central Otago 2006
Another hit on the wine with a core of dark cherry and spice very clean and vibrant. The fish however was another story. The meat was slightly overcooked, with a sickly syrupy sweetness that reminded me of eating a scented candle.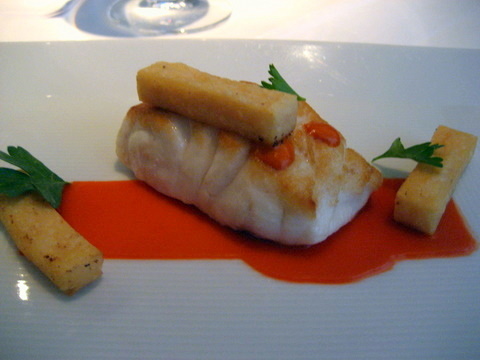 06 CC: Whipped Salt Cod - Creamy Potato, Smoked Gelée, Caviar
A very cool looking dish but an overabundance of salt killed overpowered anything else the dish might have had to offer.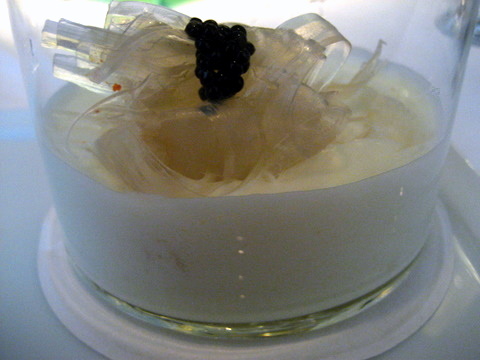 07 SC: Venison - Blood Orange, Cocoa, Condensed Black Olive
Brunello di Montalcino La Campana 2001
The venison was a bit tough and gamy, not unexpected but still unpleasant. The orange and olive and cocoa all provided dark and earthy forest-like flavors. The wine definitely hit with the citrus and earthiness. I felt this was a strong pairing, I just didn't enjoy the flavors very much.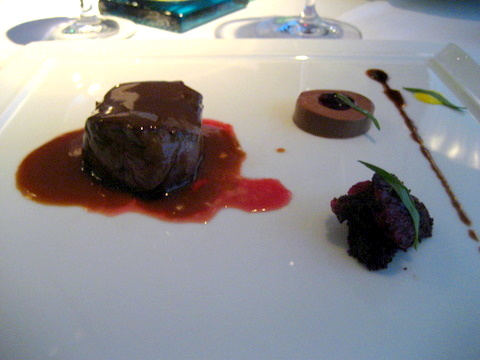 07 CC: Scottish Salmon - Granny Smith Apples, Coconut, Thai Long Peppercorn
Clearly inspired by Asian cooking, this dish combines sweet and spicy flavors effectively but the fish was a bit overcooked which detracted from the experience.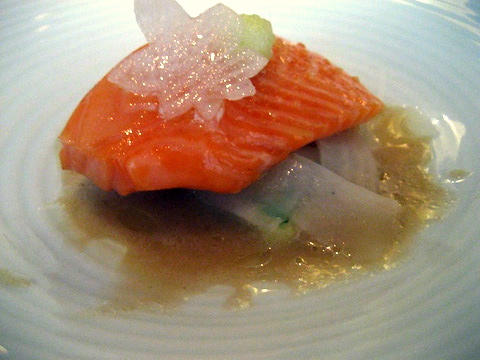 08 SC: Bison Ribeye - Smoked Paprika, Blackberry, Parsnip, Malabar Spinach
Merus Cabernet Sauvignon Napa Valley 2004
An incredible cab, the Merus is powerful and concentrated with loads of blackberry, currants, espresso, and oak. The wine has a silky mouthfeel and a long finish. The bison was a brilliant pairing for the wine, tender and flavorful like the wine it strikes a similar balance. However, I felt the acoutrements were a bit too strong and upset the delicate balance of the course.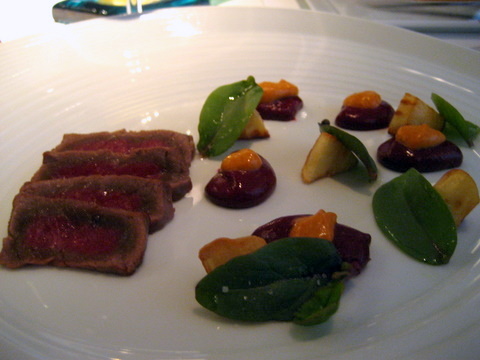 08 CC: Roasted California Squab - Butternut Squash, Hazelnut, Farro
A very nice squab crisp skin soft meat, with melted fat throughout. The farro was a nice accompaniment adding substance to the course and toning down the intensity of the meat.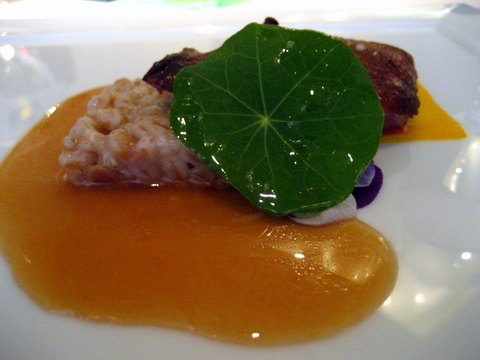 09 SC: Duet of Brillat Savarin
Champagne Paul Bara Brut 1999
A very cool and involved wine and cheese course. I never figured out what was in the plate with the cheese but it hardly matters. True to form, the Brillat Savarin was nutty and rich. I know one of the pairings was an almond sorbet and some sort of geleé. In general the accompaniments were very sweet and served to take off some of the edge of the cheese. The champagne was served two ways chilled and carbonated and warm and slightly debubbled. The traditional serving was more floral and dry while the warmer wine was slightly sweet and nutty.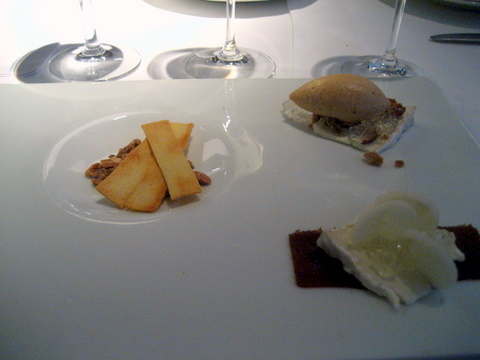 09 CC: A Selection of Cow, Goat & Sheeps' Milk Cheeses
A very nice cheese cart, probably the most elaborate I have seen after the Dining Room in SF. However, after tasting the Brillat Savarin none of these even came close.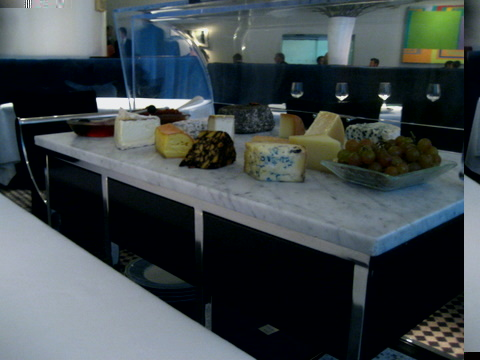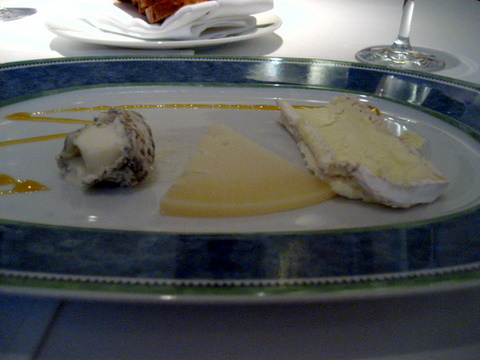 10 SC: Red Wine Sorbet - Passionfruit Caramel, Plantain Chip
I thought this palette cleanser did an admirable job, however the sorbet totally overpowered the caramel and plantain resulting in a somewhat simple dish.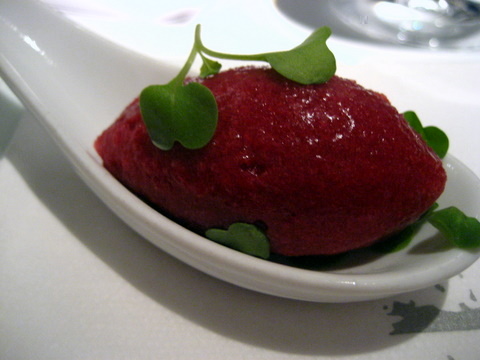 10 CC: Devonshire Cream Panna Cotta - Champagne, Pomegranates
By contrast this was so much cooler. The richness of a panna cotta with the effervescence of champagne and tarness of pomegranates, the addition of pop rocks was totally superfluous, but a nice touch nonetheless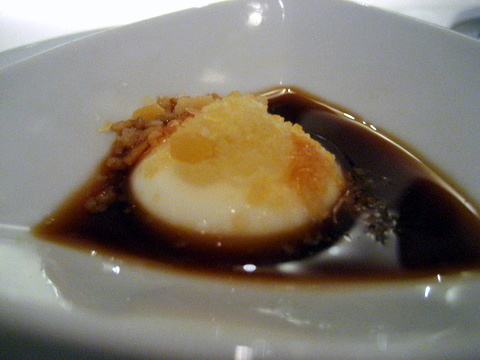 11 SC: White Chocolate Mille-Feuille - Apricot, Lychee, Strawberry, Cinnamon
Kracher Traminer Trockenbeerenauslese #2 Nouvelle Vague Burgenland 1999
A very nice dessert with a medley of fruits combined with creamy sweet white chocolate. The wine was surprisingly unsweet for a TBA, still viscous but dominated by tangy apple apricot and peach.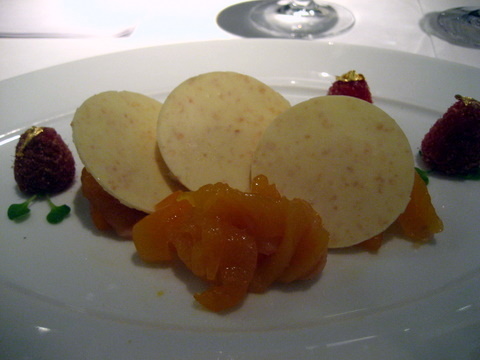 11 CC:Chocolate-Port Semifreddo - Spiced Chocolate Bisque, Orange Cinnamon Truffle
I have a weakness for semifreddo desserts and this was no different. Though I normally shy away from chocolate based desserts this was quite good, combining rich dark chocolate with spice and fruit. The cold dense texture of the semifreddo wins me over every time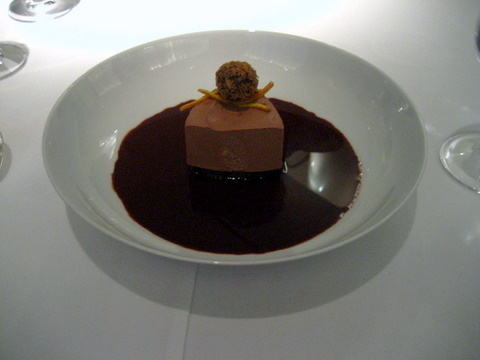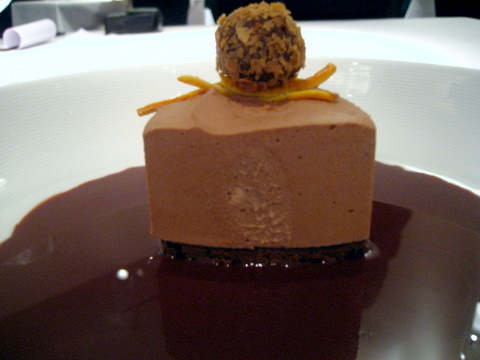 Mignardises and Lollipops
I believe we both had one of each from the tray. My favorite was the bacon chocolate toffee, sweet salty buttery whats not to like?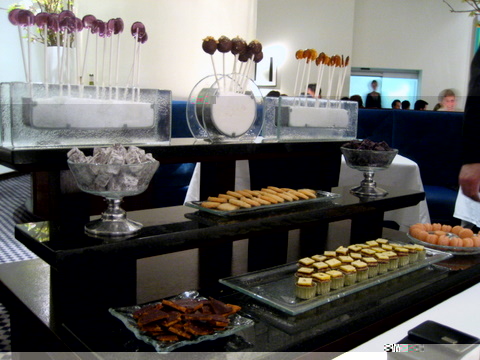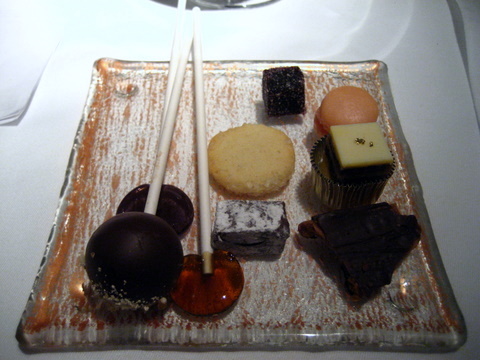 Sadly executive chef Rick Tramonto wasn't available, but the chef de cuisine, Tim Graham proved to be an affable host in his place. Midway through the meal he came out and spoke with us, then after dinner he offered a tour of the kitchen and posed for a photo. I can't help but compare him to Chef Achatz at Alinea and the two couldn't be more different. One wolf-lean with a burning intensity that is obvious the instant you meet him. The other with an guileless smile and relaxed air of a man at peace with himself.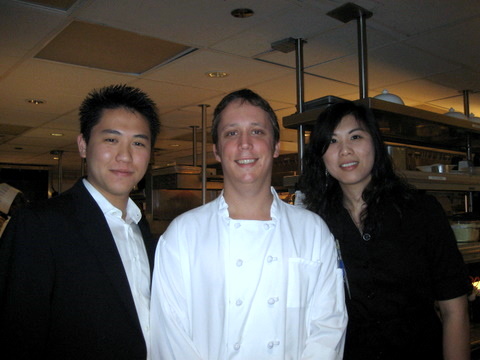 For the most part, I can appreciate the complexity and ingenuity that goes into each dish. I do think TRU is a slight step down from Alinea or Trotter. I really wanted to like TRU more than I did but several of the dishes were just off. It wasn't even a question of the dishes not matching my tastes, I simply mean too salty or too bland, things that shouldn't happen at this level. Other times, I couldn't help but be distracted by the fact the servers went into so much detail about how the food and the wine are supposed to complement one another. It was almost as if they were worried diners wouldn't understand what they were trying to accomplish.

Overall, I'd say TRU is an very good fine dining experience. Still it is hard to recommend the restaurant over some of Chicago's other offerings.