The meal got of to an inauspicious start when I was nearly leveled by a server right as I walked in the entrance. The dirty look I got from him and the exasperation of the hostess while greeting us all left me feeling a bit unwelcome. Watching the flow of traffic, it seemed the staff was having trouble keeping up with dinner service. Sitting there with a growing sense of unease, I was shocked out of my reverie by Gourmet Pigs, a fellow food blogger who I met at Jinpachi. She was seated outside and decided to say hi between courses.

After being politely ignored for a bit we were shown to our table, surprisingly it was fairly close to our reservation time. If I thought we were unwelcome before, the table we were seated at confirmed it. I know we are young and dressed a bit informally but do you have to shove us in the corner so nobody else sees us?

Scrambled egg with summer truffle, artichoke in casserole, octopus with fava bean purée and squid ink gelatin
Chef Gino Angelini, Osteria Angelini and La Terza
Duval-Lero Blanc de Chardonnay 98
As always the amuse is prepared by the host chef. Here we were served a nice little trio. My favorite was the scrambled egg with truffle, so simple and straightforward, the truffle essence really shines through here. The artichoke was good in a kind of esoteric way, soft textures and mild flavors somehow combine in some mysteriously tasty dish. The purée was done very nicely uniform and fine. The squid ink had a strange flavor I can't quite describe again different but not unpleasant.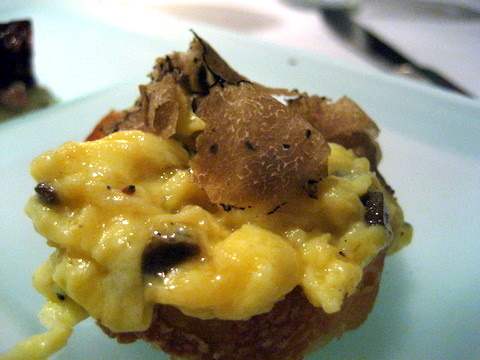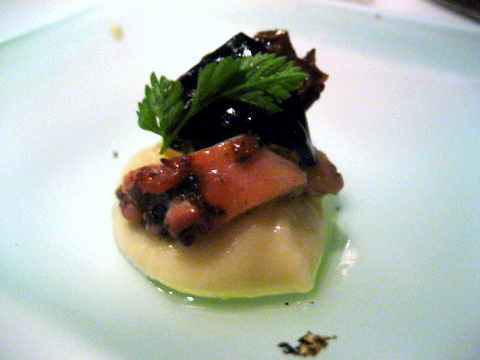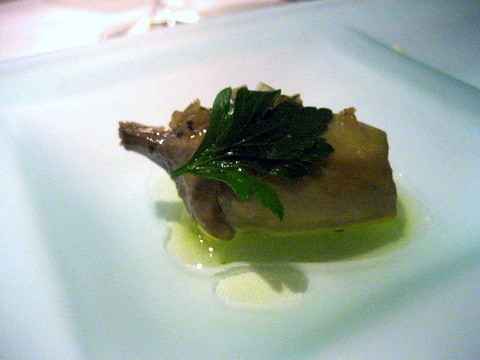 At this point service fell apart fairly quickly. We waited for about 30 minutes before one of the servers brought the next course. The problem, he only brought two servings. After standing around helplessly for a minute he left. 10 more minutes pass before two servers arrive with 4 courses, the only problem they are the scallops and we haven't had the hamachi yet. Finally after waiting for an hour we get the necessary number of servings of the correct course.

Hamachi crudo - heirloom tomato sorbetto, celery, and blood orange oil
Chef Walter Manzke
Colterenzio Sauvignon "Prail" 2006
Readers of my blog might have noticed I tend to be wary of crudo. I find all the things on the plate can quickly overwhelm the fish. I thought the acidity of the tomato and the bitterness of the celery way to strong for the fish. On a side note, one thing I like about Chef Manzke is he has a very distinctive visual style that remains consistent even though the ingredients on the plate change.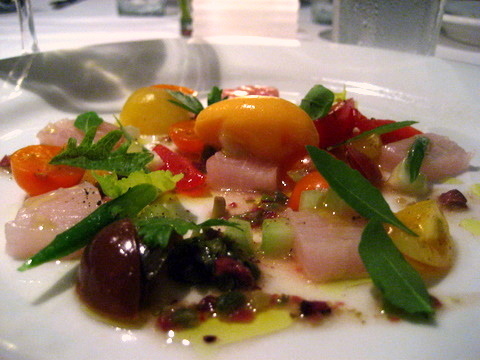 Roasted scallops - Montbazillac and pistachios emulsion
Alain Giraud, Anisette
Chateau De Campuget Viognier "Cuvee Prestige" 2006
After tasting the scallops my first thought was I wish they gave us the other 4 servings. The scallops were easily the standout course of the night. At Water Grill I lamented the scallops would have been perfect if they had been a little rarer, well they must have heard my complaints because these were done perfectly. The Montbazillac and pistachio add depth and complexity to the butter sauce and the entire combination makes the scallops burst with flavor. I spoke with Chef Giraud about Anisette's lukewarm reviews from critics and he seemed exasperated by critics' expectations, "it's a brasserie not fine dining." Well Chef Giraud, if dish is anything to go by, I will be breaking down the door to any fine dining restaurant you open.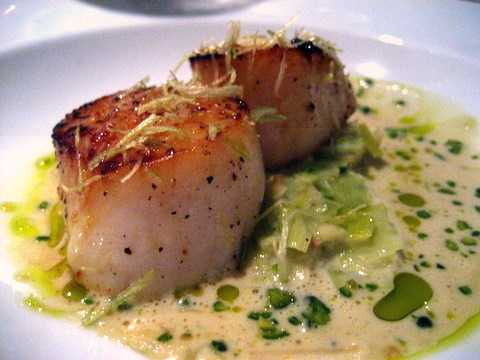 Sweet corn agnolotti - cockles, guanciale, rosemary, and matsutake mushrooms
Chef David Lefevre, Water Grill
Fattoria di Petroio, Chianti Classico 2005
Definitely the busiest dish of the night each bite provided a different mix of flavors and textures, I would have preferred simpler dish focused on the agnolotti. Eating the agnolotti by itself the sweet corn really comes to the fore. The guanciale, unsmoked Italian bacon, was intensely salty and dominated the dish whenever it was present. The cockles added yet another element, a bit sweeter and less briny than your standard clam, played very well with the pasta.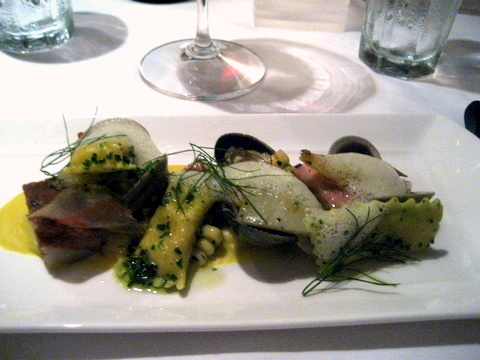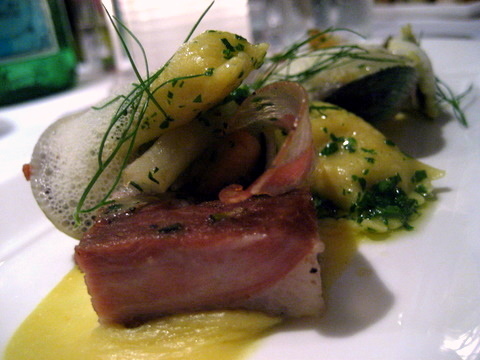 Wood grilled Hawaiian Big Eye Tuna - fresh cranberry beans, squid, basil and munak ranch tomatoes
Chef Michael Cimarusti, Providence Restaurant
Jospeh Drouhin Chorey Les Beaune 2006
Cimarusti has probably been my consistent favorite over the 3 dinners so far but this wasn't his best work. The fish was beautifully prepared the wood grilling really adding a nice subtle smokiness. I don't typically like beans but I thought these had a nice texture and a subtle nutty sweetness that didn't really compliment the fish but it didn't detract either. Overall the individual ingredients were good but there was just nothing tying them together.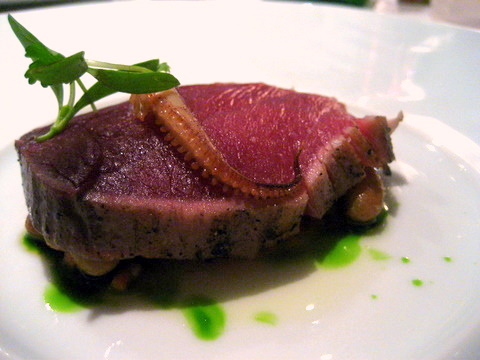 Lamb loin and shank - eggplant-potato "parmesan", lamb jus
Chef Josiah Citrin, Mélisse Restaurant
Arnaldo Caprai Sagrantino di Montefalco "Collepiano" 2003
Lamb is always very hit or miss for me, there needs to be some gaminess but not so much that it overpowers the other flavors. The loin was very even in texture, very tender throughout with a very satisfying meaty flavor. The shank was noticably gamier than the loin and had a much softer texture, like braised beef. Actually this course kind of reminds me of Citrin's trio of beef.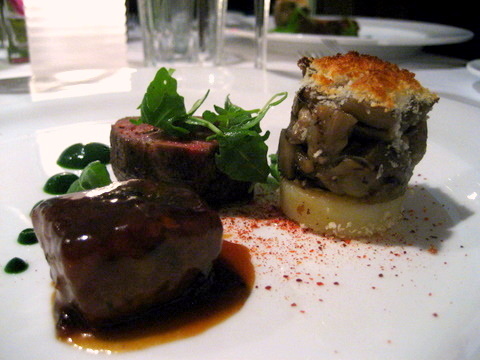 Babá - with rum and strawberries
Chef Gino Angelini, Osteria Angelini and La Terza
San Felice, Vin Santo del Chianti Classico 2002
Babá or Baba au rhum is basically rum cake. One of the most straightforward desserts I have seen in awhile I hope they aren't going for a quantity over quality thing here. The cake is a bit dense almost like a bread rather than cake and soaked through with rum, lemon, cinnamon, and simple syrup. The cake is like a supersaturated sponge and chewing it releases a delightfully cool sweet mixture with the slightest burn of alcohol. Nice!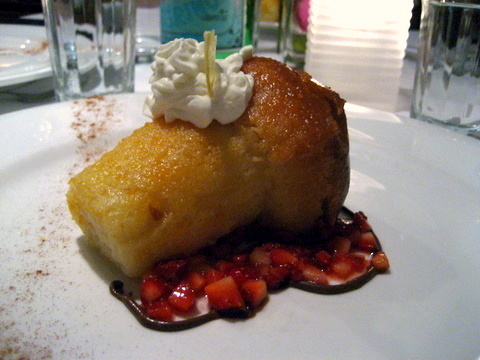 The last 5x5 dinner started off a bit rocky but seemed to settle down in the end. The service gaffes are understandable but still a bit disappointing at a restaurant of this caliber. Foodwise, I thought this was on par with Water Grill, although everybody else I asked gave the edge to Water Grill. On the plus side, we were seated to food blogger, Food, She Thought who proved to be excellent company. The chefs were all still around after we finished dinner unlike at Water Grill. They posed for pictures with us and talked a lot more with us than at previous dinners. Maybe they were still a bit giddy after completing such a difficult dinner service. There is some talk of another dinner to replace the lost Bastide. Hopefully this rumor turns out to be true, I for one would like another chance to see these chefs cook together.