2508 E 4th Street
Cleveland OH 44115
(216) 621-5652

I recently watched the Iron Chef America where Michael Symon and team faced off against Morimoto. The announcer described Symon and his sous-chefs as a "gang of biker thugs" much to Symon's amusement. What prompted such a comment? Perhaps it was the skull resting atop a pair of crossed knives. That same logo is boldly emblazoned on the water. I am not sure what it is about restaurants in Cleveland branding their water but this is definitely one of the more memorable.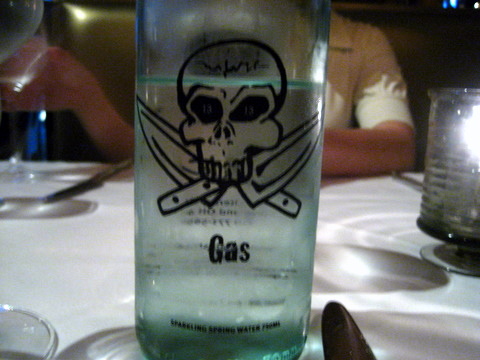 Heirloom Tomato Salad - Arugula, Frisee, Basil, Blue Cheese Croguette
The arugula was extremely fresh and had this bitterly bracing flavor to it that I don't normally get. The tomatoes were wonderfully sweet but not quite as good as Fig's. That big ball covered in batter is filled with soft blue cheese. I wish I remembered before I popped one whole into my mouth and bit down. Definitely shocking, but what was more surprising was the fact the blue cheese didn't totally overwhelm me like it would have before.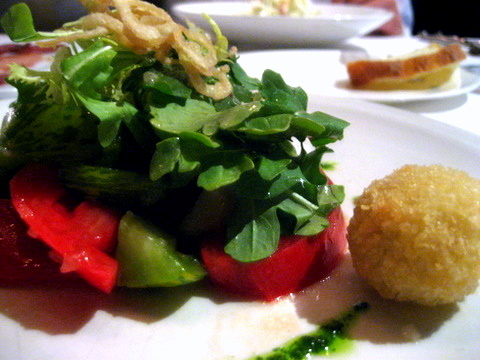 Chilled Lobster - Brioche, Celery Root, Apple, Truffle
This whole dish gives the impression of coolness, and would be perfect on a hot summer day. I preferred the lobster this time to my previous experience, cool crunchy and sweet, just a pity there was so little. The abundance of apple and celery gave the dish an overly tart and bitter flavor that dominated the lobster and truffle.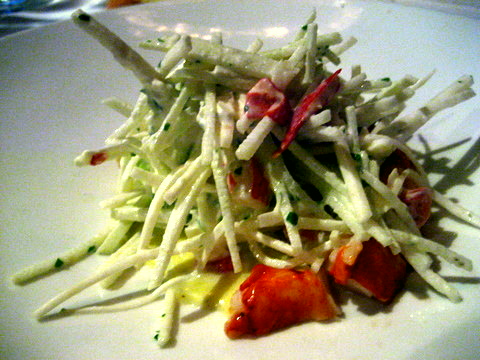 Today's Charcuterie - Pickled Vegetables, Brioche, Mustard
We decided to split a plate of the house cured meats. I don't remember the names of any of them but one was a prosciutto like meat with perhaps a bit more depth of flavor. There were two thinly sliced pepperoni looking meats one was a bit chewy and smoky-sweet while the other was meatier and had a slight hint of spice. For me the paté was the star of the plate, smooth rich and stuffed with plenty of complex flavors.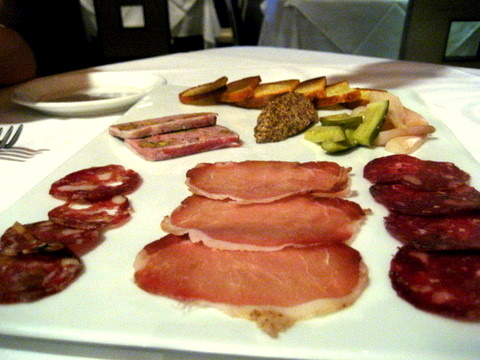 Poussin - Sweet Summer Corn, Chanterelles
Poussin is basically a Cornish Game Hen, but poussin just sounds better than chicken. I find game hens can be tender but tend to be a bit drier and leaner. Not a huge fan of the chicken but I did like the sweet corn it was paired with.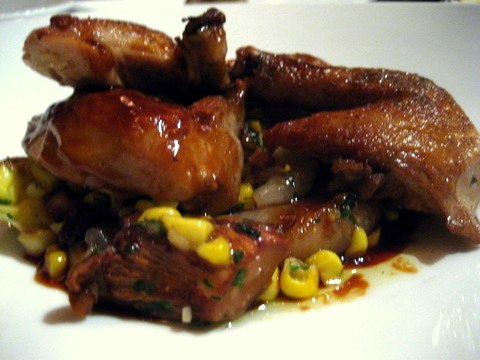 Beef Cheek Pierogie - Wild Mushrooms, Horseradish Créme Fraiche
I don't know why, something about the word pierogie sounds appetizing to me, yet I always find myself disappointed. As always the dough is too thick. The beef cheek was nicely shredded giving it a stringy yet tender texture. I find beef cheek tends to be a bit gamier than standard beef but it didn't' bother me here, maybe balanced by the flavor of the mushrooms and the creaminess of the mild horseradish.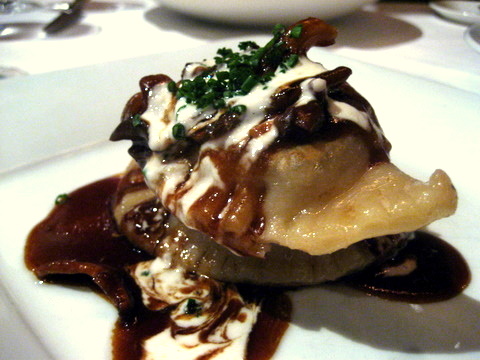 Crispy Sweetbreads - Leeks, Blue Cheese, Mushrooms
I am extremely particular about my sweetbreads. I like them lightly fried, with a semi-soft consistency that is so hard to get right but so good when they are. These ones do a fairly good job of meeting my requirements. The sweet breads had a faint organ flavor but that was deftly neutralized by the blue cheese and mushrooms.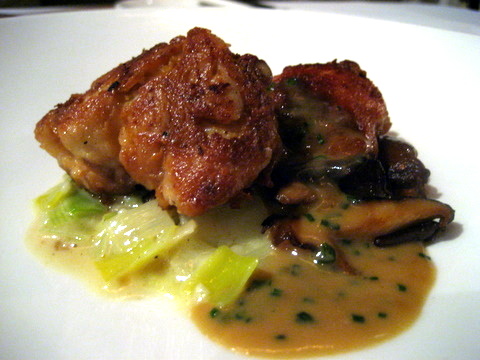 "Amedei" Dark Chocolate Chiffon - Hazlenut Praline, Cherries, Balsamic Reduction
Last time we were here the Amedei was a revelation in chocolate tasting. The bewildering array of flavors provided an experience similar to tasting fine wine. This time the chocolate didn't take center stage, rather it helped to temper the sour cherries and balsamic reduction. The use of balsamic in a dessert like this really highlights the creativity of the kitchen.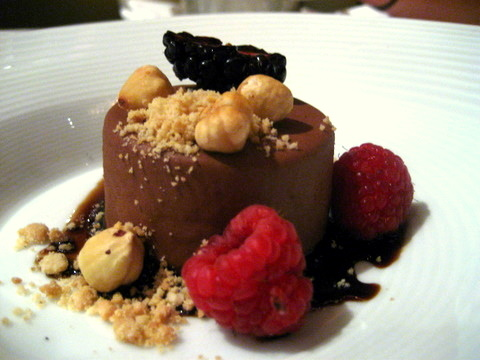 "6 A.M. Special" - French Toast, Maple-Bacon Ice Cream, Caramelized Apple
I really got a kick out of this dessert, especially the ice cream. While eating this dessert I kept on thinking about the episode of Scrubs where Turk raves about bacon ice cream, well it is really that damn good. The ice cream was salty sweet with a hint of maple flavoring, the perfect topping for some warm French toast.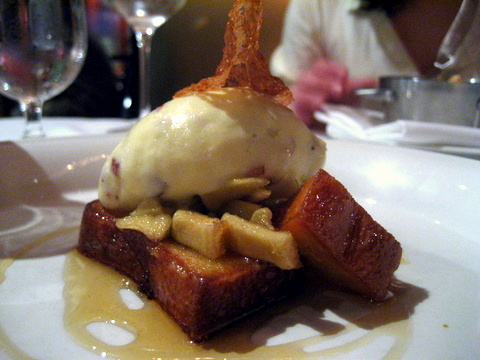 Warm Stone Fruit Crisp - Honey Lavender Ice Cream
After Anisette my girlfriend has been on a hunt for more lavender ice cream. How fortuitous we would find it my last day in Cleveland. We basically ordered this dessert solely for the ice cream. Sadly the honey was the dominant flavor with the lavender only apparent on the finish. The stone fruit crisp was tasty but totally secondary to the ice cream.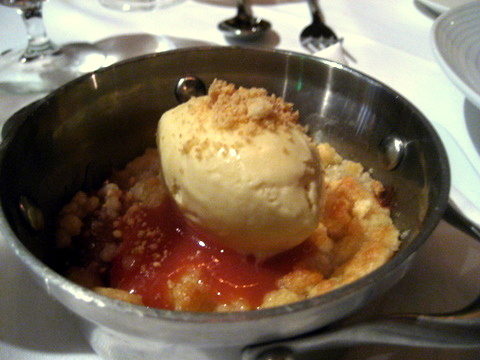 My last time here, Michael Symon wasn't here but I ordered the tasting menu and got to speak with the chef. This time around I got my menu signed by Michael Symon but forgot to ask for a photo and the tasting menu. Hopefully the next time I stop by I can do all three.