Montage Resort & Spa
30801 Coast Hwy
Laguna Beach, CA 92651
(949) 715-6420

I remember coming away from my first experience at Studio thinking this was the best restaurant in Orange County. I did think the food was a bit pricey, but the rest of my eating buddies hadn't been so we decided to make it a birthday dinner for one of them. Last time here I was quite impressed with the food especially the risotto and the Wagyu beef, which might have been the best Wagyu steak I have had outside of Japan. This time we were definitely going for the tasting menu. Recently we have also been trying to get as many courses as possible, with that objective in mind, we ordered both the Chef's Tasting Menu and the Fall Vegetable Menu.

Studio is located at the Montage Resort in Laguna Beach. The whole resort sits on a cliff with beautiful views of the Pacific Ocean during the day, especially from their upstairs restaurant, the aptly named Loft. Studio is actually in a separate building from the main resort and can be quite a challenge to find in the dark. The interior of the restaurant has a warm rustic feel like a luxury log cabin.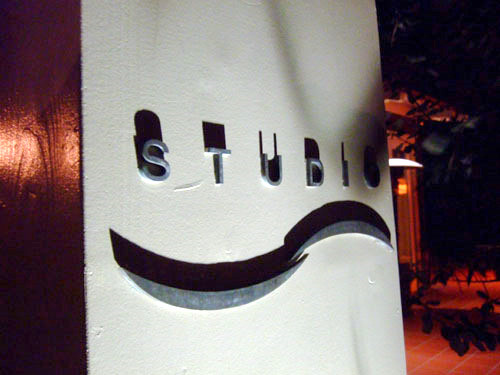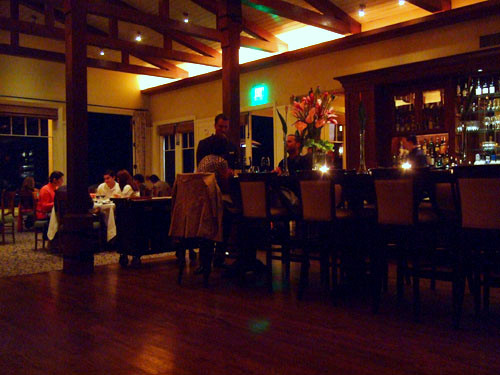 As usual, my friend ordered a mojito, and I went with a cucumber gimlet, but with gin rather than vodka this time. After we ordered our drinks, I watched the bartender pour a pint glass worth of Grey Goose into a shaker and end up with 2 martinis. If all their drinks are that strong this dinner isn't going to end well. Turns out our drinks were on the strong side, but had plenty of flavor to balance the alcohol. I think the use of gin gave my gimlet a much more nuanced flavor than I was expecting.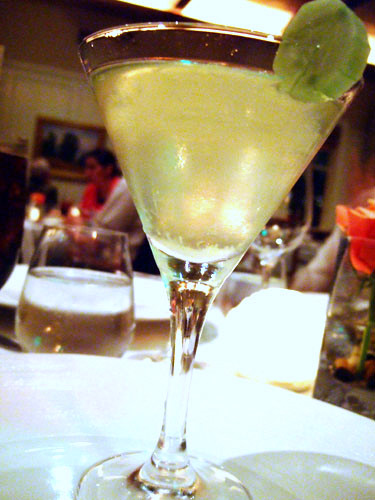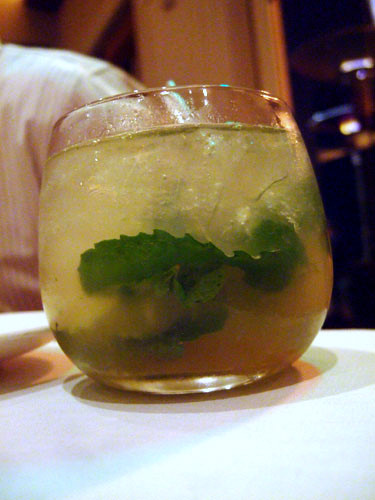 Unfortunately my camera ran out of batteries so thanks to Kevin for the pictures.

Bread - French Baguette, Sweet Anise, and Cranberry Walnut
Overall I found the bread a bit hard and dense, the sweetness alloyed with the herbal notes of the sweet anise made it one of the most distinctive breads I have had in quite a while and easily my favorite of the night.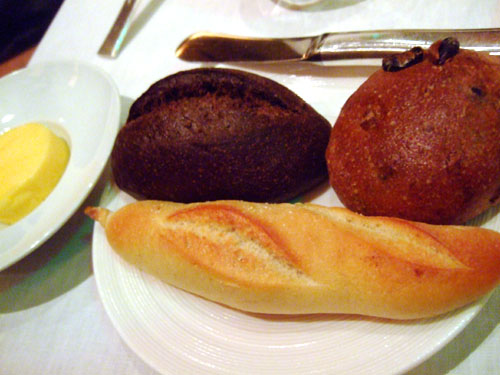 Fall Vegetable Menu: Amuse Bouche - Baby Beets and Shaved Fennel
The beet had a firm texture but was surprisingly mild, without the overripe sweetness I sometimes find with beets. The shaved fennel added a nice overtones of licorice and pine flavors.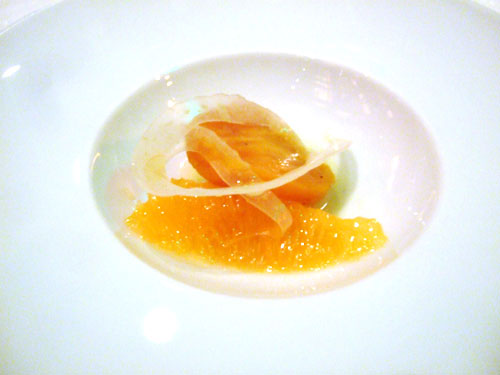 Chef's Tasting Menu: Amuse Bouche - Butternut Squash Soup, Crème Fraîche, Apples
Smooth and creamy, the soup had a sweet nuttiness offset nicely by the tart apples.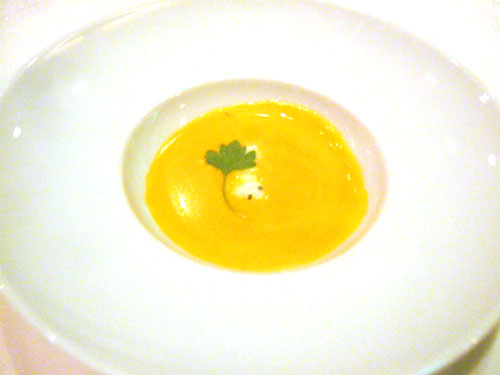 Fall Vegetable Menu 1: Charentais Melon Smoothie - Whipped Fagé Yogurt and Orange Blossom Honey
G.H. Mumm, Cordon Rouge, Champagne, France NV
Cool and refreshing this dish was bursting with sweet melony goodness. Despite the intese sweetness this was a fairly light dish with the tang of the yogurt tempering the melon just enough. I thought this was a wonderful starter, although the sweetness would end up being a constant in most of the vegetarian dishes.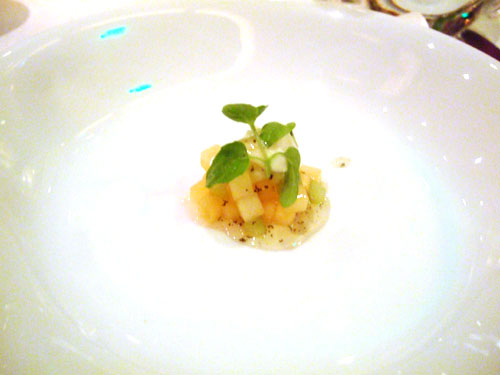 Chef's Tasting Menu 1: Chilled Hog Island Oysters - Fall Squash Mignonette
Don Olegario Albariño, Rias Baixas, Spain 2006
The oysters were very fresh, resulting in a luxurious texture and characteristic mildly salty flavor.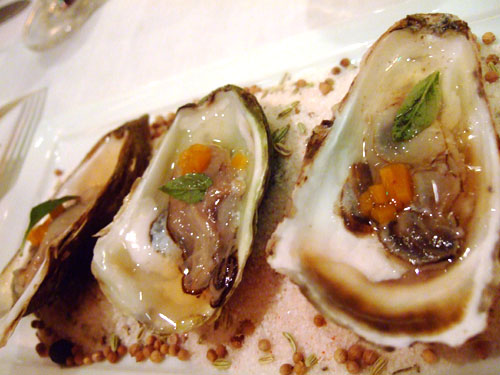 Fall Vegetable Menu 2: Heirloom Tomato and Stonefruit Salad - Micro Opal Basil and Dijon Mustard Vinaigrette
Dr. Loosen Riesling Kabinett, Erdener Treppchen, Germany 2007
The tomato was wonderful taken with the basil and the vinaigrette, soft and mellow with a hint of pepper and sweetness. The fruit however was far too strong, very sweet and ripe they were good examples of fresh ripe fruit but upset the delicate balance of the dish.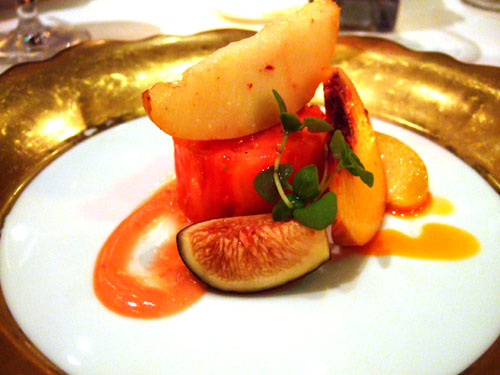 Chef's Tasting Menu 2: Honey-Cured Crisp Pork Belly - Heirloom Apples, Sultanas, Harissa-Cider Syrup
Domaine Zind Humbrecht Pinot Gris, Clos Windsbuhl, Alsace, France 2004
Probably my favorite course of the night. Too often I think chefs are lazy when cooking pork belly, focusing on the fat and as a result the lean meat is often dry. Here even the lean part of the pork belly was tender and juicy. This is the first time I have had a dish where the harissa played such a strong role in the flavor. The sauce had this firey mouth-tingling kick to it that really elevated this dish to another level.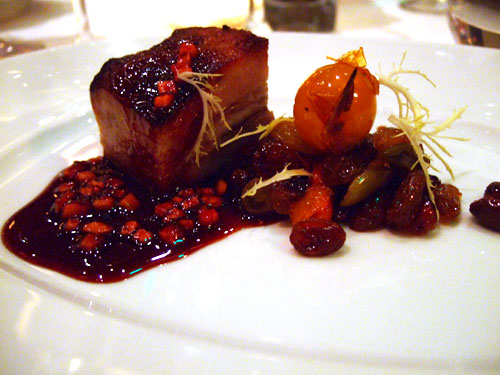 Fall Vegetable Menu 3: Quinoa and Zucchini Flower Risotto - Golden Raisins and Currants, Nantes Carrots
Rombauer Chardonnay, Carneros, California, 2007
I loved Studio's risotto last time so I was looking forward to two risotto courses, but this "risotto" was actually quinoa. The quinoa had a dry grainy texture and when paired with dried fruit and carrot almost tasted like stuffing one might find in a turkey. I have always had a fondness for fried Zucchini flowers but I don't think it was the proper thing to pair with the quinoa.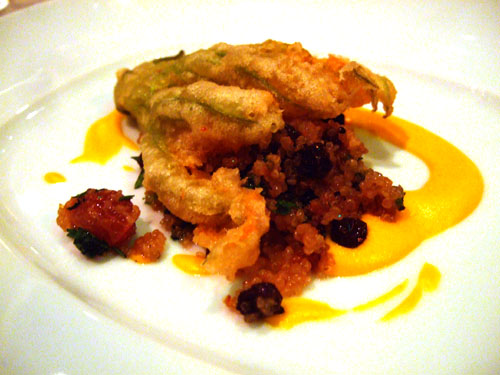 Chef's Tasting Menu 3: Pan Seared Wild Scottish Salmon - Roasted White Corn-Pimento Relish, Dill, Brown Chicken Sauce
Brogan Pinot Noir, Morning Dew, Anderson Valley, California 2006
One of the stronger salmons I have had in recent memory, although second to the wonderous dish I had at the second 5x5 dinner. The fish was beautifully cooked, moist and flaky with the natural flavor of the fish heightened by the aromatic dill and sweet corn. The fish skin was cooked to a crisp and had a delightful crunchy texture.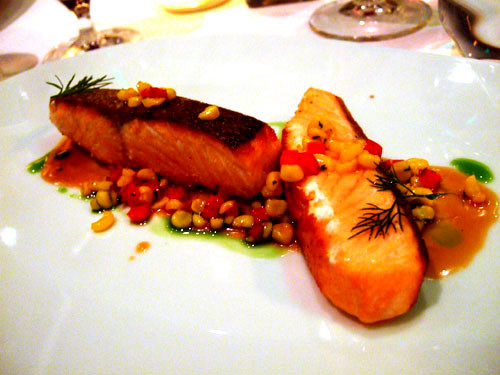 Maine Lobster Risotto - Late Summer Gloria's Sweet Corn, Perigord Black Truffles
William Fevre "Champs Royaux" Chablis, Burgundy, France 2006
The first time I had risotto was at studio, my girlfriend ordered the white truffle and lobster risottos, and to this day the white truffle risotto might be the best I have ever tasted. Naturally, I was ecstatic to learn they combined lobster and truffles into one triumphant dish. The lobster was fantastic, fresh and sweet with a supple crunch, I do wish the truffles were more apparent in the dish as they were relegated to the role of aromatics. For some reason, the dish was almost all lobster, I would have liked a bit more rice but I wouldn't go as far as some of my dining companions and say there was too much lobster. Personally, I would have traded some of my rice for some of his lobster.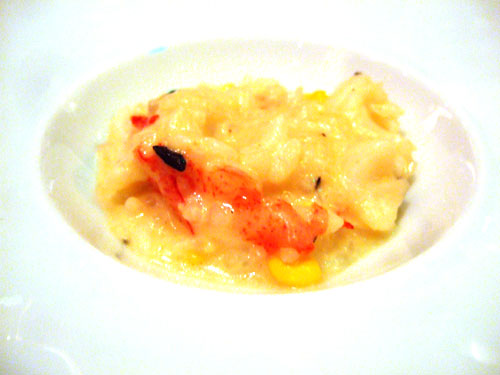 Fall Vegetable Menu 4: Fall Mushroom Lasagna - Wilted Greens and Spinach Coulis, Pine Nut Cream
Nautilus Pinot Noir, Marlborough, New Zealand 2007
This dish made me think Chef Boyce was taking a cue from Jose Andres and going into molecular gastronomy as it looked like a deconstructed ravioli. Most of the ingredients in this dish were a bit mild for my taste although I did enjoy the rich flavor of the mushrooms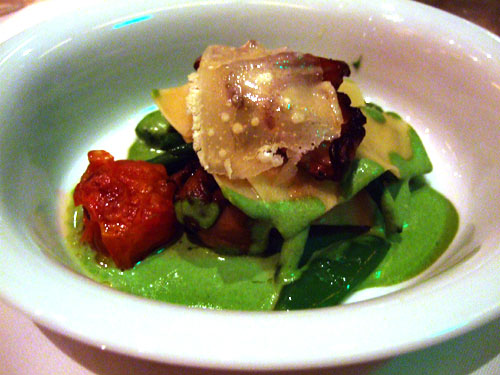 Chef's Tasting Menu 4: Grilled Broken Arrow Ranch Elk Loin - Jones Farm Baby Turnips, Parsnips, Wild Mushrooms
Josef Umathum Zweigelt, Burgenland, Austria 2003
I swear I had elk before and hated it, thankfully this was a totally different experience. The meat was quite tender and juicy unlike the almost jerky-like texture I remember from my first experience. The meat has a "wild" flavor similar to venison that you just don't get with beef, like a well integrated mix of richness and game.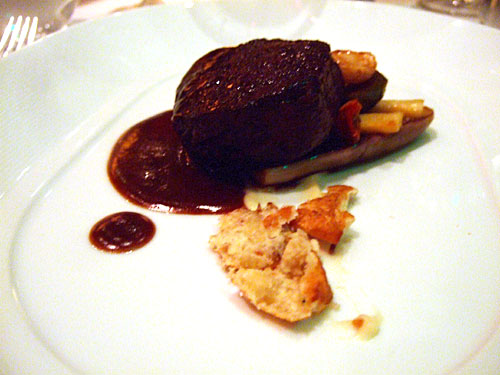 5: Bellwether Farm Carmody - Concord Grape Jam
Mas Amiel, Roussillon, France 2001
Technically the cheese course was only for the chef's tasting but they served everyone at the table. The Carmody is a semi-hard cow's milk cheese. Quite mild, the cheese served as a nice canvas for the powerful jam.



Fall Vegetable Menu 6: Olive Oil Polenta Cake - Marcona Almonds and Blackberries, Mascarpone Ice Cream
Far Niente Dolce, Napa, California 2004
The cake was almost like a corn bread, dry and crumbly. The saving grace of this dessert was the Marscarpone ice cream. The best part of this dessert was the glass of Dolce, as I had always wanted to try it but never got around to it. The wine was Sauternes-like, plenty of honey and ripe fruit, but overall I was a bit disappointed.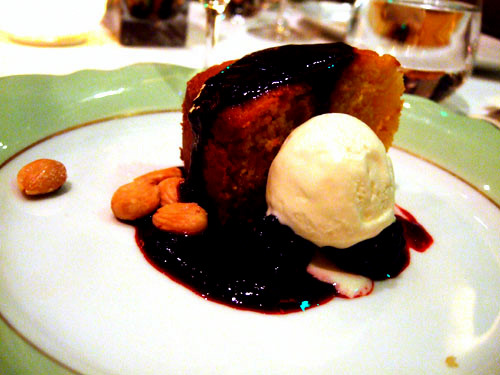 Chef's Tasting Menu 6: Lady Pear CaramelChai Ice Cream, Flax Seed Tuile
Villiera, Inspiration, Paarl, South Africa 2001
I normally like fruit desserts but the pear caramel was a bit too syrupy for me. The ice cream was nice, sweet with a hint of spice and herbs. Even though I normally love tuiles, this one was a bit bland and dominated by the ice cream.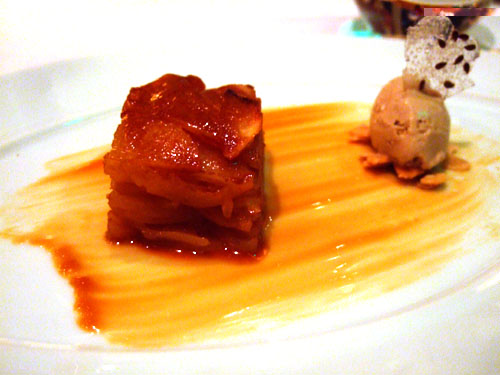 "Birthday Cake" Single Estate Chocolate and Toffee Trio - Caramel Molten Cake and Praline Crunch, Toffee Milkshake
The cake was surprisingly dry for something with the moniker "molten", but both other parts of the dessert were phenomenal. The milkshake was the most outstanding in my mind, thick and rich with the flavor of sweet toffee.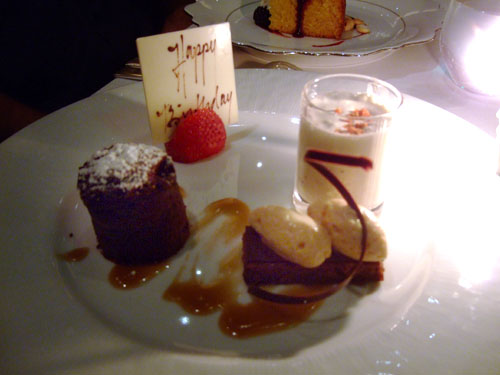 Complimentary Dessert: Grilled Heirloom Peaches and Brown-Butter Cake - Trio of Ice Creams: Hawaiian Ginger, Ceylon Cinnamon and Demerara Brown Sugar
I was quite impressed with the ice creams. I especially liked the subtle molasses flavor of the brown sugar ice cream. The cake was quite nice as well, topped with oatmeal and a salty-sweet base with a very texture like wet sugar.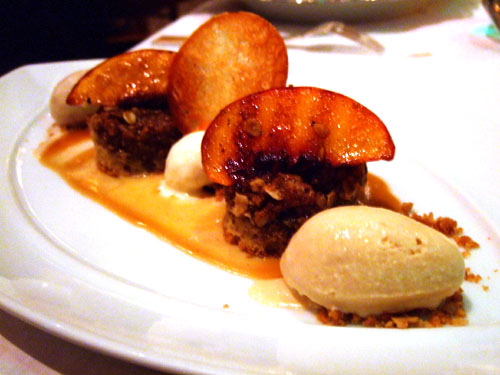 Mignardises
By this point we were taking turns just trying to finish things off.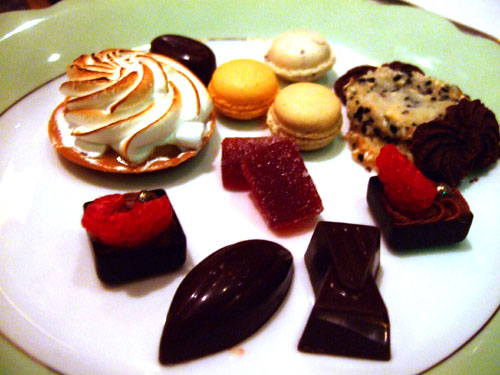 Midway through the meal, Chef Boyce took us on a tour of the kitchen and posed for pictures. He also offered to prepare a custom truffle menu and seat us at the Chef's Table if we called in advance with at least 6 people. Any takers?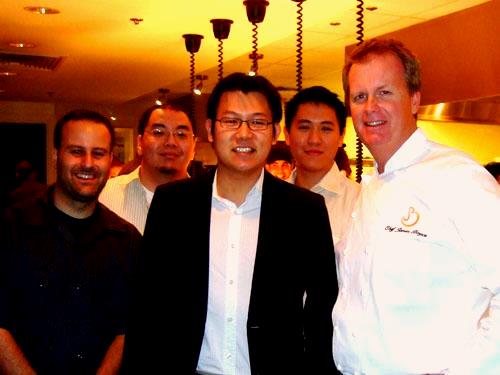 So is Studio still the best in OC? After this visit I still think so, but I do think other restaurants I have been to have closed the gap, Leatherby's and Marche Moderne come to mind.