465 S La Cienega Blvd
Los Angeles, CA 90048
(310) 246-5555

After years of second hand accounts and only seeing José Andrés' food in pictures, Bazaar finally provides an opportunity to taste it for myself. I ended up getting to the restaurant a bit early which gave me plenty of time to snap some pictures of the decor. Well that was the thought at least, I took a couple pictures before I was told that the room was copy written by the designer, Philippe Stark. At first I was told that pictures with people are permitted hence the inclusion of two of my friends and a member of the staff. I immediately asked about the food and was told pictures of the food should be no problem. The restaurant is divided into 3 "rooms." Immediately behind the entrance is the Bar Centro, which lives up to its name of being a bar in the middle of the dining room. To the right is the Patasserie which serves a variety of sweets and a shopping area featuring as one of my friends put it "overpriced gewgaws for people with more money than sense." To the left is the main dining area, Rojo y Blanca which are actually distinct dining areas each with their own menus.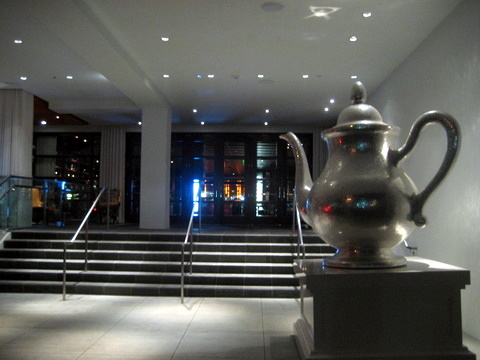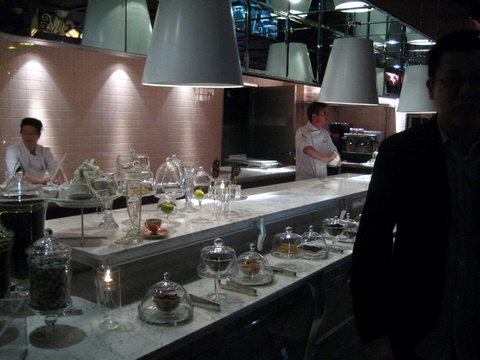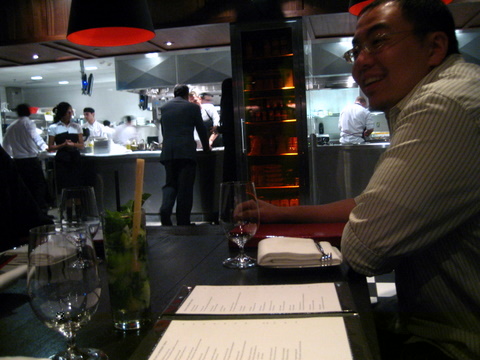 Having gotten there an hour earlier I headed to the bar where again I was told no photos although the bartender was good about getting the rule relaxed for a few quick shots. Bar Centro is home to a selection of innovative cocktails utilizing liquid nitrogen, salt air, and a number of other whimsical sounding ingredients. I went with a Manhattan complete with a liquid cherry, the drink tasted like a typical Manhattan, the cherry sphere was supposed to give a burst of flavor but ended up being drowned out by the alcohol. My companion ordered a Caipiroska which was a Caipirinha with vodka rather than cachaça, I thought the lime was a bit too intense here as the vodka doesn't act as a moderating flavor the same way cachaça does. When the rest of the group got there they ordered two more drinks a mojito which was nicely balanced and a "Salt Air" Margarita which substituted salt foam for a salted rim. We were also given a complimentary bowl of smoky-sweet house made corn nuts to munch on.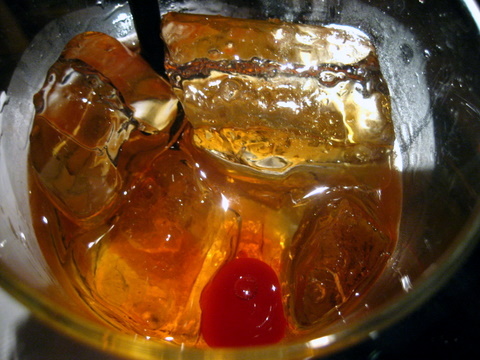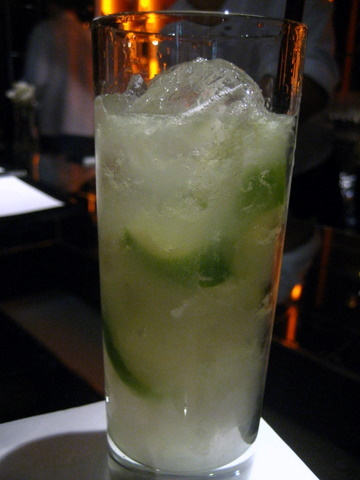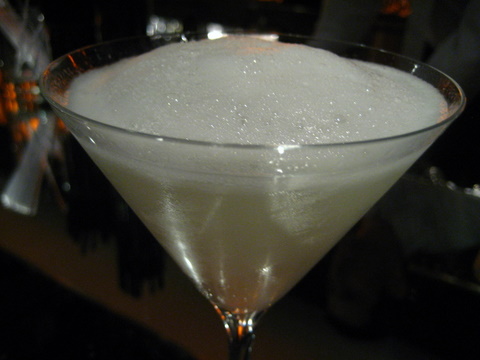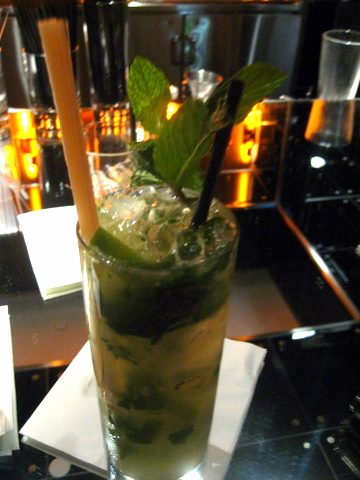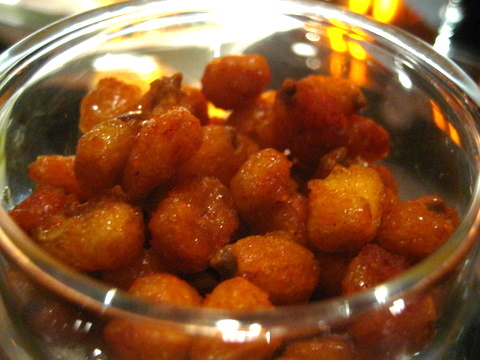 01: Selection of five cheeses - Served with 'picos,' Spanish crispy bread, quince jam and almonds
Murcia al vino - This was a goat's milk, semi-soft, smooth cheese with a red wine-washed rind from Murcia in southeastern Spain. It had just a hint of fruitiness and nuttiness and was quite nice overall.
La Serena - La Serena is made from Merino sheep's milk in La Serena, Spain. It had a soft, creamy consistency, backed by a bitter, almost astringent taste.
Manchego 'Pasamontes' - Manchego is a sheep's milk cheese made in the La Mancha region of Spain. I found it firm and mild, with just a bit of saltiness.
Idiazábal - Idiazábal is a hard, mildly smoky, nutty sheep's milk cheese from the Basque region in Spain. At XIV, I had it paired with bacon.
Picón Bejes-Treviso - A creamy, sharp blue made from cow's, goat's, and sheep's milk from Liébana, Cantabria, Spain. A prototypical blue.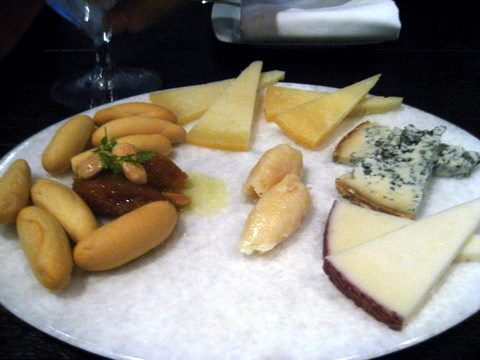 02: Jamón platter
The platter consisted of three hams, Jamón Ibérico de Bellota, Jamón Ibérico and Jamón Serrano. The Iberico de Bellota was the most tender and fatty of the trio. The standard Ibérico seemed disappointing compared to the Belotta. The Serrano was quite nice, drier and saltier, quite distinctive.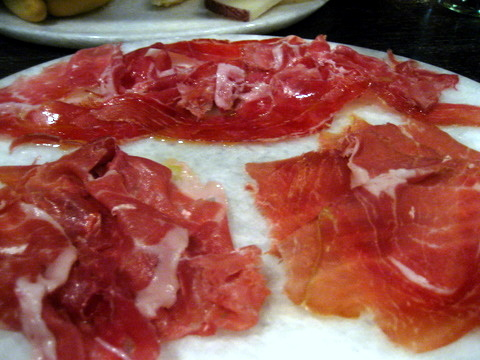 03: 'Pa amb' Tomaquet - Toasted sliced rustic bread brushed with fresh tomatoes and olive oil
A simple yet tasty accompaniment to the ham and cheese. The sweetness of the fresh tomato contrasted nicely with the saltiness of the ham.



04: King Crab - With raspberry vinegar
This balanced surprisingly well. The chunks of king crab meat felt denser and sweeter than normal, maybe something to do with the preparation style.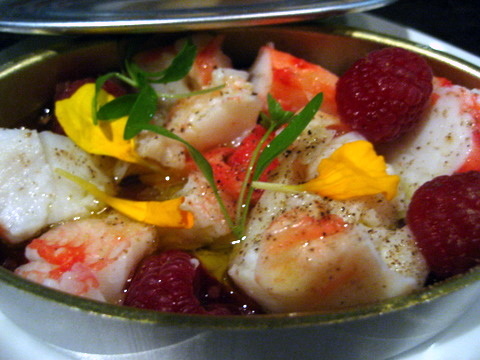 05: Mussels Escabeche - Marinated in olive oil, vinegar and smoked paprika
The mussels were extremely meaty and pleasing to chew. The use of paprika and vinegar gave the mussels a tangy peppery kick.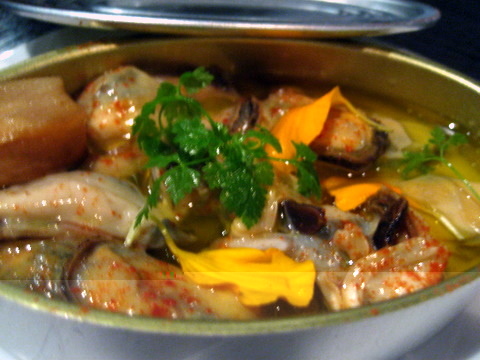 06: Sea Urchin - With pipirrana and Andalusian vegetables
I recently watched American Psycho and they mention sea urchin ceviche and have been craving it. This is probably the closest I can get, the sea urchin was rich and sweet coupled with diced veggies and vinegar. I found all the canned courses caused the seafood to be a bit denser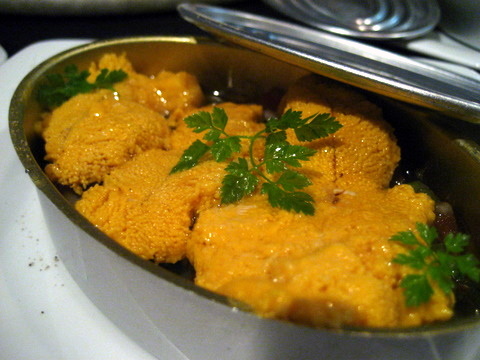 07: Kumamoto Oysters - With lemon and black pepper
Again these were denser than normal, maybe the preparation takes some of the water out of the oysters. This course was surprisingly similar to the mussels given the lack of common ingredients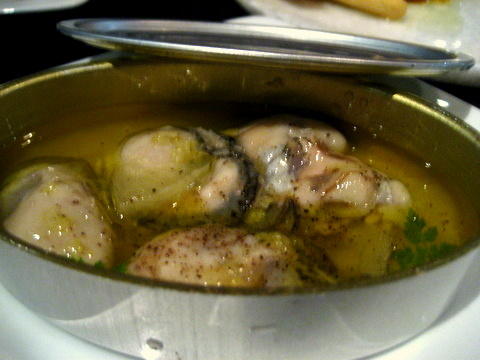 08: Aceitunas con anchoas y piquillos - Stuffed green olives with piquillo and anchovies
Never a huge fan of olives, this was just lost on me as I didn't taste either the piquillo or the anchovies.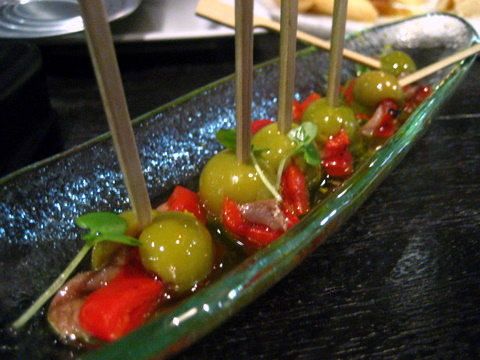 09: Carrilleras de cerdo con naranja - Braised pork cheeks with California oranges
Another stellar course, the meat was dense rich and meaty while still being tender enough to cut with a fork. The use of oranges added a citrus twist that really enlivened the dish.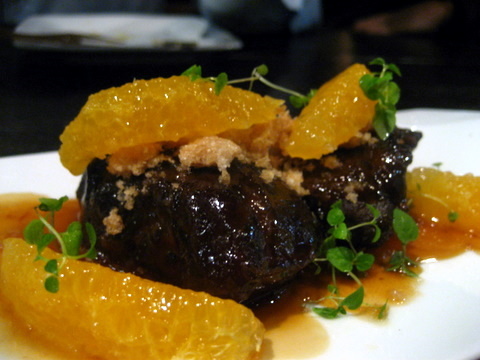 10: Alitas de pollo - Boneless chicken wings with green olive puree
The wings were made of tender meat wrapped in a floury batter, very juicy and fat. The chicken reminded me of the fried chicken you get at a tapioca store or a street vendor.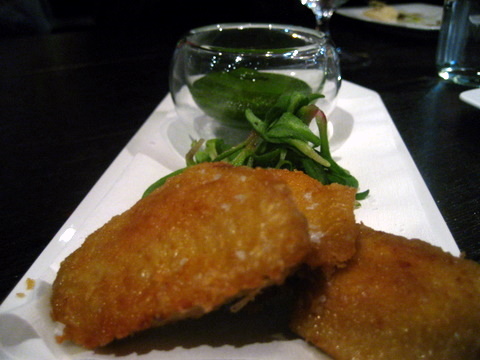 11: Arroz cremoso de setas con queso Idiazábal - Wild mushroom rice with Idiazábal cheese
This reminded me of a mushroom risotto but the rice wasn't quite as delicate still the basic flavors were just right.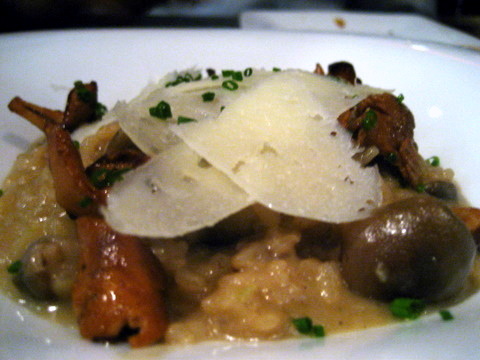 12: Espinacas a la Catalana - Catalan sautéed spinach with apple, pine nuts and raisins
I didn't expect to like this course as much as I did. By itself, the spinach was good but nothing special. The use of sweet fruit and nuts added subtle changes to the flavor that really elevated this dish above the norm.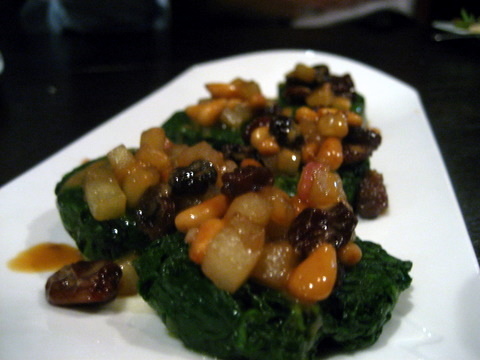 13: Japanese baby peaches - With yogurt and olive oil
Another very strong course. A complex amalgam of sweet fruit with the simple yogurt. A very cool refreshing course that served to refresh our flagging appetites.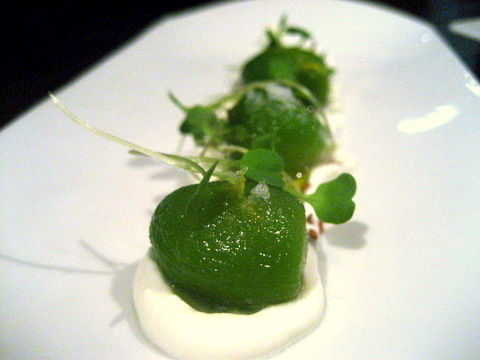 14: Lomo de buey a la parrilla con piquillos confitados - Seared NY strip with piquillo pepper confit
I quite enjoyed this steak, a nice char on the outside complimented a very tender juicy interior; the meat was offset by the bittersweet pepper.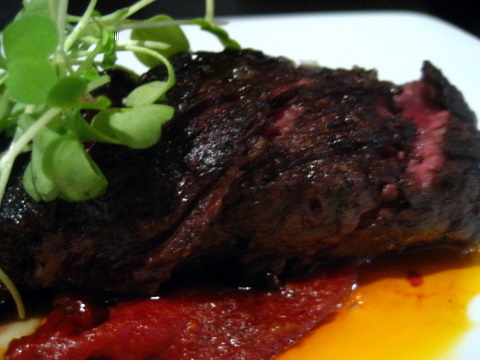 15: Mozzarella-tomato pipettes - With micro basil
This was supposed to be some twist on ensalata caprese but I found myself distracted by the sensation of sucking on the pipette. The liquid mozzarella was a bit cheesier than normal and overpowered the tomato.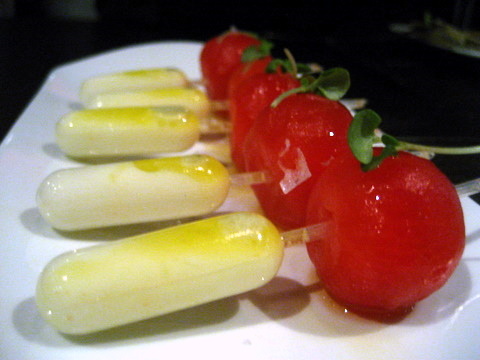 16: Pimientos del piquillo con queso Caña de Cabra - Seared piquillo peppers stuffed with goat cheese
I am not a fan of sweet peppers but I liked them paired with the steak so I was looking forward to this. Sadly the goat cheese was far too intense and dominated the peppers entirely.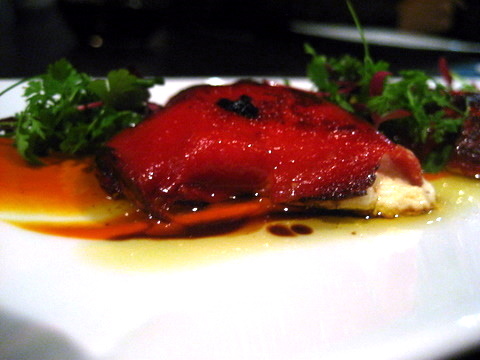 17: Sliced apples and fennel salad - With Manchego cheese, walnuts, olive oil and cava vinegar
Another potentially refreshing course. I ended up getting a mouthful of cheese and vinegar soaked apple, the combination having this mouth-puckering sourness that really disappointed.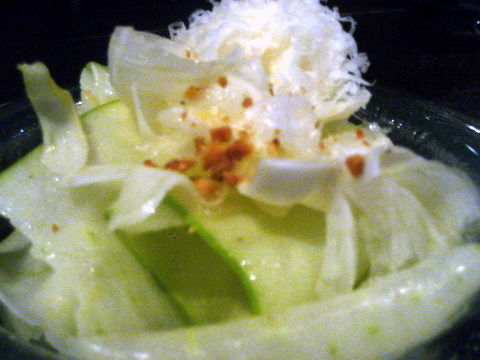 18: Organized arugula salad - With raspberries, corn and Cabrales blue cheese
Organized salad seems to be one of those trendy things they highlight in molecular gastronomy. Honestly I can see the difficulty in making a salad so precisely, but look is secondary to taste with food. Fortunately, the flavor worked well, although was nothing special. The mild blue cheese added a unique flavor to the arugula.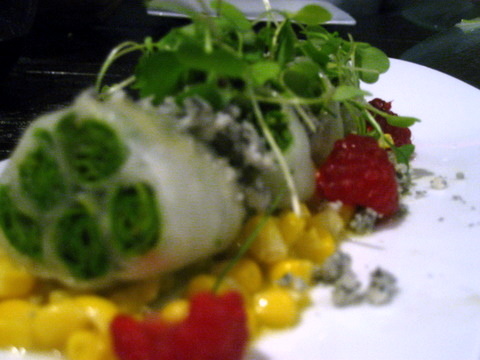 19: Philly Cheesesteak - Air bread filled with cheese and topped with Kobe beef
This was perhaps the course I was most excited about. Fatty Kobe beef on "air bread"? What the heck is air bread. Turns out it is just hollowed out bread that tasted basically like a Ritz Cracker. Inside the air bread is a rich melted cheese with a layer of thinly sliced rare Kobe. The beef was super tender, almost ethereal sadly the rich beef was drowned out entirely by the cheese.



20: Ensaladilla Rusa - Classic Spanish salad of potatoes, imported conserved tuna and mayonnaise
This dish got quite a bit of support from my companions, but I felt the conserved tuna tasted a hell of a lot like tuna from a can.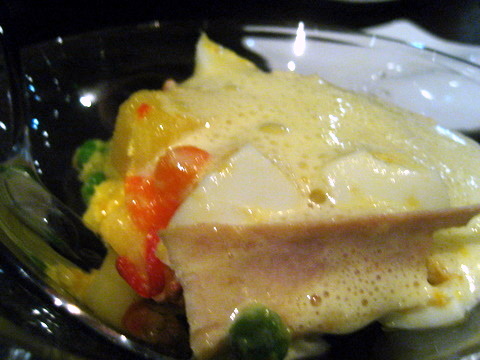 21: Lomo de corder con patatas y trufas - Lamb loin with foraged mushrooms and potato
The lamb was ultra-tender, like the pork you could cut it with a knife. It had a hint of game and really soaked in the flavor of the mushrooms.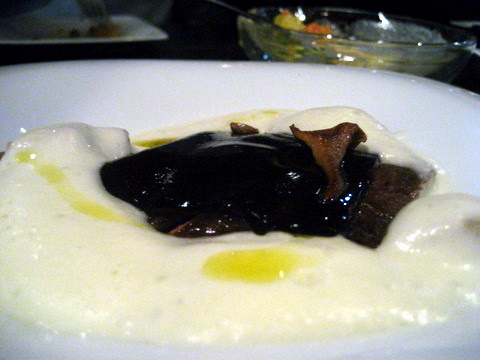 22: Cigalas con algas Finisterrae - Norwegian lobster with seaweed and a soup essence
I loved the rare crunch of the lobster, sadly the soup tasted like it was made from brown butter and was far too sweet and buttery.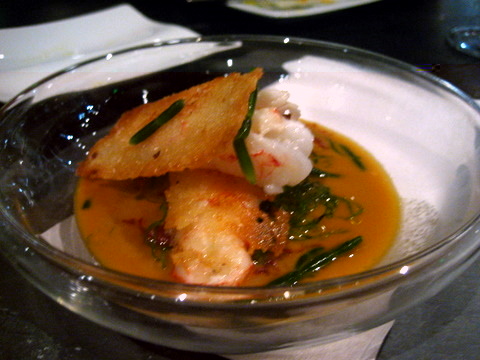 23: Sautéed cauliflower "couscous" - With cauliflower puree, vegetable harissa broth, preserved lemon and fried quinoa
The use of cauliflower tops to simulate couscous was something that I would expect from the creative cooking of Andrés but I didn't really care for the flavor. I had one bite that resulted in a bitter flavor lingering in my mouth for a long time after I finished this dish.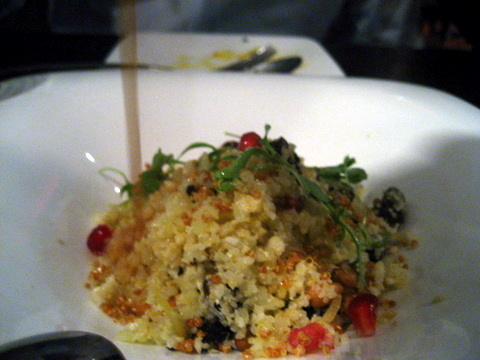 24: Croquetas de pollo - Chicken and béchamel fritters
We were told to be careful about juice running out of this dish. It was certainly moist but nothing to the degree we were lead to believe. The chicken tasted remarkably like a chicken pot pie.



25: Artichokes and citrus salad - With orange blossom dressing and pomegranate
Ugh, one of the two weakest courses of the night, the mealy cloying artichoke was paired with intensely acidic fruit. Just a total miss, nothing positive to recommend about this dish.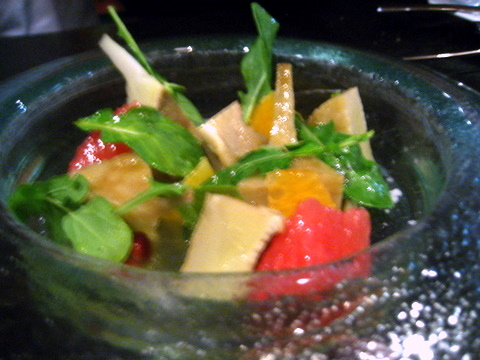 26: Ajo blanco gelatin - With tomato granité
Following the last course we get this nightmare. The tomato granité tasted refreshing on its own but paired with the gelatin the terrible taste actually made me gag.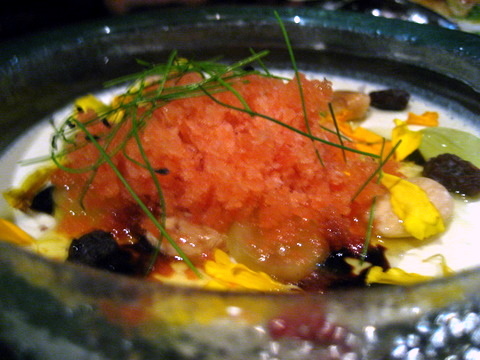 27: Seared cantaloupe - With arugula and grapefruit salad
The searing seemed to tenderize and heighten the flavor of the cantaloupe, giving it a honey-like taste. Very simple and impressive.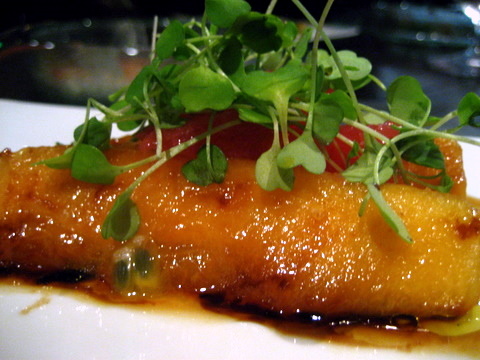 28: Brussel sprout salad - With lemon puree, apricot preserves and lemon air
Intensely bitter and crunchy the use of sweet and sour fruits helped make the sprouts more acceptable. The use of "lemon air" seemed excessive given the lemon puree, I suspect it was only added to make the dish edgier.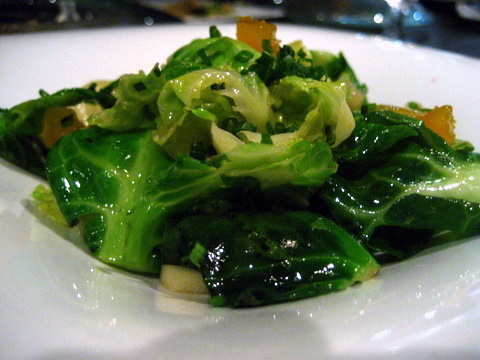 29: Olives Ferran Adrià - Liquid 'olives'
I got my first taste of spherification during my Manhattan. Spherified food consists of the liquid essence of whatever ingredient wrapped in a thin membrane. This tasted like an olive, nothing impressive about the flavor. The whole appeal of this course is the uniqueness of the medium. On the one hand I understand the novelty, at the same time it seems so much easier to just eat an olive.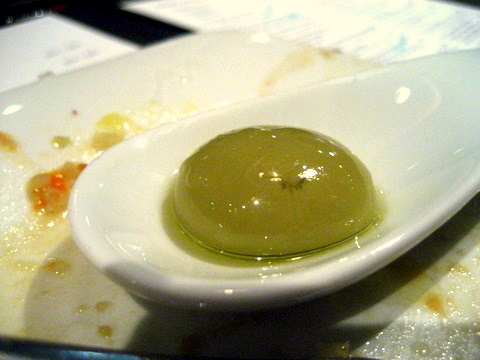 30: Stewed baby carrots - With coconut sorbet and ginger
If they ever bottled this they might be able to give Gerbers a run for its money. I loved the sorbet and ginger, kind of a Thai flavor going on but the sickly sweet carrots ruined the dish.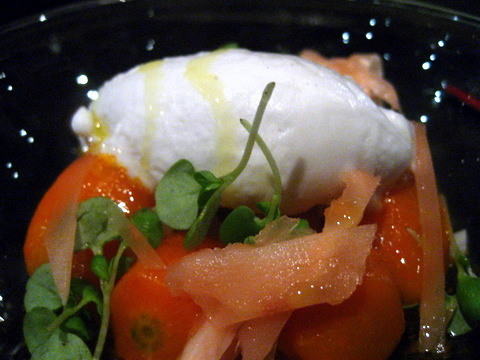 31: Traditional Ottoman carrot fritters - With pistachio sauce
After the last carrot dish I wasn't looking forward to this. Thankfully the flavor was quite nice with a distinctive curry-like taste. Sadly the texture was even mushier than the stewed carrots.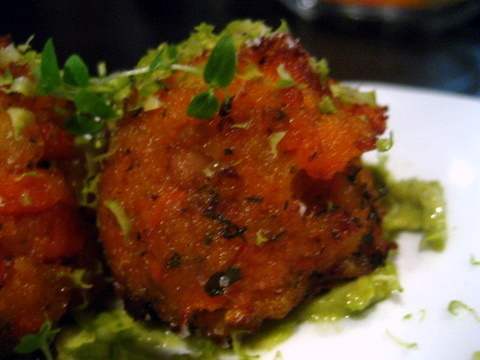 32: Taylor Bay scallops - With beet nitro, pistachios and arugula
Another course that was cool solely because of one word in the description, nitro. Naturally the liquid nitrogen gave a smoky appearance when the dish was brought to the table. Our waiter warned us not to eat the dish until the smoke dissipated. The scallops were raw and totally flavorless, all I tasted was the tart raspberry.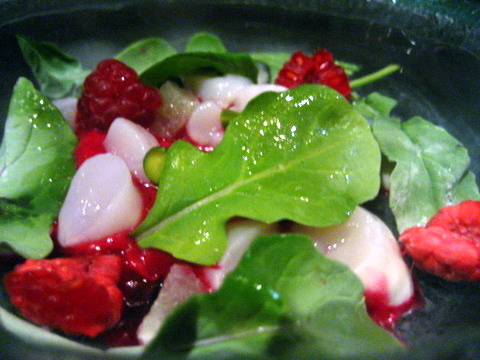 33: Warm leek salad - With goat cheese and lemon dressing
Another mushy cheesy amalgam that was painful to eat.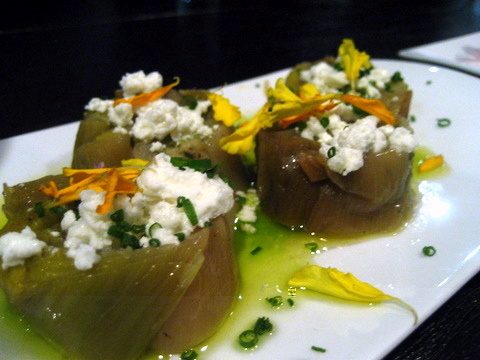 34: Watermelon tomato skewers - With Pedro Ximénez reduction and sexy tomato seeds
After a string of lackluster courses this was a welcome change of pace. It is hard to describe what makes these simple ingredients work they just do. After tasting it, I think it is sexy too.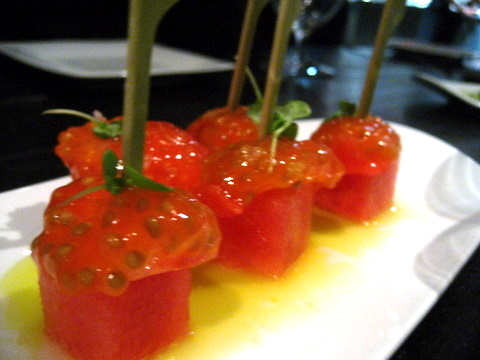 35: Japanese eggplant - With soy sauce-miso glaze and yogurt
Sadly our reprieve from mediocrity was not to last. This looks like a potato but had this hard dull texture and a strange flavor that was ever so slightly ameliorated by the smoky bonito flakes.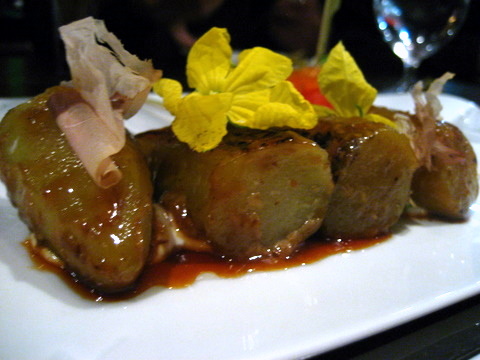 36: Papas Islas Canarias - Salty wrinkled potatoes with "mojo verde."
We were warned the potatoes were too salty to eat by themselves but I didn't think this was the case. I actually preferred the potatoes standalone a sentiment echoed by the rest of the table.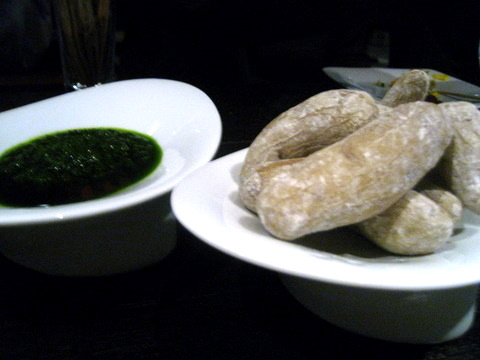 37: Traditional tzatziki - Diced cucumbers, garlic, dill and yogurt, served with pita chips
A nice tangy course, but the use of yogurt made this a bit heavier than what I wanted at this point. A great appetizer if a bit straightforward for Bazaar.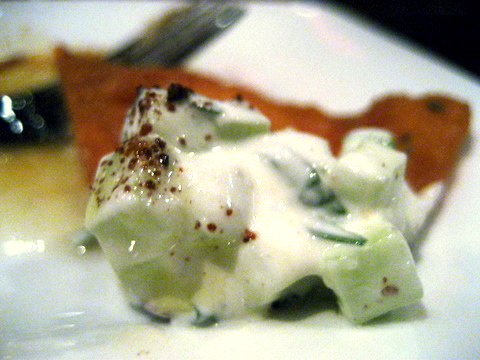 38: Pisto Manchego con flor de calabaza - Sautéed peppers, zucchini, onions, eggplant and tomatoes with squash blossoms and egg
A mishmash of vegetables with a slow cooked egg. Nothing special in my opinion.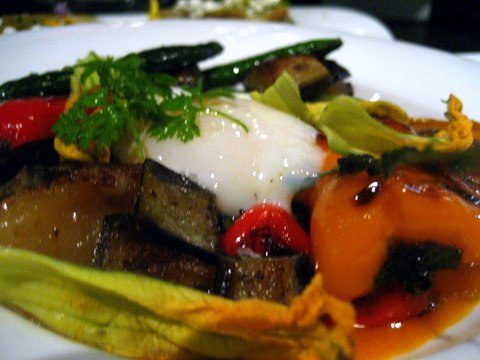 39: Setas al Ajillo - Sautéed wild mushrooms in garlic and aromatic herbs
Sounds delicious in its simplicity and the dish lived up to my expectations. Nice vibrant texture, good use of garlic and herbs sometimes the simple dishes are the best.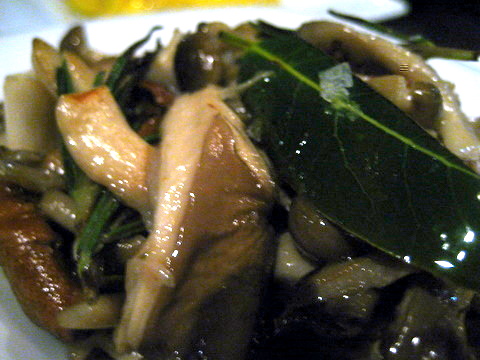 40: Tortilla de patatas 'al momento' - Classic potato omelet prepared at the moment
After the wild variety of flavors this seemed totally plain. I thought the name was more interesting than the dish.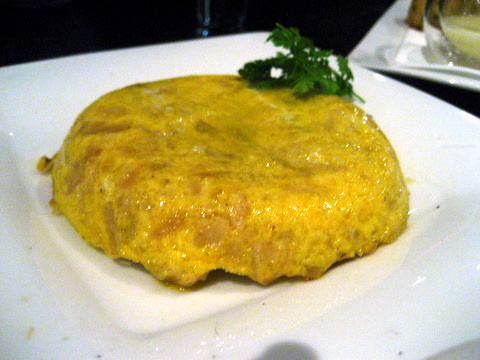 41: Buñuelos de Bacalao - Codfish fritters with honey aioli
After watching one of my friends try this and shudder I knew I should have stayed away, but my curiosity got the better of me. The fritters were mushy with a fishy oiliness. The sweet rich honey aioli did help somewhat but the oiliness lingered in my mouth long after the soothing aioli dissipated.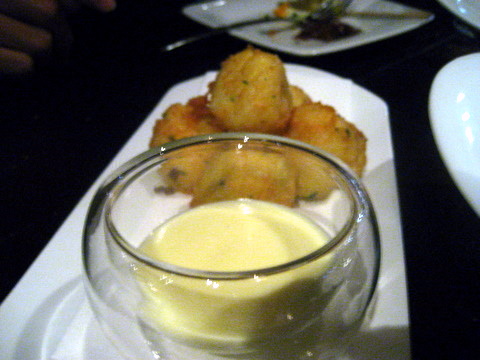 42: Ibérico ham and pineapple - With fennel sherry dressing
Hawaiian pizza anyone. I quite liked the salty ham with the fruit and herbal dressing.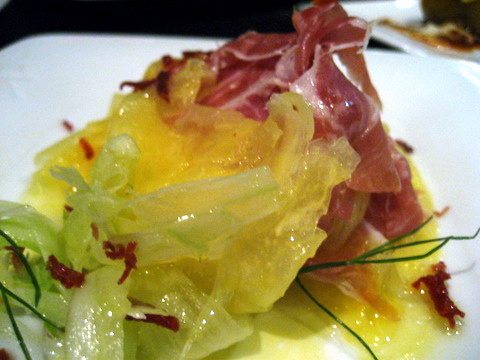 43: Jicama wrapped guacamole - With micro cilantro and corn nuts
Another interesting combination, I think of both jicama and guacamole as side dishes but the little jicama pouches filled with velvety guacamole changed my mind, very cool and rich this would make a great appetizer at a party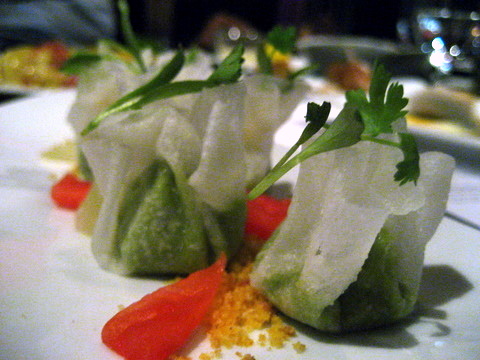 44: Bogavante a la Gallega - Galician-style lobster medallions with olive oil crushed potatoes and smoked paprika
Another course I was looking forward to. Sadly the lobster was a bit overcooked, the use of olive oil and paprika did give the meat a nice flavor though.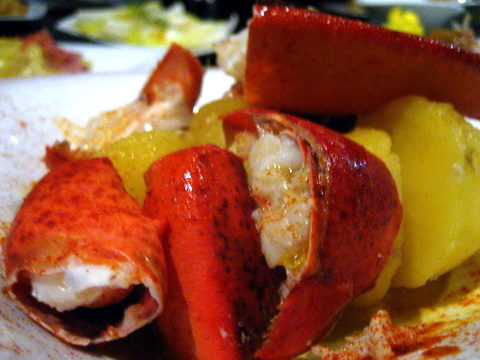 45: Endivas con queso de cabra y naranjas - Endive with goat cheese, oranges and almonds
I didn't really care for the taste of this dish but I did like the strong crunch and juciness of the endive. Again the power of the cheese upset the balance of the dish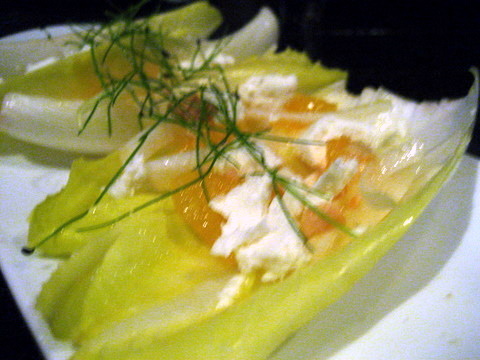 46: Trucha a la Navarra - Seared trout with Jamón Serrano, Navarra style
Dry and flavorless fish, the only saving grace was the crispy skin.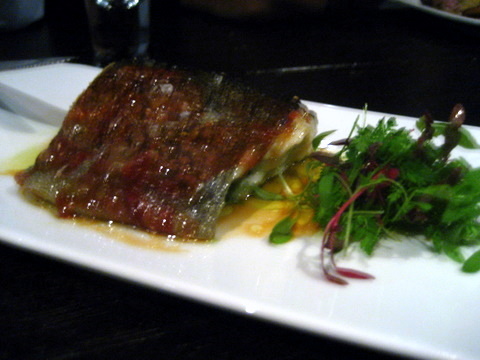 47: Patatas Bravas "New Way Jose" - José's fried potatoes with aioli and spicy tomato sauce
A dried cooked potato topped with ketchup, this looks like something that you'd find in a fast food restaurant.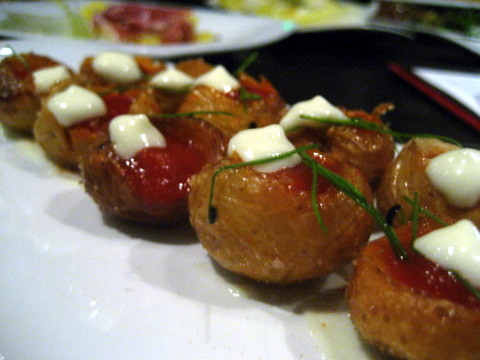 48: Gambas al ajillo - Sautéed shrimp with garlic and guindilla pepper
Great texture on the shrimp, the use of garlic and pepper gave it a nice bite. One of the stronger dishes during the final stretch.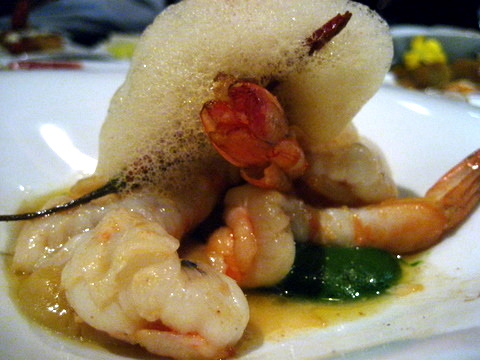 49: Butifarra con ceps y montgetes del gantxet 'Daniel Patrick Moynihan' - Homemade pork sausage with white beans and ceps
One of the diners was craving sausage since early in the evening and we finally got it. Good but not great it was a decent way to end the night. Sadly the sausage was almost gone before I could take a picture.

The bill ended up being over 900 and 2 feet long before we knocked off half the price. As one of my friends said it was worth it at half the price, but at 200 a person, he'd be pissed. The food was certainly interesting but some of the courses felt like they focus on innovation at the expense of flavor resulting in some truly bizarre dishes. Too many of the dishes seemed similar especially those utilizing goat cheese although this might be the result of us ordering 49 courses. One other problem we noticed was the liberal dose of rock salt that many of the courses received, this simple decision hurt a number of otherwise strong courses. Overall the food and service was decent for an opening night, there were plenty of misses to go along with a few solid hits. I don't know that I'd be back but I have to say it was a fun night.