615 Town Center Dr
Costa Mesa, CA 92626
(714) 429-7640

Leatherby's has become something of a standby for a good reasonably priced tasting menu. The restaurant is located in the Segerstrom Concert Hall and every time I have been there the restaurant is almost totally empty, this trip proved to be no different.

Amuse: Mushroom Terrine - Arugula, Toasted Pecans, Balsamic Reduction
Technically this is the first course of the prix fixe menu but it was served as an amuse. The mushrooms were nicely cooked and the nutty bitterness of the arugula added a bracing contrast.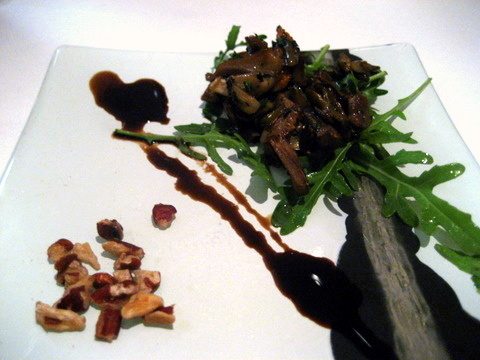 Bread - Baguette, Olive, Cheese
I really liked the cheese bread which had a flavorful crust and light cheesiness throughout.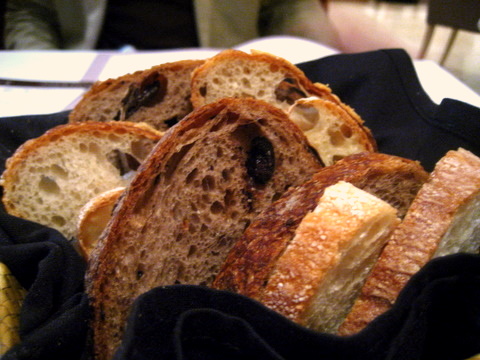 My previous visit, one of my friends ordered the La Chouffe Pale Ale. I remember being quite impressed and thought it would be a great way to start this meal. I got some flavors of pear and apricot with some spicy yeast and a maltiness that reminded me of a pils. Next we moved onto a bottle of 2006 Jacques Girardin Les Gollardes, Savigny Les Beaune. The wine had a very light color and started out a bit restrained but opened up as it warmed. I found it surprisingly approachable for a Burgundy, a nose of bright fruit and complimentary cherry on the palate balanced with a bit of earth. We closed with complimentary glasses of the Alvear, Pedro Ximénez, Montilla-Moriles, Solera 1927. I have had this wine here before but this time it didn't exhibit the breadth of concentrated flavors I got last time.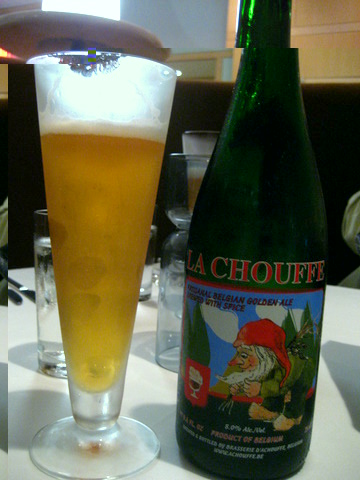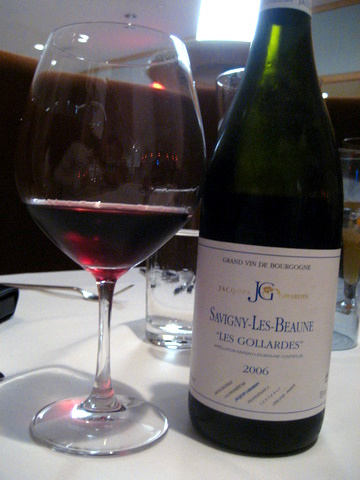 Mushroom Menu 1: Wild Mushroom Cappuccino - Porcini Dust
This reminded me of a very similar soup I had at Napa Rose. A pure simple soup that abounds with the pure essence of mushroom. The foam was a nice touch but I wished the actuall soup was a touch thicker.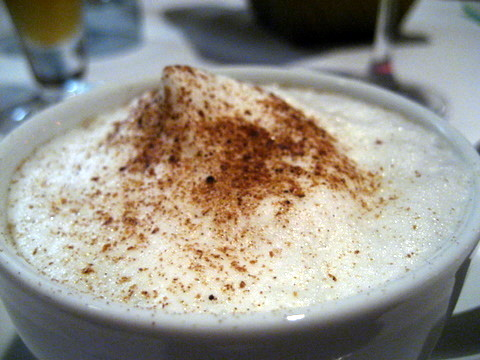 Mushroom Menu 2: Warm Watercress Salad - Thom Ka Kai Marinated Mushrooms, Toasted Cashews
Eating this, I got an overwhelming flavor of coconut milk from the Thom Ka Kai which is a traditional Thai soup made from chicken stock, lemongrass, and coconut milk. Sadly the mushrooms themselves were a bit lost in the intense soup.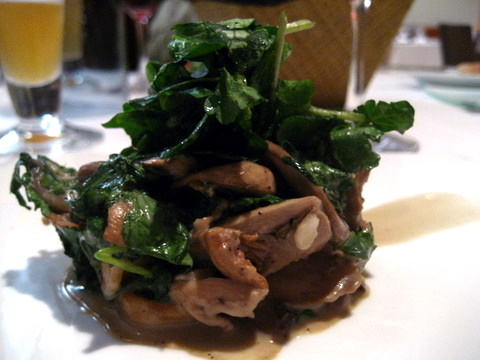 Prix Fixe 1: Arugula Salad - Wild Arugula, Oven Dried Tomato, Fresh Mozzarella and Roasted Garlic Dressing
Call me a snob, but I found the use of arugula in back to back dishes a bit strange for a set menu. I can't say I cared for the pairing with tomato and mozzarella which were both dominated by the bitterness of the arugula.



Southern Rock Lobster Salad - Mache, Citrus Supremes, Grapefruit Vinaigrette, Pomegranate Seeds
Anytime there is lobster in a dish I expect it to be the focus of the dish, unfortunately that wasn't the case here with the use of intensely tart fruit. Even in isolation, the lobster itself wasn't a particularly strong preparation, the texture was hard to discern given the small pieces and the flavor was quite mild.



French Trio - Escargot, Sweetbreads and Foie Gras
Probably most people would consider this a sample of the most disgusting food France has to offer, Snail, Thymus, and Liver. The escargot was brilliant, cooked beautifully with butter and garlic it came atop a light puff pastry. The Sweetbreads were quite good as well, firm on the outside with a soft creamy inside. The foie was the weakest of the trio, a bit lean and I thought lacking in flavor compared to the sweetbreads.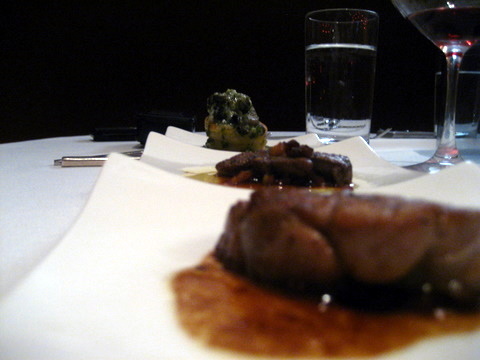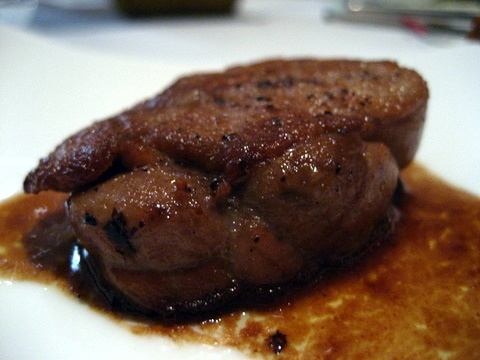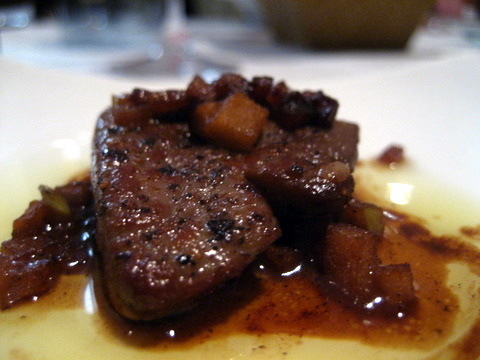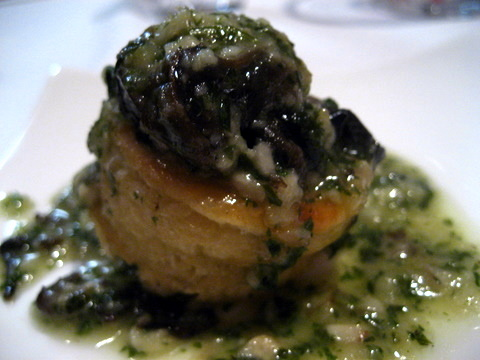 Mushroom Menu 3: Prime New York Steak - Portobello Mushroom Gratin, Sauce à la Forestière
The steak came in a mushroom sauce and topped with mushrooms. The slices of steak were nicely cooked and quite tender although the charring on the outside and accompanying bitterness was a bit too strong for my liking.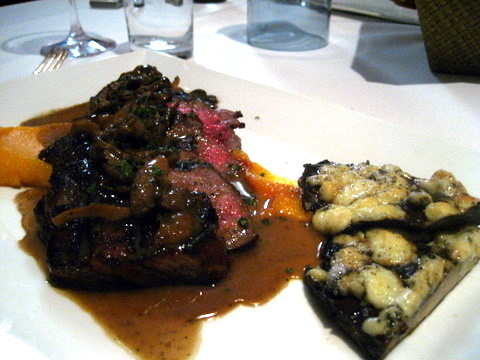 Prix Fixe 2: Quail - Black Truffle Sausage, Butternut Squash, Chanterelle Mushrooms and Cognac Sauce
At a cursory glance this looks like a quail, complete with skin, wings, and legs. Cutting into the meat it is apparent this is not quail at all. Where there should be breast meat there is this spongy amalgam of sausage with truffle bits. I actually loved the flavor of the sausage (turns out it was chicken) and the earthy truffles. I am still a bit confused how the legs and wings were attached so seamlessly. Apparently this may be a signature dish of the restaurant and I think it is good enough to be.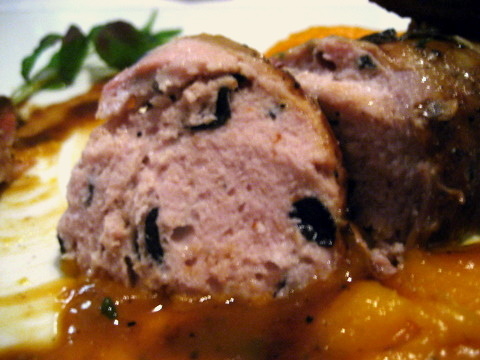 Mushroom Menu 4: Ile Flottante - Slow-baked Meringues, Crème Anglaise, Bittersweet Chocolate Mousse
A very whimsical dessert combining two meringues in the shape of a mushroom. A cooked meringue (cap) rests atop an uncooked meringue (stem) with a chocolate mousse center shaped like a chocolate truffle. I thought this dessert was quite light and sweet, magnifique!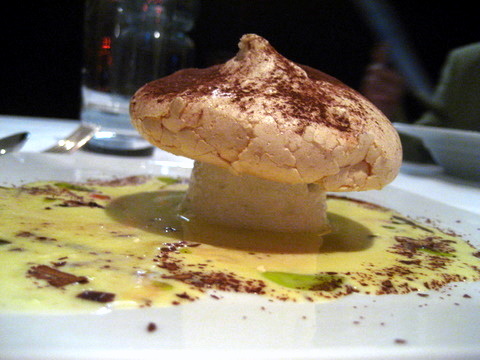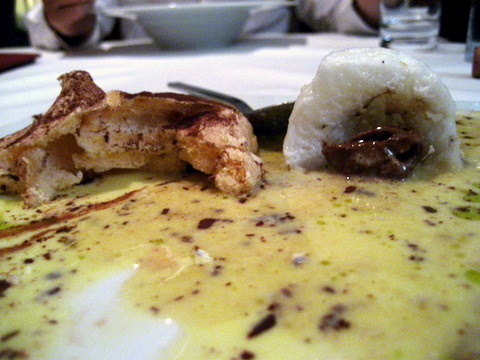 Prix Fixe 3: Crème Caramel - with Fresh Seasonal Berries
A fairly typical creme caramel, I thought it was a bit too firm for my tastes as I prefer a smooth creamy texture.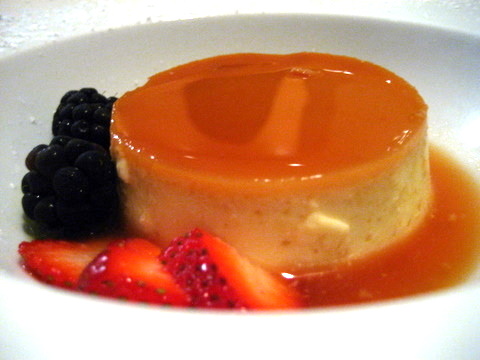 Chef Don Schoenberg was kind enough to come out and chat with us for quite some time. He is a soft spoken gentleman but behind the gentle facade I got a sense of steely determination just beneath the surface. According to him, the restaurant's greatest flaw is the lack of traffic during non-theater evenings. I get the impression the well-heeled theater crowd is enough to keep the restaurant afloat but not enough to bring lasting success. Chef Schoenberg's revealed a number of his key changes: advertising to nearby residents and converting the bar area into a lounge. In addition he plans to rein in food costs, claiming to know what a plate of food costs down to the penny.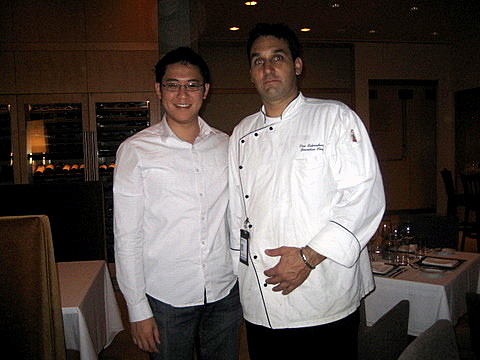 Four head chefs in four visits, it seems the restaurant has yet to find its identity. On the one hand, in effect I have been to four different restaurants, at the same time I would like to know what I am getting each time I visit. Even though this trip wasn't as solid as my first tasting menu here, it was still an enjoyable meal. In fact, all of my visits here have been quite good, sadly the lack of business success has kept this place from developing any stability. Chef Schoenberg seems to have developed a career out of resurrecting restaurants and I wish him all the best with Leatherby's.