12217 Santa Monica Blvd.
Los Angeles, CA 90025
(310) 820-9787

Located in a strip mall there is a lit sushi sign visible from the street. Only once you come up to the second floor can you see the name of the restaurant Echigo. After numerous recommendations from my classmate I finally decided to give this place a shot. The interior consists of a sushi bar and some functional tables and chairs. Nothing special but fitting given the strip mall location. The wasabi was quite intense although a bit watery.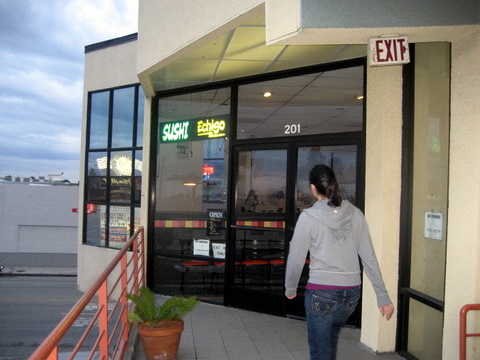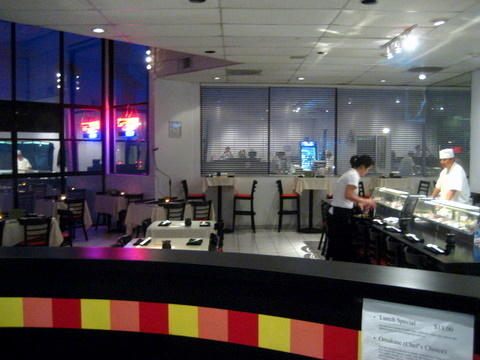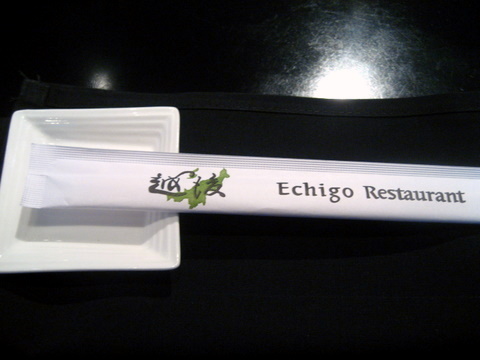 I went with a bottle of Echigo rice beer. The restaurant labels this as light and dry and that was definitely true. Watery and bland I didn't care for this beer at all.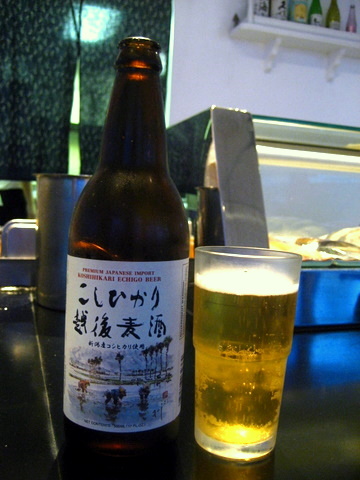 01. Baby Tuna Sashimi - with Ponzu and Scallion
We started with delicate slices of baby tuna, soft and fairly fatty, the fish was heightened by the use of ponzu.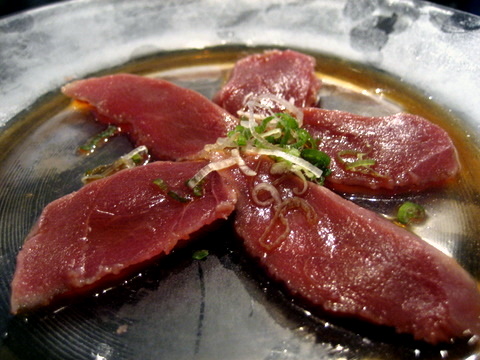 02. Toro - Fatty Tuna
A lean and fairly red piece of toro. The fish had some oiliness but was far too lean for toro in my mind. The fish was uniformly soft and free of any tendon or gristle, quite nice in terms of texture.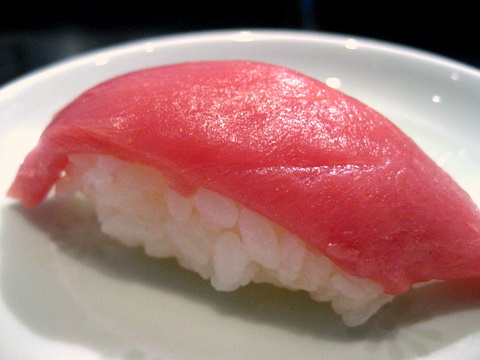 03. Hirame - Halibut
Not a huge fan of the fish. It felt too soft and flat.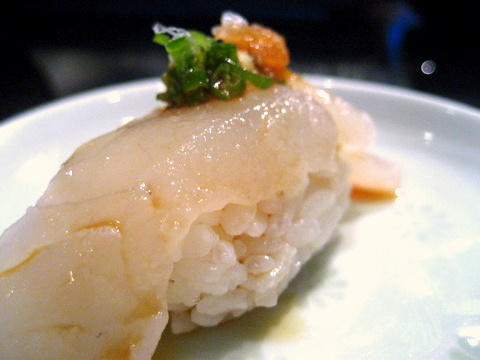 04. Hotategai - Scallop
A nice sweet smooth scallop the texture was a bit softer than I am used to. Good use of lemon juice to give the scallop a twist.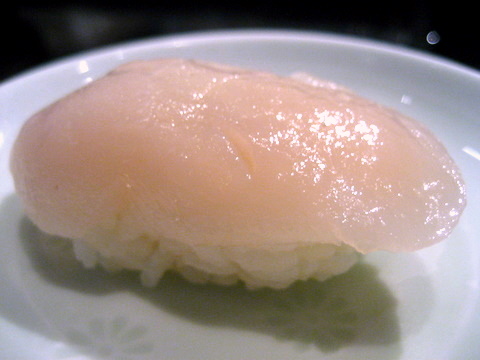 05. Katsuo - Bonito
I asked if this was skipjack tuna but apparently that is a different fish in the same family. The bonito was my favorite fish, it looks like a tuna but has an oilier texture and a rich smoky flavor that really impressed me. My favorite of the night.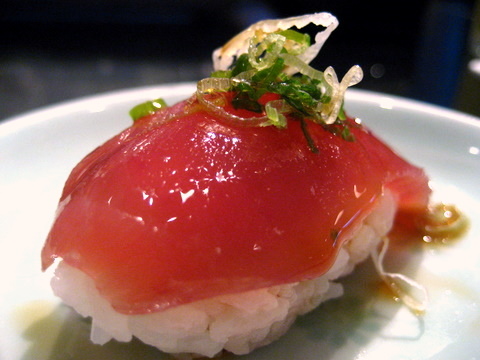 06. Kampachi - Amberjack
Great choice pairing the fish with yuzu kocho. The tart spice heightened the otherwise forgettable fish.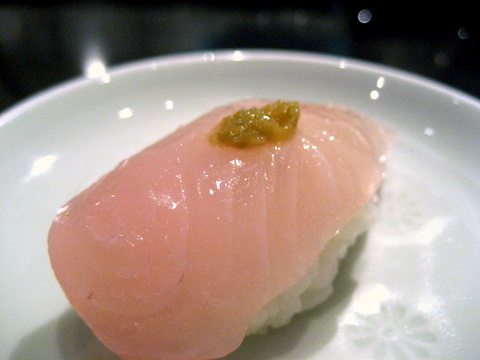 07. Ha-Gatsuo - Skipjack Tuna
The diffrence between the skipjack and the bonito is so slight, a bit softer but a touch less flavorful. Hard to really tell the two apart.



08. Tai - Red Snapper
I saw Chef Toshi salt this fish liberally then give a squeeze of lemon. I thought this might be too salty but turned out pretty bland. Toshi mentioned the snapper was from Japan, but I am not sure what was so impressive about this fish.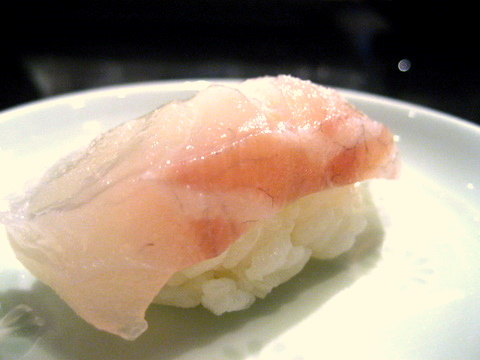 09. Butterfish
I have only had butterfish a couple times on the West Coast both times cooked topped with a miso sauce. The fish has a moist flaky texture and an oily sweetness that is accented by the sweet miso.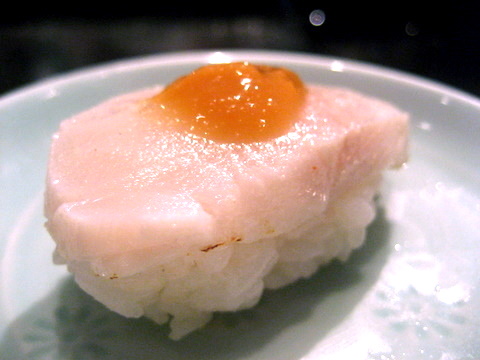 10. Blue Crab Hand Roll
To close the meal we are given cigar shaped rolls stuffed with crab and rice. As always the minimal accompaniments of seaweed and rice serve as the perfect accompaniments to the luscious crab meat.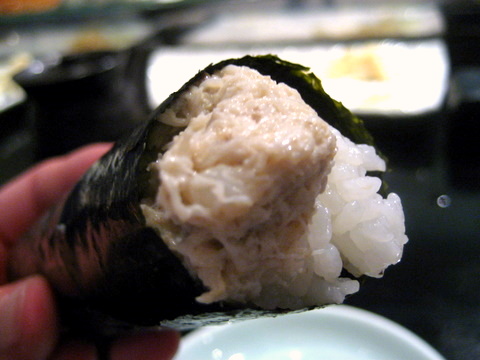 I was still stuffed after lunch so the light omakase was enough but I felt like having some uni before calling it a night.

11. Uni - Sea Urchin
Chef Toshi put so much uni on a single piece of nigiri it was overflowing the base and was almost a challenge to eat. The uni had a cold sweetness that gave way to a very luxurious creaminess with a hint of brine. Sadly there was a bitter aftertaste on the finish that seemed to linger.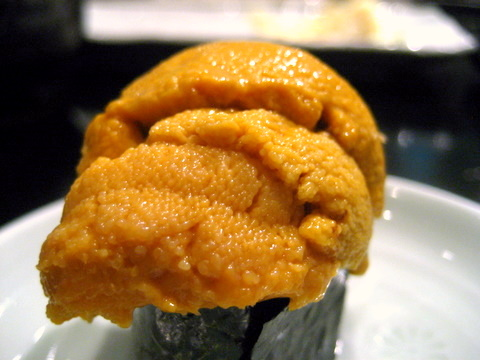 By no means the most impressive sushi menu, Chef Toshi serves up respectable sushi at a reasonable price. The restaurant is often compared to Sushi Sasabune which makes sense given Toshi used to work there. One thing that of note, Toshi uses warm rice which has a nice texture but imparts a distinct flavor on the fish. I didn't mind the flavor but it did mask the natural taste of some of the lighter fishes (hirame and tai). I'd recommend the restaurant to light eaters who appreciate traditional sushi (no California rolls here).