10509 Valley View St
Cypress, CA 90630
(714) 527-6090

Normally I wouldn't return to Café Hiro so soon after my last visit but I had just read an old LA times review on the restaurant which mentioned a tasting menu. When we arrived we found out the tasting menu should be ordered in advance but the kitchen was still willing to provide us a 6-course dinner for $50. I came here on a whim after working late so I didn't have my camera with me. Thanks to Kevin for the pictures.

01 Buffalo Mozzarella and Beet Salad - Daikon Radish
Buffalo mozzarella has more complex in flavor than the normal cow's milk mozzarella that really made this dish memorable. The beets added the right touch of sweetness to counter the acidity of the dressing.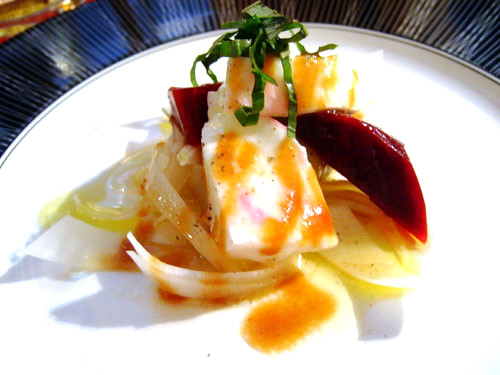 02 Grilled Scallops - Asparagus, Yuzu Vinaigrette and Kelp Salt
The scallops had a nice charring to them that was deftly accented by the yuzu, but texturally they were a bit rubbery for me. The asparagus paired nicely adding a light crispness.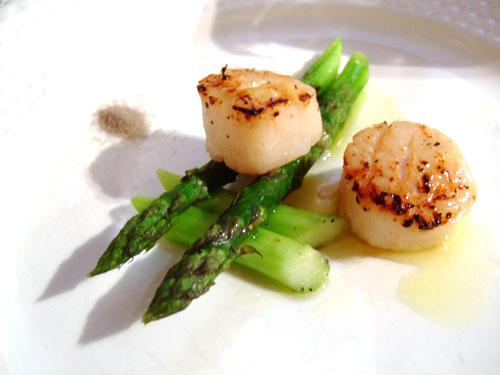 03 Tuna Carpaccio - Fig, Soy Beans, White Miso Sauce and Shiso Oil
The fish was a solid if unspectacular example. What impressed me about this dish is the use of strong flavors like shiso and fig didn't overpower the fish. In fact the shiso added a nice floral character that went very well with the fish and miso sauce.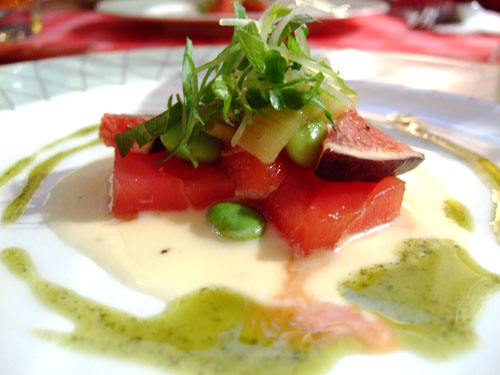 04 Beef Tataki - Australian Wagyu Beef, Cabbage and Anchovy Sauce
I have to admit when I heard Anchovy Sauce I thought back to the failed dish in the movie Ratatouille that had a similar sauce. Thankfully, the anchovy wasn't that powerful but it did add a dark fishy character to the dish which overpowered the flavor of the beef. My last time here I tried the Wagyu Curry and was hard-pressed to find anything that would suggest the beef was actually from Wagyu stock. This time the beef was quite tender and nicely marbled; although the marbling wasn't as finely integrated as it is on Japanese Wagyu.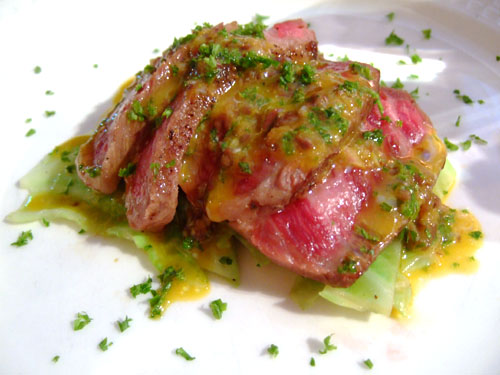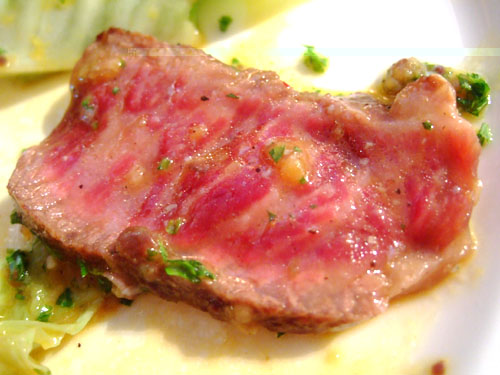 05 Peking Pork - Steamed Buns, Asian Herb Mix and Hoisin Sauce
The definite favorite of the night for me. The pork had a nice layer of fat giving it a rich oily flavor and was so tender it might have been softer than the bun. When eaten with the bun, sauce, and onion the flavors were so direct and simple, quite delicious.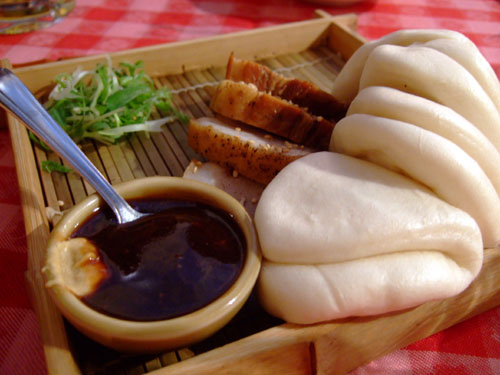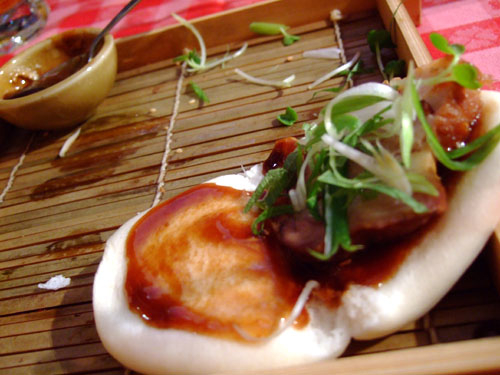 06 Roasted Chilean Sea Bass - Mushroom Risotto
This is one of Café Hiro's most highly touted dishes on Yelp. Both times I have tasted it I have been disappointed with the fish, far to dry and lean for a good Chilean Sea Bass. As always, the risotto is not actually risotto but some form of short grain sushi rice. Flavor-wise no complaints but I prefer the drier texture of a true risotto.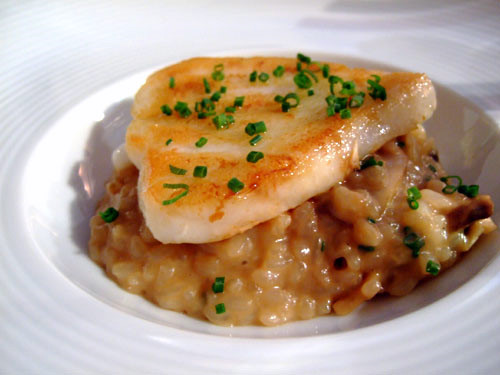 At the end of the meal we were each offered a complimentary dessert. We decided to order the two I hadn't tried before.

07a: Green Tea Blanc-Manger
Basically a green tea custard made with cream and sugar, similar to panna cotta. I found the custard had a very straightforward taste of green tea, subtle and not too sweet just what I was looking for. There was also a layer of red bean paste beneath the custard that was much sweeter that I felt overpowered the custard.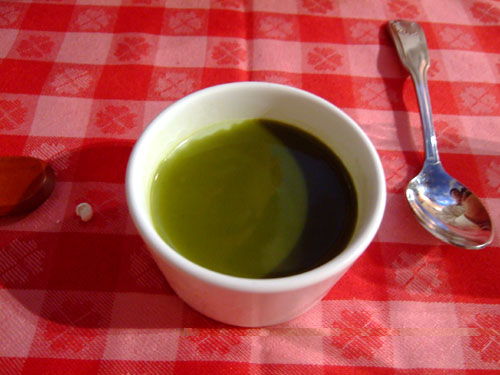 07b: Banana Mille-Feuille
Never a big fan of banana I didn't really care for this dessert.



The tasting menu truly showcased the talents of Chef Ohiwa and I feel fortunate to have such a skilled chef so close to home. Easily my best experience at Café Hiro even if Kevin's photo of me leaves something to be desired... definitely not your best work Kevin ;)