2523 Market Ave
Cleveland, OH 44113
(216) 241-4243

After being extremely impressed with my first visit to Flying Fig, I made a point of stopping by for my first dinner back in Cleveland. The quality of the produce from my first visit has stuck with me and I find myself using Fig as the gold standard for fresh vegetables. I recently learned the restaurant is walking distance from the West Side Market, and I wonder if the market is actually the source of the high quality produce.

Heirloom Tomato Salad - with Lioni Fresh Mozzarella, Basil, Mas De La Dame Extra Virgin Olive Oil and Sea Salt
A very colorful insalata caprese, the tomatoes here definitely took center stage, red, green, yellow, and purple; each color also had a distinctive flavor. The purple tomatoes were the most impressive, I don't think I've ever had a tomato that sweet.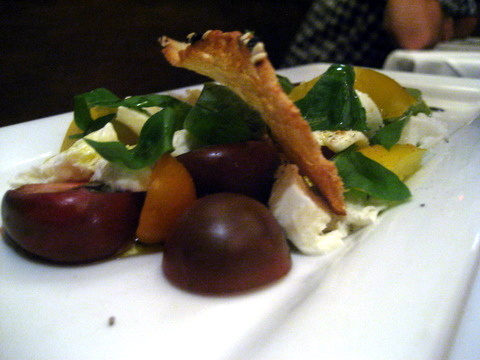 Tempura Battered Green Beans - Ponzu Sauce, Pineapple Caramel
I loved the haricot vert last time I was here so I figured why not get a big plate of them to start. Apparently the restaurant distinguishes between haricot vert and green beans, not surprising given the attention paid to the produce. Haricot vert tend to be thinner, crisper and have a more complex flavor than the standard green beans. Still these green beans were nicely cooked. I didn't care for the ponzu sauce but the sweet and tangy pineapple caramel sauce really did the trick.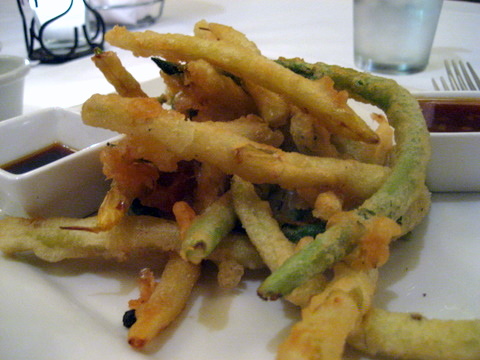 Trio of Small Plates 1: Medjool Dates - Wrapped with Smoked Bacon & Stuffed with Chorizo, Smoked Pepper Sauce
This is one of those rare dishes where a number of flavors and textures come together in a perfect storm of deliciousness. I particularly liked the interplay of the salty bacon and the earthy-sweet dates. I really wish I could describe the sensations in more detail but there were just so many things going on, better to try it for oneself.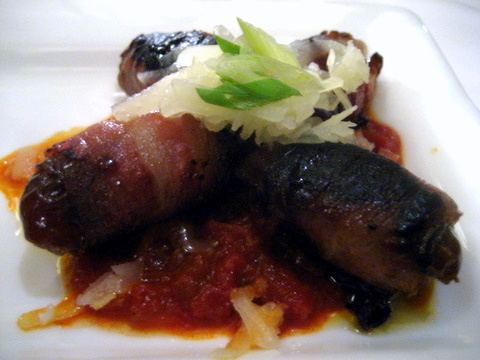 Trio of Small Plates 2: Herbed Ricotta Gnocchi - with Braised Plum Creek Farm Rabbit, Caramelized Onions, Snap Peas, Wild Mushrooms, Romano Cheese
This dish was a bit out of place in the trio. The other two dishes were both so bold and adventurous this one simply became forgettable by default. Not to say this was a bad dish by any means, the rabbit was tender and rich and the plump gnocchi had a beautifully soft texture.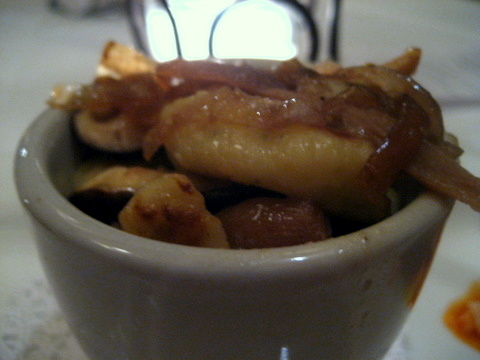 Trio of Small Plates 3: Braised Pork Belly - Croutes, Local Greens, Blackberry Habanero Goat Cheese, Pork Jus
This was a special my first time here and I am glad to see it made it onto the regular menu. The pork belly was a touch drier this time around but the fattiness compensated nicely for that. The local greens weren't as impressive as I remember, but the goat cheese had the same bold spice and ethereal sweetness.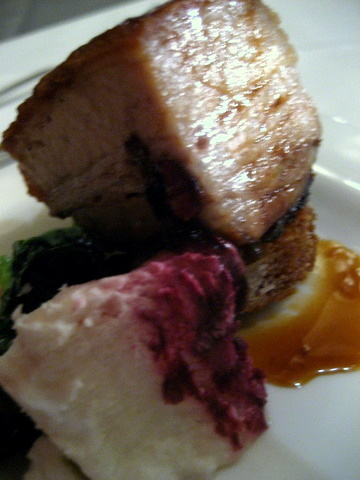 Seared Duck Breast and Confit of Duck Leg - Warm Fingerling & Haricot Vert Potato Salad, Sour Cherry Reduction
I was having a hard time choosing an entrée and I finally settled on the duck because it came with haricot vert which so impressed me last time. The duck breast was a bit on the lean side, but moist and very tender. The confit was also quite good which is high praise from me, I tend to find confit very flavorful but too dry for my liking. The sour cherry reduction was a bit too tart resulting in a jarring contrast with the bird. Of course the prized haricot vert was just as good as last time, crunchy and sweet with a hint of grassiness.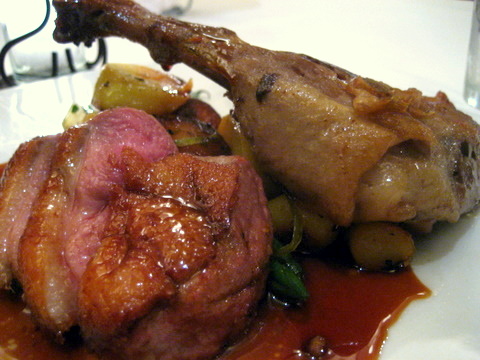 Homemade Blueberry Pie - Mint Ice Cream
By this point we were a bit too full for our own good but how could we skip out on dessert. We split a slice of the homemade blueberry pie. I didn't care too much for the pie since I am not a big fan of spiced desserts but it was decent all things considered. There was another flavor element to the ice cream besides mint, molasses or some such, but the mint definitely dominated.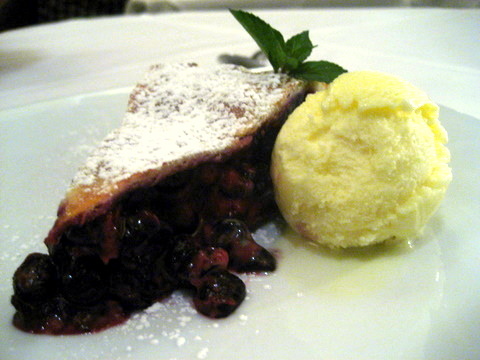 What a great way to come back to Cleveland. So often expectations can rise out of proportion after wanting to try a restaurant for so long, but Fig managed to meet and exceed my expectations again. As with my first visit, the vegetables are on another level at Fig. If I ever become a vegetarian, I might just have to move to Cleveland.