3229 Helms Avenue
Los Angeles, CA 90034
(310) 736-2224

By now everybody and their mother has heard of the Office Burger. Considered by many to be the best burger in LA. The only thing keeping me from going is the thought of fighting through the crowds. There are no reservations and the only way to get a table is to claim it before someone else does. Thankfully things are quite a bit calmer at Father's Office 2.0.

The beer selection is quite impressive if a bit esoteric at Father's Office. There are quite a few Trappist offerings and plenty of other beers I have never heard of. My companion and I started with the Terrible, a very dark and smoky beer with some slightly sweet burnt toffee notes. Served in a 750ml bottle, Terrible is more akin to a wine than a beer in terms of alcohol content which weighs in at a hefty 10%. Since I wasn't driving I decided to try the only Trappist ale on the menu that I hadn't had before. The Orval was different from my previous experience with Trappist ales, much more hoppy and bitter, there was almost a grassy note rather than the fruitiness I associate with these beers. At this point alcohol had clubbed my better judgement into submission and I decided to end the night with a Maudite, brewed by the same people who make the Terrible. The Maudite is done in a Belgian style, very sweet with loads of spice and yeast.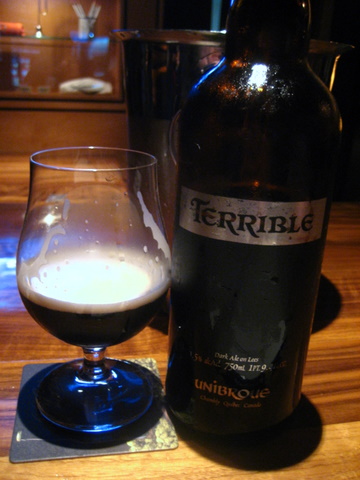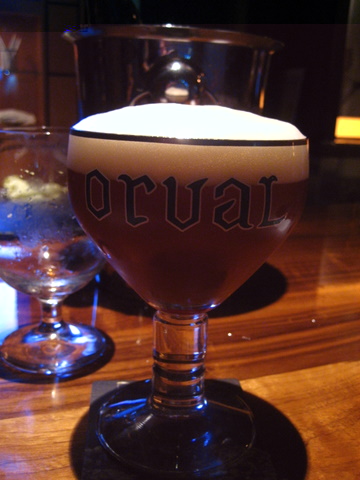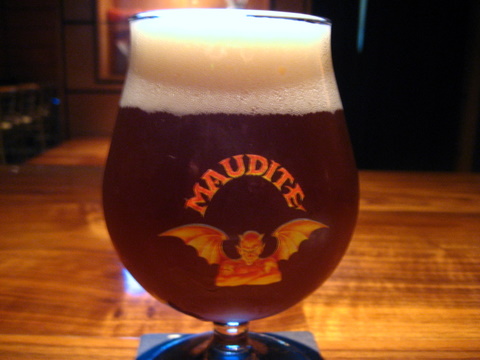 Roasted Beef Marrow - Parsley Caper Salad, Sel Gris, Toasts
The bone marrow came served in segments of beef bone. I spooned some out directly into my mouth and the oiliness was overwhelming. Now I love a good piece of fatty meat, but this was like eating fat suspended in oil. Eating the marrow with the mouth-puckering salad made for a much more balanced flavor.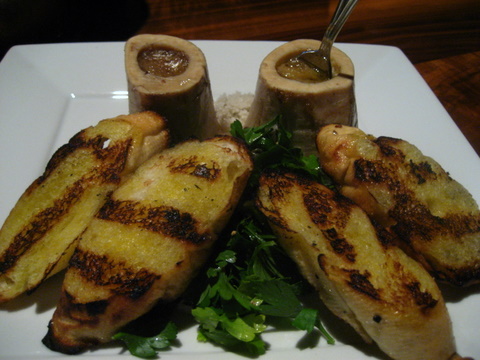 Smoked Eel - Poached Egg, Fennel, Horseradish Creme Fraiche
The eel was quite a bit tougher than I expected, a bit stringy and chewy. The smoked flavor definitely took center stage. I liked the use of the semi-liquid egg to add a coating that rounded out the intensity of the eel.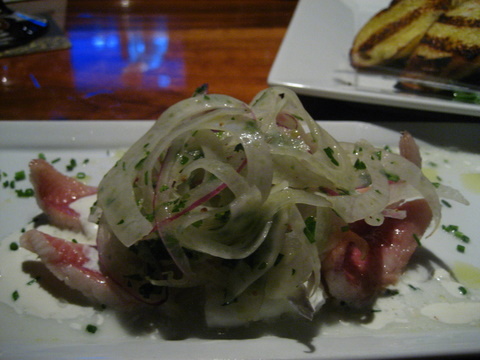 The Office Burger - Caramelized Onion, Bacon, Gruyere, Maytag Blue, Arugula
This is what we came for and it didn't disappoint. The meat is so soft and tender but it has this steady understated flavor that is always present but never obvious. The sweet onion, piquant blue cheese, and bitter arugula each add a different dimension to the flavor of the meat.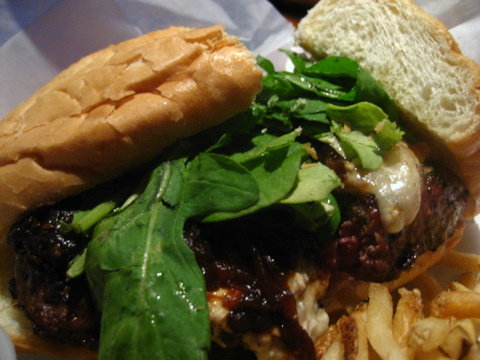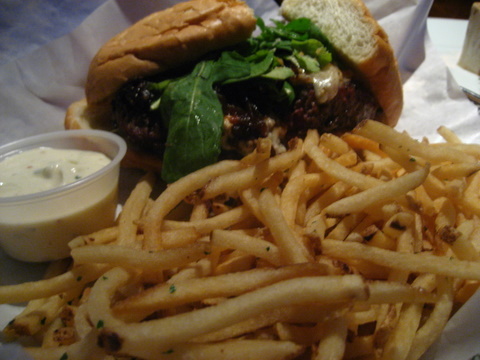 The food at the Office is definitely a cut above your standard pub fare. The burger is certainly exceptional and warrants tasting if you drop by, but I can't quite class it in that uber-elite group of courses that I will remember forever and that reshaped my perception about a given type of food. Still the restaurant serves up great food, and great beers to go with it.