1023 Abbot Kinney Blvd
Venice, CA 90291
(310) 399-5811

I actually hadn't heard of this restaurant until Michelin gave it one star. Even then, I wasn't too impressed with the menu. I only ended up dining here at the insistence of a friend.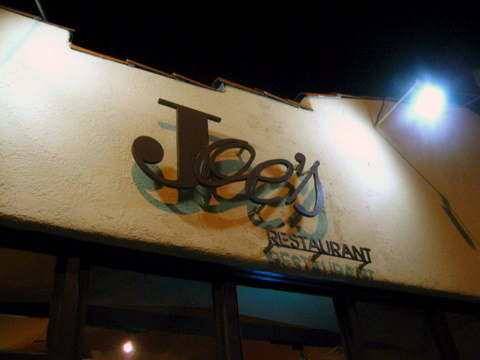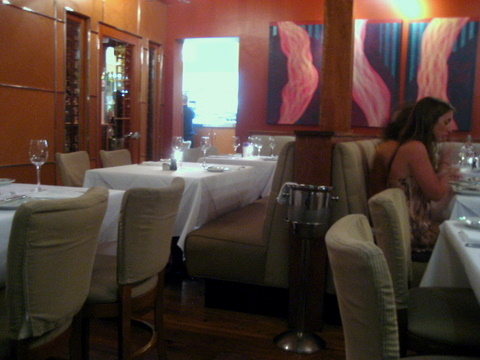 The restaurant was serving two tasting menus a 4-course Tomato Menu and a 7-course Chef's Menu, although three of these are amuses. Since the name of the game is to try as many courses as possible my friend each ordered one of the menus. We also asked about the possibility of supplementing which seemed to shock our server. He kept on halfheartedly dissuade us from ordering more courses since he feared we would be too full. This is the first time I have ever heard a waiter telling me to order less, still I appreciated his concern.

My friend got his signature Mojito but apparently he didn't really enjoy it. I ordered a Cucumber Gimlet which was refreshing as always.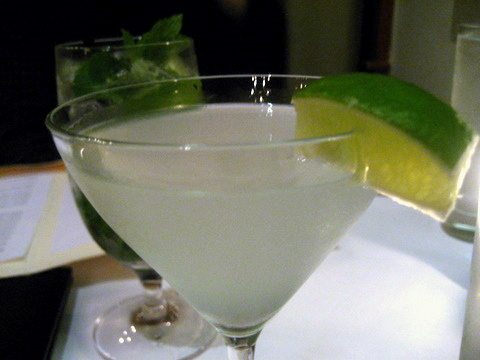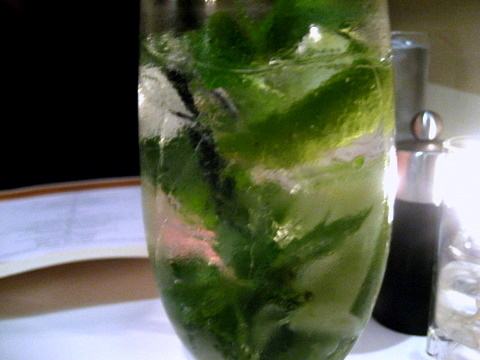 Bread - Brioche, Olive, Onion
I didn't taste too much of the bread as I found all of them too dry and crumbly which left an unpleasant feeling in my mouth.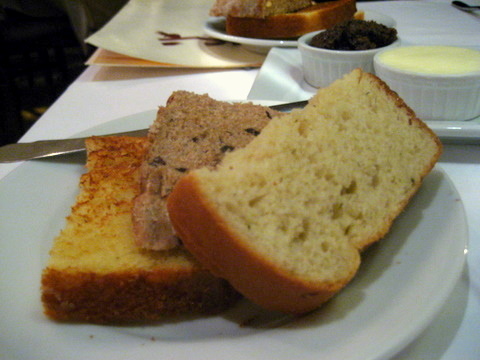 Amuse: Dashi Broth - Tofu
The first amuse was quite good a welcome change from the bread. Dashi broth has this savoriness to it that I really like and the tofu adds a bit of texture to the amuse.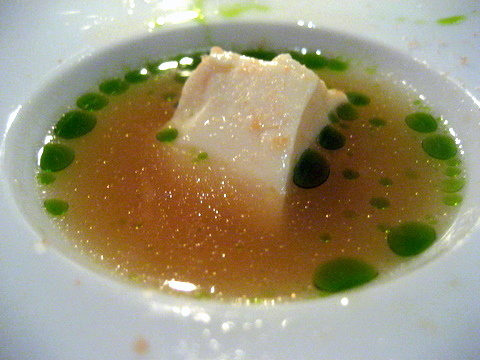 Amuse: Braised Rabbit - Brioche, Corn Foam
The rabbit was extremely tender and rich so intense and flavorful that it really stole the show.



Chef's Menu 01: Grilled Gulf Shrimp - Marinated Razor Clams, Lemon Cucumber Purslane & Dill Beurre Fondue
Le Saint Andre Rosé, Vin de Pays du Var, 2007
Beautifully prepared shrimp, slightly translucent, crisp and sweet and the use of lighter flavors accents the shrimp without overpowering it. This is my first experience with razor clam and I can't wait for another.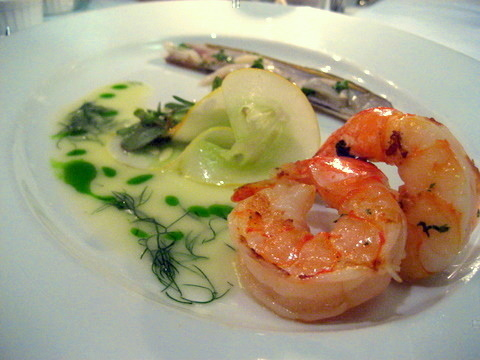 Tomato Menu 01: Heirloom Tomato Salad - Burrata Cheese, Balsamic Reduction, Basil
Le Saint Andre Rosé, Vin de Pays du Var, 2007
The tomatoes had a strong pure flavor and firm even texture, making this one of the better tomato salads I have had in recent memory. The use of various colored tomatoes gave this dish a nice visual appeal as well.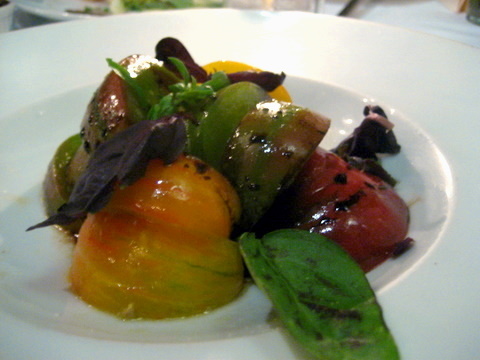 Chef's Menu 02: Olive Poached Ehu Snapper - Ragout of Veal Sweetbreads, White Eggplant, Fava Beans, Charred Tomato Vinaigrette
Adelaida "SLO", Pinot Noir, Paso Robles, 2005
I really enjoyed the soft moist texture of the snapper. The flavors, while good might have been more suited to a more strongly flavored fish.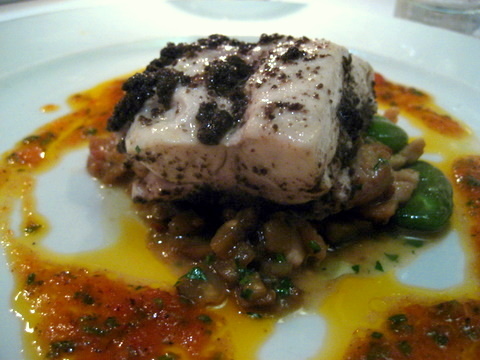 Tomato Menu 02: New Zealand Kingfish - Roasted Eggplant, Tomato Tart Tatin, Seaweed Salad, Soy Caramel
Adelaida "SLO", Pinot Noir, Paso Robles, 2005
One of the top dishes of the night. The fish was cooked nicely flaky, but not too firm and the flesh had a hint of natural flavor. The seaweed salad proved to be a good accompaniment adding a distinctive flavor but not overpowering the fish. I enjoyed the flaky and tangy tomato tart, but I felt it didn't pair well with the rest of the course.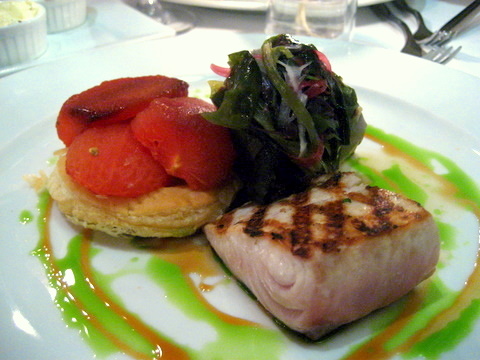 Louisiana Soft Shell Crab - Pork Belly Hash, Fried Green Tomatoes, Gribiche Sauce
III Somms "Atlas," Meritage, Napa, 2005
Visually quite appealing but I wasn't really sure what I was supposed to get out of this tastewise. As always the soft shell wasn't soft enough for my tastes and really detracted from the dish.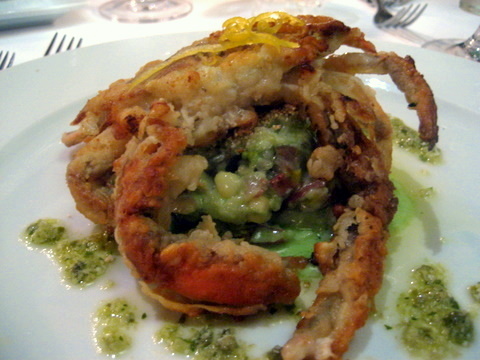 Porcini Mushroom Ravioli - Wild Mushroom, Parmesan Broth, Italian Parsley
III Somms "Atlas," Meritage, Napa, 2005
A very nicely executed classic dish. Savory, cheesy and rich, I even liked the texture of the pasta which I normally find too tough.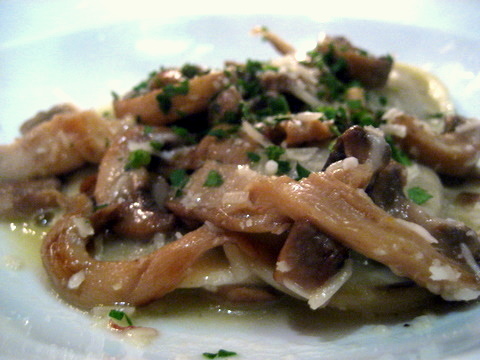 Chef's Menu 03: Barbecued Boar Rack - Grilled Asparagus, Truffled Potato Puree, Caramelized Onions, Red Wine Chorizo Froth
Joan d'Anguera, Finca L'Argata, Catalonia, 2005
Another standout dish for me. The meat was firm and a real pleasure to chew. Flavor-wise the meat had a "wildness" about it normal pork lacks. This reminded me of a well prepared lamb. Lately I have also been enjoying grilled asparagus. The grilling brings out the sweetness of the asparagus and adds a nice charred note.



Tomato Menu 03: Veal Sirloin Medallion & Shortrib - Braised Tomato, Daikon Radish, Pickled Torpedo Onions, Wax Beans, Heirloom Tomato & Paprika Jus
Joan d'Anguera, Finca L'Argata, Catalonia, 2005
A fairly forgettable course especially compared to the boar rack. I found this dish as a whole a bit boring and lacking in flavor. The veal was quite tough, surprising given veal is supposed to be more tender than normal beef.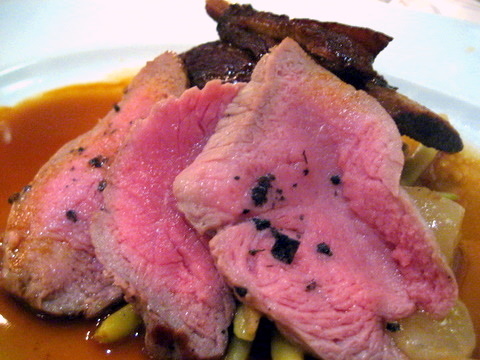 Wagyu Beef - Artichokes, Wild Mushrooms, Roasted Corn/Garlic Mash, Blackberry Peppercorn Sauce
Joan d'Anguera, Finca L'Argata, Catalonia, 2005
I don't know if my standards are falling or if the quality of non-Japanese Wagyu beef is rising. Lately I have really enjoyed Australian Wagyu that I have been tasting, although it still can't hold a candle to true Japanese Wagyu. For the most part I enjoyed the sides, although I thought the artichokes were a bit out of place. Thankfully the sauce didn't overpower the meat, but I still could have done without.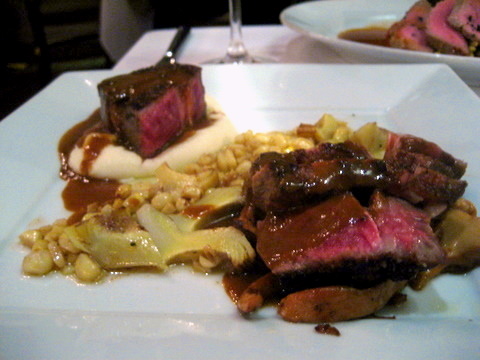 Dessert Amuse: Mango Sorbet - Blueberry Compote
A small palate cleanser, I thought the sorbet was a bit too syrupy and intense and overpowered the blueberries.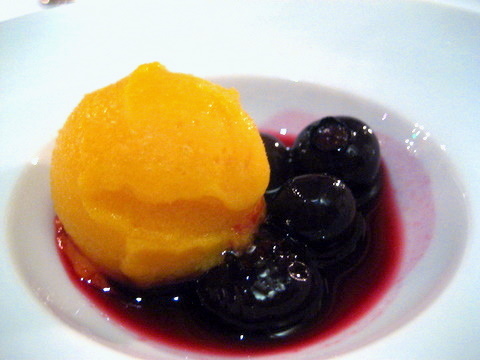 Chef's Menu 04: Carrot Cake - Caramel Ice Cream, Carrot & Brown Sugar Sauce
Naughty Cellars, "Sticky," Semillon/Sauvignon Blanc, Napa, 2003
Never really a big fan of spiced dessert I was pleased to find this carrot cake on the sweeter side of things.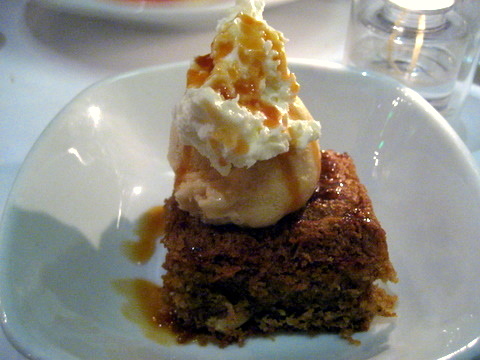 Tomato Menu 04: Yellow Tomato Broth - Melon & Tomato Salad, Butterscotch Melon Granita, Hibiscus Froth, Mint Vanilla Syrup
Tschida, Muscato Ottonel, Austria, 2005
A very refreshing and light dessert, this actually was actually lighter than the mango sorbet and would have been a more appropriate palate cleanser. I didn't really care for the mint and tomato soup which gave this strange flavor that pervaded everything else in the dish.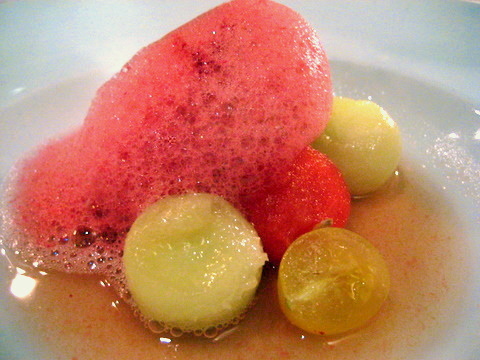 Midway through our meal, Chef Joe Miller came by our table to sign our menus and pose for a picture. He seemed comfortable wandering the dining room and talking with diners. Despite a few misses, Joe's serves up some really strong food and the restaurant's loud and lively atmosphere is well suited to it's home next to the beach. I could easily see myself coming back for dinner with friends next time I am in the area.