3333 Bristol St.
Costa Mesa, CA 92626
(714) 434-7900

I'd typically rate mall food somewhere between fast food and hotel food. Past visits to some of South Coast Plaza's restaurants confirmed my dim view of "fine dining" in a mall. Thankfully, Marché Moderne bucks this trend, offering Chef Florent Marneau's vision of contemporary French bistro food.

The restaurant is located on the third floor of South Coast Plaza next to Nordstroms and a few high-end boutiques (after lunch feel free to stop by Tiffany's downstairs). The restaurant itself has a spacious open kitchen and a nicely appointed bar where they serve walk-ins when the tables are booked.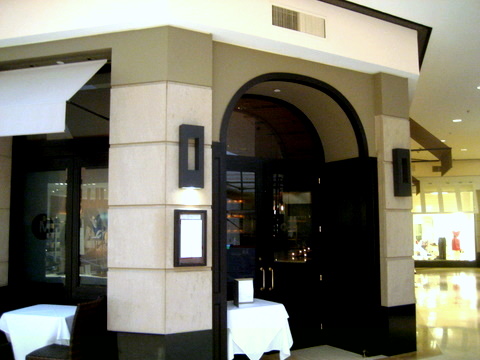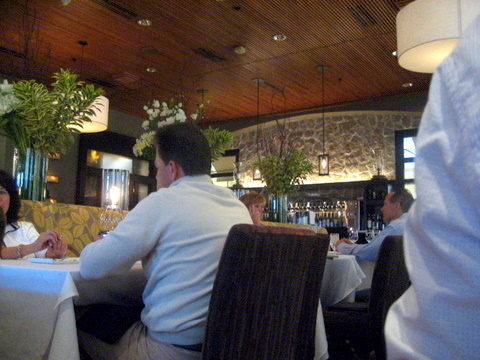 Naturally my friend and I went with the 5-course tasting menu. Typically the restaurant asks for a day or two advance notice for the tasting menu, but the staff was still willing to accommodate us, although we were told if we called in advance they could do something more elaborate.

I started dinner with a cucumber gimlet, very intense cucumber and citrus, good but a little jarring at first. My friend had his mojito which I thought was par for the course.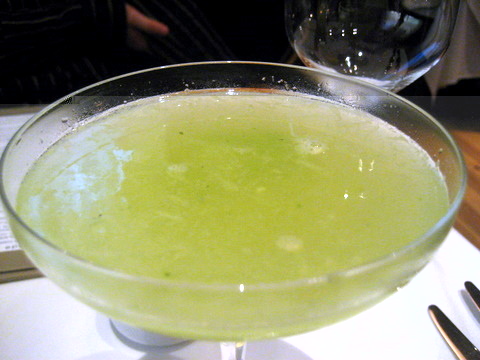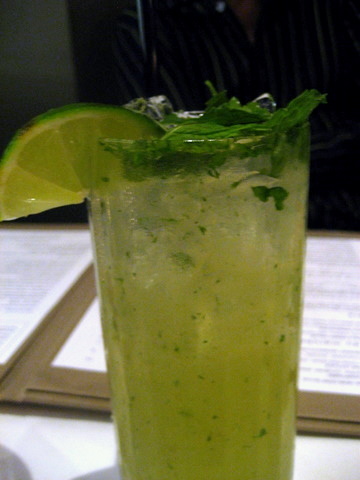 Bread - Baguette and Cheese
I always enjoy the bread here. This was my first experience with the cheese bread which was warm and fluffy with a flavor very reminiscent of the bread at Hatfield's.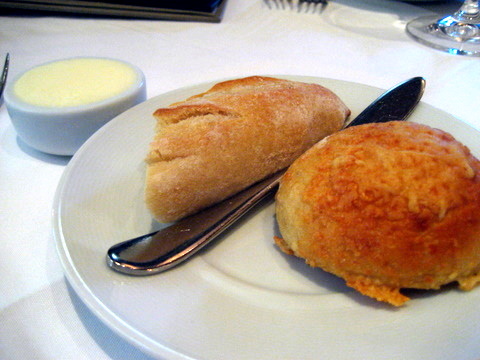 Amuse: Paprika Marinated Tuna - Ginger-carrot-apple Sauce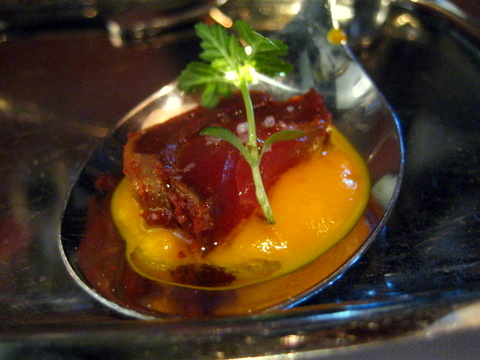 01: Hamachi Sashimi - Summer Watermelon, Watermelon-yuzu Emulsion, Lemon and Soy Oil, Micro-tangerine
Champagne, Nicolas Feuillate Brut, Chouilly Epernay, NV
Seems pairing red and yellow watermelon cubes is all the rage this year. This is the third time I have had such a dish although this was far more adventurous pairing fish with the fruit. However, the two worked well and I enjoyed the interplay of the oily fish with the juicy melon. Thankfully the sauce played well with the fish; although the emulsion was a bit to creamy for my tastes.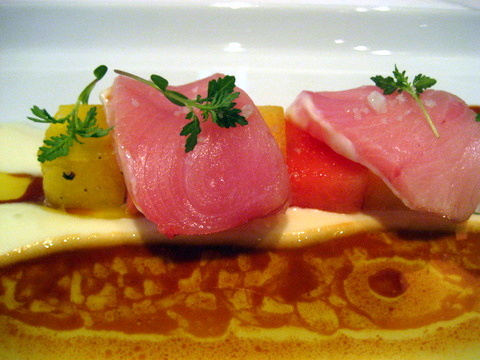 02: Alaskan Halibut - Beet and Balsamic Purée, McGrath Family Farms Baby Beets, Brown Butter and Balsamic Foam
Chardonnay, Neyers, Carneros District, 2006
Halibut has always been one of my least favorite fishes, too often it comes out dry and heavy. Thankfully this was not one of those times, the top of the fish was nicely browned and the bottom juicy and flavorful. Pairing this with the beet purée was a masterstroke as the subtly sweet beets really complemented the flavor of the fish.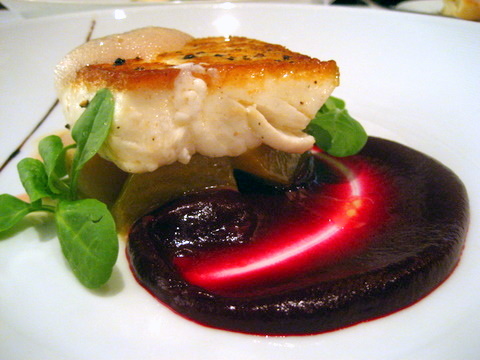 03: Seared Foie Gras - Grapefruit Marmalade, Crispy Farinette, Tarragon Grapefruit Salad
Sauternes, Chateau Lamothe Guignard, Bordeaux, 2003
Once my favorite preparation of foie gras, searing has slowly slid down to the bottom. I find seared foie gras less fatty and over-the-top rich than other preparations like terrines or au torchon and if you can't feel the artery-hardening fat whats the point of eating foie. This was a decently seared foie although I thought the farinette a bit unnecessary.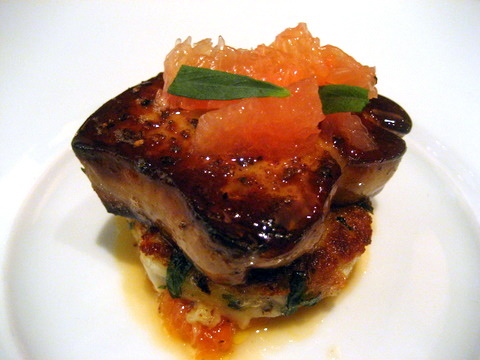 By this point my friend and I knew we needed more food, and for the second time in a row, our server has questioned or cautioned against adding extra courses.

Italian Tart - Asparagus, Burrata, La Quercia Prosciutto Piccante, Soft Poached Farm Egg, Tarragon Mousseline
Bourgogne, Maison Leroy, Burgundy, 2001
Burrata, asparagus, prosciutto all covered in liquid egg goodness what's not to like. I enjoyed the tart especially the salty prosciutto paired with the creaminess of the cheese and egg. The asparagus ended up getting lost but that didn't detract from the experience.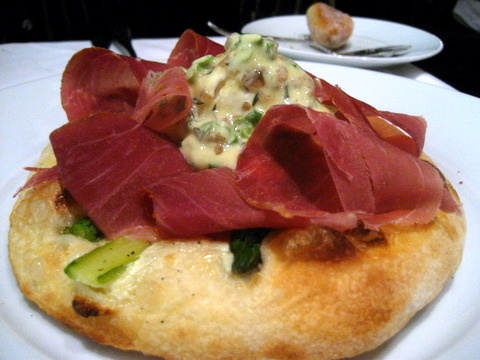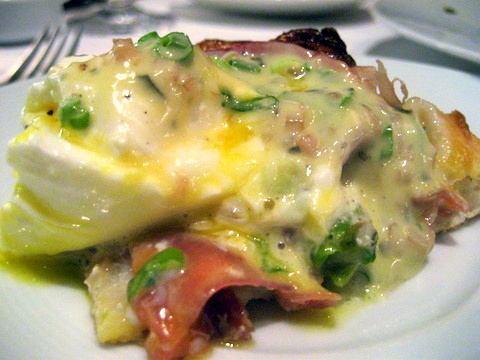 Echire Butter Sautéed Langoustine - Sautéed Oregon Porcini Mushroom, Cold Truffle Emulsion
Pinot Noir, Adelsheim, Willamette Valley, Oregon, 2006
I really had high hopes for this course hoping to relive a bit of the magic that is Joël Robuchon. There the langoustine had this vibrant crunch that seemed to reverberate through my jaw paired with shaved truffles that exploded with flavors. Oddly with the langoustine here, one end had that texture while the other was soft and mushy and the truffle was MIA from the dish.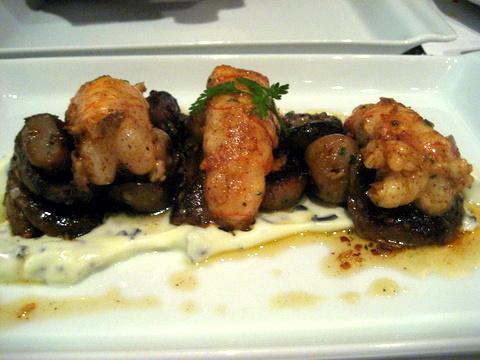 04: Duck en Croute - Duck Breast, Morel Mushrooms, Duck Jus, Foie Gras and Confit Duxelles, Red Wine Sauce
Pessac-Leognan, Chateau La Font Menaut, Bordeaux, 2001
The duck breast was decently cooked although perhaps a bit more well done than I would have liked. Also even though the meat came with a layer of skin it was surprisingly mild. I found the red wine sauce dominated the natural flavor of the duck, more focus should have been paid to the morels and duck jus which would have complimented the natural flavors of the duck better.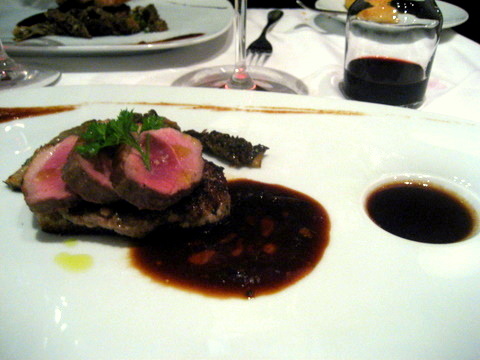 Cheese
Tawny Port, Graham's 20 Year Old, NV
The restaurant offers a cheese plate with two, three, four, or all ten of their cheeses. Since we were getting full we decided to go for four instead of trying them all.

Saint-Agur (cow's milk, creamy, rich blue, France) - Slowly I have been coming to accept blue cheeses. To my limited palate this was a milder than your typical blue. The cheese also has a 60% fat content which gave it a soft texture and rich flavor.

Explorateur (cow's milk, France) - A triple cream cheese, this was the closest they had to my favorite, Brillat Savarin. The flavor was similar earthy and salty. As a result of a fat content upwards of 75% the cheese was even more decadent than the
Saint-Agur.

Tomme de Savoie (cow's milk, France) - This is a semi hard cheese, softer than the Beemser it has the all important characteristic of melting rather than crumbling in the mouth. The cheese, milder than the two above, possessed a subtle nutty character.

Beemster XO (26 months cow's milk, Holland) - Never a big fan of hard cheeses I just don't care for the crumbly texture and the resulting dryness.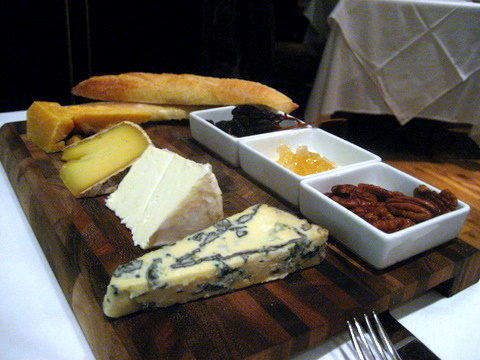 05: Dessert
Like our cheese we were presented a quartet of desserts to close out the meal.

Pineapple upside down Financier - I thought they did a good job balancing the tartness of the pineapple with the buttery sticky cake.

Crème brûlée - I didn't even realize this was a separate dessert until I ate it, all I saw was a blob on the plate. The cremé brûlée lacked the burned crust and the texture of the custard was much softer than usual.

Apricot ice cream - Probably my favorite, I really enjoyed the pure apricot flavor with the pastry crumbs tossed in for good measure

White sangria with lychee and blueberries - A bit too alcoholic for me. I probably should have tasted this first.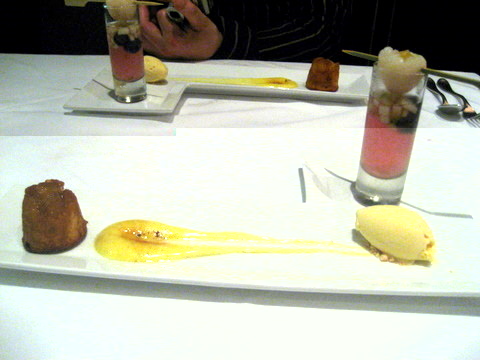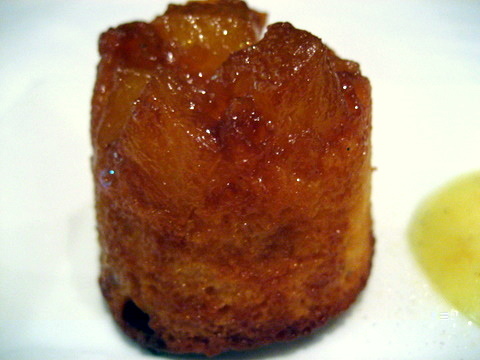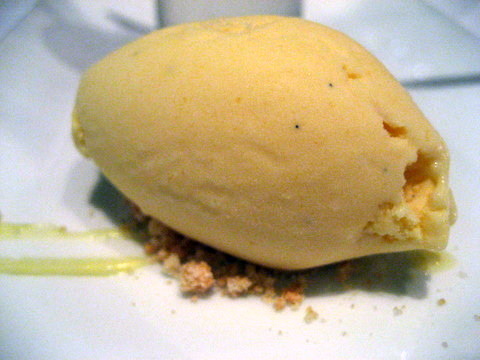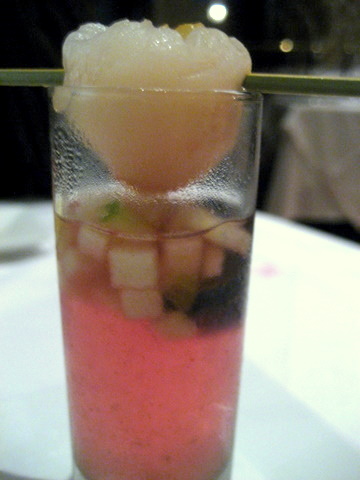 Before the cheeses came out, we were taken on a tour of the kitchen. Since much of the cooking is done out front the back area is quite small yet still services the dining room nicely. Morneau apparently isn't in on Fridays, so if you are going for the tasting menu, I'd suggest going on a weekday. Though the chef wasn't in we did meet with the chef de cuisine and the assistant pastry chef.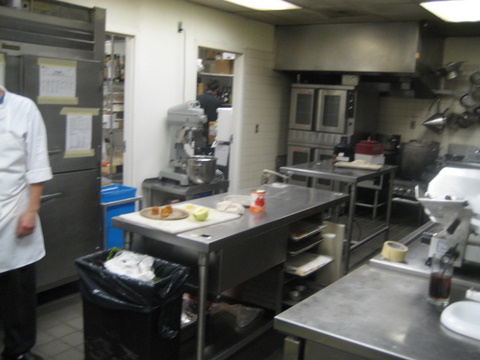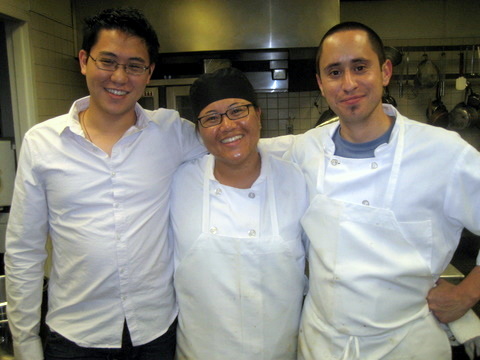 Marché Moderne is in good company with several of Orange County's top restaurants located nearby. While I had a better experience at Leatherby's Cafe Rouge, having been to both restaurants three times, Marché easily wins on consistency. Ultimately, if I were going to recommend one fine dining restaurant in the county it would probably be Marche Moderne.