10509 Valley View St
Cypress, CA 90630
(714) 527-6090

The final in the recent series of dinners with my girlfriend. Sadly she had to return to med school and will be gone for at least 4 months. Surprisingly our last meal was at a fairly humble local eatery, Cafe Hiro. Reviews of the restaurant rave about the quality of the risotto and Chilean sea bass two of my girlfriends favorites.

Located in a strip mall, the restaurant has a fairly nondescript exterior with a oddly-colored and strangely decorated interior. Given the name Cafe Hiro, one might expect the food to be Japanese-influenced and indeed it is. The restaurant specializes in Italian food pasta risotto and the like with a Japanese twist.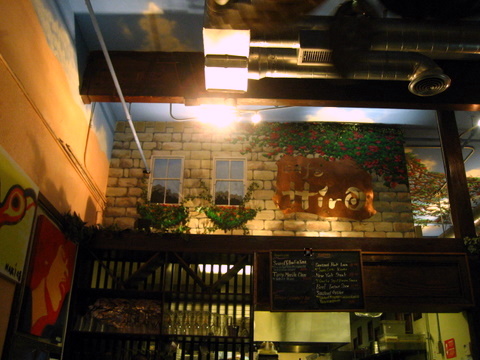 Salad
A fairly nondescript salad. Some greens a citrus dressing, I would have rather just gotten on with the main course.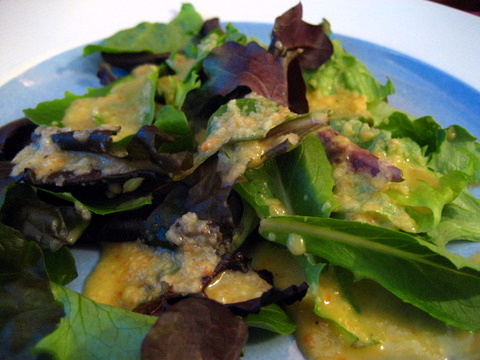 Soup
I believe this was some sort of potato cream soup. Scalding hot and mild flavor, fairly thin for a potato soup. Like the salad I could have done without this.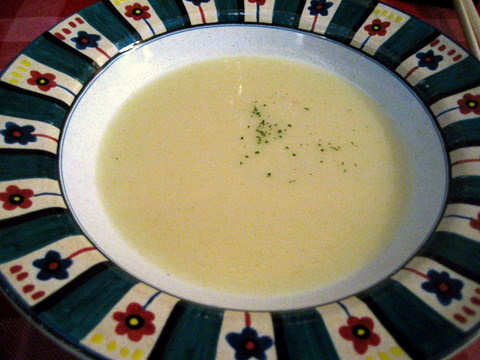 Roasted Chilean Sea Bass - with Mushroom Risotto
An interesting and pretty decent preparation of sea bass. No where near as soft and flaky as most. The fish also lacked the overpowering oiliness of Chilean Sea Bass, perhaps this is due to the cooking. I privately wonder if it is not actually Chilean Sea Bass, but it was good enough and cheap enough that I didn't really care. What surprised me was the risotto, the flavor was decent but the texture was more akin to rice than risotto. Good but just not what I expected.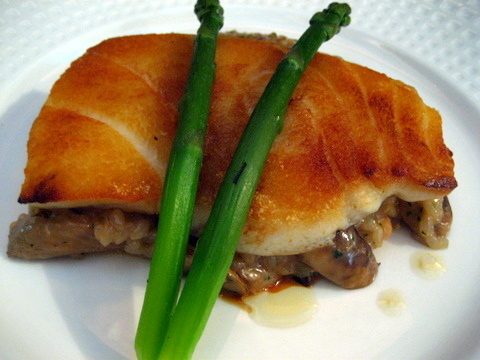 Kurobuta "Black Pig" Pork Cutlet - with Sweet Corn Risotto
My girlfriend got this because the sweet corn risotto was a special for the night. The pork cutlet was surprisingly tender, a bit sparsely seasoned the dish took on the sweetness of the corn risotto. Like the previous dish the risotto resembled short grain Japanese rice rather than true risotto.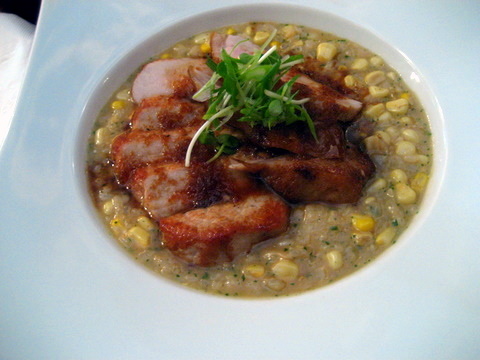 Sea Urchin "Uni" Spaghetti - with Toasted Seaweed
Surprisingly the best dish of the night. The uni wasn't as delicate and soft as what one would eat at a sushi restaurant but it doesn't need to be. Paired with spaghetti cooked al denté, the simple flavor of uni and toasted seaweed work much better than one would expect.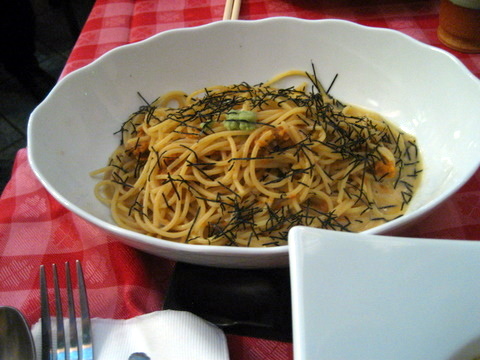 Panna Cotta - with Assorted Berries
Unlike most panna cottas I have had this did not come as a single piece but rather looked more like a lumpy yogurt. I thought it was decent but lacked the complexity or flavor to stand up to some of the other panna cottas I have had recently.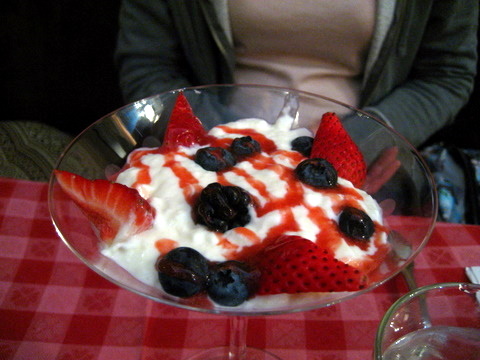 The food is fairly good for a local eatery, nothing spectacular but respectable. The biggest problem is the speed of the service. It took maybe 20 minutes before our order was even taken and another 20 to get the salad. I feel that is too long given we were hungry when we got there. I could see myself frequenting this place again if the mood strikes.