686 Anton Blvd
Costa Mesa, CA 92626
714-444-5900

My girlfriend and I initially planned on forgoing dinner out on Valentines Day. However, given that she goes to school in Cleveland, this was the first time we ever could actually go to dinner on Valentines, it would be a waste not to. We finally decided on Pinot Provence, one of the Patina Group restaurants and our local favorite for brunch. Given that we enjoy the restaurant's food and it still had spots with only a week remaining until Valentines, it was an easy choice.

The restaurant is located in the Westin South Coast Plaza Hotel, which is across the street from the South Coast Plaza mall, hardly surprising given the name of the hotel. Interestingly the restaurant is located within walking distance of another member of the Patina Group, Leatherby's Cafe Rougé.

When we arrived the place was packed to the brim. After waiting 10 minutes we finally were seated, outside right by the entrance. The whole outdoor setup looked hastily erected, as if the restaurant tried to cram as many tables as possible at the expense of people's enjoyment. I eventually asked for another table, still outside but not quite so close to the entrance. Service was horrendous that night as well, it took another 15 minutes to get water let alone place orders. We ended up choosing the four-course tasting menu. Probably a mistake in hindsight given the extraordinarily slow service.

My girlfriend and I were so exasperated by the time our first courses came I forgot to take pictures of the of them. I had received a sample of the Valentines menu when I came here for brunch and I noticed they changed the two first courses to the most luxurious of the appetizers. I suspect they realized these courses would be popular and this was designed to get guests to splurge on the extra course

1a Grilled foie gras - crème de violet meringue, poached mango, vanilla fleur de sel
Overall not a very impressive foie gras, not quite fatty enough and a bit too salty. Certainly not worth waiting 75 minutes for.

1b American Wagyu shabu shabu - coriander-roasted carrots, caraway veal consommé
I was pleasantly surprised by this dish. I tend to have a dim view of American Waygu beef, but my recent experiences have been quite solid. American Waygu is a nice compromise between traditional steak and the ultra-fatty Japanese Waygu or Matsutake beef. I also tend to have a dim view of shabu shabu, but this steak had a tender texture and paired extremely well with the veal consommé that formed the stock for the shabu shabu.

2a Chanterelle velouté - 62-Celsius egg, applewood-smoked bacon
Think of this as a fancy cream of mushroom soup. Veloute is one of the classic French sauces, consisting of a light stock usually chicken, fish, or veal thickened by adding roux(flour and fat). The mushrooms add an earthy slightly spicy flavor. Inside the velouté lurks large pieces of bacon that add a satisfying texture and bold flavor.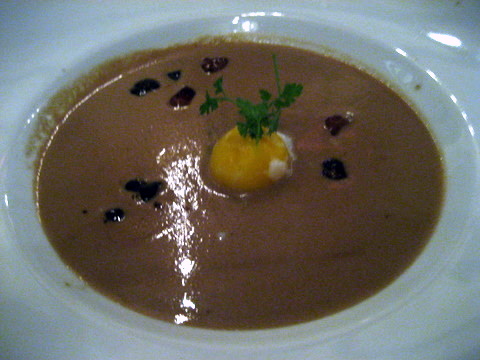 2b Pacific oysters - passion fruit granita, petite Thai basil, Devonshire pearl
Very innovative presentation of oysters, using sweeter and softer flavors rather than the traditional mignonette and horseradish. The oysters were fresh if a bit small, my only complaint is this would have been more appropriate as a first course, not a second but the tasting menu was already fixed.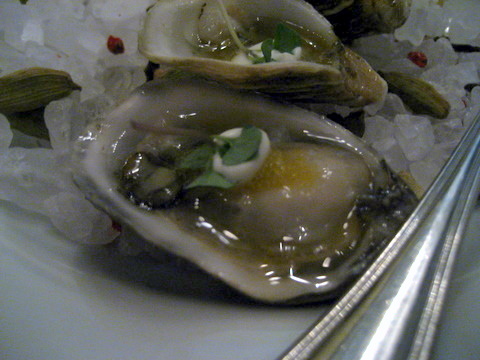 3a Black olive oil slow-poached monkfish - apricot powder, couscous, harissa emulsion
I quite enjoy monkfish, it has a texture that is both firm and pliant. A bit too much olive flavor for my tastes but my girlfriend enjoyed it.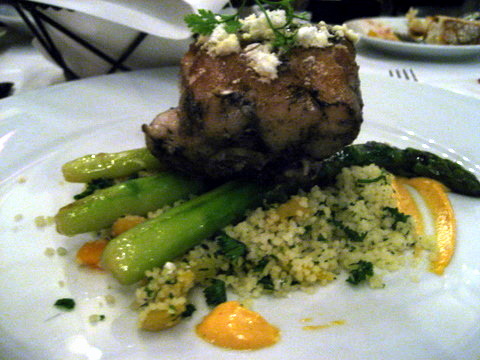 3b Lamb sirloin vadouvan - carrot emulsion, Marcona almonds, fava beans, Argan oil-crushed potatoes
I was sorely disappointed with my entree. My girlfriend suggested it tasted like "old man feet" I thought the lamb was quite gamey and smokey, maybe the result of adding the vadouvan.



The desserts were something of a disappointment, having had them several times before while dining here, not that they weren't good but I had hoped to try something new.

4a Creme Fraiche Panna Cotta
Firm and creamy, this is my girlfriend's dessert of choice here, served with sorbet and fresh fruit.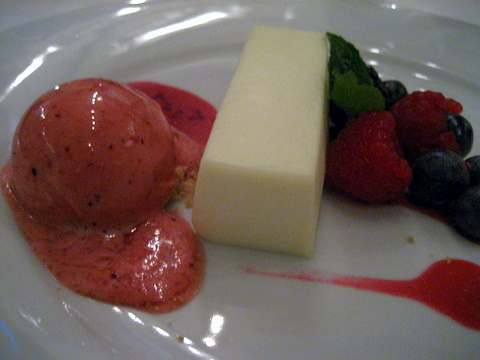 4b Chocolate Delicé
Now I ordered, this but I dont actually eat too much of it. It consists of a thick chocolate cake bordering on solid fudge. Lightened with what I think is vanilla ice cream. Little cocoa nibs round out the dessert adding a nice crunch.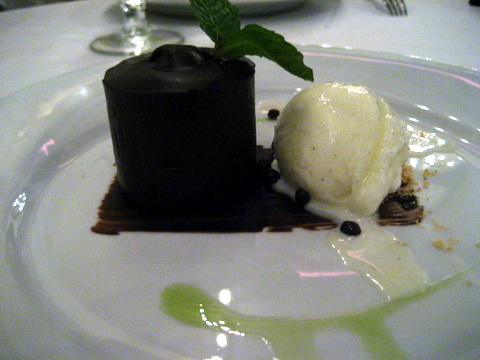 This is the first time I have actually eaten at a restaurant on Valentines Day and based on the experience it may be the last. There was nothing wrong with the food, although I think their breakfast and lunch fare is superior. My complaint is with the environment, it is crowded, noisy, the service was decidedly lacking, ultimately leading to a stressful and less than fun evening.