6640 Washington Street
Yountville, CA 94599
(707)944-2380

French Laundry, the name evokes a sense of mystique and fantasy, like Shangri-la or Atlantis. Arguably one of the best restaurants in the world the building served as a saloon and laundromat in previous incarnations. Known as Thomas Keller's flagship, the restaurant that is French Laundry, was opened in 1978 and owned by mayor of Yountville and purchased by Keller in 1994. Ever since its inception reservations are not easy to come by. They are not impossible to get, as some claim, nor do they require a "hook-up", they just require a bit of perseverance and a flexible schedule. The trick is calling or booking a table online fast enough and being able to schedule a dinner 2 months in advance. It is hard to believe after so many years in operation, every morning the phone rings off the hook and every last table is snapped up, but a more effective endorsement I cannot imagine.

I had heard about the restaurant when food was still a hobby rather than an obsession. At the time I heard good things but nothing hinting at the sheer. Certainly I was always curious, but never really cared to make the trip up. The last couple years Laundry has been the gleam in my eye, the far off meal that was too much trouble to exert the effort for. In the end it was Kevin who secured reservations. My hat's off to you my friend. Our original plan was to go up mid-January, but we found the restaurant was closed. Kevin then planned to go himself since I couldn't make it, but when he called for reservations two weeks in advance, he was politely rebuffed.

Finally, armed with these disappointments, he was determined to make the reservations personally at the restaurant when he visited Napa in March. Perhaps we aren't the brightest of people, for all our research we did not see the web site says "Walk-in reservations are not accepted." However that was a stroke of great fortune since had we seen that Kevin would have never embarked on his final bid for a table. Dressed in his Sunday best, Kevin strolled up to the blue door only to again be politely rebuffed. Crestfallen, but not defeated he promptly took out his cell phone and sat in the garden calling the reservation line while inside the available seats continued to dwindle. As all hope seemed lost, an elderly man struck up a conversation with Kevin about the restaurant. Lo an behold this was none other than Ed Keller, Thomas' father. Perhaps he took pity or was impressed by Kevin's desire to dine at his son's establishment. Mr. Keller Senior said he'd "see what he can do"; perhaps we did get hooked up after all. Later that afternoon we had a table for 2 at 12:45pm, not a total victory since we had 4 people. However, a couple hours later the table for 2 got upgraded to a table for 4 at 7:45pm for the extended menu. In case you are wondering, the restaurant serves the same menu for lunch and dinner.

The trip to Laundry soon grew in scope and ambition. First we asked for a copy of their wine list, which is a good 96 pages. Oddly, the restaurant does not offer wine pairing for their menu. We were left with two choices, choose from their relatively limited wines by the glass or order a couple bottles. We finally decided to order a bottle of white and bring a bottle of 1982 Bordeaux. Since 1982 was my birth year and an excellent year for Bordeaux as well I have always wanted to get my hands on a bottle and what better time than for a meal at French Laundry. I decided on the Chateau Pichon Longueville Comtesse de Lalande. Getting the Lalande was an adventure in and of itself. I had seen a bottle for $300 (going price is $500+) but decided to hold off on buying to the last possible minute, since I don't have anything that approaches a proper storage area. Long story short, it involved a lot of disappointment, and some desperate searching and overnighting to get the wine the day before we left.

Since we were heading to Napa for dinner might as well go all out. We went to Cyrus the first night and Go's Mart the night after, but the prize of the trip was always Laundry. The night before we went up, I couldn't sleep, I felt like a kid at Christmas again. The day of the meal I was still shaking of the lethargy and fullness from the previous night at Cyrus. Like an idiot I even ate a lunch that day (dunno what I was thinking).

Finally the time came, we headed to eat a meal years in the making. But not before we took some shots of the restaurant.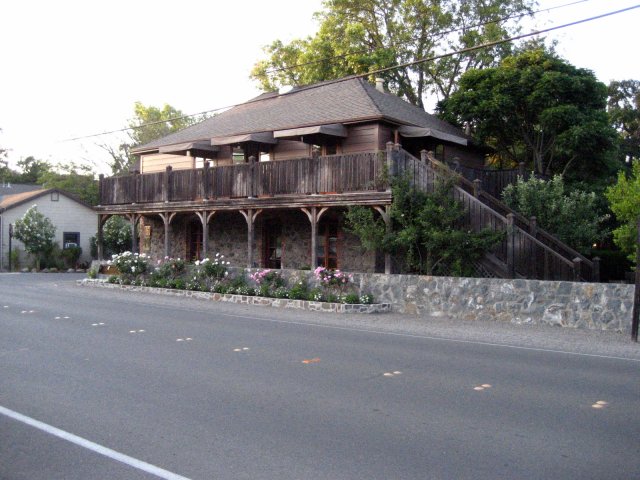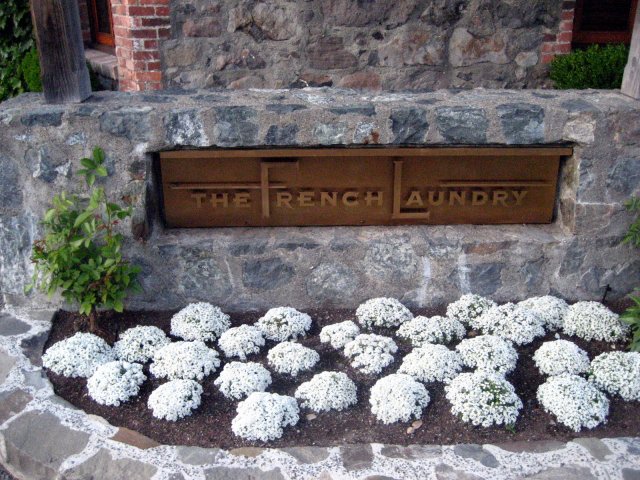 Thinking about it now, I kind of wish we toured the property more, but that night we just wanted to get down to business. Walk into the courtyard and go through the blue door. Inside, one is immediately greeted in a small area, kind of homey, almost like a living room. The host took our wine from us and immediately started decanting. Further in you'll find the main dining area, with a flight of stairs to the left leading another dining area. Each place setting is decorated with a plate and napkin held by a mock clothespin that serves as the restaurant's card. We were given a table off in a little alcove right of the main dining area. Our secluded alcove housed our table along with two other two person tables along a bench, one of which had a mother and son finishing up dinner (what a filial son).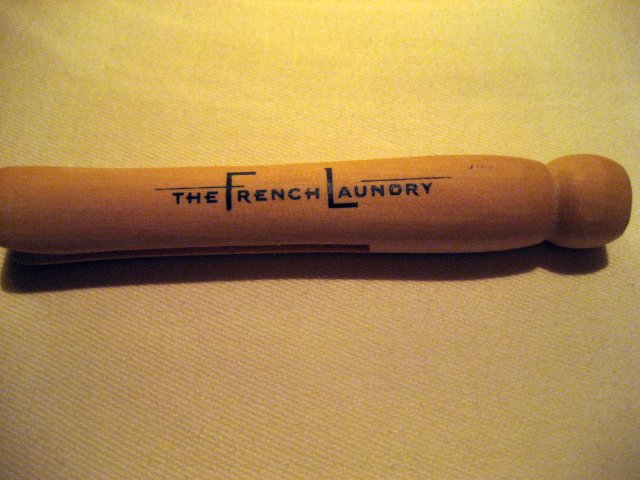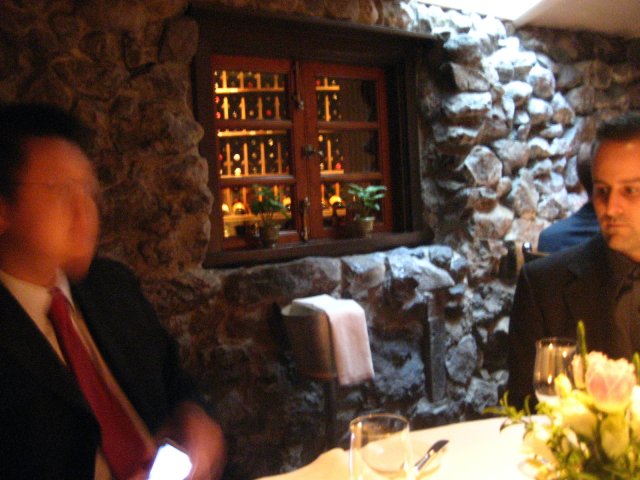 I assumed the menu we would be receiving was totally different from what was offered on paper; however, it was merely extra courses interspersed throughout the normal menu. In addition there are some extra choices on the menu and being as curious as we are we made sure to try everything. Even though we knew what we wanted, and the waiter knew what we wanted, he still brought out menus and proceeded to describe each item in the grand tasting menu in exacting detail. I think it took about 5 minutes to get through the descriptions, he also mentioned what supplemental courses we would receive but I don't remember what he said. Before leaving, he offered to do the same for the vegetable menu but we spared him although I did ask if the vegetable menu comes with different extended courses. The waiter responded that the courses were similar in spirit but adjusted to a vegetarian diet.

The wine list offered to us differed slightly from the one we saw earlier and sadly missing an item we wanted to try the Tokaji Essencia. For our bottle of white we decided to choose the wine they highly recommended.

Fritz Haag 2003 Spatlese

I thought the wine was very accessible, nose of apples and cider with a generally sweet flavor and a bit of effervescence which gave it a very refreshing quality.

After allowing us a short rest, the event began.


Puff Pastry with Gruyere Cheese
The pastry itself was almost insubstantial like biting a crust filled with air. However, the air is flavored with the distinctive flavor of cheese, just perfect for the mouthful.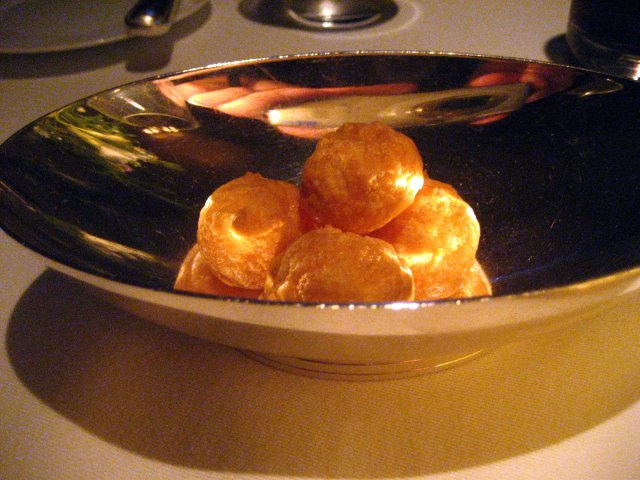 Scottish Salmon Tartare
This was very reminiscent of Wolfgang Puck's tuna tartare in a miso cone although Puck claims to have had it first. This amuse married salmon with red onion, creme fraiche, sesame all wrapped in a crumbly buttery cone. I have a hard time deciding whose cone I prefer although I thought the salmon was interesting in that it was sweet; an unusual flavor to find with smoked salmon.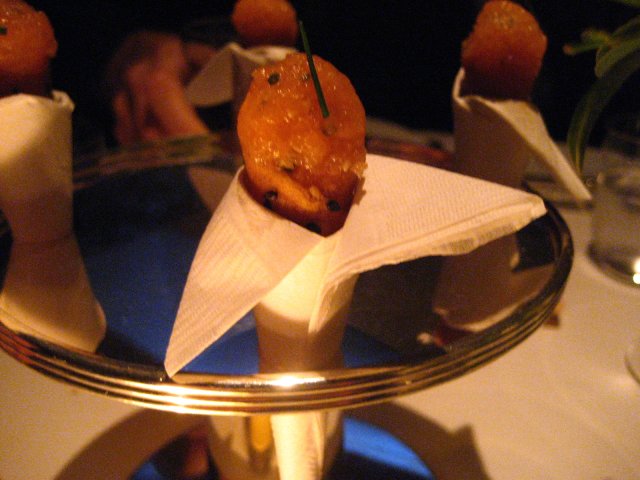 Olive Oil Cream with Roasted Red Peppers, Navel Oranges, and Sunchoke
This was our first extension to the menu. Our servers brought out tall narrow bowls (synchronized) with a bunch of chopped fruits and vegetables. The bowl was filled with a thick white olive oil soup. Normally I dislike soup, and red peppers but I thought this was delicious. The base had a flavor of a chowder thick satisfying a bit smoky and each of the items in the soup had a different texture and flavor. I was surprised how little I could taste the red pepper and how much I enjoyed it's mild sweetness and hard dense texture.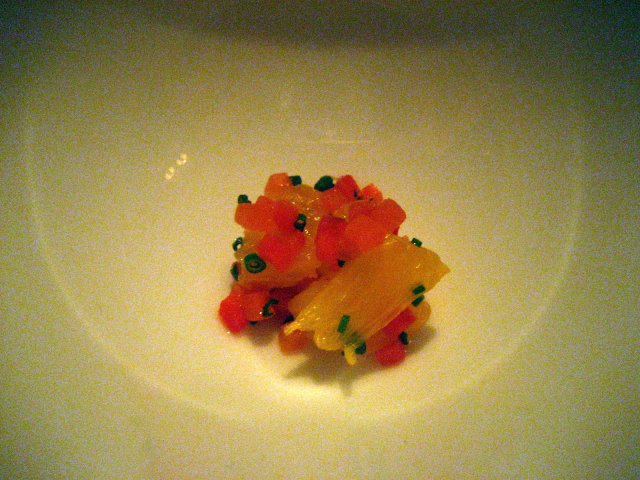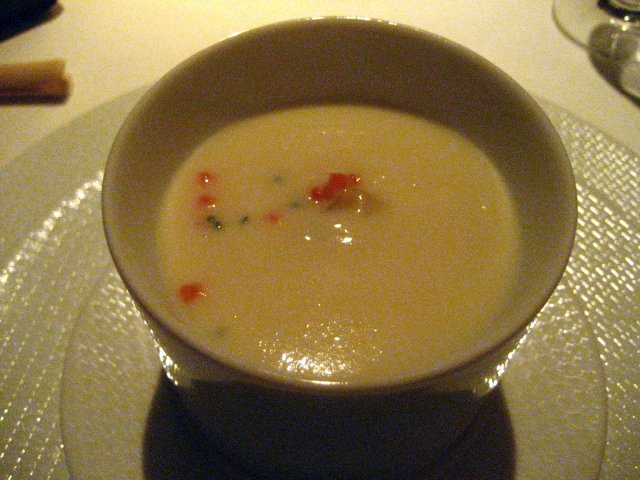 Oysters and Pearls "Sabayon" of Pearl Tapioca with Beau Soleil Oysters and White Sturgeon Caviar
This is one of Chef Keller's signature dishes and has been on the menu since I have been reading it. The clever name oysters and pearls is a very accurate description. Naturally there are two oysters that have had the edge trimmed off leaving only the "pearls" Likewise there is a large mound of "pearls" in the form of caviar. The base is tapioca pearls in a gummy rich sabayon stock made from the oyster trimmings and vermouth. Lastly a mother-of-pearl spoon, the only way to eat caviar. This was my first experience with American caviar and I must say that it is quite impressive nutty, slight-sea breeze flavor. By the way you get similar tapioca pearls in a Chinese dessert, but that tastes absolutely nothing like this. I first had oysters and caviar paired at Gary Danko and it was one of my favorite courses. This pairing blew my past experiences out of the water. The oysters were extremely fresh and contrasted so sharply with the caviar. I am glad to see this is always on the menu, right where it belongs.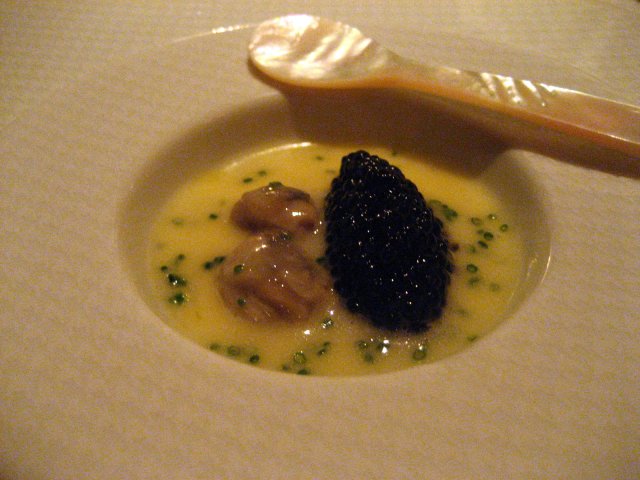 White Truffle Oil Infused Custard with Black Truffle Ragout and a Chive Chip
That thing you see sticking out of the egg is the chive chip. It has an interesting crisp texture but seems to soften in contact with liquid, becoming slightly sticky. Served inside the egg is a delicate custard in thick sticky ragout. Of course the two truffle combination is nothing short of luxurious although I do think the black comes out the winner in this pairing. The truffles would flow quite liberally throughout the evening. One of our waiters mentioned how many truffles they go through during truffle season and it was staggering.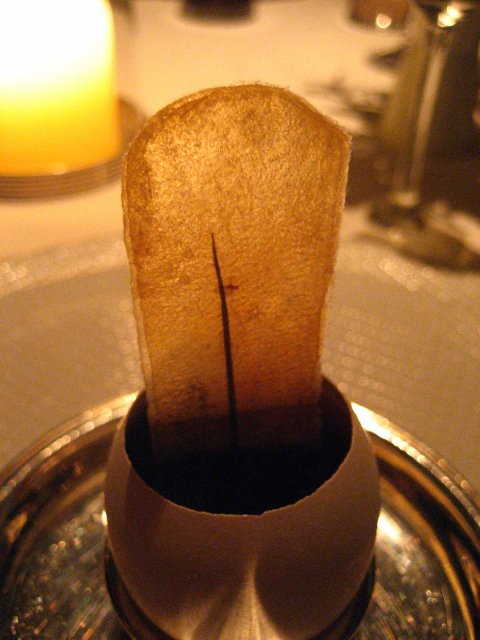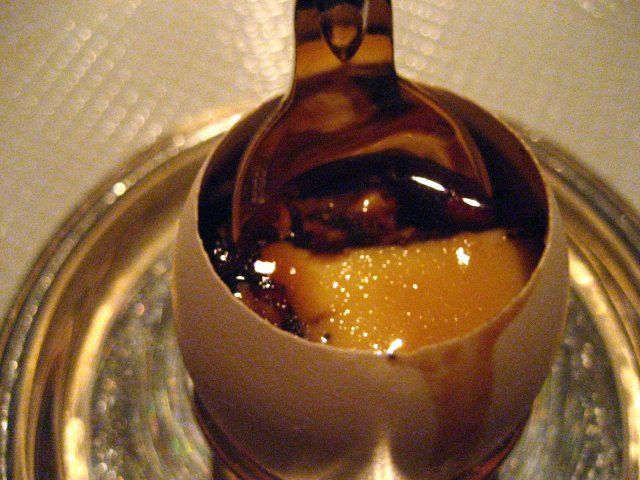 The next two dishes are different options for a single course, the foie gras tacks an extra $30 onto the bill.

Yukon Gold Potato "Mille-Feuille" Sugar Snap Peas, Red Radish, Pea Shoots and "Bernaise Syrup"
This might sound somewhat simple but it's a simple course, a fried potato made me think of French fries. The potato was dense as if it had been saturated with a liquid and the texture made me think it wasn't fully cooked maybe medium-rare. The peas added a nice sweetness that went well with the dish. I enjoyed the potato, but I have to say try the foie gras and to hell with the cruelty.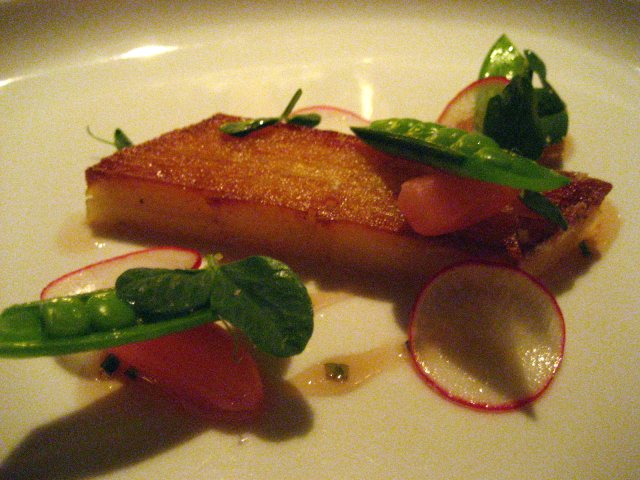 Moulard Duck "Foie Gras en Terrine" Tokyo Turnips, Pickled Ramps, Black Truffles, Garden Mache and Toasted Brioche
Amazing, incredible, delicious, thick, rich, soft, delicate, and I could go on. To think less than a year ago I hated foie gras particularly foie gras terrine. Recently I developed a taste for seared foie gras, enjoying the unctuous liquidy texture and being able to ignore the mild gaminess. Terrine I never enjoyed until this which may be my favorite foie gras ever or at least second. The foie gras looks like a block of pure butter and has a texture like that too. The flavor is subtly sweet without any flaws. Since the foie gras was unsalted our waiter presented three types of salt for us: grey French sea salt, pink mined Jurassic salt from Montana, and white deep-sea salt. Let me tell you, the foie gras needed none of that, or anything else for that matter. Our waiter mentioned they served foie gras seven ways. I would have liked to try their seared foie gras, and compare it with the terrine; I might have a new favorite preparation!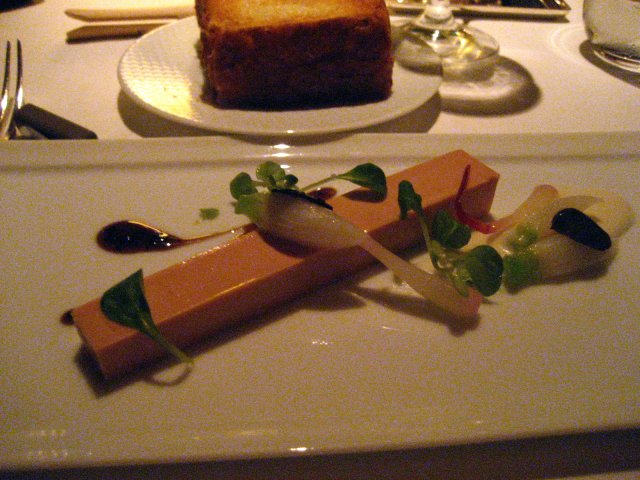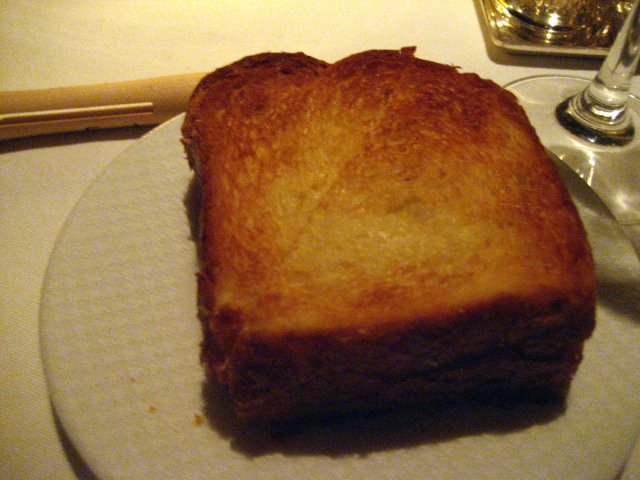 The next two dishes are different options for a single course.

Sauteed Fillet of American Red Snapper "Capellini a l'Encre de Seiche," Chorizo, Sea Beans, and "Huile de Piment d'Espelette"
I normally HATE cooked snapper, finding it to dry and tough, this was NOTHING like that. The fish fairly jiggled when poked with a fork yet had a springy resistance and saturated denseness to it. I can't remember, but I am betting it was cooked sous-vide. This is a term we heard repeatedly throughout the night; sadly I don't remember all the courses cooked sous-vide. Sous-vide involves cooking food in a vacuum-sealed airtight bag at low temperatures for long periods. This way the food cooks in its own juices, preserving the natural flavor. Given the softness and delicate flavor of the fish I assume it was prepared in this manner. The overall flavors of the dish are very light with the slightest bit of heat from the Espelette, the closest think I can relate it to is Chinese Steamed Fish, sans soy sauce.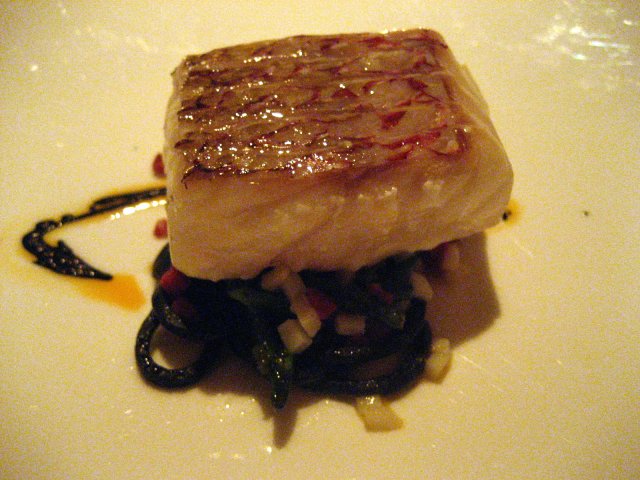 "Salad Nicoise" Spanish Bluefin Tuna "Tartare," Fava Beans, Baby Artichokes, Nicoise Olives, San Marzano Tomato "Compote," Hard-Boiled Egg Sorbet and "Bottarga Vinaigrette"
I thought this was only okay and definitely the weaker of the two dishes of the course although I normally favor raw fish to cooked, tuna in particular. Ironically, Kevin who enjoys cooked snapper actually preferred the salad nicoise, combining the tuna with the egg sorbet. I first tried a piece of the fish on its own and thought it was wonderful. I did not particularly like the tuna and sorbet combination and I thought the olives were too strong. I didn't particularly enjoy the beans or artichokes either.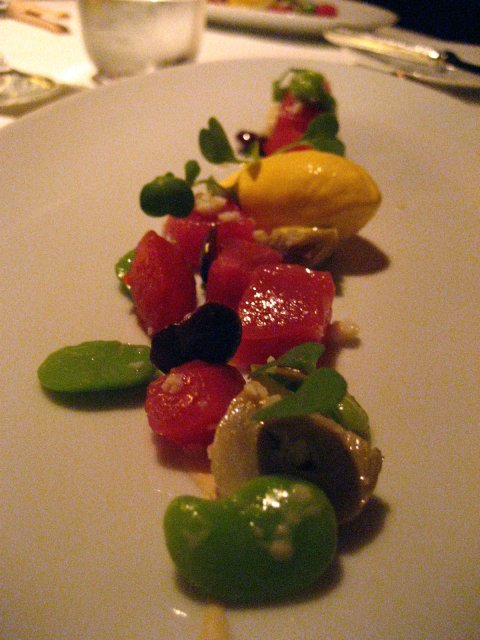 Sweet Butter-Poached Maine Lobster Tail Belgian Endive, Jacobsen's Farm Green Almonds, Parsley Shoots and Passionfruit Butter
The best course in what has been an incredible meal so far and remained my favorite throughout the night. The lobster, which may be the best I ever had, was also cooked sous-vide and had a perfect texture. Unlike some lobster tail that can get a touch tough or rubbery, this still had a crisp snap to it and the muscle fibers seemed to be very relaxed probably due to the natural liquids staying in the meat. The combination of ingredients in this dish worked together creating something hard to describe in its majesty. The lobster's natural sweetness and the passionfruit butter paired wonderfully, the endive added bitterness, the almonds provided a raw freshness, and the parsley shoots added a nice crunchy herbal flavor. We were trying to save enough of the Spatlese to pair with this course and as expected the pairing was one of the best of the evening.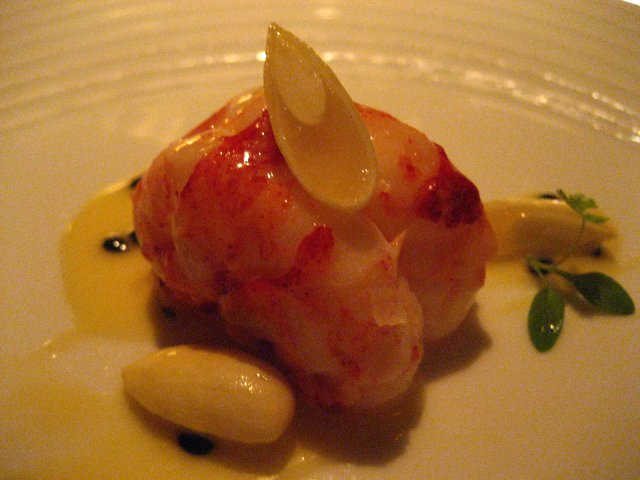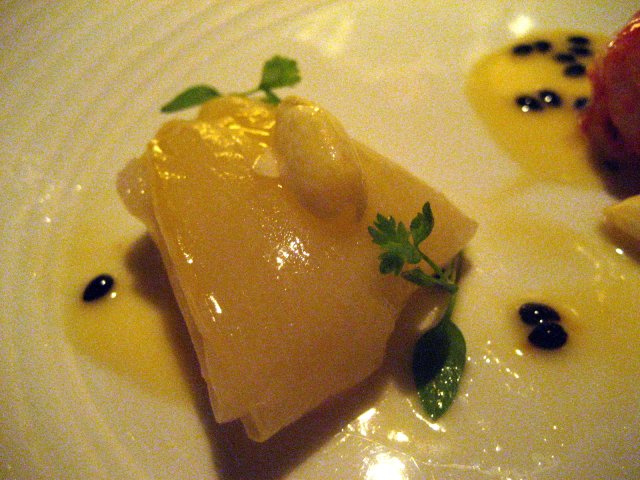 We took a short intermission here and Kevin and I went to tour the grounds and the restaurant. I wish we did this while the sun was still out so we could get a better look around the garden. Upon returning our waiter brought out the 1982 Pichon. I first got spice and tobacco on the nose but later noted fruits and cassis as well. The complexity on the nose and palette is staggering. Truly the most complex wine I have ever had and one I quite enjoyed, but I do think a bit too advanced for me to fully appreciate yet.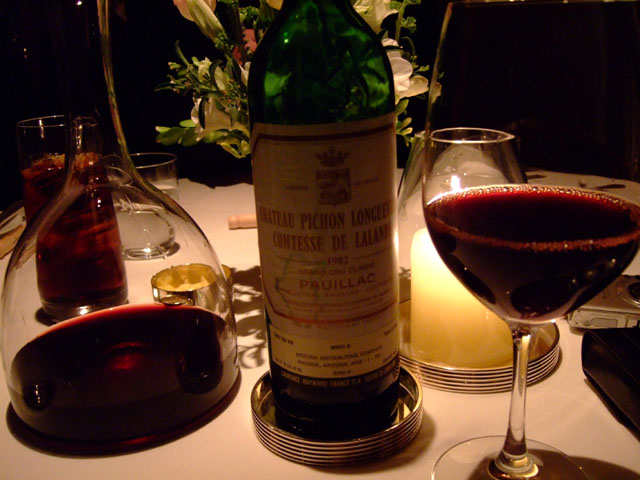 House-made Russet Gnocchi with Freshly Grated Truffle
This was another supplemental course. Our waiters brought out lovely looking russet gnocchi then before our eyes, proceeded to grate a black truffle over it. Eating this course I was reminded of the first time I had black truffles, and how I recoiled from the musky earthy flavor. Well no more, the soft creamy slightly chewy gnocchi serves as a perfect medium for transmitting the flavor of the truffle. Simple. Direct. Effective.



The next two dishes are different options for a single course. Sad but the main courses turned out to be the least impressive for me. Don't get me wrong, the next four courses were good but not mind-blowingly so. And no I was not full by this point so I don't think that biased my decision.

Wild Flower Honey-Glazed Pork Belly "Choucroute," Granny Smith Apple, and Dijon Mustard
When I think pork belly I think of a thick layer of fat and I was disappointed the meat was mostly lean. It was thick and salty with streaks of fat but not as much as I'd like. The apple added a nice acidity. A very enjoyable course if not a knockout.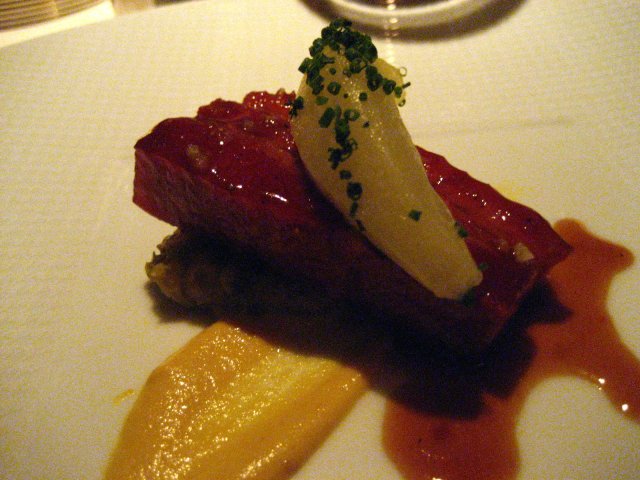 Crispy March Farm's Calve's Brain Wild Asparagus, "Pain Perdu," Cornichon and Dungeness Crab Mayonnaise
Probably my least favorite course of the night. This was my first experience with calve brain and I was curious, but I suppose I expected something a touch more delicate or complex given where we were. I though the Panko coating was excellent, but the brain had a thick gooey almost gluey texture to it. I also thought the mayo was very heavy, the crab flavor was nice, but still over all a very monolithic dish.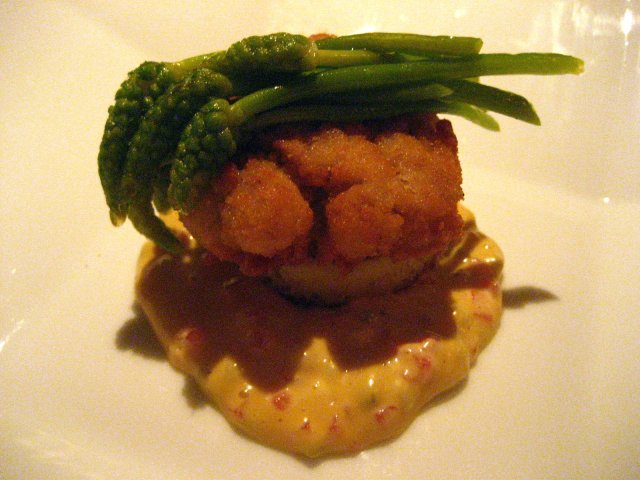 The next two dishes are the main course. Everyone ordered the lamb, but we also got one order of Kobe Beef to share for an extra $100.

Elysian Fields Farm Lamb Ribeye Cepe Mushrooms, Spring Garlic, Sweet Carrots, and "Sauce Bordelaise"
Recently I have been having great experiences with lamb and I expected this to be the same. Ribeye steak is my favorite cut and I kind of expected that to translate to the lamb; it didn't. I am not exactly sure why, but I thought the lamb was intensely gamy on my first bite. My two theories are: the accompanying flavors are light letting the lamb's natural flavor come to the fore; the ribeye cut is the fattiest and the fat is what gives of that cloying gaminess. Either way, after I was prepared for it the flavor wasn't so startling, but that first bite really influenced my thinking. The quality of the meat cannot be faulted, very tender and flavorful.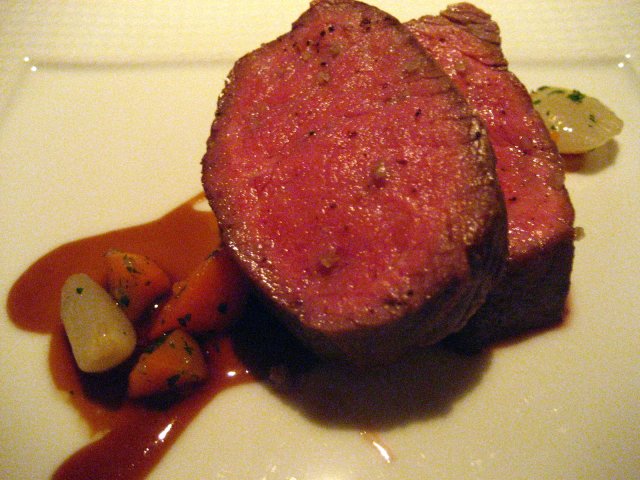 Pan Roasted Kobe Beef, Hen of the Woods Mushroom Tempura and Broccolini
I gotta say, I expected a fattier cut of Kobe beef. I could taste the marbling but it didn't jump out at me. There was no explosion of flavor. As you can see from the picture the concentration of marbling is quite sparse for Kobe beef. The waiter informed us Kobe is graded A1-A12 and the beef we were having was A6, because the best beef never leaves Japan. I believe this is a touch inaccurate, and he actually combined two different scales: Kobe beef is graded A1-A5 which is an overall score of texture, marbling, color and other factors; and the BMS Number which ranges between 1 and 12 and measures only marbling. Therefore I assume our beef was graded 6 on the BMS scale, which roughly translates into A4 quality depending on other factors. From what I have read a BMS of 6 is the minimum needed to be classified Kobe beef. This was a lean piece for Kobe beef which would have been brilliant if I never had better. Unfortunately I have had better, and no matter what fancy sides accompany this dish, they cannot compensate for the quality of the meat.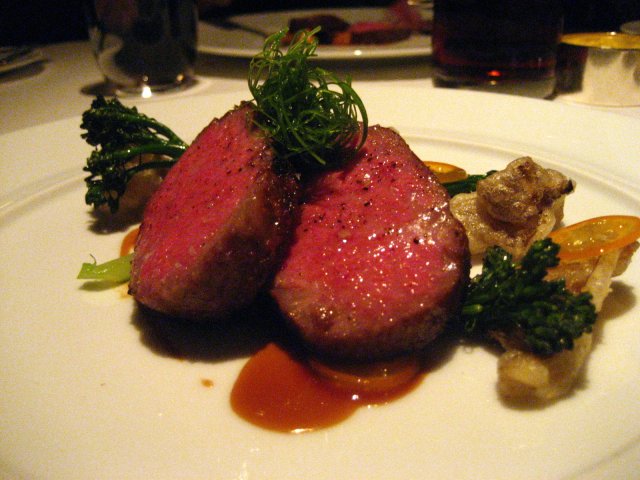 Vermont Dandy Granola, Red Currants and Celery Branch
I was surprised that we were served only a single cheese rather than a cheese tasting, but I am happy to say this sheep's milk cheese was very accessible. The taste was a touch sharp but not cloying. I didn't care for the texture, too firm and unyielding. I prefer soft creamier cheeses that can be spread on bread.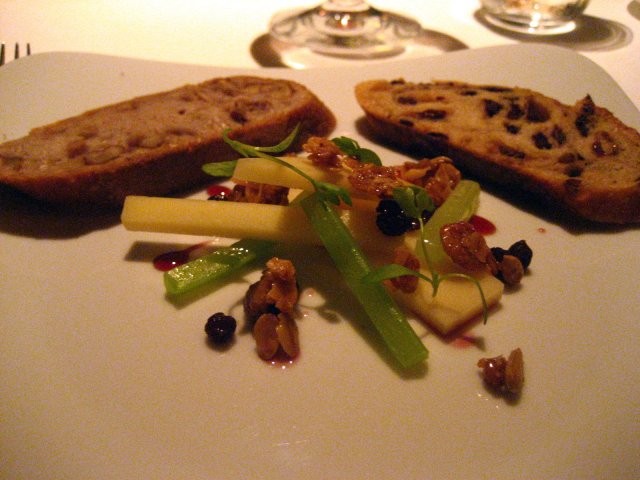 At this point we switched over to desserts, unfortunately they sold out of the Tokaji Essencia and no other dessert wines struck my fancy. Kevin ended up ordering glasses of the two oldest dessert wines on the menu one from 1863 and another recommended by the waiter from 1927 I think. The older wine was a unique experience and defintely did not pair with any of the upcoming desserts, a strong tobacco flavor our waiter suggested pairing it with a cigar. The second was sweeter and much more appropriate for the coming desserts.

Manila Mango Sorbet Black Sesame Tuile, "Goma Nougatine," Papaya and Coconut Sauce
To pave the way and cleanse the palette, we were given mango sorbet with a sesame tuile and what looked like black pepper on top but was also sesame. The sorbet rested on a bed of diced papaya. I really enjoyed this dessert the sorbet was tart and cold while the tuile was crunchy sticky and sweet a nice contrast of textures and flavors.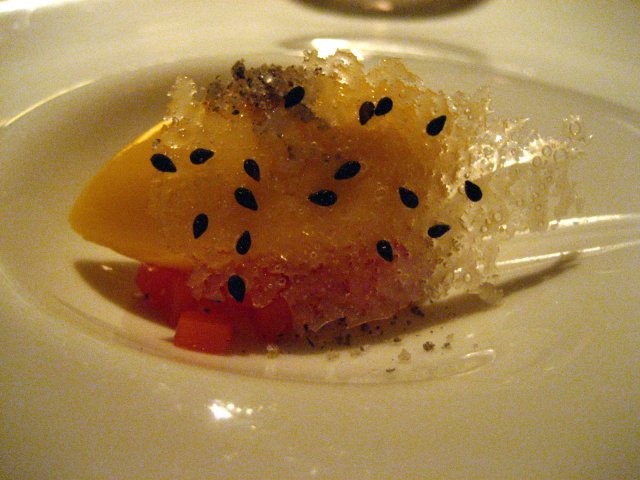 Coffee and Doughnuts
Another trademark dish and another unlisted supplemental course. This dish is exactly what it sounds like a doughnut hole, doughnut, and an espresso ice cream demitasse with whipped milk. The donut had a very airy texture although not quite as light as a Krispy Kreme topped with sugar and cinnamon, very churro-like. The espresso was cold and thick with a very intense flavor that complemented the warm doughnut. To the jaded, this could be called a doughnut with coffee ice cream, but the subtleties make it an exemplar of its kind.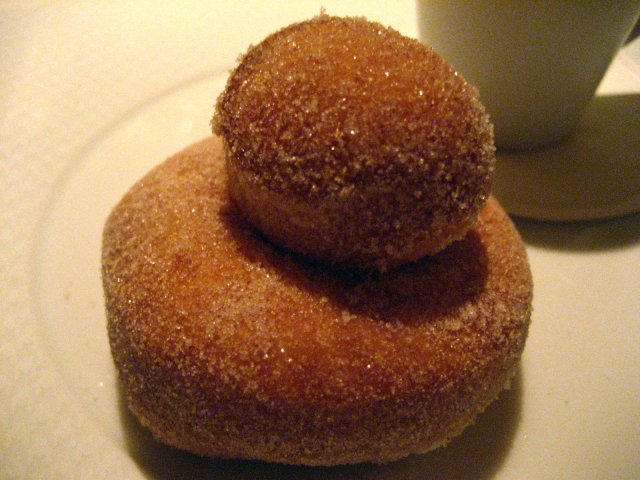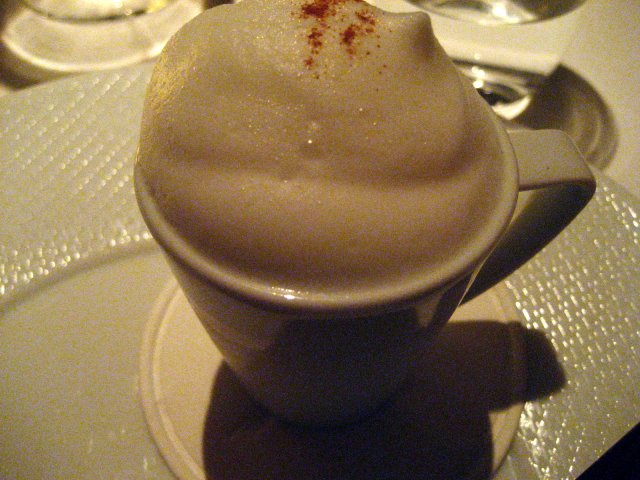 The next two dishes are different options for a single course.

Bitter Valrhona Chocolate "Sponge" Gros Michel Banana Ice Cream and Pili Nut "Bavarois"
I thought this was a rather pedestrian dessert. I admit I hate banana and the ice cream was intensely banana flavored. The cake itself was strong bitter and blunt, overpowering the other flavors except for a slightly salty hint of toffee.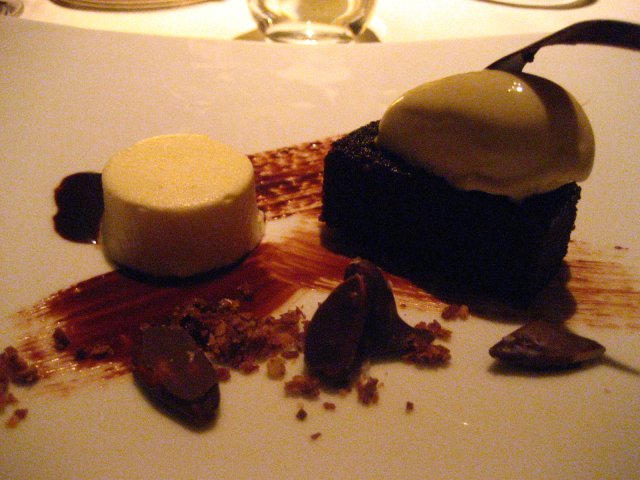 "Granite Aux Agrumes" Cream Yogurt "Panna Cotta," Citrus "Confit" and Shiso Syrup
I have lately been adopting my girlfriend's taste in dessert, not to sweet but very rich. This was definitely that. The granite was flavored with citrus fruits. The waiter injected a small bit of shiso syrup to enhance the citrus tastes. I am happy to report that the shiso did just that. Ever since having radish, sesame paste, and shiso as a palette cleanser in Japan, I have been very wary of shiso's ability to dominate the flavor of a dish. Here the shiso itself was barely noticeable and instead it played up the tartness of the granite and citrus confit. The panna cotta itself did not have much flavor but added a creaminess. Overall it was rich and tart but cold and light at the same time.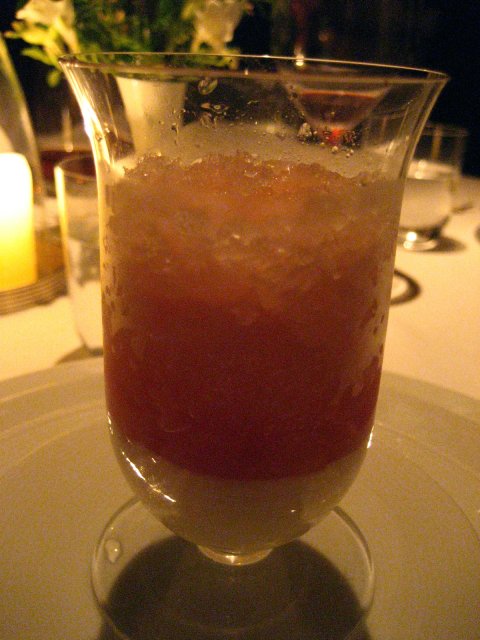 The next two dishes are different options for our final extended course.

Meyer Lemon Posset
Another excellent dessert, the waiter said posset is a cream and sugar combination that is curdled with lemon. I thought the dessert was rich and sweet initially with a jolt of acidity from the lemon. I guess there is a lot in common with the previous dessert and I enjoyed this one thoroughly as well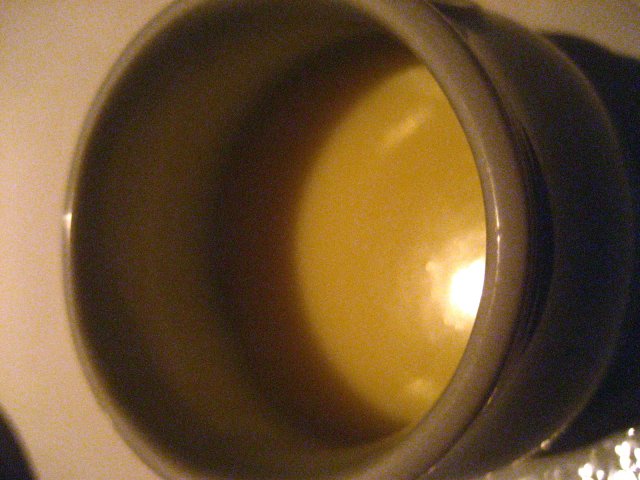 Creme Brulee
Once long ago creme brulee was my favorite dessert and I ordered it every chance I got. I still enjoy it and this was an excellent one, but I would be hard pressed to name standout characteristics.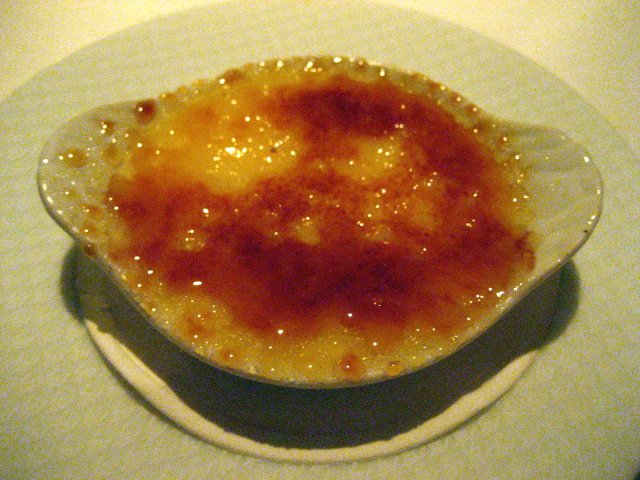 The waiters simultaneously brought two other sweets for the table to share, they don't strike me as Mignardises so I'll list them separately

Orange Tuiles
Tuiles are fast becoming my favorite cookies crunchy with a sticky finish. Naturally sweet but in this case paired with orange giving it a bit of zestiness. Must remember, Tuiles at French Laundry not indicative of the quality of all tuiles.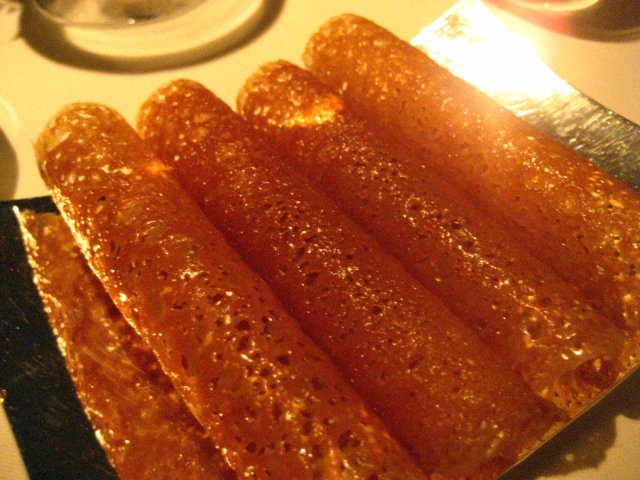 Macadamia Nuts covered in Hard Caramel
Next we started working on a deceptively large bowl of macadamia nuts covered in hard caramel and lightly dusted with confectioners sugar. Immediately underneath the sugar is a dense but slightly soft layer of sweet caramel. Once you get past that the caramel is indeed like a hard candy coating tasting of lightly burnt toffee around the nut. I enjoyed the first couple, but by the end, my friend and I were passing the bowl around each taking turns eating one, just trying to struggle through.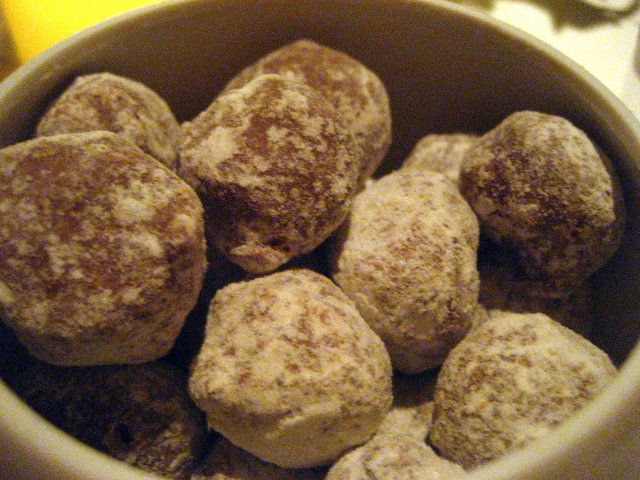 "Mignardises"
By the time we polished off the macadamia nuts everyone was just struggling to stay afloat. Like the waiter at Alinea said, we were practically begging them to stop. Fortunately we were finally through the desserts, a whopping total of 8, by far the most I ever had in a single meal. I was actually perfectly sated after the Chocolate cake and citrus granite, but they were serving and I couldn't help myself. Now then on to the mignardises, I swear it's over after this.

House-made Chocolates Raspberry Black Pepper, Banana, Coffee, Hazelnut, Peanut Butter, and Caramel
Our waiter brought out rows of neatly placed chocolates on a large silver platter and asked us to take as many as we liked. More curious than actually wanting anything, we each took one of each flavor, but nobody ended up finishing them. Honestly by this point I didnt really care to remember the taste. In general I remember them being good but not as impressive as chocolates you might get from a dedicated chocolatier.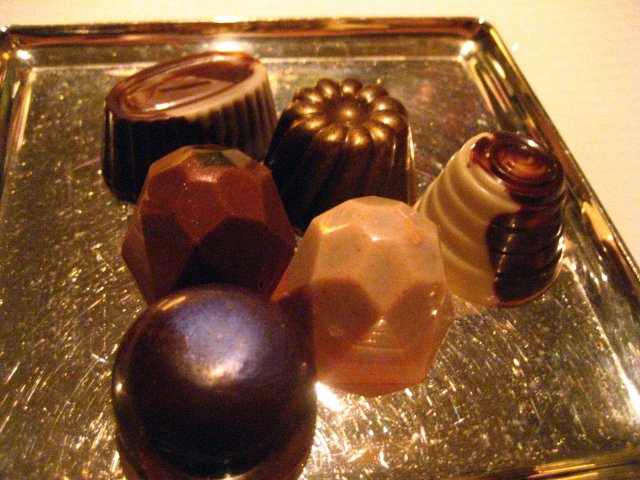 Truffles, Caramel, Nougatine
If house made chocolates aren't enough we were also given a coffee can like contraption that opened into three sections each filled with a different sweet. The top layer had nougatine, which I am sad to say I did not try. The next layer had salty sweet soft buttery caramels. On the bottom were white, milk, and dark chocolate truffles. I tried one of the white chocolate truffles and it was filled with a sweet orange ginger cream, reminiscent of the white chocolate lollipop at Providence although the flavors weren't as distinct and I was too full to fully enjoy it.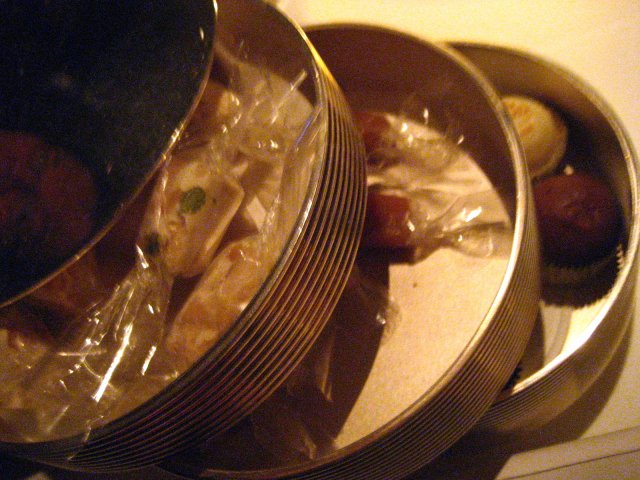 After resting for a bit and complaining about how full we were, we finally paid the bill and asked for copies of the menu. The cost of food came to 1260 (960 for the chef's menu; 100 for kobe beef; 60 for foie gras; and 140 for the supplemental courses). I highly suggest adding the supplemental courses if you can stomach it, at $35 a person its quite a steal although I have heard cost varies depending on what goes into the dishes. We were presented with a copy of both the vegetable and chef's menu but sadly the supplemental dishes were not added! The staff allowed us to leave our addresses and promised to mail us information about the extra courses. By the time we were finally able to stand there was only one occupied table left downstairs.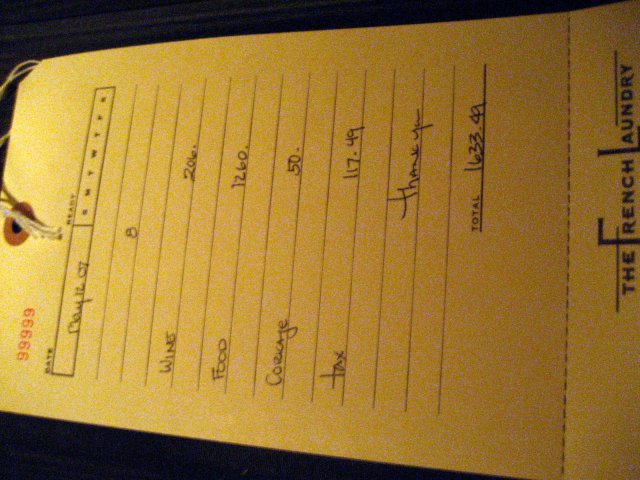 Before we left, Larry Nadeau invited us into the kitchen where the staff was having a wrap-up meeting. Unfortunately Thomas Keller was in New York for the James Beard Foundation Awards where he won Outstanding Restauranteur. Chef Lee signed our menus then posed for pictures with us. We were invited to take pictures of the entire kitchen area and did so briefly. Of particular interest to us was the live conference capability with Per Se (damn nerdiness).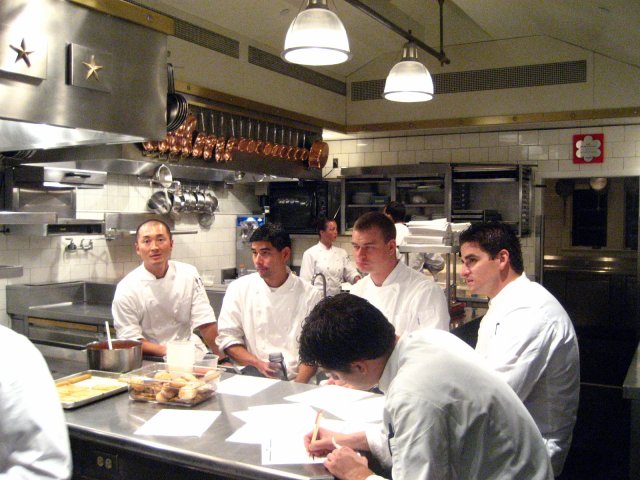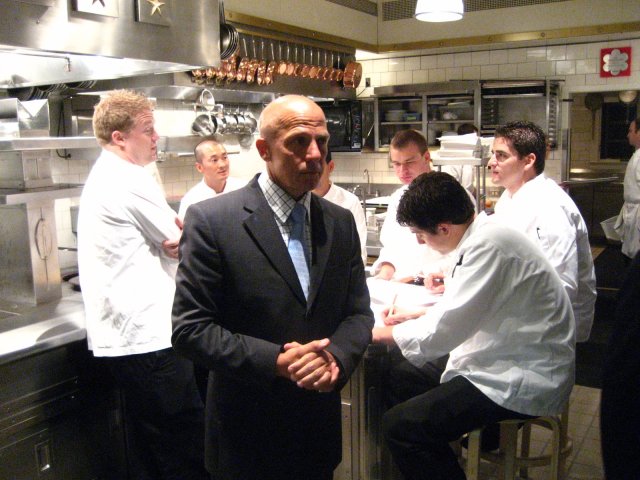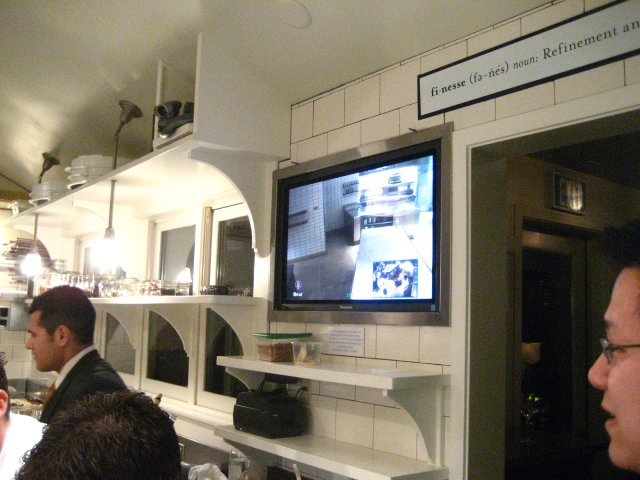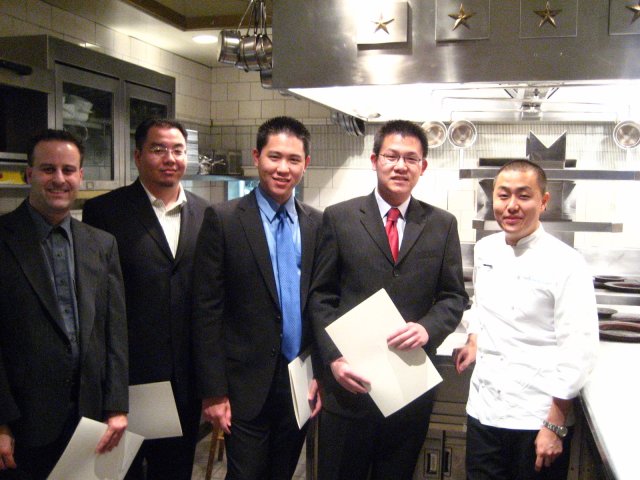 Before we left we were given our cleaned bottle back to keep. Kevin suggested I keep it as a reminder of all the trouble it took to get. Each of us was also presented with a small offering of shortbread cookies made following Pastry Chef Claire Clark's mother's recipe. Lastly we each signed our thanks in their guestbook.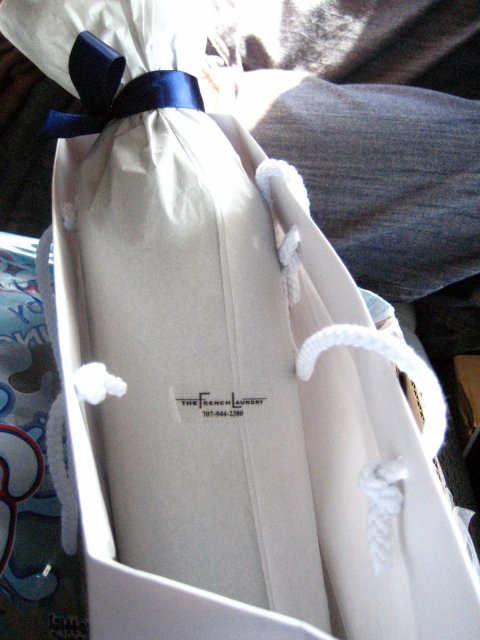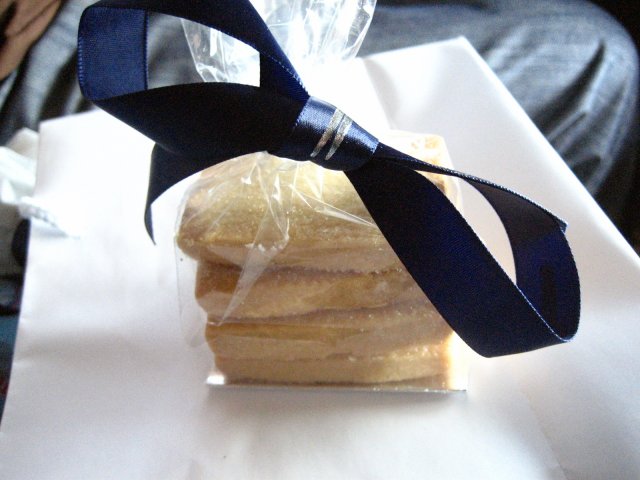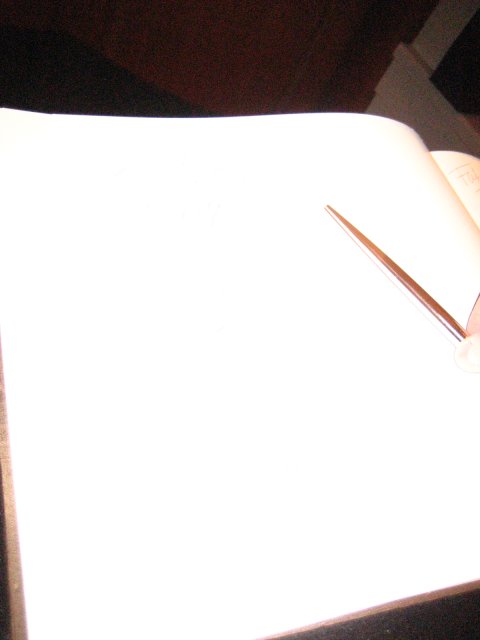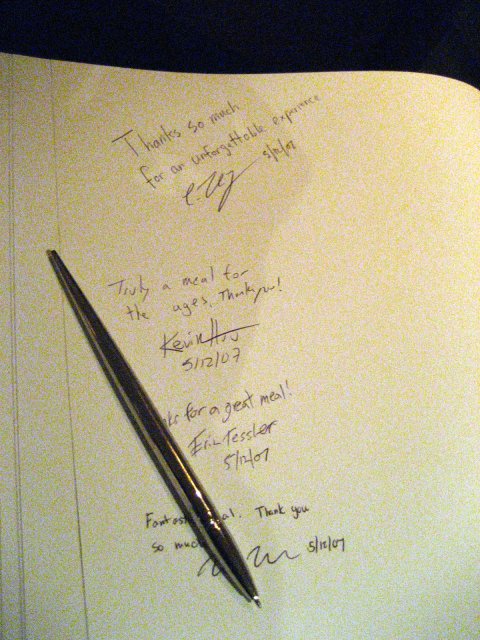 Was French Laundry it everything I expected? Does all other food now taste like ash in my mouth... not quite, but admittedly I expected too much. The only way the restaurant could have lived up to my expectations was to redefine every item it served to me. It certainly did an admirable job with the oyster and pearls, foie gras, sauteed snapper, and lobster. Anywhere else having so many new favorite dishes would be incredible, but this is French Laundry where incredible is ordinary and the impossible is merely challenging. Still, it was truly a brilliant meal, definitely in my top 3. Would I come back again, without a doubt if I could get reservations.

On a sad note, we brought a gift of Vintage 1997 Macanudo Cigars for Ed Keller in appreciation for getting us the table. Midway through the meal, we asked the staff if Ed would be by the restaurant or could come by to pick up a gift seeing as he lives in the neighborhood. Larry asked how we knew Ed then mock-admonished us for "hitting him up for reservations." He then proceeded to regretfully inform us Ed was in a serious car accident recently and still recovering at the hospital. We left the cigars with the staff with assurances they would be brought to Ed as soon as possible. Best wishes on a speedy and complete recovery Ed!