11301 W Olympic Blvd #102
Los Angeles, CA90064
(310) 478-7769
After a painfully unspectacular trip to The Hump, I felt I needed a dinner to remind me why I enjoy Japanese food. I finally settled on Kiriko after trying for a long time to decide between this place and Sushi Zo as both of these places are on the way home from UCLA.

The restaurant was located in a small plaza actually around the corner from the main entrance so it was a bit hard to find. When we got there we were the only two guests inside the fairly nondescript sushi restaurant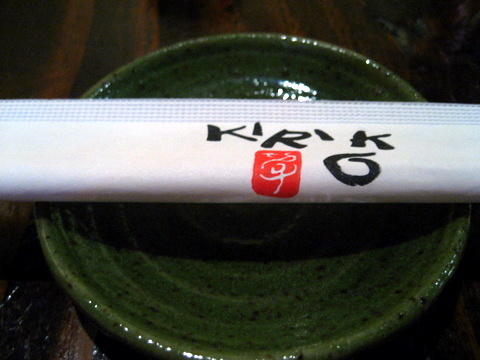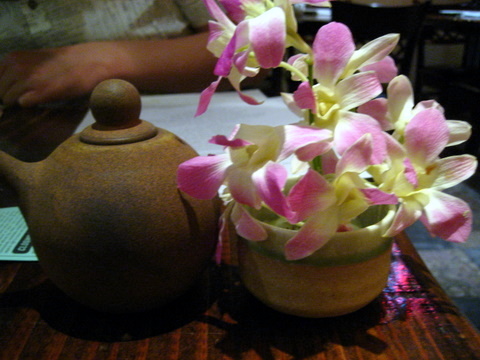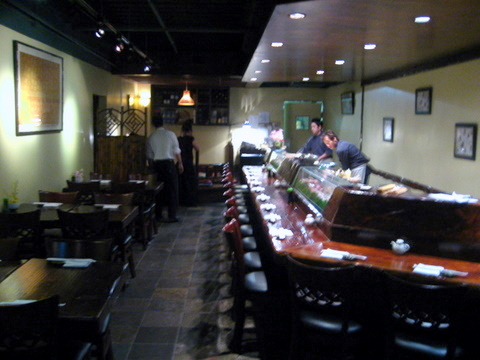 Naturally what would be a dinner out without some alcohol. With sushi I tend to go for a beer. This time in place of my traditional Asahi, I had an Asahi Black, but I find I prefer the crisp dry flavor of regular Asahi better.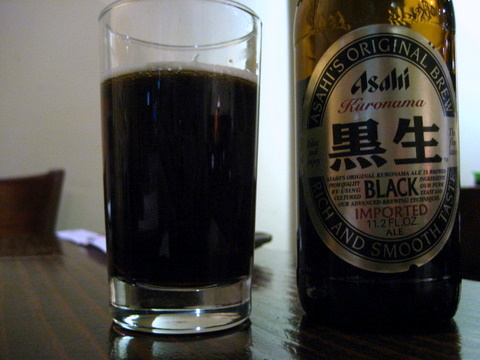 Thin Sliced Halibut Sashimi with White Truffle
The name reminded me very much of one of my favorite dishes when I first started eating high-end sushi, the (now defunct) Abe's Halibut Carpaccio. The difference here is the fish is served raw with actual shaved white truffles rather than flash cooked by pouring hot truffle oil on top. A very good course, but I still prefer the semi-cooked texture.



Live Scallop Carpaccio
An excellent course, firm sweet slices of fresh scallop. This dish is an exhibition of a high-quality ingredient served simply to show of it's natural flavors. Bravo!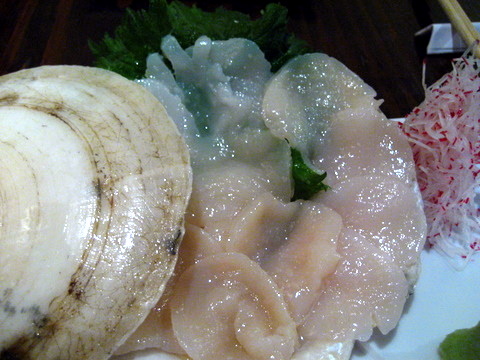 Seared "Waygu" Beef Tataki
Personally, for $40, I think they should be able to take away the quotes around Waygu. The meat definitely wasn't melt in your mouth soft, but it did have a nice slick texture and was cooked to the perfect degree of rareness. I was kind of ambivalent about the sauce, it wasn't so much that it overpowered the beef, but I would have enjoyed the meat just as much plain.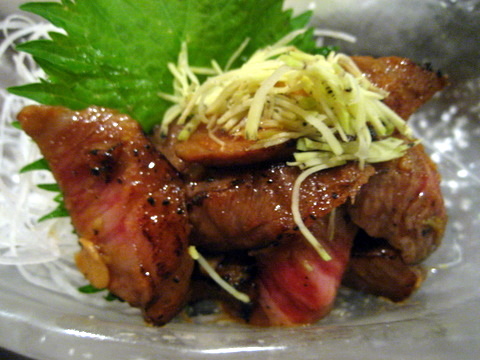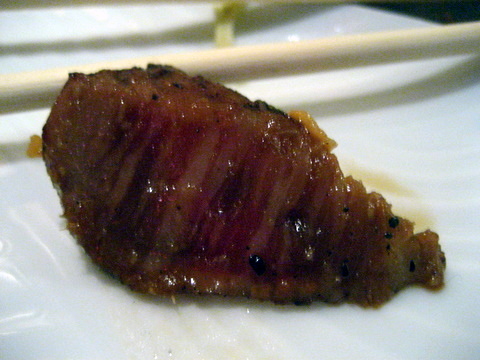 Smoked Salmon Nigiri
Reviews I read raved about the smoked salmon, claiming the restaurant smoked its own. Knowing this, coupled with my girlfriend's affinity for salmon I ordered some, only to later note that there was another item on the menu House Smoked Wild King Salmon. Interestingly enough both my girlfriend and I preferred the firmer texture and subtly smoky flavor of the regular smoked salmon.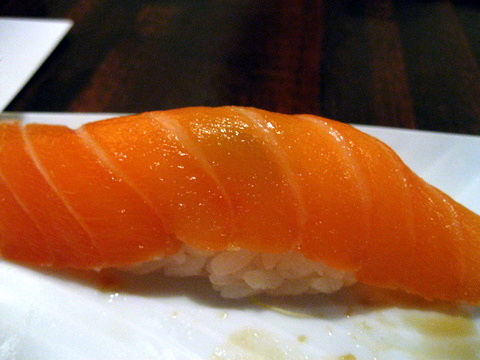 Toro Nigiri
Toro has become one of the yardsticks I use to measure a restaurant's quality. Kiriko's was fairly middling, fresh and mostly free of tendon and other unpleasantness, but not flavorful enough to be memorable.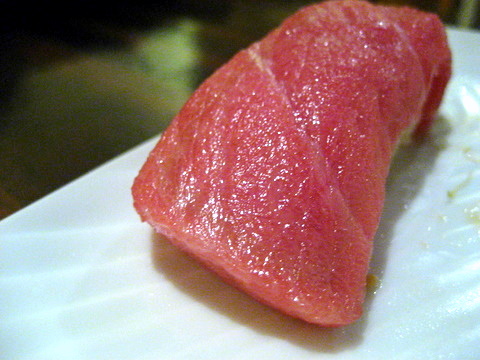 Seared Toro Nigiri
Soft and oily with a bit of sauce and a lick of heat, their seared toro made up for the dull showing of their regular toro.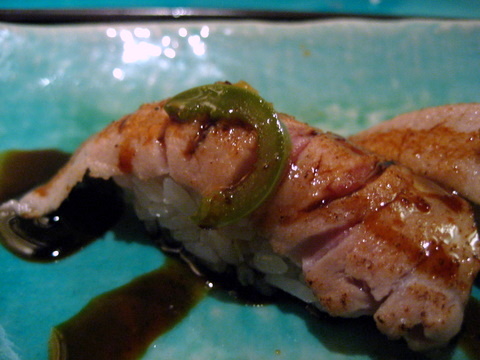 Kampachi Carpaccio with Jalepeno
It seems everybody is making this dish now a days. Yellowtail Jalepeno is one of Nobu Matsuhisa's signature dishes, and has pretty much become a staple on many high end sushi menus. This was a fairly decent offering, the fish was fresh, but something about the flavors not quite as smooth as Nobu's.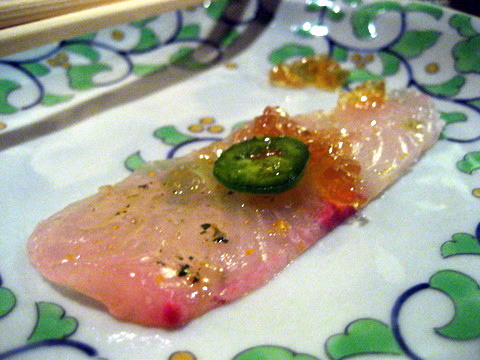 House Smoked Wild King Salmon
I am finding more and more, I am not a fan of wild king salmon. Something about the soft texture just doesn't sit right with me.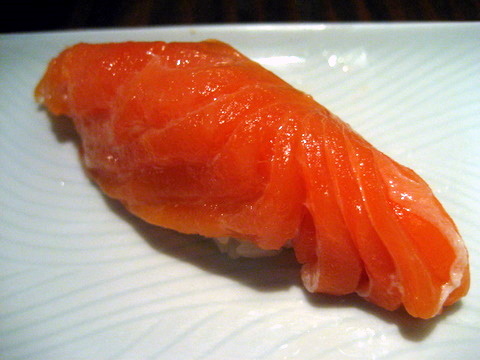 Many reviews were also meticulous in pointing out the excellent desserts, mainly homemade ice cream. Their ice cream has become so popular that they require diners to order at least 1 dish before asking for dessert. I wanted to try the white truffle ice cream (no that isn't a typo) but they were sold out.

Green Tea Creme Brulee
Very nice, light refrehing and not too sweet, an interesting twist on a former staple.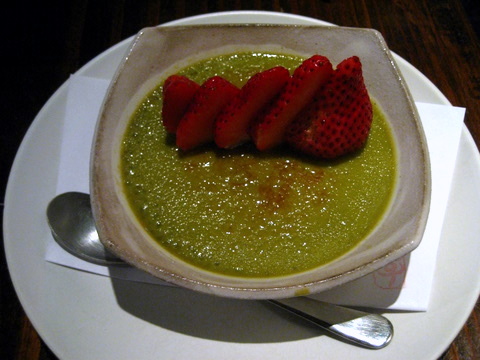 Sesame Ice Cream
I can recall one other instance when I had sesame ice cream, at the end of the meal at Matsuhisa, and I would (sell my future first born to get a taste of that ice cream again) Sadly Kiriko's doesn't match up. It lacks the pure intense flavor of sesame and the ice cream is just a bit gritty. Still a solid dessert



If I return I will definitely try the omakase. Kiriko is by no means the best sushi restaurant, but if you are in the area it is definitely worth your time.