333 Bristol St, #3001
Costa Mesa, CA 92626
(714) 434-7900

Marche Moderne is a new restaurant situated on the third floor of South Coast Plaza, in what was the home of Tim Goodell's Troquet. Like its predecessor, Marche Moderne is an upscale French bistro. Having been to Troquet and finding it lacking, I was ready to pass on Marche Moderne until I read Virbila's review which gave it 3 stars. To put that in perspective only three restaurants have been rated higher, Robuchon, Picasso, and Spago

Marche Moderne offers a 3-course lunch that changes daily for a bargain price of $20. We decided to forgo the lunch as the courses served that day didn't seem as appealing as what was available on the regular menu.

The bread offerings are fairly limited, either olive or a baguette. I went with the baguette which was firm and crusty on the outside but soft on the inside. The bread was one of the better tasting breads I can remember.

Cold Foie Gras Torchon - roasted pineapple, baguette, Sauterne jus
I was really looking forward to this dish after reading about it online. The whole idea of my foie gras already paired with Sauterne sounded wonderful. The dish didn't quite live up to what I had in mind. The foie gras was rich the pineapple just didnt work as well more traditional fruit pairings. Splitting the dish was a bit of a chore, having to combine the foie gras with bread and pineapple ended up being quite labor intensive.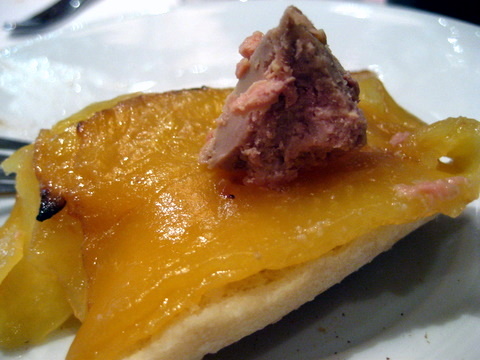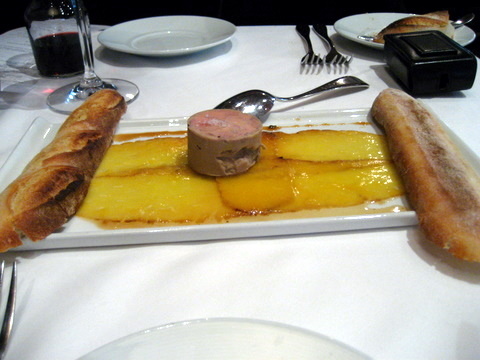 La Querci Prosciutto, Italian Buffala Mozzarella - Basil Aioli, Tomatoes, on a Mini French Baguette
My girlfriend ordered a prosciutto and mozzarella sandwich. From the description in the menu I thought this was going to be an amazing course. It was decent but a bit bland for my tastes.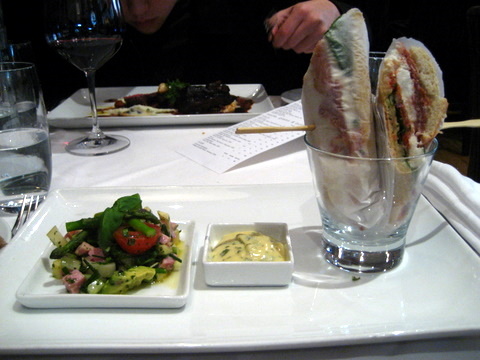 Braised Beef Shortibs and Angus Beef - truffle scented pommes puree, crimini mushrooms, honey bacon
The duo of beef is the signature dish at Marche Modern. I wasn't terribly impressed with the ribs, but the Angus beef had a rich beefy flavor. The truffle mashed potatoes with mushrooms and honey bacon worked brilliantly offering a plethora of flavors and textures to contrast with the beef.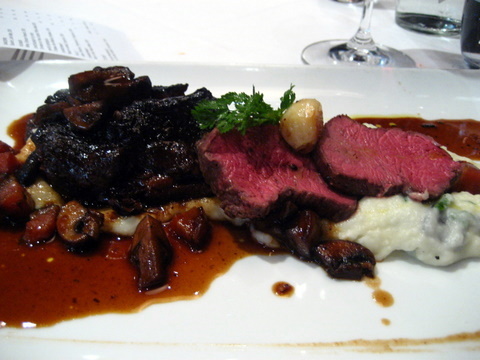 Warm Valrhona Chocolate and Truffle Cake - griottine cherry gelatto
Another warm chocolate cake. Seems to be a common fixture on many menus. An above average execution of the cake. However, I didn't enjoy the cherries which tasted as if they had been preserved in rum.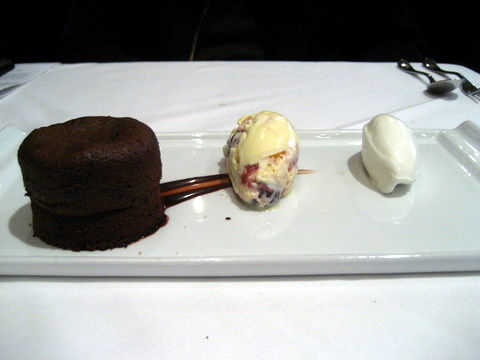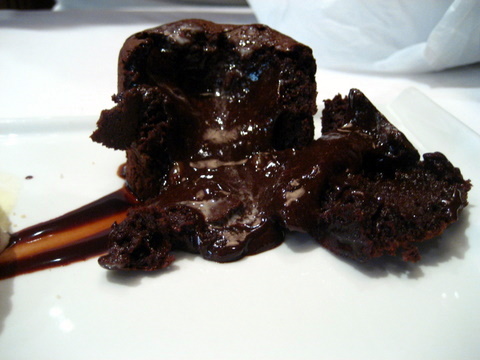 The restaurant has a really spacious and nice looking open kitchen. As we left, we made a point to stop by and were greeted very warmly by the chef. Every time I see an open kitchen like this, I always think of Hell's Kitchen and would would happen if a chef actually acted that way in front of diners.



Marche Moderne is the latest in a series of fairly strong restaurants all situated in the South Coast Plaza area. Offering the $20 lunch is a sure way to set oneself apart from the pack. If I ever come back, thats what I'll be getting.