3600 Las Vegas Blvd S
Las Vegas, NV 89109
877-234-6358

Long before there was Robuchon or Guy Savoy, there was Picasso, Chef Julian Serrano's fusion of art and fine dining. I first learned of this restaurant while I was a mere freshman in college, long before I began my transformation into a gustatory fiend. At the time, my friend mentioned this restaurant in awed tones, explaining you could eat next to real live Picasso paintings. I remembered telling the same storiy to one of my dining companions with the same reverence in my voice.

The first time I actually saw the restaurant was during a trip to Prime, Jean Georges Vongerichten's steakhouse. Laughably at the time, I almost felt intimidated to go into the restaurant, fearing they would notice I didn't belong and send me packing. Ah how far I have come since then.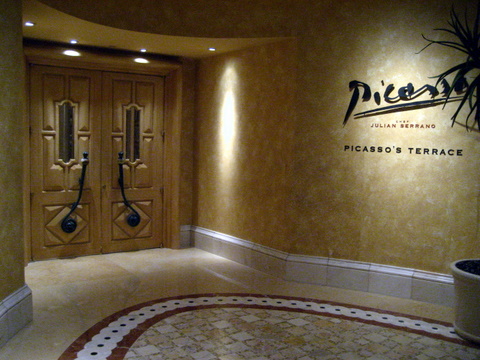 The doors open into a well-appointed lobby with a couple of sculptures to the left and wine racks to the right.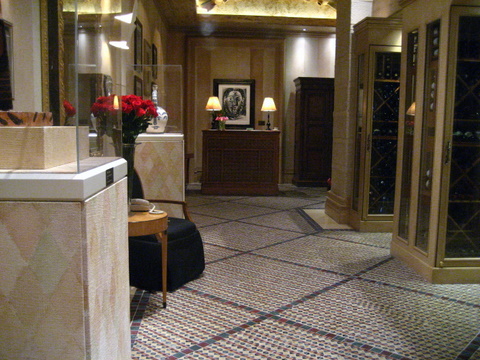 The dining room is noticably darker almost shockingly so given the bright lighting just a moment ago. Hanging on walls throughout the restaurant are various Picasso paintings. If I were as big an art afficionado as I am a foodie, I would have bothered to take down the names.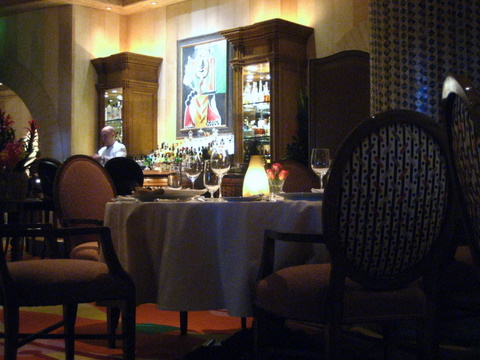 Bread - walnut raisin, black olive, and French baguette
After the bread cart at Robuchon, the three offerings here felt wholly inadequate.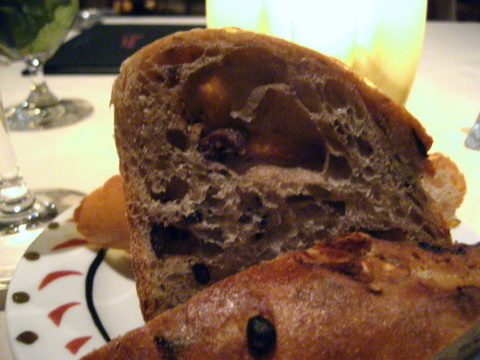 Looking at the menu, my first instinct was to order the Menu Degustation because it comes with an extra course (five, rather than 4 with the prix fixe.) In the end one of my compaions opted for the Degustation while the other and I opted for the 4 courses which we shared, for a total of 8 courses between us.

Like my friend I have decided to stick with a signature drink, unlike my friend's mojito, my cucumber martini is not served by most restaurants. As with Robuchon, I had to settle for a pear martini. Both drinks were solid but forgettable.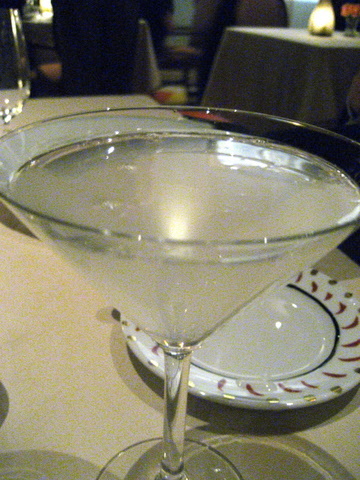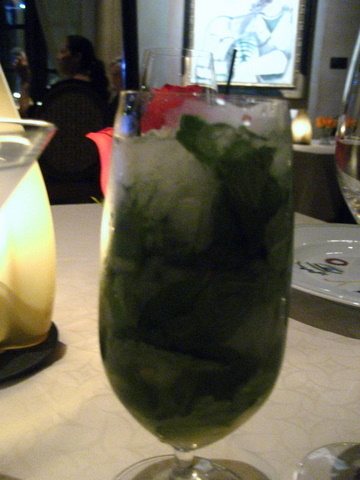 Amuse: Scottish Salmon - with Quail Egg, Caviar, Cucumber Salad, Crème Fraîche
Amuse: Potato Leek Soup - with Onions and Chives
I found the flavor of the salmon to be a bit sharper than I like, and the texture was a bit firmer than normal. I thought it went fairly well with the other ingredients. The soup was almost the exact opposite, silky smooth texture, and mild flavor. I don't normally care too much for soups but this wasn't too bad.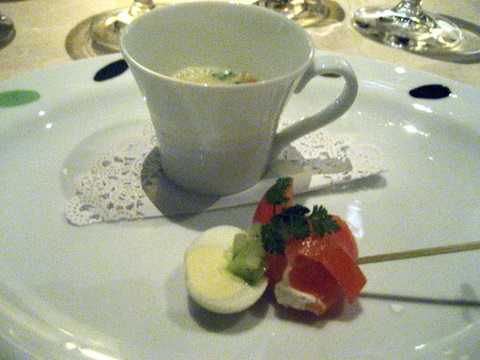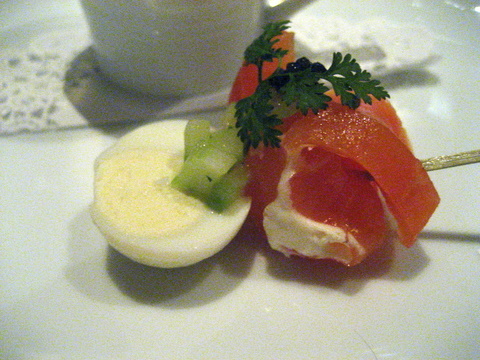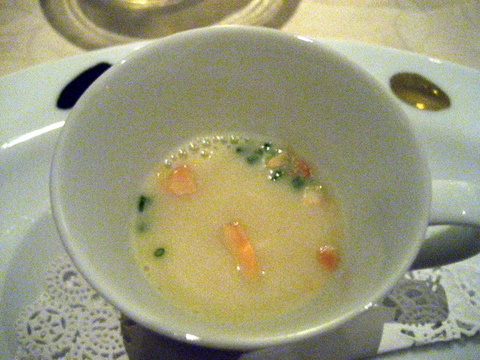 1a: Poached Oysters - garnished with Osetra Caviar, Sauce Vermouth
2005 Domaine du Salvard, Cheverny, Touraine, Loire Valley, France
A fairly decent course to start the meal with although in my opinion oysters should be served one way, raw. By poaching the oysters, I feel the meat is robbed of its delicate texture and becomes firmer almost slightly deadened. Likewise the soft briny flavor is muted by whatever is used to poach the oyster. The wine was light and crisp with a nice acidity, definitely the right feel for a first course.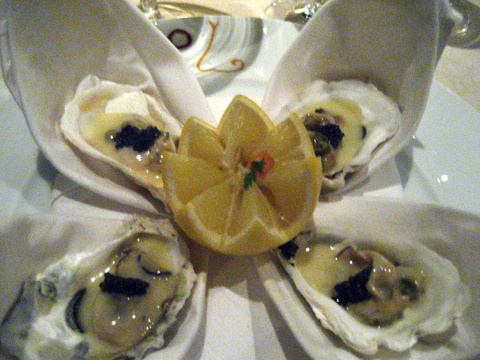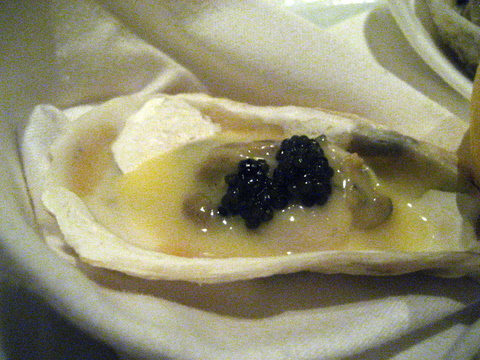 1b: Warm Quail Salad - with Sautéed Artichokes, Pine Nuts
2006 Bodegas Julian Chivité, Gran Feudo Rosado, Navarra, Spain
This was actually the first course I tasted and probably my favorite course of the night. There were two parts, I believe one was a breast while the other was a leg or thigh. I definitely preferred the leg with a bold fatty flavor and tender texture. The larger piece had a firmer texture with the meat in distinct "strings" and more of the gamey flavor of the bird. I dont remember much of the wine paired with this course.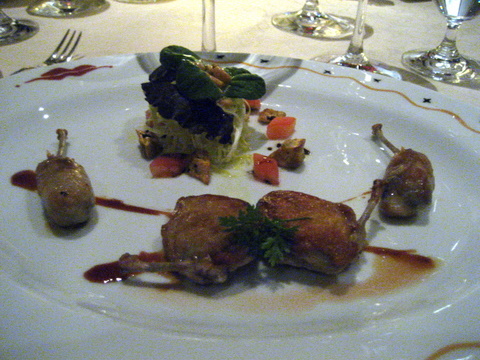 2a: Sauteéd Filet of Black Bass - with Saffron Sauce and Cauliflower Mousseline
2005 Tablas Creek, Espirit du Beaucastel Blanc, Paso Robles, CA
Looking at this fish I knew it would be a bit too firm for my tastes. Tasting it merely proved that, still decently flaky with a crispy skin that helped moderate the texture of the meat. I thought the sauce was also a bit light for my liking.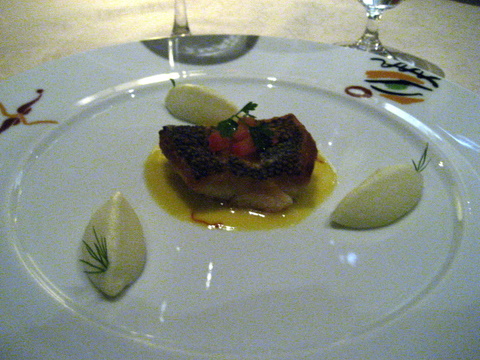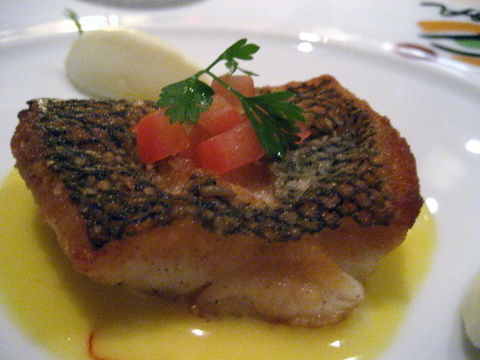 2b: Boudin of Fresh Lobster, Shrimp, and Scallops - with Tomato Coulis
2005 Henschke, Tilly's Vineyard, Barossa Valley, South Australia
Basically a big seafood sausage. I must admit I wasn't expecting too much from this course and was pleasantly surprised. The flavor and texture of the seafood in the boudin was phenomenal. Oddly the shrimp on the side was terribly overcooked which detracted somewhat from the course.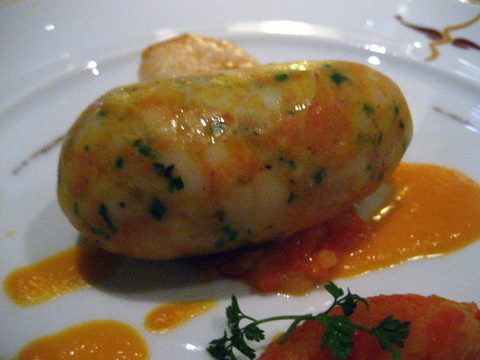 3b: Roasted Pigeon - with Wild Rice Risotto
2003 Marques de Grinon, Syrah, Dominio de Valdepusa, Spain
Another let down. I have loved squab since the first time I ate it in a Chinese restaurant. Like my companion, I found the squab to be too tough, and the meat lacking in the characteristic flavors that I normally associate with the bird. The wild rice risotto didn't help, with tough textures and muddled flavors, the two did not go together. I did like the syrah, very smoky and spicy.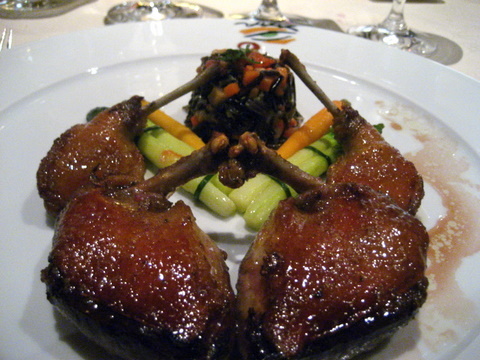 3b: Sauteéd Filet of New Zealand Thai Snapper - with Court-Bouillon Sauce and Fresh Herbs
2004 Oriel, Setena, Terra Alta Blanca, Spain
My previous experiences with cooked snapper have left me somewhat leery. I am happy to say I enjoyed this course. All in all very mild and light, perhaps a bit too light for a main course but still one of the better presentations of snapper I have had.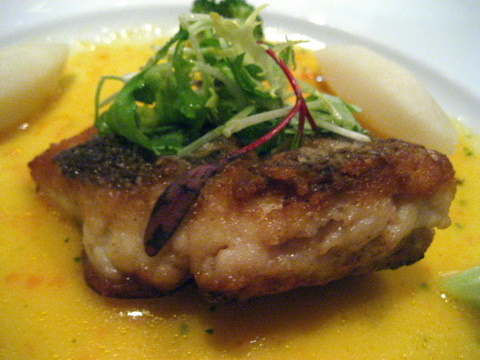 One of the specials of the night was real Japanese Waygu, being a huge steak lover at heart. I just had to try it and ended up sharing it with my two companions.

4: A5 Wagyu Beef - with Mushrooms, Mashed Potatoes
2000 Quest, Margaux, France
Flat out disappointing. So many places claim to serve A5 Waygu noting that it is the "top" quality Waygu, its just frustrating. I have heard stories that the Japanese keep the best Waygu for themselves, having had it in Japan I can easily believe this. This particular cut was served medium rare and I found the meat decently tender and fatty, but it was lacking the explosion of flavor of beef that I associate with good Waygu. The wine was quite approachable and easy drinking, something I tend to associate with California more than Bordeaux.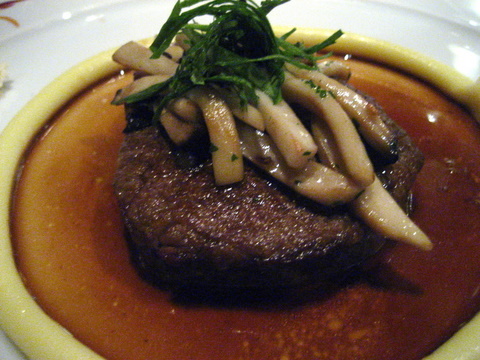 With dessert I had a glass of the 2006 Kracher, Weinlaubenhof, Beerenauslase Cuvee, Burgenland, Austria a fairly sweet dessert wine that really only paired with my pineapple semifreddo. I found it a bit odd the wine pairing did not cover the dessert forcing me to order a glass.

5a: Pineapple Semifreddo - Buttermilk-Pineapple Cake, Coconut Glacé, Pineapple Sorbet
I have long been a fan of fruit desserts. I feel there is so much more flexibility with fruit, in terms of flavors and textures, depending on how ripe the fruit is and whether it is cooked or not. Also fruit lends itself to more complex desserts as it does not overpower whatever it is served with. This was exemplefied by the pineapple semifreddo which combined a variety of different flavors and textures that still harmonized when enjoyed together.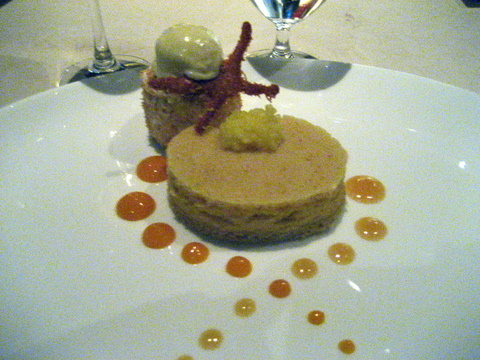 5b: Torta Caprese - Satsuma Mandarins in a Baltos Cinnamon Syrup, Port Butter Ice Cream
I can't remember too much other than I enjoyed the texture and flavor of the mandarins in cinnamon. I recall enjoying the cake but cannot remember too many details about it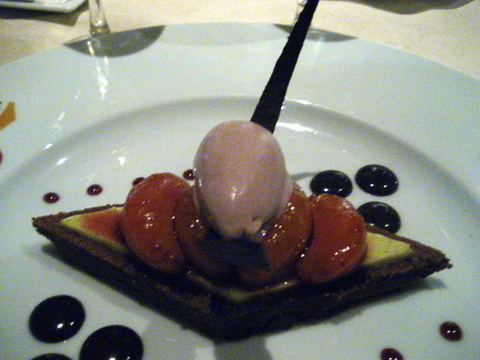 5c: Warm Chocolate Fondant - Espresso Ice Cream with Toffee Bits
If fruit is my favorite dessert, then chocolate is my least, heavy and intense it tends to overpower all but a handful of flavors. The chocolate cake was decent as was the accompaning ice cream.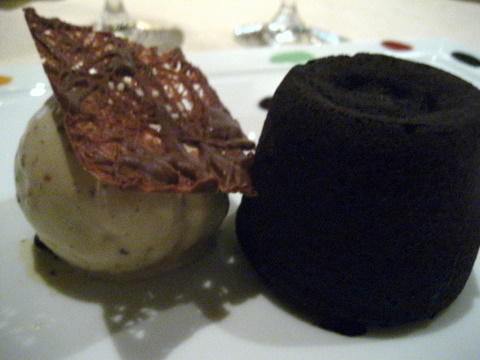 Mignardises
An assortment of chocolates, cookies, etc.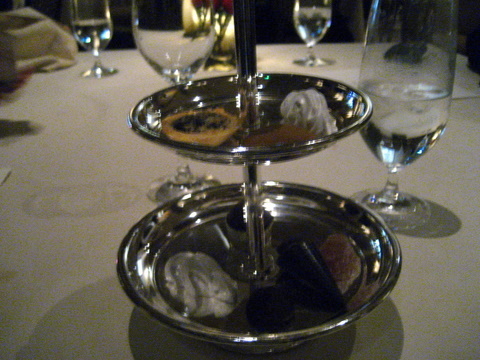 Macaron
This is probably the best tasting gift I have ever had. Compared to the full sized cake we got the night before, the small box seemed paltry in comparison although the magnetized gift box was a nice touch. Inside the box rested two round flat cookies that looked very much like big macarons. Biting into the cookie there is an initial crunch of the outer skin which gives way to a sticky chewy cookie. The cookies were very sweet with a slightly burnt flavor, the two actually offset one another quite nicely. Sandwiched in between was some sort of tart red fruit preserve, I am going to venture a guess and say raspberry.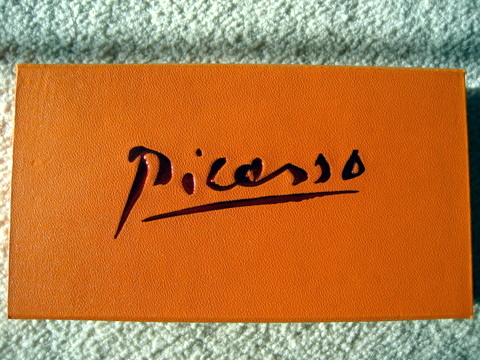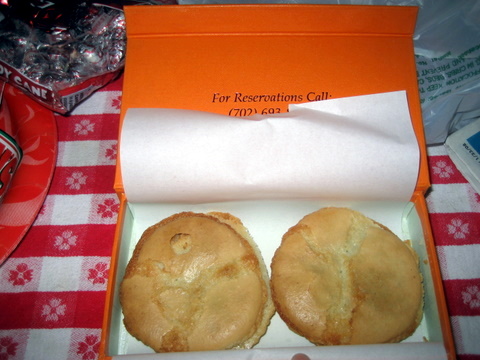 Once the undisputed king of Las Vegas dining. Having had poor experiences at Michael Mina and Spago, I can easily see how Picasso got the distinction it once had. Of late Picasso has been eclipsed by a new wave of fine dining establishments. The food here is very good, not in the same league as Joel Robuchon, but I believe the entire meal here cost less than my portion of the bill at Robuchon. Ultimately, I feel the sun has set on Picasso, I am sure the restaurant will still be strong for years to come, but it will never reach the heights it once enjoyed.